Over and over again, I see investors make the same mistake. And that is, sticking with a stock as it is falling off the cliff, and then at the very bottom they give up and sell, when they should have sold to begin with, and then buy when there is blood on the streets.
The stock I am talking about is GoPro (NASDAQ:GPRO). And in this article, I explain why it is one of my top picks for 2016.
So GPRO had a lousy quarter. I mean it was not that bad, but it was not what the market expected. However, what was really bad was the forward guidance. I mean as forward guidance goes, it is probably the worst I have seen in a long time.
The company reported an EPS loss of $0.08 for Q4 2015. Prior to January's guidance warning, the market was expecting a profit of $0.01 per share. So I am not sure what the market was expecting in terms of EPS after that.
Forward guidance was a disaster. The company's revenue guidance for Q1 of 2016 was between $160 million and $180 million. That compares to $363 million in revenue for the same period last year, or at least a 50% drop.
The stock, of course, took the customary tumble (about 10%); however, GPRO's correction was not that bad. I mean the stock could have theoretically fallen even more. And as I write these words, the stock closed up by about 7% on Friday and is just shy of where it was before its announcement, while the entire market is tumbling.
So why is GPRO rising?
Let me remind everyone how markets work. Markets are forward looking discount mechanisms. They do not price what is going on today, but what will happen in the future. As such, the company's quarterly results mean absolutely nothing for the stock today. The market has in mind what will happen in 6-12 months from now.
To begin with, while the next quarter will be bad, the company's guidance for the full year is not that bad. GoPro guided between $1.35 and $1.6 billion in revenue for the full year 2016. While even in the best case scenario the company will match 2015's revenue, it's not a disaster.
The company's balance sheet remains spotless, with about $474 million in cash and equivalents and about $500 million in working capital, and no debt.
Also, GoPro did report $0.76 EPS for the full year. It's not as if the company is going out of business folks.
GoPro also reduced the price of Hero4 session to $199, which resulted in more than a three-fold increase in sell-through rates in December.
And as the company said on its Q4 conference call:
GoPro enjoys a growing category share lead in North America and Europe; in fact, according to NPD, in the fourth quarter of 2015, GoPro increased share in the U.S. by 180 basis points year over year to 21.3% of the combined digital camera and camcorder category on a unit basis. While in the action camera category GoPro's unit market share is over 85%.
So brand recognition is still very strong in my book. That will not change anytime soon.
However, the main reason why the stock did not tumble more than it could have is because of GPRO's valuation. GPRO is trading at very depressed levels. All the hot air (and then some) has been deflated from the stock.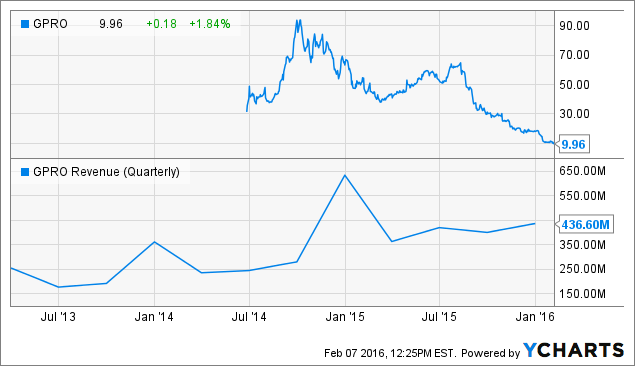 So let me see if I understand this. Many of you gladly paid as much as $90 a share for this stock when it was doing less in revenue on a yearly basis than what it is doing today. But today many of you are shorting the kitchen sink when the market cap of the company is currently at about $1 billion, trading less than 1X revenue. Am I right? Wrong trade if you ask me.
GPRO will come back
The decision to emphasize on software that will make it easier to upload content to social media sites is a move in the right direction and will make a big difference to consumers when they decide which sports camera to purchase.
GPRO, being the company that invented the space, never really worried much about such issues because it was almost a monopoly. But with more competition in the space, GoPro needs to make products that enable consumers to edit and upload content fast and simple.
On the conference call, the company said:
In 2016, we are committed to delivering a breakthrough - the breakthrough experience we have all been waiting for, a seamless offload, access, and edit solution across mobile, desktop, and platforms. It's against this commitment that you can judge our performance this year.

Any future hardware the company releases will "do a better job of connecting to smartphones and the cloud. Any advancements in software will be matched at the hardware level.
I totally agree, and I think it will be the main reason the company bounces back.
The company said GoPro app downloads were up 28% y/o/y, and GoPro studio installations were up 67% and have reached 7.2 million. A clear sign that consumers want more software that is easier to use.
Many analysts have voiced concern that the company is spending too much on R&D. I disagree. I think that the additional R&D will make for better products in order for the company (and the stock) to take off the ground again.
I also agree with the slimmed-down portfolio of cameras going forward. GoPro will only now have the Hero 4 Black ($499.99), Hero 4 Silver ($399.99) and Hero 4 Session ($199.99).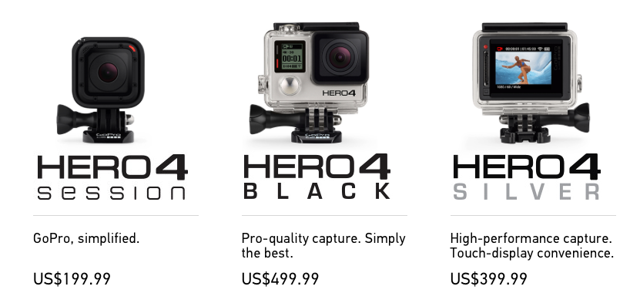 Perhaps one of the reasons for the bad forward guidance might be that consumers are waiting for the company's Hero5 series of cameras.
Many people think GoPro should have introduced the Hero5 last year. Perhaps they are right. However, this also means that the bad guidance was simply a case of a screw-up in the update cycle. It also might mean that we might see pent-up purchases when the Hero5 arrives.
And while the screw-up in the update cycle might have been a big mistake, and might be one of the reasons for knocking down the stock, at the same time, it offers an opportunity for those of us (like yours truly) who did not own the stock before (because it was a bubble in my book).
The much-anticipated Karma drone is also something that will bring a fresh stream of revenue to the company. A drone with the camera technology the company has is a very good recipe for revenue in my book.
Both the Karma drone and the Hero5 series of cameras are expected in the first half of the year, so that should give us an indication of how the company might do full year.
I still consider GPRO a takeover target
I think there is a good possibility GPRO will be taken over. With revenue of around $1.5 billion, with the name brand recognition the company enjoys, and with the popularity of its portfolio, it's hard not to see someone making a bid for the company.
I think Apple (NASDAQ:AAPL) or Microsoft (NASDAQ:MSFT) would be the best choices to buy the company. Both companies make devices and products that cater to consumers, and a sports camera would blend in just fine with both companies products. By the same logic, Samsung (OTC:SSNLF) or even Sony (NYSE:SNE) could also be a good candidate.
While we do not have indications that anyone is interested, I consider the possibility a wildcard. And obviously, if any company does make a bid, the price will not be for $1 billion, but probably around $3 billion (my estimation).
Bottom line
The main reason for the jump on Friday and continued upside Monday (besides the Microsoft Announcement in the after-hours Friday) is that the company's valuation is extremely depressed. And because I think the company will make a big comeback with the introduction of its Hero5 series of cameras and the Karma drone. Personally, I think it is very difficult to lose money at current valuations.
I have a mid-size position in the stock with an average cost about $12 a share. One thing I am sure of is that I will not lose money. I will be adding to my position, perhaps as much as tripling my position when I think the company is getting off the ground, or when I get confirmation of technical strength on the charts.
My target for the next 12 months is at least $20 a share.
Disclosure: I am/we are long GPRO.
I wrote this article myself, and it expresses my own opinions. I am not receiving compensation for it (other than from Seeking Alpha). I have no business relationship with any company whose stock is mentioned in this article.