When it comes to the apparel industry, unseasonable weather can throw even the most well-organised businesses into disarray. Over the last few months, there have been many winners and losers created by the mild winter — perhaps more losers than winners, unfortunately. One company that was negatively affected that we'd like to talk about today is Deckers Outdoor Corporation (NASDAQ:DECK).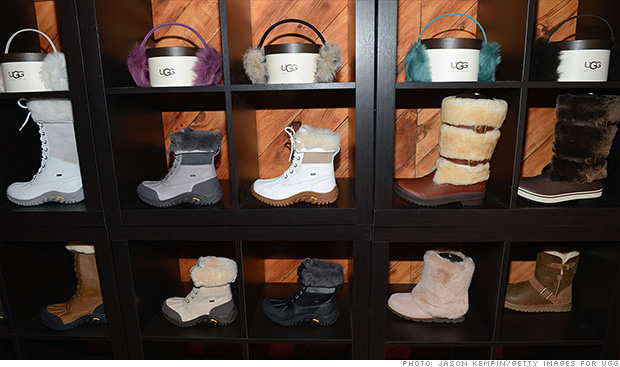 Warm winters and Deckers Outdoor simply do not mix. The company's main segment, its UGG boots segment, is based on a winter-themed product shown above that in our opinion loses a lot of its appeal in mild winters. As this segment accounts for 82.2% of the company's total revenue, as per the last annual report, a poor performance from the segment will almost certainly translate as a poor performance for the company.
On the table shown below you can see that for the year ended March 31 2015 the wholesale segment alone contributed $903.9 million of the $1.817 billion revenue the company reported.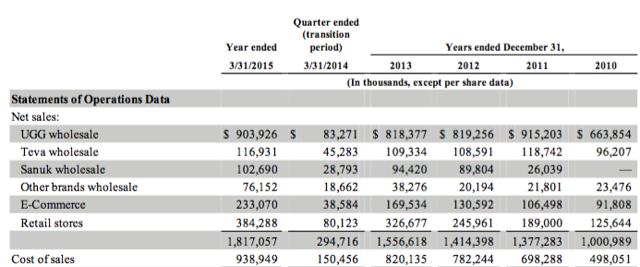 Source: Company 10K.
You might have noticed also that sales in the segment last year, after a couple of years of declines, finally rebounded, but still fell short of 2011's figure. E-commerce and its own retail stores have picked up the slack and potentially taken sales away from wholesale (UGG makes up 90% of its e-commerce and 99% of its retail store sales), but due to the seasonal nature of the product we feel it important that the company moves beyond a reliance on UGG boots.
Thankfully the company's management is attempting to do so through its Teva, Sanuk and HOKA ONE ONE brands. Teva is a sandals and flip flops brand, Sanuk is focused on casual and quirky footwear, and HOKA ONE ONE produces running shoes.

Source: Hokaoneone.com.
We've spoken at length about healthy lifestyles recently, and the HOKA brand could capture some of the growth we expect to see. But it is still very early days in an extremely fierce and competitive market. We do like the design of the shoes. They are very bright and modern, so we expect them to be appealing to many consumers, but getting a consumer to pick them over a pair of Nike running shoes will be some task when the average price is around $160. There's no price-advantage happening here, so the company is relying on the heavily cushioned soles as being the unique selling point that separates them from its established competitors. A little bit of exposure at the Olympics could get the brand some attention. The shoes have had good feedback from Ultra Marathon athletes, so perhaps they will concentrate on building the product up in a niche market. While this is a great way to grow a business, it may not make much of a noticeable difference to the top line for many years in our view.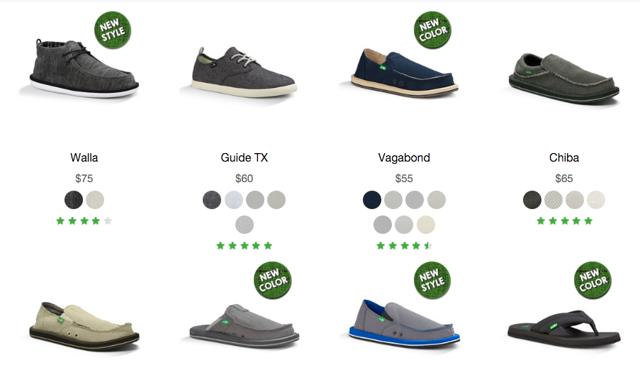 Source: Sanuk.com
Management sees its Sanuk brand as a competitor to Converse, Vans, and TOMS. Once again, we like a lot of their designs, but cannot help but feel that competition is going to be too strong. A lot of the designs are incredibly unique, but unless there is a TOMS-like craze that happens, we don't expect sales to go through the roof. We feel investing in the hope of a craze occurring like TOMS experienced would not be wise.
Finally, the Teva brand is based around sandals for all occasions. Beach, casual, or walking, they've got you covered. The brand is being stocked in many large outdoor apparel retailers, which we find to be very promising.

Disappointingly, though, both these segments percentage of total sales dropped in 2015. Sanuk was 6.5% of total sales in 2014, 6.3% in 2015, and Teva went from 7.4% in 2014, to 7% in 2015.
In light of this we don't see the company's dependence on its third and fourth quarters ending any time soon. Which considering the slowing sales growth of its UGG brand, together with the unpredictable weather we have experienced, makes for a worrying time for investors. Shown below you can see the quarterly revenue chart.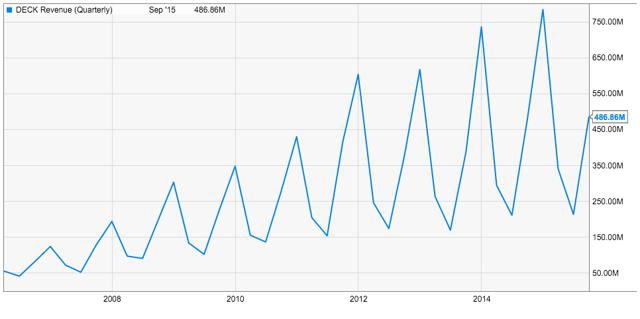 Source: Ycharts.
So, despite the shares falling by over 30% in the last 3 months we would caution against an investment today. The shares may appear cheap on a price to earnings ratio valuation, but we are skeptical of the company's ability to keep growing its earnings.
There is a chance the recent snowstorm and increase in disposable income could have a been a big boost for the company, but right now we just can't justify making an investment until we see definitive proof that the company is making progress in the diversification of its business.
Disclosure: I/we have no positions in any stocks mentioned, and no plans to initiate any positions within the next 72 hours.
I wrote this article myself, and it expresses my own opinions. I am not receiving compensation for it (other than from Seeking Alpha). I have no business relationship with any company whose stock is mentioned in this article.