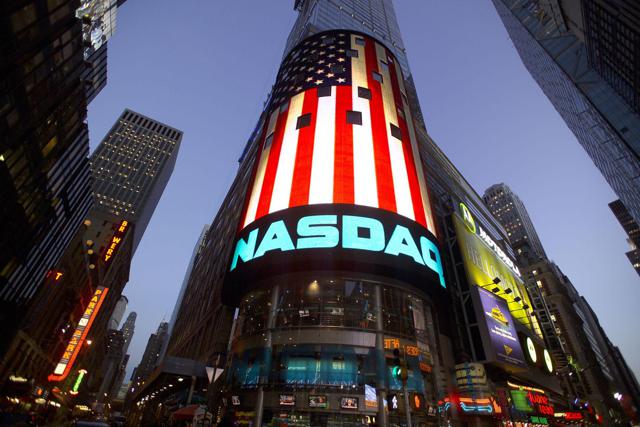 At the end of last week the Nasdaq 100 Index (along with the PowerShares QQQ Trust ETF (QQQ)) dropped 3.4 percent to close at its lowest level since August 2015 at 4,024.47. This meant the index had lost 10.5 percent of its value since the start of the year. The stocks with the highest price-to-earnings ratios appeared to get hit most, with many market commentators calling time on high valuations.
While Alphabet Inc. (NASDAQ:GOOG) and Facebook (NASDAQ:FB), arguably two of the most important companies in the index, performed above market expectations in the last quarter, the smaller players like LinkedIn (LNKD) and Tableau Software (NYSE:DATA) failed miserably and were punished by the market. LinkedIn and Tableau Software had been trading at price-to-sales ratios of 9.0 and 10.69, respectively, a day before they both shed almost half their value. We believe this performance, or lack thereof, has made investors doubt a lot of these tech companies can produce the goods now and so they have sold out of positions, cashing in the long term gains they will undoubtedly have made.
We think that this dragged down the bigger players unnecessarily, and it is the big ten companies in the index that matter most in our opinion. For this reason we feel going long with the Nasdaq 100 could provide strong returns for traders.
The biggest ten companies in the index account for just over 50 percent of the value of the index. When they move, the index moves. Shown below is the current weighting of top ten components of the index as per the last market close.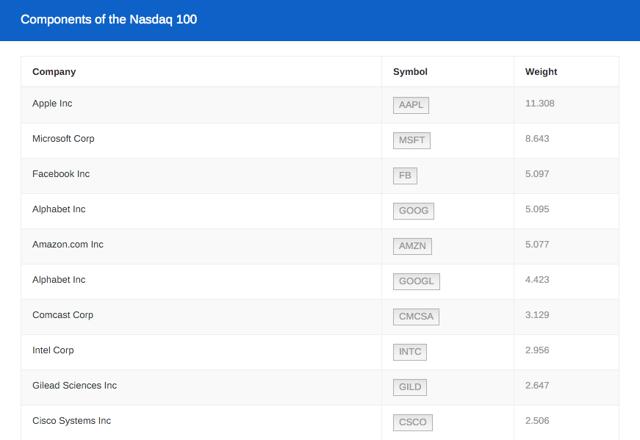 Sourced from slickcharts.com
We think Apple, Facebook, Google, and Microsoft are undervalued now.
For us we see Apple (NASDAQ:AAPL), Google, Microsoft (NASDAQ:MSFT), and Amazon (NASDAQ:AMZN) as being undervalued now. We acknowledge it is hard to ever call Amazon undervalued considering its price-to-earnings ratio, but at 2.2 times sales, it is looking quite appealing to investors. In fact, the rest of the top ten looks reasonably priced right now. As you can see below there has been a correction of sort from the lower half of the top ten components.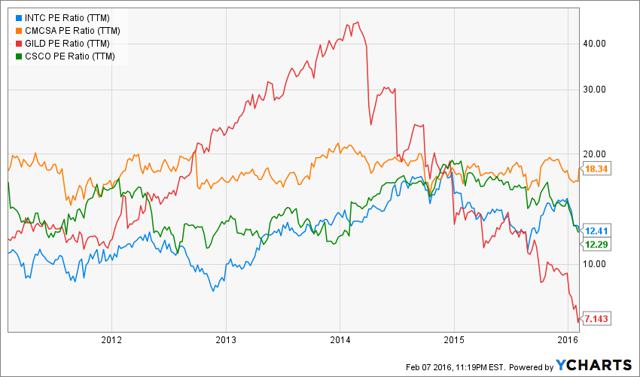 We wouldn't say that any of the stocks in the chart above are classed as overvalued now. It is much the same when viewed on a forward price-to-earnings ratio also. Of course, it is analyst predictions that make up the ratio, and we know how often they get it right, so this should not be taken as gospel. But it is enough for us to judge going long with the Nasdaq 100 now is a reasonable trade.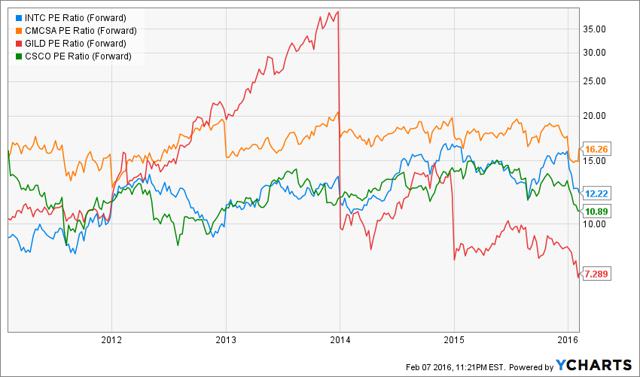 The index could go lower before it goes higher, but don't worry.
There are clearly risks that the index will drop further. We would be naive to think this is the bottom. But we don't feel it is naive to believe that the index will trade higher than where it trades today in the long term. While nobody likes to see a trade go negative, we have to realize that in these turbulent times there is every chance of a trade heading lower before it goes higher. Evidently this would not be a good trade for those with a short time horizon, but for those that have long time horizons there is much to gain here.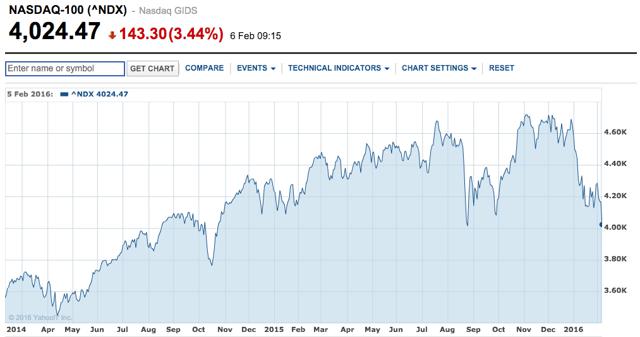 Sourced from Yahoo Finance
It has been here before.
It has barely been six months since the Nasdaq 100 declined at a similar rate. Of course, past performance is not indicative of future performance, but we can see the index climbing to at least 4,400.00 in the next three months. This would be an almost 10 percent return for traders, which is why we find it as appealing as we do. For the extremely bullish, and those that love to take on risk, there is the ProShares UltraPro QQQ ETF (NASDAQ:TQQQ) which triples the gains that the index makes. It also triples the losses it makes, don't forget. We'd caution its use because as confident as we are in its ascent to 4,400.00, you really do not know what could happen economically or politically in the next twelve months.
Takeaway.
Because we are bullish on the big five tech stocks, it seems only natural to be bullish on the index that they play such an integral part of. As we have said above, the index could go down still from here, but we are very confident that the big five tech stocks are going to start to reverse their share price drops over the next few months, leading to strong gains in the index.
Good luck with your trades, we'll report back as always with how things are panning out.
Disclosure: I am/we are long QQQ.
I wrote this article myself, and it expresses my own opinions. I am not receiving compensation for it (other than from Seeking Alpha). I have no business relationship with any company whose stock is mentioned in this article.