Admittedly, I've had a pretty poor year when it comes to forecasting the US regional gaming space. I thought the group as a whole still had more room to run after some torrid gains in late 2014/early 2015 (likely boosted by optimism that $2 gas would free up discretionary spend), but the space for the most part stalled out in the back half of last year, and unsurprisingly, has had a rough go of it in 2016.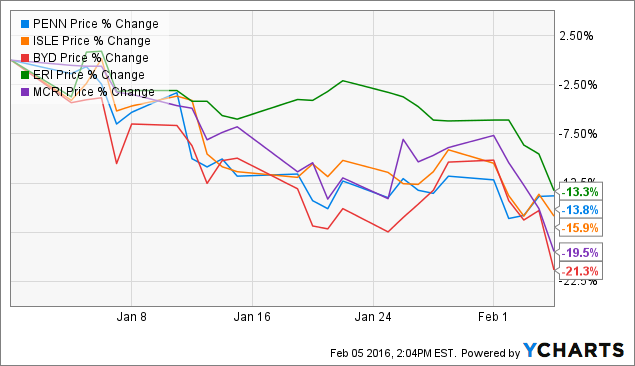 PENN data by YCharts
Adding insult to injury, I've also picked the wrong stocks in the group, pounding the table for Isle of Capri (NASDAQ:ISLE) (which I bought before it crashed following earnings in early December) and staying relatively bullish on Penn National Gaming (NASDAQ:PENN), which have been the two worst performers in the group. Meanwhile, I was a day late and a thousand dollars short on the deleveraging story at Eldorado Resorts (NASDAQ:ERI).
In the case of ISLE and, to a lesser extent, ERI, I don't think I had the story necessarily that wrong; relative to PENN, however, there are reasons to think I may simply have been far too optimistic while missing a key problem in its capital structure. Then, the stock traded around $18, leaving it down ~24% at Friday's price of $13.70, after only a small boost from what looked a strong Q4 report and 2016 guidance. With the stock cheaper, I still think there's potential upside; but there are potential challenges as well, and it's a bit tougher on a relative basis to ardently recommend the stock.
Where I Went Wrong
The bull case was relatively simple: PENN long has been considered one of, if not the best operators in the space; it had growth opportunities from a new slot parlor outside Boston, its purchase of the Tropicana in Las Vegas (fulfilling a longstanding goal of having a presence on the Strip), and a 2016 opening outside San Diego; it would still benefit from the same margin expansion and revenue growth seen at its peers; and it was cheaper than Boyd Gaming (NYSE:BYD) and trading in line with ISLE.
Obviously, that case hasn't played out, in part due to factors I couldn't have predicted - but in part, perhaps, due to at least one that I should have:
1. The broad market hasn't cooperated.
First things first: A 24% decline in a broad market that's now off 10%+ from summer levels isn't necessarily surprising. PENN generally has handled weakness better than its peers, in large part because it was less reliant on leverage (more on that in a bit). But casino operators unsurprisingly are highly sensitive to the macro economy in terms of earnings, and to the broad market in terms of trading. It's small consolation to PENN's shareholders, but these types of declines are part and parcel relative to the generally high-beta space. The trading certainly isn't bullish, but it doesn't necessarily imply that the market as a whole is seeing a broken stock, or something specific to PENN that is sending investors fleeing for the exits.
2. PENN is the best-in-breed regional operator.
Perhaps, but there have been some changes. Penn long has had a solid reputation in the space, and shareholder returns have been incredible over the years. As noted above, the company long has had a cleaner balance sheet than Isle or Boyd (not to mention Caesars Entertainment (NASDAQ:CZR) after its disastrous 2007 LBO).
That said, the company hasn't driven the same margin expansion seen at peers, and at the least, it does seem like the gap between it and other operators has narrowed. Into the '08-'09 crisis, PENN didn't perform well (particularly considering it had spiked in 2007, before its own LBO fell apart in 2008), but shares still held up far better than those of Pinnacle Entertainment (NASDAQ:PNK) and debt-laden ISLE and BYD (Caesars, of course, was private by then, much to the chagrin of its owners).
But PENN has been a laggard since the November 2013 spin-off of its real estate into Gaming and Leisure Properties (NASDAQ:GLPI). That may not necessarily be Penn's fault; it may be that peers had more room for improvement. Boyd has developed an impressive ability to turn every incremental dollar of revenue into $1.10 in profit. Isle has pushed through impressive EBITDA flow-through as well, and cleaned up its balance sheet (though the recent resignation of CEO Virginia McDowell may point to some internal issues at the moment). Eldorado's merger with MTR Gaming drove significant interest savings, led the stock to better than double and turned it into a national player.
The loss of former CEO Peter Carlino, son of Penn's founder, to GLPI may be a factor here; or it may just be that rivals had more room for improvement. It's an example of the sometimes counterintuitive logic that a struggling rival might make a better stock if only because there's more low-hanging fruit to harvest in terms of costs and/or growth.
As yet, I don't think there's reason to turn bearish on PENN management - but there are some concerns. The price paid for the Tropicana Las Vegas was a bit high, as was the ~10x out-year multiple cited as driving the purchase (The company as a whole now trades at an EV/EBITDA multiple of 7.5x, but the hope is that having the Strip property will drive rated play at the regional locations as well). Two of the three Illinois properties - Aurora and Alton, even discounting the impact of late 2015 flooding near the latter property - saw revenue declines, with Aurora losing share against (relatively) nearby competitors in Elgin and Des Plaines (those three properties all are located west of Chicago). Hollywood Bangor is losing share to its only other competitor in Maine, Churchill Downs' (NASDAQ:CHDN) Oxford Casino. The restatement of financial reports - with PENN having to change its accounting treatment relative to the Master Lease - doesn't appear to be material to valuation (and the spin-off was difficult and relatively unprecedented), but it doesn't reflect favorably on management either.
That said, it's not as if the business is declining, and there was strength in Ohio and share gains in St. Louis and Kansas City. Lawrenceburg (in southeastern Indiana) is stabilizing after nearby construction and the maturing of the adjacent Ohio market, though the Charles Town property awaits the opening of MGM Resorts International's (NYSE:MGM) new billion-dollar resort near Washington D.C. toward the end of this year. Penn did beat full-year guidance in Q4 (though ~two-thirds of the beat came from property tax settlements) after raising those projections following Q2. There's one thing that the company is missing, however, but it's not necessarily the fault of the current management.
3. Relative to enterprise value, a Master Lease is not the same as debt.
This was the biggest mistake I made, and this issue might be a significant problem for PENN's relative performance going forward. The Master Lease with GLPI accounts for a significant portion of enterprise value: fully-diluted market cap is about $1.27 billion at $13.70 (public data is usually off on this point, as preferred stock needs to be included in the calculation), and as of year-end, Penn had another ~$1.45 billion in debt and obligations. The Master Lease is carried at about $3.56 billion - more than half of Penn's enterprise value, assuming it is treated as debt.
This creates a potential issue as far as valuation goes: the problem for PENN is that the Master Lease payments increase over time while its peers (most notably ERI) have been able to compound cash flow by lowering interest expense, and should be able to do so going forward. An EV/EBITDA valuation including the Master Lease does deflate PENN's apparent multiple; based on 2016 guidance, for instance, it's trading at about 7.5x on an EV/EBITDA basis including the net present value of the lease, but only ~6.8x excluding the lease and the associated payments to GLPI.
The question is to what extent a discount to peers is warranted, given the lack of flexibility in the Master Lease (and the escalator clause) relative to the debt held by other operators, and their ability to decrease financing costs going forward. I don't think it's necessarily a deal-breaker for the stock, but it does seem to limit upside going forward, and might in part explain why PENN lagged as the sector outperformed last year.
4. Boston has underperformed.
This appears to be the biggest issue for the stock other than macro weakness - and a bit of a sore spot for Penn's management, with Jay Snowden citing "a tremendous amount of negativity in the media" on the Q4 conference call.
But, to date, revenue has disappointed, and has declined continuously since July, the property's first full month. Penn management seems relatively unfazed by the performance so far, with Snowden insisting on the Q4 call that the 20% EBITDA margins Penn originally predicted were still achievable. Marketing spend should taper going forward, and it generally takes new properties a few months to get their legs (the Ohio market, for instance, was considered a disappointment in its first full year, but solid growth since has left that market in reasonably good shape).
Still, the lost EBITDA on its own - something like $30 million relative to original projections, with $400 million at 20% turning into ~$300 million at ~15% - knocks something like $3 per share off fair value, accounting for a decent chunk of the recent decline. And competition is coming; it seemed beneficial that projects from Wynn Resorts (NASDAQ:WYNN) and MGM had been delayed until 2018, but Penn's Plainridge already has its hands full with Rhode Island's Twin River. That owner of that property is moving another casino closer to the Massachusetts border, and the two tribal operators in Connecticut are trying to build another casino in the northern part of that state.
The concern is that slot-only Plainridge is not going to be able to compete in that type of environment; many of the electronic table games already have been pulled, per the Q3 call, with gamblers appearing to prefer Twin River's full suite. The hope is that a less profitable Plainridge already is priced in; the property looks set to contribute just a mid-single-digit percentage of total Adjusted EBITDA in 2016. But Plainridge Park is not part of the Master Lease, and excluding rent payments, its contribution gets closer to 9-10%. The weakness in Boston - management frustration or not - is material to the stock.
Where We Go From Here
I do think my confidence in the stock has been diminished a bit, but at the same time, there's a real risk of overreacting here. Plainridge still is highly profitable, and may post better figures as the winter recedes and the impact of Patriots games (an apparently significant issue) is avoided in Q2 and Q3. The Trop LV has the potential to add incremental profits, and the new casino outside San Diego appears on track to open (though legal obstacles remain).
And PENN does look reasonably cheap: including the Master Lease at 7.5x on an EV/EBITDA basis, and excluding those expenses at 6.8x. That's against a ~8.5x multiple for BYD, and ~7x for ISLE. More impressive is the free cash flow multiple: about 5x before project capex, based on guidance.
On a comp basis, there's a reasonable case for a bounce back to $16 or so, with both a 7.5x EBITDA multiple (backing out the Master Lease obligation and rent expense) and a 6-7x FCF multiple reasonable relative to peers (and PENN's recent history). Share price weakness aside, PENN is guiding for a nearly 6% increase in Adjusted EBITDA this year, and a full year of Jamul and the Trop LV should provide a boost in 2017.
But I don't necessarily see a compelling case here, and though the market has continued to disagree, I still prefer ISLE in the space. BYD had traded well until recently (though the potential exposure of the Borgata to casino expansion in northern New Jersey strikes me as a risk), and given its leverage, ERI might be the best pick if an investor thinks the recent broad market weakness is an overreaction.
I generally believe that to be the case, and I think PENN's decline below $14 is a bit of an overreaction. But there are some concerns here, and I'm not sure I'd take the near-term trading risk for the story here. All things equal, I'd expect PENN to trade higher 12 months from now; but I'd be surprised if it were the best performer in the space.
Disclosure: I/we have no positions in any stocks mentioned, and no plans to initiate any positions within the next 72 hours.
I wrote this article myself, and it expresses my own opinions. I am not receiving compensation for it (other than from Seeking Alpha). I have no business relationship with any company whose stock is mentioned in this article.