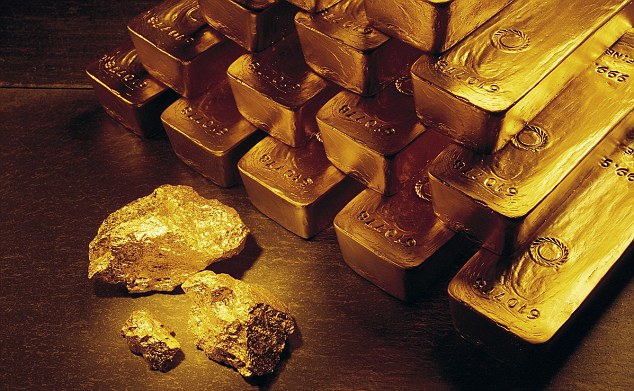 Gold bars.
Every week, we closely monitor net speculative positions on the COMEX as well as ETF holdings inasmuch as the historical economic behavior of gold prices suggests that over a short-term horizon (<3 months), gold prices are largely influenced by changes in the forward fundamentals, reflected in changes in net spec length and ETF holdings.
Speculative positioning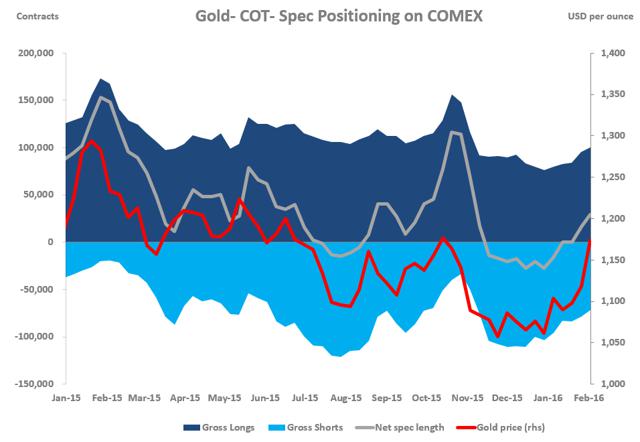 Source: CFTC.
Gold. According to the latest Commitment of Traders report provided by the CFTC, money managers, viewed as a relevant proxy for speculators, continued to extend their net long position in the week ending February 2, while spot gold prices rose 0.71 over the period covered by the data (January 26 - February 2).
The net long fund position now stands at 29,036 contracts, up 12,233 contracts from the previous week. The improvement in spec positioning for the fifth week in a row was driven by a combination of short-covering of 7,412 contracts and long accumulation of 4,821 contracts.
In line with our expectations, the release of the January 27 FOMC statement boosted money mangers' confidence to extend their bullish bets. The Fed decided to leave the federal funds rate unchanged, acknowledging that economic growth slowed late in 2015 and that inflation continued to run below its 2-percent target. Given heightened uncertainty about the global economy, most notably in China, the Fed will closely monitor global economic and financial developments to assess the US economic outlook and adjust its monetary policy accordingly. While the Fed projected at its December meeting a total of 4 rate increases in 2016, its latest monetary policy statement seems to have converged toward the market's view, which is only one rate increase this year.
Although the speculative positioning is not overstretched on the short-side as it was at the end of 2015, the net spec length remains below its historical average of 106,906 contracts. This therefore suggests there is still plenty of room for long accumulation and short-covering, which could underpin the rally in the weeks ahead.
Looking ahead, we continue to expect gradual increases in the net spec length toward more neutral levels.
Investment positioning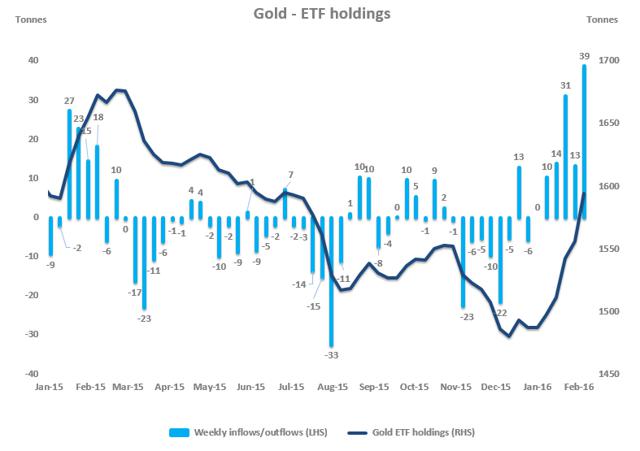 Source: FastMarkets.
Gold. ETF investors bought gold for the fifth consecutive week at an average of 7.75 tonnes per day, pushing total ETF holdings up to 1,594 tonnes as of February 5.
ETF investors bought a record of 39 tonnes of gold last week, the largest weekly increase since August 2011.
Tactical investors have accumulated the yellow metal at a strong place recently because the gold market seems to have become the new game in town. Most asset classes are experiencing turbulent times, while gold is one of the few commodities to offer a clear upward momentum. In this context, an increasing number of short-term investors are attracted to play the upward trajectory.
The recent rally in gold prices has certainly been driven by a shift in the global macro picture. Faltering US economic growth and the broader deterioration in global economic conditions, most notably in the large emerging markets on the back of weaker oil prices, has provoked the resurgence of a risk-off environment where investors tend to see safe-have assets such as gold.
But we believe that ETF buying includes short-term flows from tactical investors who aim at playing momentum over short-term horizons. As a result, ETF investors could slow and reverse in the second quarter of the year, which could provoke a sell-off in gold. In sum, the higher the gold goes, the more one should be alert.
ETF investors have already bought almost 40 tonnes of gold in February after accumulating 74 tonnes in January, pushing total net inflows for the year to 113 tonnes, according to FastMarkets's estimations. As a reminder, ETF investors sold 112 tonnes of gold in 2015, after liquidating 158 tonnes in 2014 and 889 tonnes in 2013.
Looking ahead, we continue to expect gradual ETF inflows over the next few weeks, as the current macro environment will probably exert further downward pressure on US real interest rates, but a reversal is possible in the second quarter of 2016, we think.
Spec positioning vs. investment positioning

Source: MikzEconomics.
My GLD positioning - weekly chart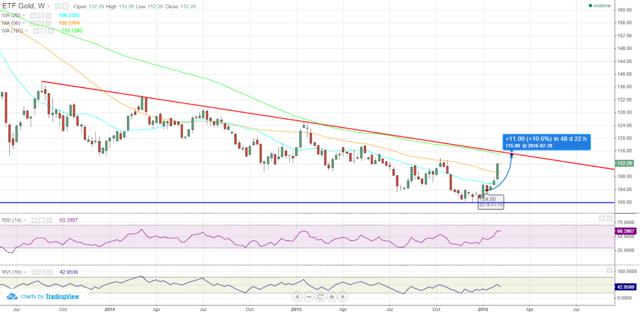 Source: TradingView.
Last week, the SPDR Gold Trust ETF (GLD) rallied strongly, up almost 5 percent.
We initially built our long GLD position at $104 on January 6, with a stop loss at $100, and a target profit at $119, offering a risk-reward ratio of 1:3.75 (see our article).
But we revised last week the parameters of our trade (see our article). We tightened our stop loss from $100 to $105, and lowered our target profit from $119 to $112.
GLD hit our target on Friday, which prompted us to close by half our position in order to secure some profits. We realized a profit of $8 per share on this trade, with a moderate risk. But we reassess the situation in gold and are inclined to let run the rest of our position until we see tangible signs of exhaustion, which is still not the case. The parameters of our remaining position are the following: a stop-loss at $106 (which is slightly below the 20 DMA), and an initial target profit at $115.
We correctly anticipated the improvement in spec and investor sentiment late in November (see our article), which translated into higher net speculative long positions on the COMEX and ETF inflows. Although the bottoming-out process took more time than we initially had expected, our entry was close to the bottom and allowed us to take a limited risk.
Importantly, although we remain on the long side, we continue to view this positive swing in sentiment as transitory and do not expect it to last beyond the second quarter of the year.
From a technical perspective, GLD took out its 20 WMA and its 50 DMA, which has released plenty of buying pressure. The next resistance can be found at the 100 WMA, which also correspond to the downtrend line (in red).
On the upside, a clear break above the downtrend line could provoke a strong rally over the longer-term horizon. On the downside, should the 100 WMA cannot be cleared out, this could suggest that gold's rally has run out of steam.
To sum up, we continue to see an upward trend trajectory for GLD over the next month but we are inclined to believe currently that the bear market should prevail this year.
Disclosure: I am/we are long GLD.
I wrote this article myself, and it expresses my own opinions. I am not receiving compensation for it (other than from Seeking Alpha). I have no business relationship with any company whose stock is mentioned in this article.