GoPro (NASDAQ:GPRO) is an interesting story. The camera maker is loved by many consumers who enjoy filming themselves doing all sorts of activity. While loved by consumers, its stock has not been loved by investors because it lost 85% of its value in one year. What happened to GoPro?
This article explains that GoPro has actually matured much quicker than expected. The stock rose to nosebleed valuations as there were very high expectations that above-average growth would span many years. The maturity of its business led to a deserved stock price correction that brought the expectations back to earth. However, GoPro is characterized for its innovation. If GoPro can manage to capture the consumer's attention with a new product, then high growth phase can start again.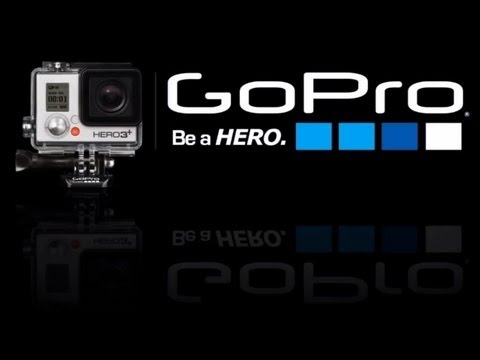 GoPro has reached a degree of maturity
As we know today, GoPro's main business comes from selling cameras to consumers. GoPro has two methods of reaching the consumer: 1) to directly sell to the consumer through their online stores, and 2) to sell to distributors and let distributors sell to the consumer. Through both methods of selling, GoPro has grown fast. It has sold almost 20 million cameras since 2010. Camera sales continued to grow last year, but the rate of growth is slowing down. This slowdown is normal for any business - super-fast growth rates can't be achieved as the business becomes large.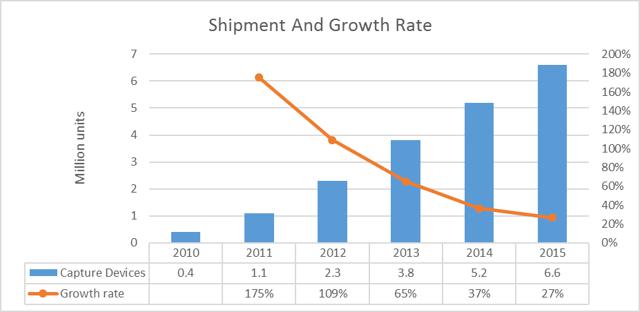 Source: GoPro Annual Report
The slowdown in growth rate gives one important signal to shareholders, which is that the business is maturing. In 2016, GoPro will attempt to sell cameras to two categories of consumers: 1) the consumers who already own a GoPro and would like to upgrade to the newest version, and 2) the consumer who has never owned a GoPro and would like to have one. Given this kind of maturity in the business, I expect GoPro to continue growing but at a much slower pace. Considering the market size for GoPro cameras and the global reach that GoPro created with its distribution network, it is possible to have recurring sales of 7-8 million cameras for the next couple years.
Management implies the maturity of GoPro
In the latest earnings call, management guided for revenues to be slightly lower than 2015 revenues. It appears that GoPro executives are trying to manage expectations with that kind of guidance, which means that management is striving to under-promise and over-deliver. In my view, management is setting expectations to be low enough so that a beat in revenues is more likely to happen. More importantly, the conservative guidance does give an important signal to the market: GoPro is maturing. If it wasn't so, then management wouldn't need to manage expectations.
The chart below shows what GoPro's revenues look like for the past five years. The green bar represents guidance of $1.5 BN of sales in FY 2016. On a Y/Y basis, revenues continued to increase in 2015. However, on a quarterly basis, revenues in Q4-2015 were 30% lower than Q4-2014. At the high end of guidance, revenues are going to decline by 7% next year. Note the slowdown in revenue growth.
Source: GoPro Annual Report
These kind of growth rates are seen in mature companies. Perhaps GoPro will perform better than management guidance. I believe there is high popularity and wide acceptance for GoPro's cameras, so it is possible to sell 7-8 million cameras next year and beat guidance. However, it would be naïve to expect revenue growth higher than 25% only on selling cameras. It appears that a range of low double-digit to mid-teens growth is a reasonably optimistic expectation.
If GoPro is a mature company, did it deserve to lose so much market value?
The short answer is yes, it did deserve to lose that much market value. As a mature company, GoPro should be trading at low price multiples. The market cap (and price multiples) of GoPro went excessively high when it reached over $8 BN. The expectations to support such a valuation were simply too high. It appears that the market didn't see GoPro as a mature company or didn't expect GoPro to mature so quickly. As a result of the changes in expectations, the price collapsed from an all-time high of $90 to $10.
Such a correction was deserved because the product line of GoPro reached maturity more quickly than expected. As long as GoPro relies only on different versions of its flagship cameras (HERO4, HERO+, etc.) then the business is not expected to continue its super-fast growth phase. GoPro software and social media initiatives are simply a method of maintaining the brand advantage. It is unlikely that software alone is going to bring sales growth back to previously seen levels. The software strategy plays an important role in GoPro's business as brand image is essential to generate recurring sales.
On the other hand, GoPro management continues to innovate with new products. There has been announcements that a drone product will be available in 2016: The GoPro Karma. If such a drone is a game changer, which will require extreme engineering audacity coupled with user friendly features, then GoPro can become a fast-growth company again.
In addition to the drone idea, GoPro is active in the virtual reality scene. The recent acquisition of virtual reality startup Kolor is an attempt to continue the innovation cycle. GoPro has the potential to create new products and trends in virtual reality. As of this writing, there is no meaningful advances on the virtual reality scene. But this is something where GoPro might be able to come up with a new "trendy" product.
GoPro is both a cyclical and seasonal company. It's cyclical because it relies on "trendy" products to have boom revenue cycles. Therefore, a new product line can cause another boom cycle in GoPro. It's also seasonal because most of their revenues are generated in high shopping seasons, such as Christmas.
As of today, the upgrade of the current product line (the HERO4, HERO+, etc) is essential for GoPro to both maintain the trend and generate sustainable revenues. Revenues from recurring customers who are looking to have the latest version of the GoPro is an important component to the top line. The other important component is to get consumers excited about the product so they become first-time buyers. The customers are there for GoPro, but the penetration has reached a decent level where GoPro should be considered a mature company. This assertion is evidenced by the general slowdown of unit and dollar sales.
GoPro has value, but more operating performance would determine the riskiness of a long-term position
After the collapse of the stock price, GoPro trades at a market cap of $1.3 BN. Its current P/E remains high for a company with slow growth, but its sales and book value multiples are pretty low. At the highest end of guidance, GoPro trades at a P/S of 0.9 and P/B of 1.8. Those multiples would be very low for a high-growth company, but they are appropriate for GoPro at the moment. If GoPro can prove the market that its operating performance will remain strong over the next couple of years, then those multiples would indicate that GoPro is (at least) fairly valued.
GoPro has generated profits and positive cash flows in both 2014 and 2015. Although net income declined Y/Y, free cash flows didn't decline. It is always good for a company to generate positive free cash flows as this metric dictates the intrinsic value of the stock. GoPro generated $100 million of free cash flows and trades at a P/FCF of 13x. In addition to the low multiples, roughly 35% of the market cap is backed by liquid capital, including cash and marketable securities (without considering the buyback program). This provides a cushion of safety.
Once again, if GoPro can show the market that its operating performance will remain strong and sustainable, then it appears that GoPro will add value to shareholders in the long run. If GoPro's operating performance is simply a "fad," and is not sustainable, then GoPro shares would be in huge trouble. Given my view of the market for GoPro products, and the ratings that GoPro cameras receive among consumers, a range of 7-8 million camera sales per year is sustainable in the long-run. As long as GoPro can operate cash flow positive at that level, then GoPro's business has a chance at increasing in value over the long run. GoPro is cyclical, so there would be some years where sales are below the sustainable rate and other years where sales are above its sustainable rate.
On the optimistic side, if GoPro can truly come up with a game changer drone or virtual reality product, then the company should be viewed differently.
A thought on the stock buyback program
For one thing, the stock buyback program provides an affirmation that GoPro has reached a certain level of maturity. Generally speaking, fast-growing companies do not engage in stock buyback programs as they need to retain all capital to finance future growth. However, mature companies tend to engage in share buybacks programs. Think about Apple (NASDAQ:AAPL) and Microsoft (NASDAQ:MSFT) which are mature companies with constant buyback programs.
On the other hand, the approval of $300 MM to repurchase shares signal there aren't any big projects that GoPro is investing in. The share repurchase was probably an attempt to stop the market selling, which didn't work. The important thing is that GoPro could have used such capital for product innovation or other acquisitions. Only $35 MM has been used on the repurchase program, and that should be it. I'd prefer to see high cash balances than constant share buybacks.
A thought on other Seeking Alpha writers
Author Ravi Bala wrote an interesting article on GoPro. His opinion that more public history is needed to determine the investment merits of GoPro is consistent with my views that GoPro is a highly cyclical company. A full business cycle would enlighten investors with more history to determine the merits of GoPro's business.
Top author Bill Maurer wrote an insightful article about the price support of GoPro and the recent developments. His opinion that GoPro's buyback program coupled with the high amount of shares sold short can provide support to the $10 stock price. Unless GoPro is grossly out-competed by other tech players, the stock might have found a bottom.
Investor takeaway
The overwhelming takeaway is that GoPro's business matured more quickly than expected, which led to an enormous price correction. The price correction was deserved, as the business growth prospects were reassessed by the market. However, the price multiples valuation of GoPro indicates that it currently trades at fair values.
The fair value of $10 for GPRO is supported by the ability to sell 7-8 million cameras per year. In order to do that, GoPro will really need to charm their customers with awesome products, software and social media. This way, customers would want to upgrade to the newest GoPro version. In addition to recurring customers, there is always new people to reach out to in a big world. The takeaway here is that investors shouldn't expect much more than the current 6.6 million cameras per year sales. In short, GoPro has matured.
Only outstanding new products would make GoPro a fast-growing company again. For the camera selling business, the $10 per share appears appropriate provided that the product is not a "fad." What do we need to know it is not a fad? We need more time and operating history. GoPro is an interesting story. It is a good stock to watch and proceed cautiously.
Disclosure: I/we have no positions in any stocks mentioned, and no plans to initiate any positions within the next 72 hours.
I wrote this article myself, and it expresses my own opinions. I am not receiving compensation for it (other than from Seeking Alpha). I have no business relationship with any company whose stock is mentioned in this article.