Background
For investors who want to get involved with sugar movement without starting a futures account, they can turn to ETFs. When it comes to sugar ETFs, not all are created equal. This is what tempted us to do a side-by-side comparison to help investors and traders alike determine whether or not they are using the proper sugar ETF for their needs.
While there is one significant thing in common with these three funds, the differences are all too often overlooked. Assuming one sugar ETF is as sweet as another is a foolish mistake that could be costly over time. For instance, two of the funds we have included are ETNs, while the other one has a commodity pool structure. As we dig through the details of these three sugar ETFs, we hope investors are able to better determine which sugar ETF is the best for them. The three ETFs in order of AUM are as follows:
iPath Dow Jones-UBS Sugar Total Return Sub-Index ETN

(NYSEARCA:SGG)
Teucrium Sugar Fund (NYSEARCA:CANE)
iPath Pure Beta Sugar ETN (NYSEARCA:SGAR)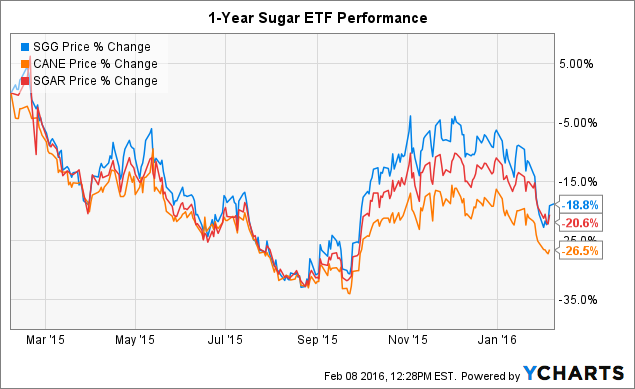 SGG, CANE and SGAR all seek to give investors exposure to sugar, and only sugar yet the devil is in the minor details. As shown above, all three funds have had correlated, yet varying performances over the last one-year period.
As we dig through the details of these three funds, we hope to help investors better determine which is the best method for them to get sugar exposure.
Side-By-Side Comparison
Ticker

SGG

CANE

SGAR

Fund Name

iPath Bloomberg Sugar Total Return ETN

Teucrium Sugar ETF

iPath Pure Beta Sugar ETN

Price
(Open 02/08)

$29.91

$9.00

$20.90

AUM (Millions)

$42.04

$4.69

$0.89

Expense Ratio

0.75%

1.76%

0.85%

Structure

ETN

Commodity Pool

ETN

Average Daily Volume


$1.85 M

$132.39 K

$21.86 K

Average Bid-Ask Spread


0.18%

0.92%

0.49%
Lowest Expense Ratio
For the sugar investors with a longer-term investment outlook, the high expense ratios of CANE at 1.76% of AUM annually can really take away from potential gains. Those investors should be considering SGG or SGAR as a means of gaining exposure to sugar with lower expense ratios of only 0.75% and 0.85% respectively.
While SGG has the lowest expense ratio out of the three with 0.75%, it should be noted that this fund as well as the other fund with the lowest expense ratio, are both ETNs and therefore carry a limited amount of counterparty risk (explained further on).
Lowest Bid-Ask Spread
For the sugar ETF investors who tend to change their mind on trades often, or for those who just happen to be active traders in general, look to the ETF with the lowest bid-ask spread. In this measure, we believe that the choice is clear for active traders: SGG. With the lowest average bid-ask spread of 0.18%, SGG is by far the lowest ETF in terms of transaction costs (commissions held constant). Unfortunately, for those traders really looking to cut transaction costs on their sugar ETF trades, there are currently no sugar ETFS available for commission free trading regardless of your broker.
Highest Volume
SGG is by far the fund with the most liquidity in terms of average volume, which is believable as it is the largest of the three funds by AUM. SGG is therefore the fund of choice for traders looking to move in and out of the sugar ETF market with measurable size. Trading big in any of the other funds (most especially SGAR due to such low average volumes) could make waves and chase the price up quickly.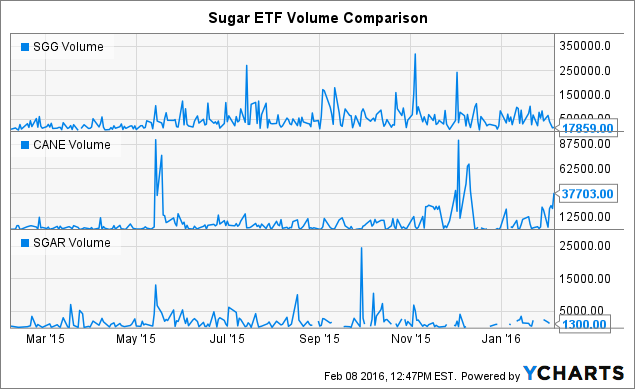 ETN vs. Commodity Pool Structure
As mentioned above, one of the big differences between these funds is the legal structure of the funds. SGG and SGAR are both structured as exchange traded notes a.k.a. ETNs. CANE on the other hand is structured as a commodity pool. Since an ETN is essentially an exchange traded debt instrument, there is counterparty risk involved. Since the counterparty for both of the sugar ETNs is Barclays Bank Plc. (NYSE:BCS) (the issuer of iPath ETNs), this means that there is limited counterparty risk down the line, as Barclays is viewed as a stable financial institution.
Two Different iPath Offerings?
As you may have noticed in the list or table above, two out of the three sugar offerings are issued by iPath/Barclays. They both have an ETN structure, and both hold sugar futures to track the returns. SGG uses a rolling front month futures strategy to keep it constantly in line with sugar prices. SGAR on the other hand tries to limit contango risk by spreading the position out across a longer time horizon rather than just front or near month futures like the other fund.
Share Price
Last but not least, we wanted to mention share price because this comes into consideration for smaller traders/investors with limited capital trying to trade in round lots. When it comes to share price, smaller traders can look towards CANE which currently trades below $10 per share. Just be sure to check the premium/discount to NAV as well as bid-ask spread that the fund is trading at before timing an investment.
Conclusion
We hope this was a useful and comprehensive guide to investing in sugar ETFs. We look forward to keeping investors informed on any new developments as we see them. Be sure to check out our similar articles on gold ETFs, silver ETFs, and platinum ETFs.
References
Disclosure: I/we have no positions in any stocks mentioned, and no plans to initiate any positions within the next 72 hours.
I wrote this article myself, and it expresses my own opinions. I am not receiving compensation for it (other than from Seeking Alpha). I have no business relationship with any company whose stock is mentioned in this article.