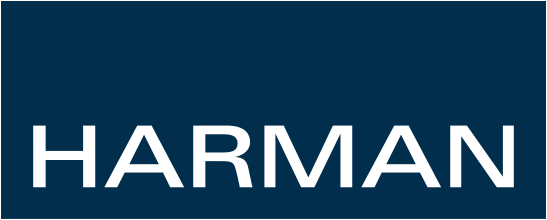 Even though Harman International (NYSE:HAR) is on the fall at the tail end of a poorly received earnings report, the company is in no danger of giving up its growing dividend. In fact, now might be a buying opportunity, as the yield is higher and the price to get in on this stock is low. Of course, a full analysis is warranted before an investment.
One of my popular analyses is that on dividend sustainability. A reader of my article on IBM recently requested I run the same analysis on HAR. Thus, in this article, we are looking at HAR as a dividend stock.
But before I begin, I should quickly mention some aspects of HAR as a company. I'll do this quickly, outlining my major concerns about the company. If readers show further interest, I can extend the analysis into a different type of article, one in which we look at the company as a growth stock.
Harman as a Company: Possible Headwinds
Harman's drop in stock price is not completely unjustified. Just as the stocks of many international companies have fallen recently, Harman has also been negatively affected by the overall world economic outlook. Most notably is the Forex issue with Harman: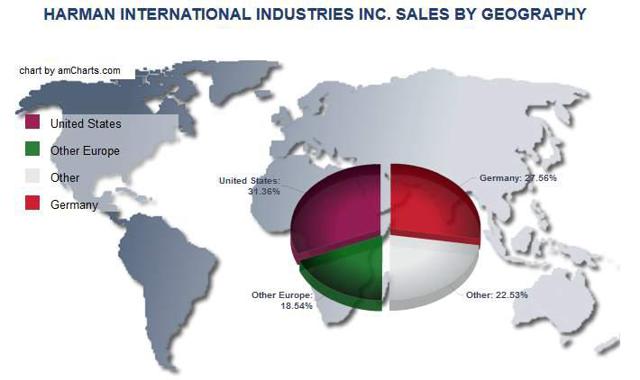 Roughly 70% of Harman's revenue comes from overseas. With the dollar strong and looking to stay that way, this will negatively affect Harman's bottom line. If emerging markets continue to suffer and the Fed raises rates again this year, expect Harman to report misses on their earnings report, thereby negatively affecting the stock price.
Second, although Harman is a strong company with a sound underlying business model, many investors will not dig deeply enough into the company to understand what Harman plans to do. On the surface, Harman seems like a visionary company trying to accomplish the impossible: create the first conventional "smart cars." This seems like a "Googlesque" endeavor but in fact it is a mere application of the internet of things.
But it is the fact that Harman is on the leading edge of this market that will turn off investors. Speculative investors would rather go with "visionary" companies, such as Alphabet (NASDAQ:GOOG) (NASDAQ:GOOGL) or Nvidia (NASDAQ:NVDA). Conservative investors would rather go with "proven" companies, such as General Motors (NYSE:GM) or Tesla (NASDAQ:TSLA).
In the end, only investors who have looked into the potential of the "smart car" market will place their money in HAR. These investors will likely be correct in the long run, but they will be hurt in the short run, at a time when liquidity is leaving the market. I've calculated the absolute bottom to be at $33 a share, but barring a market crash, HAR is unlikely to fall below $60.
For now, HAR investors should look at the stock as a dividend stock - at least until the smart car market begins to enter mainstream thought. Consider yourself early investors in Apple (NASDAQ:AAPL) before the iPod for the moment. Now, let's see how trustworthy the dividend is.
Harman's Dividend Sustainability
The main problem with Harman's dividend is how quickly it was raised. Though Harman has been a publicly listed company since 1986, its dividend has always been measly. That is, until recently: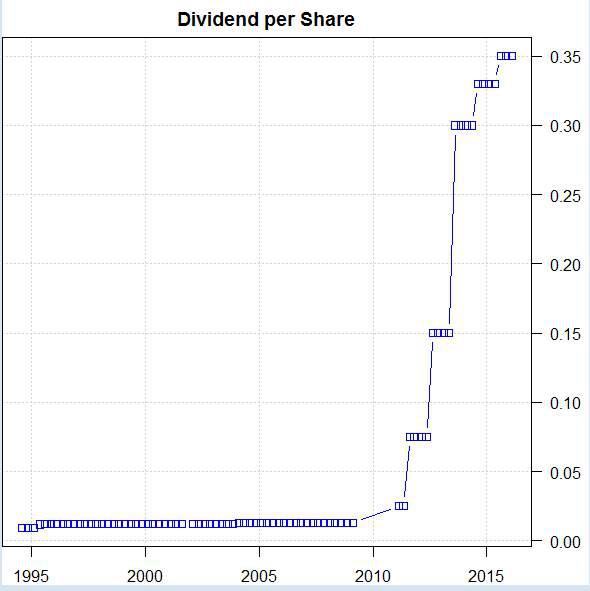 This is more evident when looking at the dividend per share per year: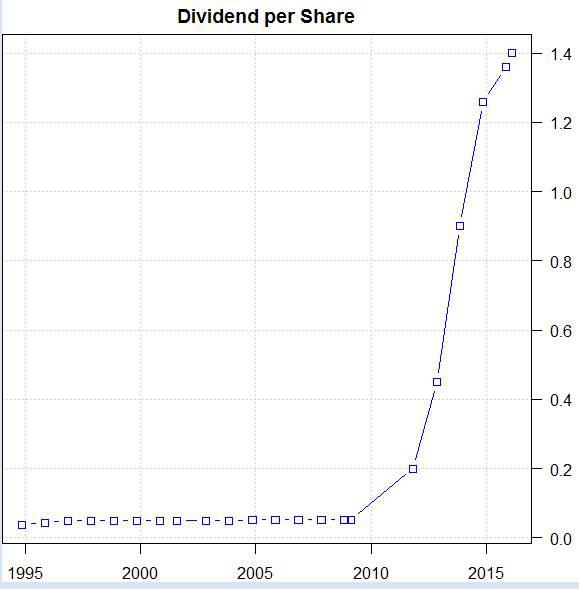 We can see that HAR has more than doubled its dividend every year since 2012. The doubling ceased in 2015, when the dividend raises were more slight. Growth comes with doubling dividends, as I've discovered before: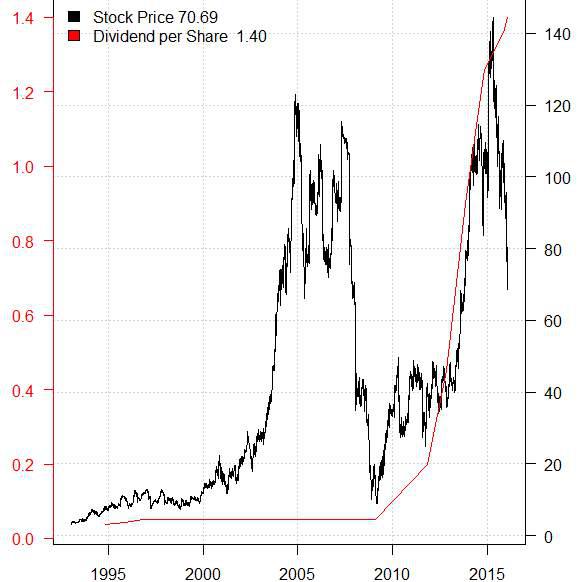 However, HAR has now stabilized its dividend, possibly reeling from spending so much cash flow in so little time. Interestingly, HAR did not initiate an effective buyback program: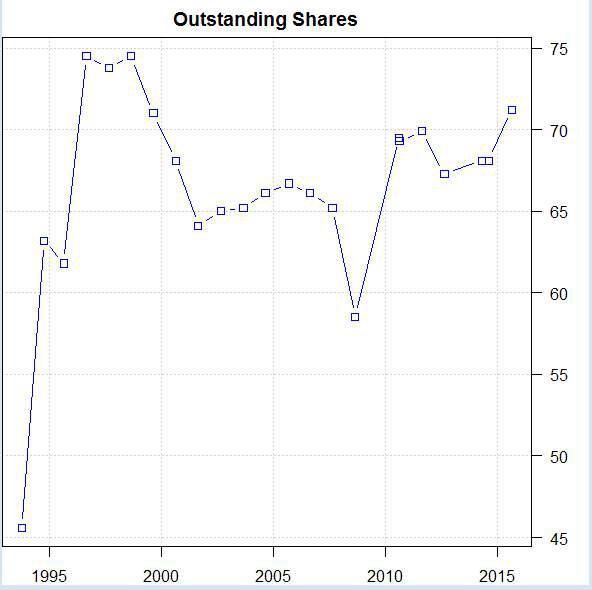 Thus, instead of artificially raising the price of the stock and thereby hurting the yield, HAR used that extra money to simply raise dividends. This is preferred to a buyback program. The result is a stock that has effectively quadrupled its annual yield in five years' time: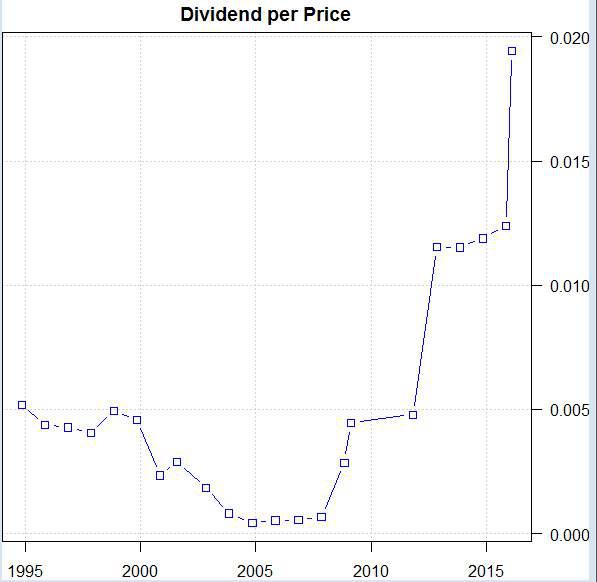 With income at an all-time high, HAR is in good shape for paying this dividend. If HAR's management ever feels that the dividend is the most important aspect, they will have the ability to sustain it: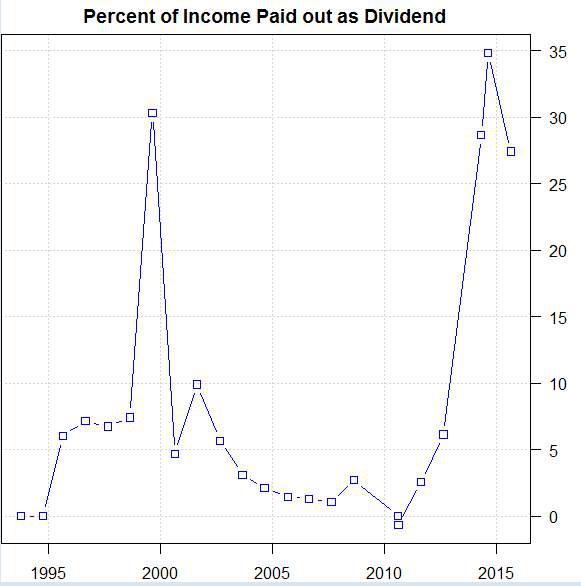 That's not to say that HAR's cash flow didn't take a hit by these new, relatively high dividends. But HAR is looking good again, now that they've got their dividend to where they want it, only raising it by a few cents per year: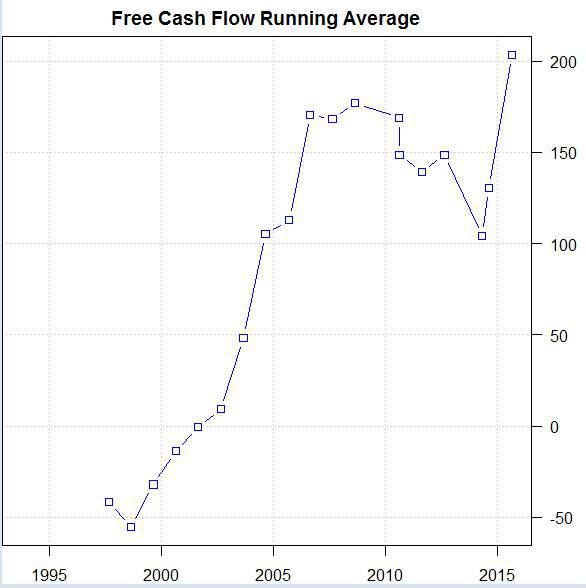 The percent of free cash flow paid out is now under 50%, making it easily sustainable. With income growing and dividends on longer doubling every year, HAR looks to be a good choice for a safe dividend investment: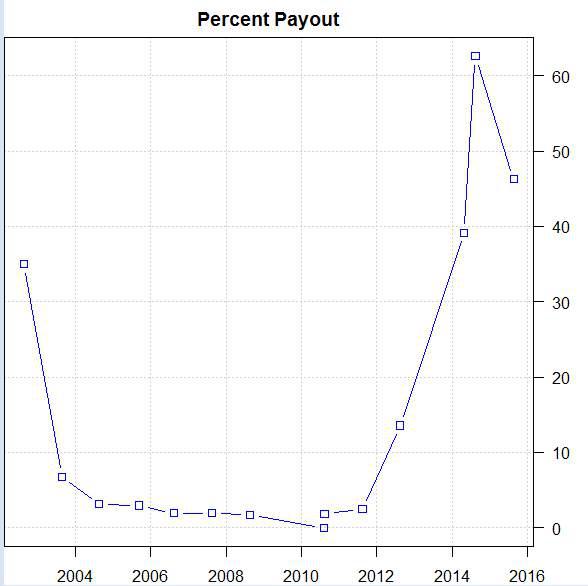 What does this mean for investors?
HAR investors were previously all growth investors. However, the constant doubling of dividends has likely attracted a new set of investors. Essentially, HAR's dividend actions over the past few years have brought HAR up to speed as a half-growth, half-dividend stock.
While it is too early to tell whether HAR will become a dividend aristocrat, it is not too early to claim HAR a stock that offers the best of both worlds: fundamental growth and dividend growth. With the recent dip HAR has taken, we are seeing a buying opportunity only rivaled by the 2007 market crash. If you're looking for a growth stock that offers a dividend, look no further than HAR.
Request a Statistical Study
If you would like for me to run a statistical study on a specific aspect of a specific stock, commodity, or market, just request so in the comments section below. Alternatively, send me a message or email.
Disclosure: I/we have no positions in any stocks mentioned, and no plans to initiate any positions within the next 72 hours.
I wrote this article myself, and it expresses my own opinions. I am not receiving compensation for it (other than from Seeking Alpha). I have no business relationship with any company whose stock is mentioned in this article.