ICICI Bank (NYSE:IBN) stock has seen a downward trend in its stock price in the latter half of 2015 trading at approximately the $8 level. The price today stands close to ~$6. The fall in price is mainly due to the commodity market falling, leading to increased stress amongst Indian mining, metal and infrastructure companies. There is a general sentiment that banks with exposure towards the corporate sector will not fare well since they lend to the industrial houses in India. While public sector banks had been falling earlier, now even private sector banks have seen their prices declining. ICICI Bank has bounced back after the 2008 downturn, and I believe it will do so again. ICICI Bank is one of the largest private banks in India and has got a tremendous network across India. The bank has shown good improvement in its asset quality on a sequential basis, and its NPAs are quite low when compared to most of the state banks in India. Banks across the world (USA, Italy) have faced a bad January, as the Chinese slowdown has led to an increase in risk aversion across markets. However, given the strong growth profile of the Indian economy and ICICI's strong position, I think the dip in prices offer a good time to invest in this ADR.
Why is IBN a good stock to own
1) India is set to see strong growth going forward - India is seeing higher GDP growth, low interest rates and favourable structural reforms. GDP is expected to expand by more than 7% in 2016. India's inflation reached a record low of 3.69% in July 2015. It has come down substantially from 11.16% reached in November 2013. India's currency has stood strong at a time when most currencies have tumbled against the USD. Asian currencies have fallen up to 3.5% in January 2016. In comparison, the Indian currency fell only by 1.69%. Even in 2015, the performance of the Indian currency was much better than other emerging market currencies. Major economies are feeling the heat due to a slowdown in the Chinese market. India has been relatively insulated, mostly because of its low reliance on the Chinese economy.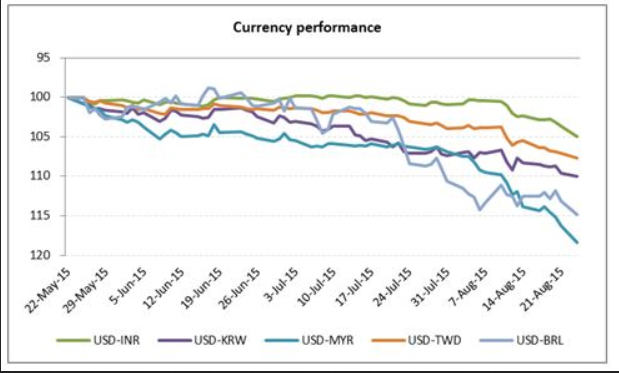 2) ICICI is increasing digital investments to compete better with new players - The Indian banking industry has been facing new competition, as the central bank has given licenses to a number of new banks. Payment companies such as PayTM, PayU etc. have started to take market share in payments processing from traditional banks. Rapid changes in technology have increased pressure on traditional players. ICICI Bank already has a strong digital reach. Its iMobile app has already eased the overall banking experience for its customers, who can now make direct calls to call centers and withdraw cash from ATMs without using a card. The banking company recently announced other digital initiatives - Express Home Loans and iLoans that will ease the assessment process of new home loans. These could get a home loan approval in as quickly as eight working hours and also home loans for under construction projects.
"We introduced a whole new range of products, built a wider distribution network and leveraged on technological advancements like Tab Banking. We believe these initiatives will bring simplicity to the home loan process, while delivering solutions at a never seen before speed," said Rajiv Sabharwal Executive Director ICICI Bank.

Source: Moneycontrol
3) NPA level is not too high and should decline as economy recovers - Rising levels of NPAs has been a major cause of concern for the Indian banking industry. State-run banks in India had gross NPAs of INR 3.5 trillion at the end of September 2015. Though the RBI Governor has pledged to clean up the balance sheets of these banks by March 2017, still a lot needs to be done. In comparison, ICICI's net NPA was 1.58% and gross NPA stood at 3.68% in Q1'16, which is quite low. There was also a small sequential decline in both net and gross NPAs. Gross NPAs of state-run banks rose 25.19% Y-o-Y in September 2015.
4) No.1 mortgage loan disburser in the country - ICICI Bank was the largest private mortgage loans disburser in the country. The banking company lent more than INR 1trillion, making it a first amongst private sector banks in the country. Retail portfolio constitutes more than 40% of the bank's loan portfolio, which shows that the bank has diversified mix of retail and corporate loans. The power industry is becoming an increasingly distressed sector in India, and private sector banks are suffering due to their increased exposure to the power sector in India. IBN's exposure to the distressed sector is limited, with it having a 6-7% loan exposure to power sector. Its exposure is 5% to the steel industry and has 12% overall exposure to the infra sector.
Corporate lending is expected to improve by the end of this year.
"From 7% now, credit demand from companies is likely to increase to double digits by the end of the current fiscal year. Next year will be better" - MD & CEO Chanda Kochhar ICICI Bank.

Source: Economic Times
Risks
The global economy is facing significant slowdown risks due to falling oil prices and increasing credit problems in the Chinese economy, which has made investors jittery. The Chinese market weakness has affected all countries as most economies (China, Russia, Canada, Australia etc.) rely heavily on Chinese economy for their exports. If investors become more risk averse, banking stocks will see further downsides as they have greater correlation with economic growth. Foreign Money is already flowing out of the Indian stock market. If the current emerging market weakness accelerates, then this might lead to a further plunge in stock prices.
The Indian industrial companies are already facing debt repayment issues due to lower revenues and profits. If commodity prices go lower, then some of them may go bankrupt leading to larger NPAs for Indian banks.
Valuation has become attractive
Though the stock price has fallen sharply, I think the stock will rebound just as it happened earlier in 2008. IBN stock is currently trading near $6, which is close to its 52-week low price. The stock has lost almost 22% YTD (Feb. 2016). The market capitalization stands at $17 billion, with a P/E of 7x and P/B of 1.4x. Given the low valuation, I think this is a good time to take advantage of the low price and invest in this stock.
Conclusion
ICICI Bank is a one of the largest corporate entities in India, with a recognized brand name and a strong franchise. According to the MD of the Bank, domestic advances are expected to grow 17-18% in FY16. USA-based credit rating agency, Moody's, upgraded the outlook towards Indian banking sector from negative to stable. IBN is a good stock to own, as it is one of the few universal banks in India and has strong growth engines in the form of its insurance and brokerage businesses. As India's economy continues to improve, the NPA problem should get solved. I think it is a good time to build a position in ICICI Bank at these cheap valuations.
Disclosure: I/we have no positions in any stocks mentioned, and no plans to initiate any positions within the next 72 hours.
I wrote this article myself, and it expresses my own opinions. I am not receiving compensation for it (other than from Seeking Alpha). I have no business relationship with any company whose stock is mentioned in this article.
Additional disclosure: I hold Mutual fund units that invest in this stock.