Textainer (NYSE:TGH) will report Q4 2015 earnings on February 11. Latest street estimated revenue and EPS are $132.1 million and $0.42, respectively. Owing to weak container demand and low leasing yields, the company has underperformed market expectations in the last 3 consecutive quarters in 2015. Heading into Q4 earnings, I think the results should remain weak, as recent developments are still pointing to a downside.
As shown in the following tables, the consensus revenue and EPS estimates for Q4 2015 have been trending down in the past 12 months as the street gradually realized the financial impact from declined container demand, increased competition among lessors, and lower container price, which have driven down yields and utilization level.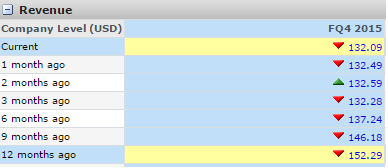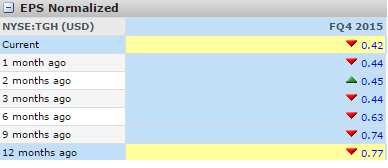 Container price is a key determinant for leasing yield, which in turn is driven by steel price in China, as steel accounts for ~90% of container materials, and new containers are mostly manufactured in China. Since late 2011, when both TGH's new and used container price peaked, the price of used containers has declined by 53%, which is fairly consistent with the 52% decline in China steel prices since then. For new containers, the price has dropped by only 28% (see charts below).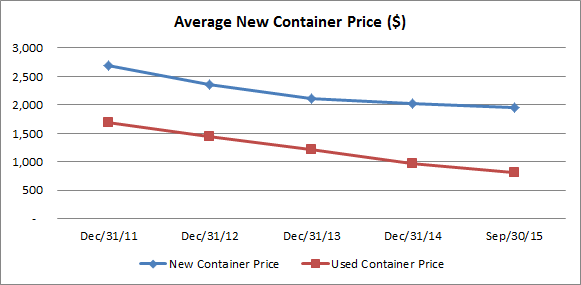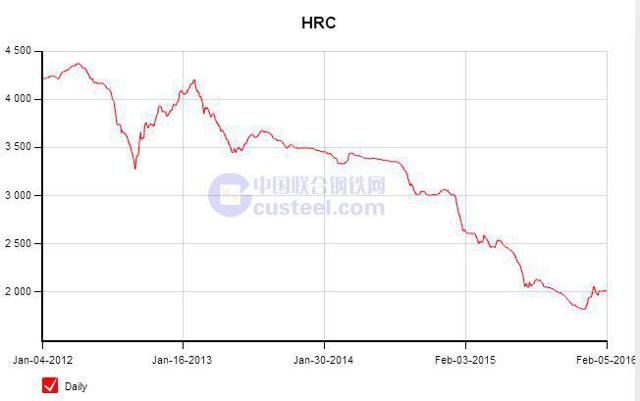 The implication is that new container price may continue to drop as the declined input cost flows through the supply chain, and the price decline will weigh further on leasing yields. Moreover, the lower new container price may trigger shipping lines buying containers instead of leasing, which will further dampen lessors' top line performance. For used containers, their price may stabilize at the current level, because China steel price appears to have found the bottom in late 2015, and there was even a slight recovery in early 2016 (see the steel price chart above). As TGH has reduced its container residual value estimate in Q3, which resulted in higher depreciation and lower EPS, a stable price trend for used containers would help substantially in mitigating the residual value risk.
Another key area that investors should focus on is the increasing customer default risk that has directly hit both accounting earnings and cash flows. In Q3, part of TGH's weak performance was driven by impairment charge associated with a customer defaulting on lease. As Drewry expects that shipping lines' profitability would continue to suffer from sluggish global trade demand in 2016, default risk may elevate. A little light in the dark is that the China CAIXIN Manufacturing PMI, a key indicator for trade level from the important Chinese market, showed a slight recovery in January 2016, as the figure moved up from 48.2 to 48.4 quarter over quarter, and the recovery is expected to continue in remainder of 2016.
In Q3, management announced a shift in the company's capital return policy with reduced dividend and a $100 million share buyback program. In terms of the risk of further dividend cut, I consider it to be unlikely, due to the following reasons:
1) TGH's operating cash flow margin and quantum remain healthy, as a few items affecting EPS (e.g., increased depreciation and impairment charge) have no impact on cash flows (see charts below). At $0.24 per share, and assuming no change in share count, the company's annual dividend obligation would be $14 million. Applying a 70% operating cash flow margin (the average margin in the past 4 quarters) to consensus revenue estimate of $526 million for 2016, TGH would generate $368 million annual cash flows from operations, and only 15% of it will be used in paying dividend.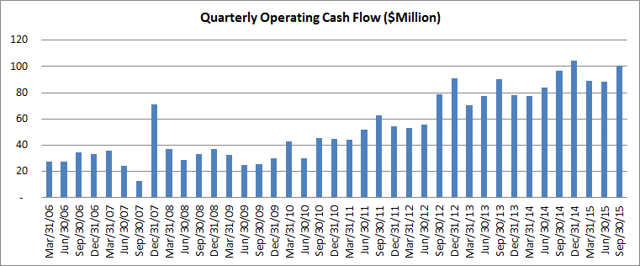 2) TGH's capex level should stay low in light of the compressed leasing yield environment. In Q3, the company's capex dropped to $77 million, compared to $181 million in Q2 and $202 million in Q3 of 2014. The lower capex would support free cash flows, help secure dividend, and accelerate the completion of the current share buyback program.
In my last article, I illustrated that the current share buyback program would provide more incremental benefits to shareholders than the reduced dividend if the company is able to leverage on the current low valuation and complete the buyback program in the near term. As long as TGH can continue to generate healthy operating cash flows, with lower capex, I would expect the $100 million buyback program to be completed in 2016. The Q4 results should give a sense of the pace of the buyback.
The stock now trades at 50% discount to book value, which appears to be very attractive based on a premium of 90% in the past 5 years. Also, it yields 9% dividend, which has limited risk of being reduced. Nevertheless, the market will not reward investors for the sake of low valuation without catalysts. As industry headwinds continue to persist and with little evidence suggesting the trend has bottomed, market sentiment would remain weak. Therefore, investors are recommended to stay on the sidelines and closely monitor management's earnings comments.
All the data presented in the above charts and the article is sourced from Capital IQ as well as company filings and presentations, unless otherwise noted.
Disclosure: I/we have no positions in any stocks mentioned, but may initiate a long position in TGH over the next 72 hours.
I wrote this article myself, and it expresses my own opinions. I am not receiving compensation for it (other than from Seeking Alpha). I have no business relationship with any company whose stock is mentioned in this article.