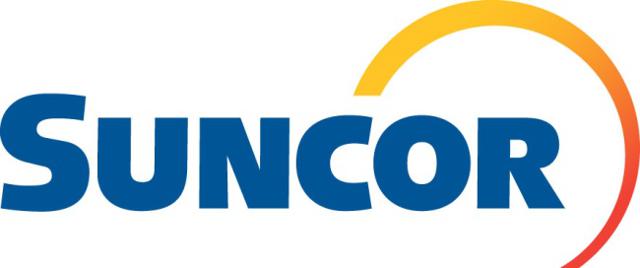 Suncor Energy company logo.
Suncor reports in CAD, and all prices quoted are in that currency, except where noted.
Canadian Oil Sands Acquired / Q4 Loss
On Friday, February 5, Suncor Energy (NYSE:SU) issued a statement announcing that Canadian Oil Sands (OTCQX:COSWF) shareholders had tendered a sufficient number of shares (72.9%) to make its offer for the company a successful one. It is now in a position to acquire the remainder of the shares.
Earlier last week, Suncor had announced its Q4 earnings report. This included a net loss of $2.007 billion, largely due to a non-cash writedown of assets and a foreign-exchange loss, but it also recorded a $26 million operating loss for the quarter. The company also reported a further cutback in 2016 capital spending.
Canadian Oil Sands
After a long takeover battle that eventually resulted in a friendly offer of $.28 of a Suncor share for each share of Canadian Oil Sands, Suncor was able to announce that enough shares had been tendered by the February 5 deadline to make the bid successful. The implied value of each COS share at that date was $8.93 a share. After an earlier deadline had failed to see enough shares tendered, Suncor raised its bid slightly and sought to get at least 51%. Actually, by the deadline, 72.9% of the COS shares had been tendered. The fact that this was more than two-thirds of the shares outstanding now allows Suncor to oblige the acquisition of the remainder of the shares without great difficulty. Today, Canadian Oil Sands formally announced that its previous senior management and Board of Directors of have now been replaced entirely by present or former Suncor personnel.
Suncor will take up all tendered shares. It had provided that COS shareholders who had tended before the deadline would be eligible for the Q1 SU dividend. The company has now extended its offer to February 22, with the same provision regarding the dividend. It has also stated that extensions beyond that date are not anticipated.
Nevertheless, by controlling more than two-thirds of the Canadian Oil Sands shares, Suncor is now in a position to acquire the remainder of COS shares at the offer price, whether or not they are tendered. This process may result in a closing date for amalgamation that is 60 days or more from the expiry of the SU offer.
In the interests of COSWF U.S. shareholders, Suncor intends to seek U.S. tax treatment of the acquisition as a reorganization that would not generate capital gains or losses. It advises, however, that there is no assurance that the acquisition will be so treated by the Federal authorities.
The details of the remainder of the acquisition process remain to be seen, but otherwise, integration should proceed seamlessly. Suncor is already a 12% stakeholder in Syncrude; that stake will now rise to 49.76%. While Imperial Oil (NYSEMKT:IMO) will remain Syncrude's operator, there is no doubt that with its large stake, Suncor will now have a greater influence in operational issues. It has the added advantage that its own base operations are immediately adjacent to Syncrude.
Depending upon Syncrude's eventual average production for the year, Suncor will now acquire approximately an additional 100,000 boe/d of production. Canadian Oil Sands had calculated that its own costs added about $5.00 per barrel to the Syncrude costs. Obviously, some of these costs will remain, but Suncor should now be in the position in the near term to virtually eliminate management costs, reduce the cost of debt servicing and perhaps decrease insurance costs. It likely has made prior arrangements regarding re-financing of the $2.3 billion COS long-term debt. On the other hand, the company will now have an annualized additional dividend cost of some $157 million for its new shareholders. The Q1/16 Suncor report should give some updated information as to how the savings and costs associated with the acquisition will play out.
Q4 Financial Highlights
The $2.007 billion net loss that Suncor reported for Q4 certainly captured headlines, although CEO Steve Williams was able to report that for the full 2015 year, "we generated cash flow that exceeded our annual sustaining capital and dividend commitments." Actually, $1.599 billion of the Q4 loss was a non-cash after-tax impairment on certain of its assets given the lower forward crude pricing situation, some of which, at least, could be open to future reversal. (This included a $415 million further writedown of the company's Libyan assets, effectively reducing them to zero.) The net loss also included an unrealized $382 million foreign exchange charge on revaluation of Suncor's USD-denominated debt.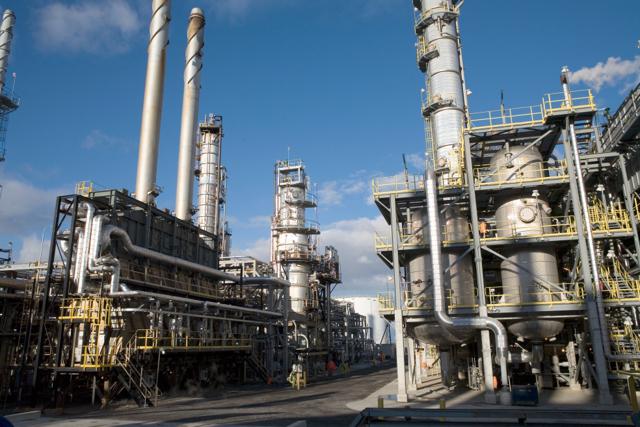 Montreal Refinery (Suncor Energy photo)
Suncor's operating loss of $26 million was basically attributed to the depressed oil price situation for the quarter (with an average of 35% price declines), as well as to a $77 million FIFO refining loss, although this was partly offset by better refining margins. At the same time, management noted that both for the quarter and for the 2015 year, Suncor's downstream business generated well over 40% of its cash flow. Other positive indications in the quarter came from lower oil sands operating costs ($28.00 per bbl, as compared to $34.45 in Q4/14), higher oil sands production and reduced unplanned maintenance.
Despite the low pricing situation, Suncor CEO Steve Williams was reassuring, reminding participants in the company's conference call of what he had said a year earlier. He remarked that the previous $100+ crude pricing was effectively destabilizing, and said that Suncor had put aside cash for a lower price cycle, especially to provide for Fort Hills and Hebron. He said, "We had planned for a low crude price environment and were prepared to manage through it."
Williams expressed the same assurance when asked later about the possibility of debt downgrades. He said he hoped the ratings agencies would make distinctions between companies like Suncor that had strong fiscal positions, but that even if there were to be a downgrade, he was confident the company would retain its investment-grade rating. (The COS acquisition will add $2.3 billion or more to its long-term debt.)
Company CFO Alister Cowan noted that for the coming year, Suncor had based its planning on an annual average price of US$36 for WTI, although this is somewhat lower than the company's price assumption of $39. He added:
... even at $36 oil, we are more than covering our dividend and sustaining capital and... leaving some for growth.
Management noted that its cash operating cost per barrel averaged about $20 per barrel, so it was not contemplating shutting in any production.
Revising the 2016 Capex
Suncor had earlier projected that its capital expenses for 2016 would be between $6.7 and $7.3 billion. Its quarterly report indicated that by deferring discretionary spending, the company was now reducing its guidance to a range of between $6.0 and $6.5 billion. (This, however, does not include the approximately $250 million additional capex that Suncor will now have to spend because of its takeover of the COS share of Syncrude.) Management has estimated that about $3.5-4.0 billion is needed to sustain its current operations; the remainder goes toward future development.
In that connection, the company has made it clear that its priorities remain the Fort Hills oil sands project and the Hebron East Coast offshore development, both of which are slated to produce their first crude in late 2017. It reported that Fort Hills was now over 50% complete, and that both projects were on target. Due to deferred spending, less capex for Firebag is now necessary, and the downstream Montreal coker project and some in situ work have now been deferred for a year.
Suncor's Operations
Suncor's Q4 production averaged 582,900 boe/d, which brought the company's average annual production for 2015 to 578,000 boe/d. This represented an 8% increase over 2014, and was in the upper range of company guidance. It was indicated that the new spending cuts announced would not affect Suncor's previously announced 2016 anticipated production, which had been in the range of 525,000-565,000 boe/d (mid-point, 545,000 boe/d). According to the company, this production would come with reduced operating costs of about $500 million.
Although these figures are somewhat lower than current outputs due to proposed maintenance, it would seem Suncor is taking advantage of the pricing situation to curtail its production, while pricing is expected to remain low. To these figures, of course, should now be added the additional barrels that will come from the COS acquisition. Suncor had previously estimated its net (12%) Syncrude production to be 30,000-35,000 boe/d. With its now higher stake (49.76%), the company's total 2016 Syncrude production should be between 124,000 and 145,000 bbls/d.
The company is obviously pleased by its Firebag operations. With new equipment, Suncor was able to sustain production well above previous levels. As of January 1, it raised the nameplate capacity for Firebag from 180,000 boe/d to 203,000 boe/d. The costs relative to the increased production came only to about $5,000 per running barrel.
Suncor also recorded annual increases of production at MacKay River by about 20%, to 38,000 boe/d, with operating costs of $11.65 per barrel. There was also major improvement at the base plant in terms of both mining and upgrading. At year end, mining ranged at about 300,000 boe/d and upgrading was over 90% of nominal capacity. The company believes that major maintenance scheduled for 2016 can sustain this kind of performance.
In terms of Suncor's exploration and production activities, there were annual "modest natural declines" in its East Coast production, but continued strong low-cost production in the North Sea operations from both Buzzard and Golden Eagle. Because of its political instability, Libya has been a non-factor.
Regarding its downstream operations, Suncor also advised that its average refinery utilization at both Montreal and Edmonton stood at 93%, a solid figure. The reversal of Enbridge Line 9 between Sarnia and Montreal, which has been operational since December and has a 300,000 bbl/d capacity, now allows a variety of cheaper inland crudes (both Canadian and U.S.) to be fed to the Montreal refinery, which should save perhaps $2-3 per barrel on Montreal feedstock costs.
Suncor's Dividend
When asked during the conference call about the sustainability of the current dividend, CEO Steve Williams noted that it had been increased just last summer and that the Board was "very comfortable with that." As noted earlier, the company is projecting that it can cover the dividend, sustaining capital and its priority future projects from 2016 cash flow. Suncor felt it could do this even with the currently constrained pricing situation. Williams commented "you can never say never", but...
... for any circumstances we can currently see coming at the moment we believe we will be able to protect our dividend.
Acquisitions and Divestitures
During the conference call, one analyst, anticipating the success of the Canadian Oil Sands bid, asked Steve Williams, "Why stop at COS?" The suggestion was that Suncor should consider also the potential acquisition of MEG Energy (OTCPK:MEGEF) and Cenovus (NYSE:CVE), both of which are primarily focused on oil sands production and, in the particular analyst's view, could benefit from Suncor's expertise. Williams was naturally non-committal about any particulars and said that Suncor had no immediate plans for any follow-up to the COS acquisition, but that the company was continuing to look at companies that "operate within our core business," and looked at the present situation as an opportunity.
Nevertheless, Williams did note during the conference call that the company was actively considering the sale of some of its non-core assets, if desirable, even during the coming year. Again, however, he was not forthcoming as to any particulars or timetable.
Analyst Ratings
The following table presents recent ratings since January 1. These are in CAD figures for the TSE listing. As of the February 8 close, SU was trading on the TSE at $31.37 (NYSE: US $22.53), and its dividend yield was 3.7%. Note that CIBC and Scotiabank have been advisors to Suncor on the Canadian Oil Sands bid, and may be precluding from providing any analysis until the SU offer formally closes on February 22.
| | | | |
| --- | --- | --- | --- |
| Date | Company | Rating | Target Price |
| | | | |
| February 8 | RBC Capital | Outperform | $39.00 |
| February 8 | FirstEnergy Capital | Underperform | $27.00 |
| February 4 | TD Securities | Hold | $36.00 |
| January 21 | Nomura | | $41.00 |
| January 18 | National Bank Financial | Sector Perform | $37.00 |
| January 12 | Barclays | | $40.00 |
| January 12 | Raymond James | | $30.00 |
| | | | |
Risks
Obviously, the greatest risk to Suncor would come from a further major decline in oil prices or sustained low prices at current levels.
Since investors value Suncor for its steady dividends, there would be a shock to the share price if low pricing forced the company to reduce its dividend.
There are also particular risks to a company like Suncor from some major incident in its physical operations at its various oil sands projects or at its east coast or North Sea platforms that could cause a major shutdown in production or environmental damage.
For U.S. investors, there is a risk in terms of share price and dividend from any further decline in the Canadian dollar. At the same time, the current slide in the CAD is a double-edged sword. A high U.S. dollar is actually beneficial to SU in terms of oil pricing, but detrimental in terms of its US$-denominated interest payments. At the same time, an increase in crude pricing would likely strengthen the Canadian currency and could benefit USD shareholders.
Investment Thesis
At this time, any current investor in energy shares, or any prospective buyer, should probably be of the view that WTI crude prices will have improved meaningfully (to perhaps ~$45) by the second half of 2016. Refineries coming on-stream after winter maintenance and the run-up to the driving season during April and May should trigger some improvement in pricing from current levels. If this is not the case, many oil producers could experience unanticipated problems, since few have targeted sustained pricing in the $30s. Suncor is planning on the basis of average pricing of around $36, which is far better than most, but this still implies H2 pricing above that level.
Suncor is the largest Canadian energy company and a favorite among Canadian energy stocks among conservative institutional investors. The share price has undoubtedly been supported by the fact that it is one of Warren Buffet's (NYSE:BRK.A) prime energy holdings.
Both the Alberta greenhouse gas emissions policy and its future royalty regime have now been publicized, and are favorable to Suncor. This not only removes the risk of uncertainty, but also gives the company far greater clarity for future planning.
The present time perhaps represents a buying opportunity. Given the volatility, the market seems to regard SU as having a considerable degree of safety, but also as having also some clear upside future potential. The COS acquisition strengthens that potential, but in the shorter term, it will require additional capital spending and higher debt levels.
Suncor is a company that should be very attractive to any investor with a long-term outlook. Within the energy sector, it could be a "comfort" stock - the kind of investment that would be attractive to pension and endowment funds and those seeking retirement income.
Given Suncor's present control of Canadian Oil Sands, there is now no reason for the remaining COSWF/COS shareholders not to tender their shares, and they face potential loss of the quarterly SU dividend should they fail to do so.
Suncor is committed to a long-term annualized Return on Capital of 15%. While the company is unlikely to reach that figure in the current year, its prospects for maintaining that kind of growth over the longer term are good.
At the same time, given that Suncor has been considered a "safe haven", its share price may not increase as quickly as other companies that are basically sound, but whose share price has been detrimentally affected to a greater extent. To some extent, there could be outflows from Suncor in an improved pricing environment to other producers whose share price might be seen to generate faster short-term returns.
Disclaimer: The information provided above is not a recommendation to buy or sell a stock. It intends to increase investor awareness and to assist investors in making smarter decisions. Prospective investors should always do their own further research, and take into account their own current financial holdings, their risk levels and their shorter or longer-term outlooks.
Disclosure: I/we have no positions in any stocks mentioned, and no plans to initiate any positions within the next 72 hours. I wrote this article myself, and it expresses my own opinions. I am not receiving compensation for it (other than from Seeking Alpha). I have no business relationship with any company whose stock is mentioned in this article.
Editor's Note: This article discusses one or more securities that do not trade on a major U.S. exchange. Please be aware of the risks associated with these stocks.