The narrative since the start of the New Year has been how the decline in oil prices has weighed on the stock market. And through the first two and half weeks of the year, this appeared to make good sense. But in the last couple of weeks, a new force appears to be at work that is driving stock prices lower. It is the European banks, and the magnitude of recent price declines is something certainly worth monitoring in the days and weeks ahead.
The decline in oil prices has clearly had an impact on the stock market. From the most recent stock market peak at the end of December through January 20, the S&P 500 Index (NYSEARCA:SPY) declined by more than -12% while oil (NYSEARCA:DBO) declined by nearly -30%. And just as oil bottomed intraday on January 20, so too did the S&P 500 Index. Since that time, oil prices have rebounded by roughly +10% through Monday's trading. But at the same time, the S&P 500 is in the process of falling back to retest its January 20 lows if not break below them.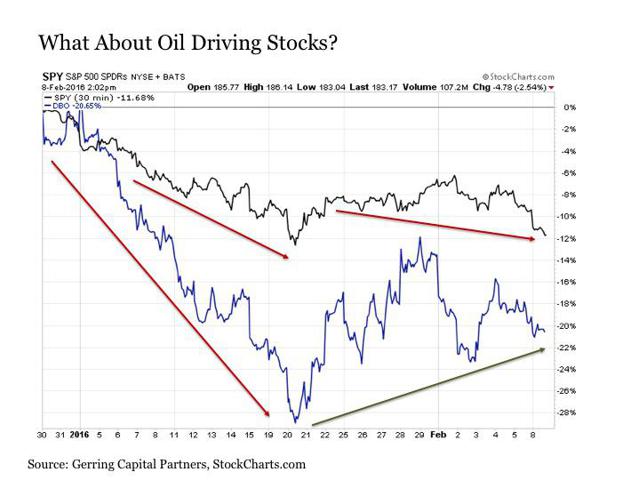 Clearly, something more than oil prices is currently dragging on the U.S. stock market. And this something is most likely the European banks, which have been cratering ever since the calendar flipped to 2016. New bank bail-in rules that went into effect with the start of the New Year and potential commodities related exposure have been cited as potential reasons why European bank stocks have struggled so mightily.
Regardless of the reasons, investors are well served to monitor the unfolding situation with these banks very closely going forward. This is true for two reasons.
First, as most can freshly recall from the financial crisis several years ago, the global financial system is highly interconnected. As a result, a bank failure in one part of the world can quickly have contagion effects that spread quickly around the globe.
Second, unlike so many other companies that are in the business of creating physical products that can have a price tag and a more clearly assigned value, financial institutions are dealing with assets that are more nebulous and subject to interpretation. As a result, confidence and trust in the sustainability of a financial institution is a factor that is critical in ensuring their survival. Consequently, if it appears that this confidence is becoming shaken or lost, which can be reflected in the declining stock and bond prices of these institutions, the subsequent strain on the capital structure can eventually build up enough pressure where default becomes a self fulfilling prophecy whether justified or not.
With this in mind, the following are a list of European banking institutions to place on watch for future stock and bond price declines going forward. Each of these institutions are based in Europe and have shares that trade on the major U.S. exchanges.
HSBC (NYSE:HSBC)
Lloyds Banking Group (NYSE:LYG)
Banco Santander (NYSE:SAN)
UBS (NYSE:UBS)
Barclays (NYSE:BCS)
Royal Bank of Scotland (NYSE:RBS)
Credit Suisse (NYSE:CS)
Deutsche Bank (NYSE:DB)
Inclusion on this list below does not mean that the institution is actually facing any current financial stress at this time. But monitoring this list will help to not only determine exactly which institution may be coming under strain at any given point in time, but also will provide an indicator about the potential for any such pressures to spread further into the broader global capital markets.
The following are the latest price charts for each of the eight institutions listed above. In some cases, the slope of the recent price declines is attention-grabbing to say the least.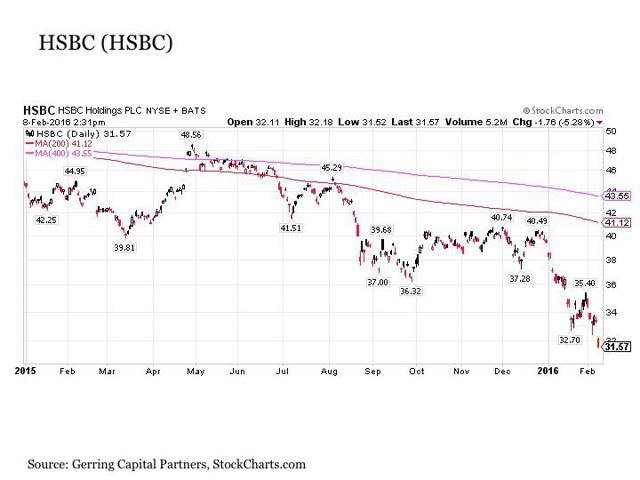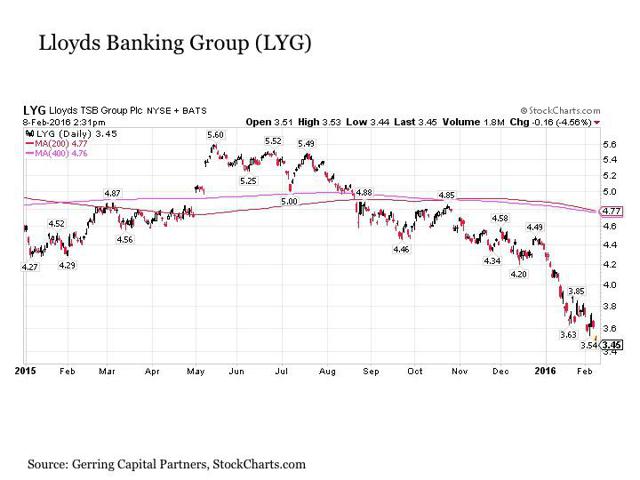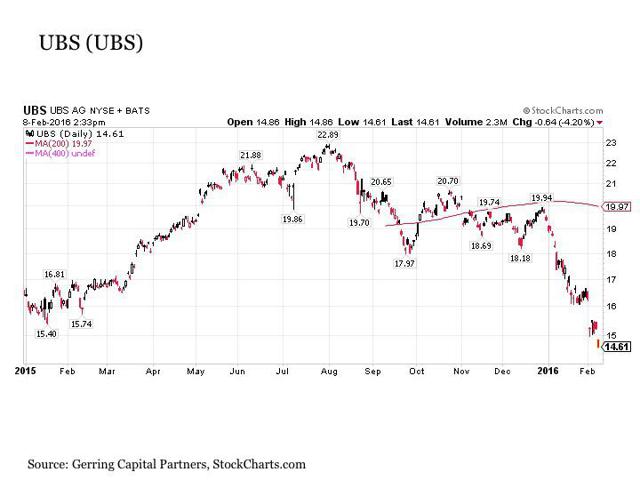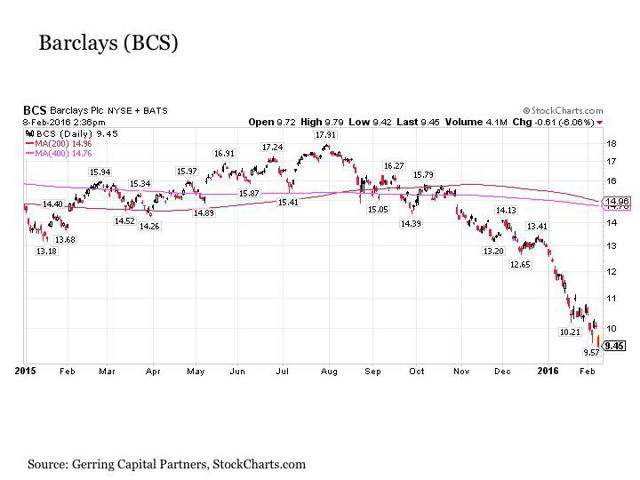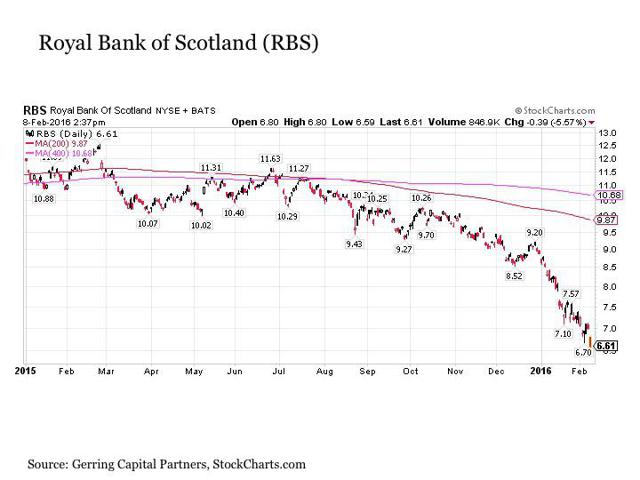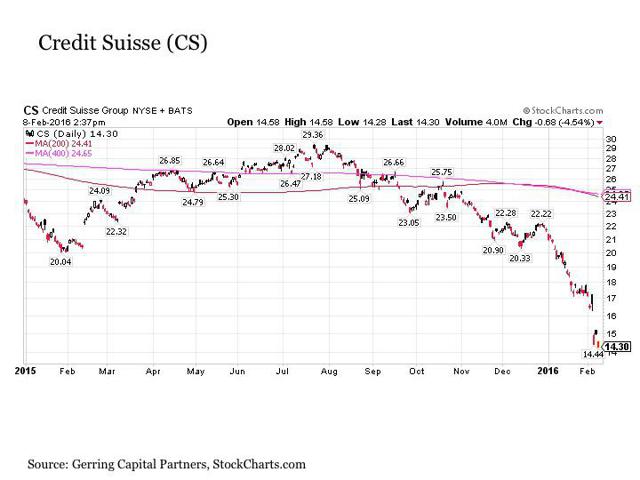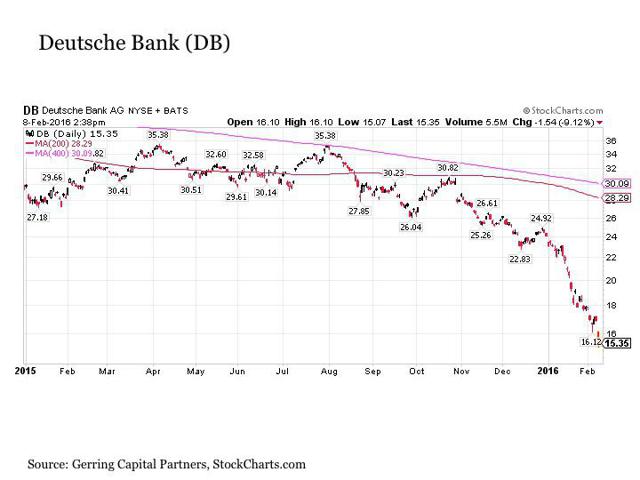 Looking Ahead
Will these declines continue? Time will tell, but we are not seeing any signs of relief as of yet. And while we are seeing indications of elevated stress among these institutions, it has not yet risen to the point where it would be characterized as extreme. The important point to emphasize is not yet. If the pace of the current decline in asset prices associated with these institutions persists or picks up steam, it may signal the need for more broadly defined evasive action across individual investment strategies. Thus, keeping a close eye on these canaries will be important in the days and weeks ahead.
Disclosure: This article is for information purposes only. There are risks involved with investing including loss of principal. Gerring Capital Partners makes no explicit or implicit guarantee with respect to performance or the outcome of any investment or projections made. There is no guarantee that the goals of the strategies discussed by Gerring Capital Partners will be met.
Disclosure: I/we have no positions in any stocks mentioned, and no plans to initiate any positions within the next 72 hours.
I wrote this article myself, and it expresses my own opinions. I am not receiving compensation for it (other than from Seeking Alpha). I have no business relationship with any company whose stock is mentioned in this article.