Latest Results
General Motors' (NYSE:GM) 2015 Q4 earnings were pretty good overall. They increased diluted EPS from $1.65 to $5.91, beat analyst expectations on revenue, and increased ROIC from 15.4% to 27.2%. That sounds great but the market is now punishing them for it. At first this sounds crazy but I think it is just risk averse investors avoiding a brand that went bankrupt less than 10 years ago.
The EPS picture is actually less rosy than it sounds. There were large impacts from "special items" that improved EPS in 2015 and hurt it in 2014. After those items are removed, EPS only improves from $3.05 to $5.02.
A 65% improvement still sounds good you say? Not to all the people buying Treasury notes recently. Yields on 2 to 10 year Treasury notes have dropped substantially this year. I believe that people have a good memory of the 2008-9 crash and are fleeing to safety. A company that went bankrupt during the recession doesn't inspire confidence in these people.
North American Growth and Cost Reduction
Much of this improvement is driven by earnings from North America, where EBIT (adjusted for the "special items") is $11 billion, up from $6.6 billion in 2014. Most of this is due to decreased COGS and inventory discipline. Basically they are producing only as many cars as they can sell.
On the 2015 Q4 conference call CFO Charles Stevens said:
"We've refrained from taking volume and share as we focused on profitable retail growth. U.S. dealer inventories have been proactively managed down. As Mary indicated, they're down over 100,000 units or 14% compared with year-end 2014. In addition, and probably an area not mentioned enough, we have a much more flexible workforce, enabling us to react to market dynamics and take costs out more aggressively compared with past cycles."
Sales are up 5% in North America but down across the board, so this concentration on cost reduction is encouraging to see. Car and Truck sales mostly follow local economies, so the lack of macroeconomic growth outside the US is a potential for concern. If it were to spread to the United States it would definitely hurt GM's sales even more. However, based on current conditions like household debt and improving employment numbers, along with predictions of slow growth for the next few years, GM thinks its profit forecasts are achievable.
Partnership With Lyft
On the same 2015 Q4 earnings call, CEO Mary Barra talked a little about the recently announced partnership with Lyft (Private:LYFT). If you don't know, Lyft is a taxi alternative charter service that competes with Uber (Private:UBER). Their goal is replacing urban and suburban cars with on-demand self-driving electric cars.
GM has correctly guessed that they can cheaply jump on the on-demand transportation bandwagon now before other partnerships are formed. Currently they are only going to be "a preferred provider for short-term-use vehicles for Lyft drivers." But the end goal is to make "an autonomous fleet of sharing vehicles available for use quicker than anyone else."
Basically this is an avenue to lease more cars now, while preparing for a future with fewer drivers. I like the partnership with Lyft instead of Uber. Lyft has shown a desire to partner meaningfully with other transportation companies (Didi Kuaidi, Shell, Waze) while Uber is trying to look important (Facebook, Capital One) without accomplishing much.
A Convertible Preferred
Stable growth and a strong balance sheet are the markers of a good debt or preferred stock investment. Unfortunately, both of these qualities are uncertain for GM at this time. Accordingly, their debt is rated barely investment grade right now. I don't usually recommend buying junk bonds, but the stock is another story.
Because of all this uncertainty, GM's common stock price has sunk and created an opportunity for an enterprising investor. The dividend yield is now over 5%. This means that purchasing some GM stock now could provide sizable current income while you wait for the economy to improve. That would give you capital gains too.
Usually this kind of opportunity to have your cake and eat it too only exists as a complicated security called a convertible preferred share. Now you can have the same profit structure without even knowing what that is. (Here is a definition if you want know.)
Valuation
GM's EPS guidance for 2016 is currently 5.25 to 5.75. Their management seems competent and trustworthy, but that can't increase wages for the average US consumer. Also, growth around the world is not looking great either. I use $4 per share for EPS in my Conservative Valuation (a 20% decrease from 2015) and $5 for the Expected Valuation. The growth rates have been set similarly.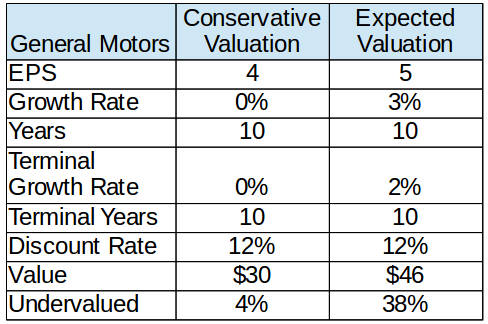 Source: Own
GM is fairly valued using the conservative assumptions (20% lower EPS and no growth). But if you assume even a small amount of growth, as their plans support, GM is extremely undervalued right now. I think they are safe enough for an enterprising investor with a medium time horizon, 3-6 years. Plus they will pay you the 5% dividend while you wait.
Other articles by Chris:
Disclosure: I am/we are long BRK.B, DE.
I wrote this article myself, and it expresses my own opinions. I am not receiving compensation for it (other than from Seeking Alpha). I have no business relationship with any company whose stock is mentioned in this article.