The shares of Mondelez International (NASDAQ:MDLZ) have been on a steep decline in 2016. They had been down around 8% before the earnings report sent them hurtling lower to almost 14% down for the year. The global snack giant now sits at a price that looks almost a bargain, but is it?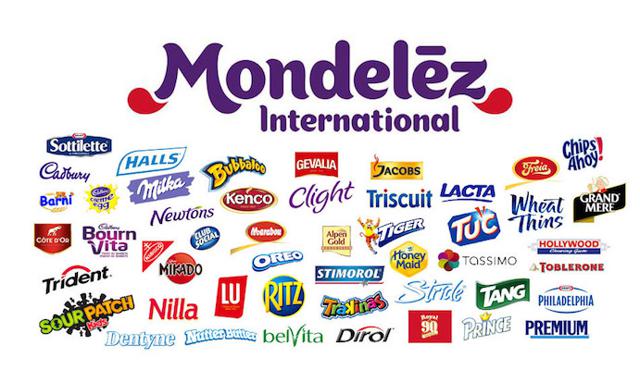 To begin with, we need to take a quick look at the earnings to fully understand the sell-off. When the company reported on Wednesday, it managed to beat on the top line with quarterly revenue of $7.36 billion, but didn't quite make it on the bottom line with earnings per share of 46 cents. The market had been expecting earnings per share of 48 cents on revenue of $7.27 billion.
Not the worst results, but it was how the company achieved them that we think scared off investors. Price increases were the reason the company managed to beat on revenue, which means volume was down again as shown below. Having volume drop is a worrying sign and investors are going to be needing to see a distinct improvement in that in the next few years.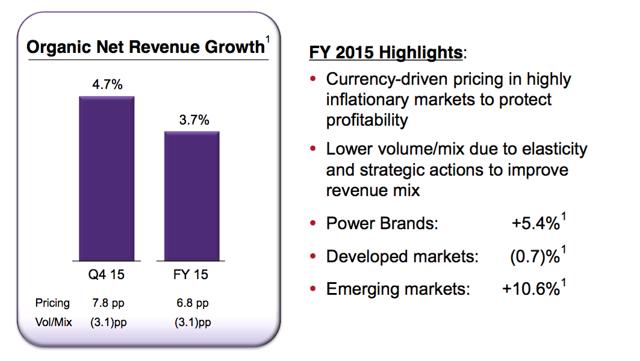 Source: Company presentation
On its earnings call, management recognised the challenges that it faced with regard to volume and will be focusing on organic growth in the years ahead. But it won't be coming next year. Chairman & Chief Executive Officer Irene B. Rosenfeld was asked by Chris Gowe from Stifel about volume growth next year and she said "It'll get better, Chris, but, no, it's still going to be challenged because of the strong impact of pricing."
The price increases were not well received by consumers and retailers last year it seems. Management explained that, with its chocolate segment, as it was the first to raise prices due to rising input costs, there was a period of time when it was being undercut by the majority of its competitors who seized on the opportunity to steal market share away from it. Scenarios such as these are known as price gaps. Fortunately, on the call, management advised these gaps are closing and market share has been improving steadily. We feel it is caught between a rock and a hard place in reality. The strong U.S. dollar is causing all sort of FX headwinds, and will continue to do so for some time yet. If it does have to raise prices again to compensate for higher input costs, then we fear the company does run the risk of the same thing eventuating.
So things are really challenging for the company at the moment. But there is something that we have hopes will see it through these dark days. Snacking. We spoke about the snacking trend recently when we wrote about Hershey's (NYSE:HSY). It is the one trend which looks set to grow at a high rate and if Mondelez can capture this growth, then we have high hopes for the future.
To quote ourselves from that previous article: "Datamonitor believes that in the United States there are 44 million millennials which have around $1.1 trillion of spending power combined. Not all of that is going to be spent on snacking, but a small percentage of it still makes for a big market." Hershey's have entered the arena with its acquisition of Krave - which we happen to be a big fan of, but what does Mondelez have on offer?
Wheat Thins, Triscuit, Honey Maid, Club Social, Newtons, and Enjoy Life are all quality wholesome snacks that the company can market to millennials. We would like to see it introduce a beef jerky range as we do think it needs to compete with Hershey's Krave. We estimate the domestic beef jerky market to be worth over $2 billion a year at present. It had previously been estimated to be worth at least $1.5 billion just over a year ago as shown below.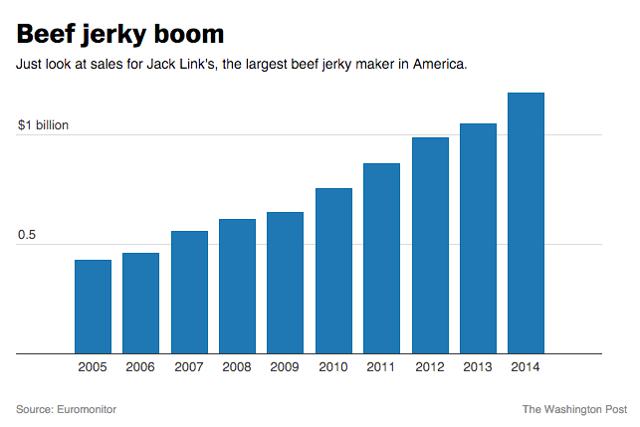 Source: Washington Post / Euromonitor
We feel that the company will achieve what is expected of it next year, thanks to growth in snacking and favourable commodity prices. At present, some of its key commodities are at very low prices, which should help increase gross margin further. Although revenue has been disappointing for a number of years, gross margin has been a standout in our view.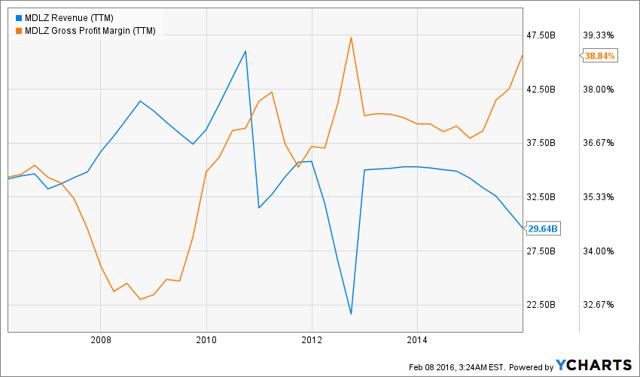 For these reasons, we expect the company to achieve earnings per share of $1.82 in fiscal year 2016, despite expectation of falling revenue. When the FX headwinds subside, we are very confident that earnings and revenue will accelerate to a high level of growth. Judging by monetary policy, it could be a couple of years before the company is gifted this. So until then growth will be slow, but it will be there.
At this point, we have a one-year price target of $41.00, which offers investors a return of 8.75%. For us, Mondelez is a hold for the long term. The company has a robust balance sheet with over $2 billion of free cash flow. We feel this should allow the company to make earnings accretive acquisitions should the opportunity arise. The company is also returning money to shareholders through buybacks. It currently has $5.5 billion left until 2018, which we feel will act as a defence against the share price dropping any lower.
This may be a struggling giant, but we believe the management team is more than able to get Mondelez back to the days of strong growth and great shareholder returns. In our opinion, the drop in share price has given investors a great opportunity to buy in at a reasonable price.
Disclosure: I am/we are long MDLZ.
I wrote this article myself, and it expresses my own opinions. I am not receiving compensation for it (other than from Seeking Alpha). I have no business relationship with any company whose stock is mentioned in this article.