By SprinkleBit
Disney (NYSE:DIS) is set to announce its first-quarter financial results after the market closes on Tuesday (2/9). Given the latest blockbuster success of Star Wars, we are looking to see if Disney can harvest the force and beat earnings estimates. Analysts expects the media and entertainment giant to report a year-over-year rise in both earnings per share and revenue. However, cord cutting and declining cable subscriptions may overshadow its Star Wars success, and future revenue guidance will be the key metric for the stock price. Analysts estimates expect Disney to announce earnings of $1.45 per share and revenue of $14.75 billion for the quarter.
Fundamental Analysis
The SprinkleBit Analyzer saves you a lot of time and spreadsheet calculations. We ran Disney's financials through the analyzer to find out how its fundamentals compare to the closest competitors. The competitors - Sony (NYSE:SNE), Time Warner Cable (TWC), Twenty-First Century Fox (NASDAQ:FOXA), and Comcast (NASDAQ:CMCSA) - were chosen due to their presence in the media and entertainment market. Crunching the numbers through the analyzer gave us an implied share price of $ 74.07 for Disney. With the current trading price of $ 90.09, (2/8 @ 11.20 am), the company is overvalued by 17.78%.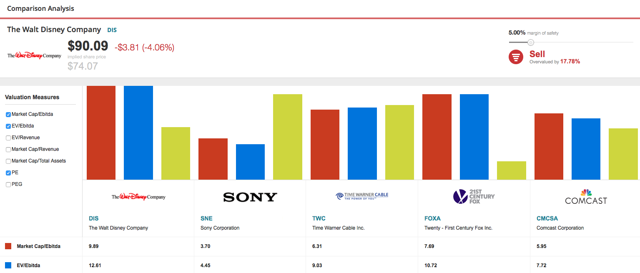 Technical Analysis
We have also taken a look at the technicals on the Disney stock's daily chart to see where a potential miss or beat could move the price to. With an entry price of $90 and a reported loss on earnings, the stock has the potential to fall to $82, for an 8.89% loss. With an entry price of $90 and a reported beat on earnings, the stock has the potential to rise to $97, for a 7.78% gain. The risk/reward ratio for this trade is 0.88.