Every few years I feel compelled to write about the Trust Preferred stock (OTC:GWSVP) of Glacier Water Services (OTCPK:GWSV). We previously wrote about these shares in 2011 and then wrote again in 2014 with these articles on Seeking Alpha.
Revisiting Profitable Glacier Water Services Trust Preferred Stock
Glacier Water Services: Little Known Stock, Tasty 9% Yield
In hindsight, it almost seems crazy that we bought a trust preferred stock back in 2009 and have held it nonstop since that time. The reason it seems crazy is that Glacier Water Services is a non-reporting company -- the company is not required to file financial reports with the SEC (Securities and Exchange Commission). It also seems crazy because we are very conservative investors and to hold a trust preferred stock, or any stock of a company not required to file SEC reports, just seems like something only a foolish investor would do. Well you can call us foolish, but every week when I talk with my brother we review our stock holdings, and laughingly, we always end with "still got that Glacier Water". Yes, he has owned it since 2009 as well and it has provided the best 'total return' of any security we have owned.
Let's look back a bit at some of the history of Glacier Water Services.
The company has been in existence since 1983, being founded in Southern California and was incorporated as Glacier Water Services Inc. in 1991. The initial thrust of the business was the ownership of reverse osmosis water vending machines in warm climate states (as the machines were installed outside they were impractical for cold weather states). Later, the company developed a water vending machine for inside retail locations. The company contracts with retailers to "host" the machines and retailers commit to supplying the water (good old tap water) and electricity in exchange for a commission on sales. Also along the way, the company developed a self-contained ice machine with bagging capabilities.
Glacier had an installed base of 3,700 machines in 1992 and by 1998, this had grown to 12,000. Revenues grew during this time frame from $27 million to $57 million and they were profitable during this entire time frame, although in 1997 they took a non-recurring charge for expenses related to an acquisition which reduced profitability as compared to historical levels.
Initially, the company financed the business primarily with equity and in 1993 had 3.3 million common shares outstanding, with just $1.7 million in debt. Glacier had $23 million in assets at this time so by any measurement GWSV would be considered to be a financially conservative company.
As the company grew they chose to finance this growth by drawing on their line of credit and by 1998 they had $29 million in debt. The credit line was at the prevailing prime rate of 8.5% or Libor plus 1.75% (a total of 7.75% in January 1998). Regardless of the increase in debt the interest payments on this debt consumed just 3.5% of revenue--still a relatively modest cost.
It was in early 1998 that Glacier Water Services decided to form Glacier Water Trust I. For those unfamiliar with Trust Preferred stock it is preferred stock issued by a trust which uses the proceeds to purchase debt from the forming company. The reason companies form trusts is simply to cut out 1 level of taxation. Interest on debt paid by a corporation is tax deductible. Investors should note that trust preferred stock dividends are taxed as if they were interest since the payment received is simply a pass through of interest payments the trust receives from the issuer on debt.
Glacier Water Trust I issued 3.4 million shares of 9.0625% trust preferred shares. These were $25 shares and paid dividends monthly. With the proceeds, the trust purchased junior debentures from the company. The company then was able to pay off all of their credit lines and have more than adequate cash on hand for expansion in the year or 2 ahead.
We can only speculate upon the reason the company chose to finance their expansion with trust preferred shares and while the 9.0625% coupon seems high by 2016 standards one has to remember that at the time of issuance the prime rate was over 8%. What we do know is that Richard Kayne (net worth of over $1 billion), founder of Kayne Anderson Capital Advisors and the Kayne Anderson family of funds, owned 39% of Glacier Water Services and was a board member. This may give us some insight into the motivation of the company in forming a trust and issuing trust preferred shares - maybe they had a ready and willing buyer in board members (although this is speculative on our part).
Fast forward to 2005 and we find that the company has revenue of $75 million, but is no longer reporting profits. They are now reporting a $2 million loss - but remember this is after they paid $7.9 million in interest on the trust preferred shares. In spite of losses on the income statement and a large debt burden (with a 9.0625% coupon), the company still generated free cash of over $9 million. Not too shabby. We should also note that the company bought back 1/3rd of their common shares prior to 2005, leaving Richard Kayne with 51% ownership and fellow board member Charles Norris with a 21% share as of March 2, 2005.
2005/2006 is somewhat of a pivotal time for Glacier Water Services as continuing losses on the net income line of the income statement caused shareholder equity to turn negative. At the time the common shares of the company were listed on the American Stock Exchange and the common share equity fell below whatever the level was for continued listing on the exchange (forget the high level of free cash being generated - if you show net losses year and year eventually your common share equity goes negative). In 2006 the company applied to have their shares (trust preferred and common shares) delisted from the American Stock Exchange since the negative equity and lack of public share holders (107 public shareholders) both disqualified GWSV from further listing. Additionally, at this time the company no longer was required to file the typical SEC reports (for instance quarterly and annual reports, proxy statements or any other information for that matter). Since 2006, information on the performance of the company has come from the company website where they do provide quarterly and annual press releases.
Fast forward again to 2011. In 2011, Glacier Water Services decided to do a public offering of common stock with the intention of calling the trust preferred shares (they became callable in 2003 and mature in 2028) with the proceeds. In 2010 revenue had grown to over $100 million, but debt had also grown to almost $119 million as the company continued to finance expansion with debt. This is enough debt to seem pretty scary to a potential investor. Even with the high debt levels, they were operating at near breakeven (in net income) and continuing to generate free cash of over $10 million. At this point I felt my "juicy" dividend would be gone soon, but with the financial crisis just behind us the company was not able to complete their common share offering and the trust preferred dividend was secure again for some amount of time.
Once again fast forward to November 6, 2015. This is the last date that financial information for the company was reported. The company reported revenues for the 1st 9 months of 2015 were over $104 million (likely translating into an annual run rate of $135 million) - continuing growth year over year. Unfortunately, debt had increased again to now total over $147 million. Free cash generation remains relatively high at over $8 million (for 9 months), but weakening slightly over time. This slow erosion in free cash generation is somewhat of a concern, but not enough to motivate us to sell our shares.
At this point, we anticipate that GWSV will release full-year results for 2015 in mid-April (2 months from now). We don't anticipate any major surprises as revenue and debt have grown consistently over the years, but one never knows.
There are questions that we have as owners of the trust preferred stock which really are motivated by our own greed (or at least financial well being). The obvious question is when will the company attempt another common share offering? The implication of an offering would likely be that the trust preferred shares would be called. We also would like to know what the ownership positions are of Richard Kayne and Charles Norris. The last we knew they owned over 70% of the company. Their ownership stake is important to us as we would, at least, know who is calling the shots at the company. Over the years we have formulated a thesis as to why GWSV has not worked harder to do a public common share offering and that thesis is that Kayne, Norris and other insiders own the lion's share of the trust preferred shares and a 9.0625% coupon provides a very lucrative income to these holders (once again this is purely speculation on our part). Of course we will not get answers to these questions - tightly held, non-reporting companies don't respond to small shareholders.
So we will summarize by going over the recent trading history of the trust preferred shares and give some parting thoughts on ownership of this security.
The trust preferred shares of GWSV have traded nicely in a fairly tight range over the last 5 years as shown in the chart below and we would anticipate this would continue assuming the shares remain outstanding. We should point out that like all income securities these shares plunged lower in late 2008 and early 2009 - to the $14/share range, which is where we bought our original position.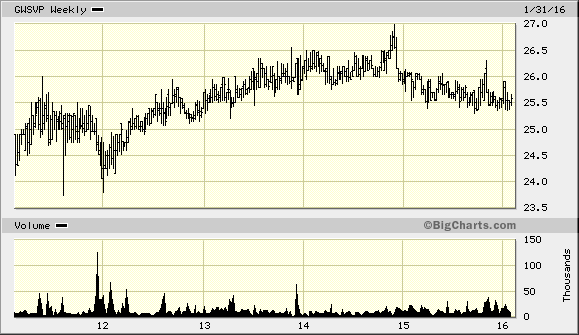 As we see it today Glacier Water Services trust preferred shares could be called at a moment's notice. This leaves holders in the position to lose 1-2% as the shares pay dividends monthly (just over 19 cents/month) leaving the shares trading at a premium to the call price of around 30 cents/share as the shares are trading at $25.50.
So the question is - should an investor buy these shares today? Our answer is simple - we are quite comfortable with them, but have held them for many years and we never recommend any investment to anyone as each of us is unique in our needs and risk tolerances. We would never make an outright recommendation to buy shares in a non-reporting company- as we mentioned at the start of the article - it just seems foolish. We have presented some historical data in this article, but for those curious enough you can access the archives of the SEC here to see filings the company made prior to 2006.
Just call us foolish as we plan to continue to hold these shares!
NOTE - we never make any recommendations to buy or sell any security as we have no idea of the suitability of any investment for particular folks as we are all unique.
Disclosure: I am/we are long GSWVP.
I wrote this article myself, and it expresses my own opinions. I am not receiving compensation for it. I have no business relationship with any company whose stock is mentioned in this article.
Editor's Note: This article covers one or more stocks trading at less than $1 per share and/or with less than a $100 million market cap. Please be aware of the risks associated with these stocks.