Callaway Golf ELY and its investors recently celebrated their recent earnings announcement where the reasoning was the company had not lost as much money as anticipated - that's right - celebrating a loss. This would be a bit more understandable if we were talking about an oil company. But we're not. Though Callaway has managed to turn things around over the past couple years, do not make this your "bet the mortgage" pick of the year to invest in. I will not be taking a swing at Callaway now, or anytime soon.
Let's first acknowledge the one positive Callaway has accomplished a turnaround from 2012 where EPS was ($1.96) and for this year is $0.14 after taking into account a stronger dollar. Had it used 2014 currency rates EPS would have been $0.58. Let's take a look where Callaway's revenue came from on a geographical basis Q3 YTD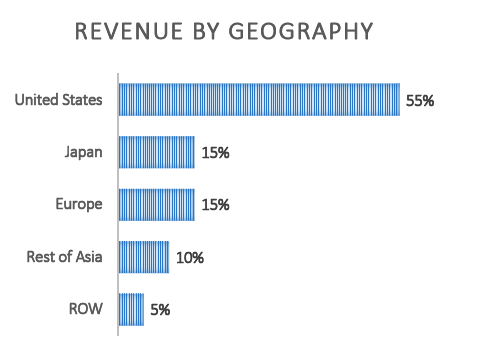 With 55% of their revenue coming from the U.S. Japan is a distant second at 15%. Many of us are aware of Japan's economic situation and now negative interest rates, so the chart below detailing the USD to the Yen should come as no surprise to anyone.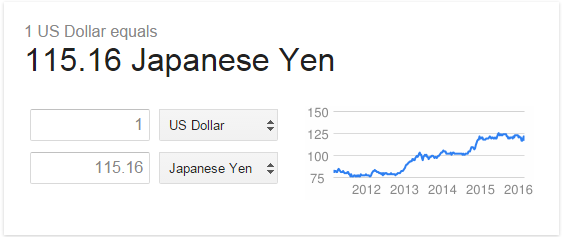 Source: Google
We also see another 15% of their revenue coming from Europe, who has also seen both the Euro and British Pound weaken against the USD.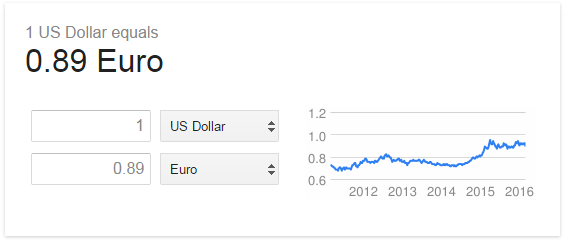 Source: Google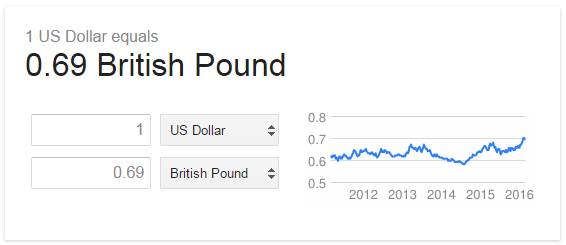 Source: Google
While these currency headwinds are understandable, every company that does business internationally experiences them and must be able to mitigate the risks. With over half their revenue coming from the U.S., you would think that would be one way Callaway could insulate themselves from currency headwinds - but unfortunately golf is not exactly a booming industry in the United States with average rounds per golfer largely stagnant over the years according to data from the National Golf Foundation and rounds were further down in 1.75% from where they were 2014.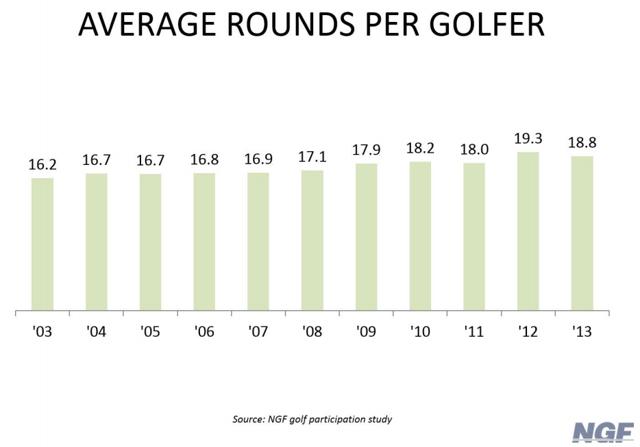 With growth not looking like much of an option in the United States, this forces Callaway to look at international markets - the same ones presenting the currency headwinds.
Callaway attempts to make a point about "Tour Presence" in its fall investor presentation, boasting that it has "More than doubled full staff relationships from 15 in 2012 to 32 in 2015". How has this fared for "tour presence"? Well, every season of the tour the PGA tallies the number of tour victories won by brand of driver in its annual Driver Derby. Last tour season Callaway drivers had 6 wins; good enough for a distant 3rd compared to 1st place Taylormade with 19 wins, and 2nd place Titleist with 14 wins.
Facing international currency headwinds and growth on the domestic front not appearing likely, what is there to look forward to? Maybe in the form of Top Golf which Callaway is a 20% minority owner. Even though I think this a great idea that provides value to the company - it is not their core business. Many make the argument that with 60% of first time Top Golf customers having never played golf before this will get them started. But it won't. The characteristics that make Top Golf attractive are not the same that make golf itself attractive. Top Golf does not take 4 hours to play. Top Golf does not require you to own clubs or equipment. Top Golf is not golf itself, it is just as the company says, "entertainment", and it will not grow the game as much as people hope.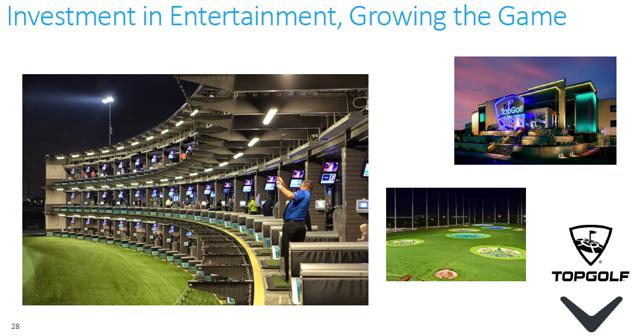 Even if Top Golf does grow the game, there are no guarantees Callaway clubs and gear will be bought by the new sport's participants. Many tour pros that are most recognizable to new golfers swing other clubs as pointed out earlier in the Driver Derby report.
Full disclaimer: I swing Titleist irons and Taylormade drivers, though that has nothing to do with my feelings about Callaway as a manufacturer of golf clubs and equipment. The two simple facts that golf is not a growing sport in the United States and the strong headwinds of international currencies make me skeptical of Callaway as the best place for my money right now in the markets; and with a P/E of 51 some lofty expectations are already priced in. Top Golf will be an interesting experiment that has certainly been successful so far, but I am speculative as to whether it is enough by itself to reinvigorate Callaway.
Disclosure: I/we have no positions in any stocks mentioned, and no plans to initiate any positions within the next 72 hours.
I wrote this article myself, and it expresses my own opinions. I am not receiving compensation for it (other than from Seeking Alpha). I have no business relationship with any company whose stock is mentioned in this article.