Webster Financial Corporation (NYSE:WBS) is a bank that provides financial services to individuals, families, and businesses in the Northeast Region. Webster Financial Corporation focuses on commercial, small business, and consumer lending, in addition to many other financial services.
Webster is currently trading at the lower end of the its 52-week range mainly due to investor worries about the flattening interest rate curves caused by the recent instability of the global economy and financial markets. Down around 20% from its 52-week high, Webster's current price could present potential upside for investors.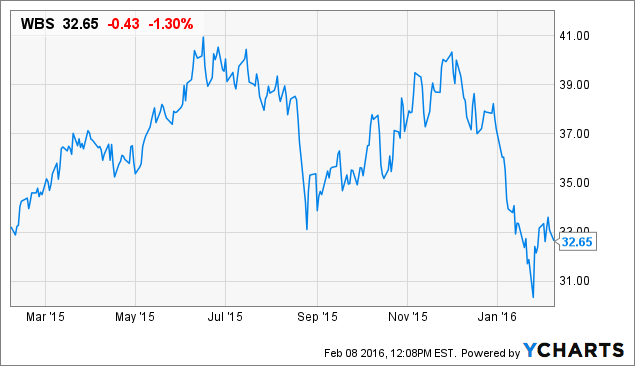 In the Q4 2015 earnings call, Webster's management highlighted a few key areas that they see will drive growth for Webster over the next three years. These key areas include the expansion into Boston through an agreement with Citibank (a division of Citigroup (NYSE:C)) and the rapid growth in HSA deposits with the acquisition of JPMorgan Chase's (NYSE:JPM) accounts.
Commercial Banking Growth
Webster has seen its loan portfolio shift from commercial loans consisting of 47% of the total portfolio in 2011 to 57% of its portfolio in 2015. This change is favorable for Webster, as it has helped increase the percentage of floating and periodic loans to 68% of total loans. Floating and periodic loans generally have higher interest rates than those of fixed loans, helping Webster increase revenues.
In its Q4 earnings call, Webster's management highlighted a deal with Citibank to lease 17 Boston offices in order to expand its presence in the Northeast Region. Boston not only is a great opportunity for Webster to expand mortgage loans and deposits, it also has a large commercial loan market. While Webster added $1B to its commercial loan portfolio throughout 2015, management sees Boston as a potential $1.5B market for Webster Bank to tap into over the next 5 years.
Webster has been shifting its strategic focus to more heavily rely on the commercial banking portion of its portfolio and already has seen positive economic profit generation. The expansion into Boston provides a significant market that Webster has yet to tap into in an effort to continue to grow its most profitable business segments.
HSA Deposit Growth
In addition to the shift in the loan portfolio focus, HSA deposits and transactions now account for 55% of total deposits, compared to 37% in 2011. Webster added $4.3B in HSA and transactional deposits in 2015, $2B which is attributed to the JPM Chase HSA accounts acquisition in mid-January of 2015.
While Webster is increasing its HSA deposits, other banks are offloading their accounts because of scale and strategic focus issues. This presents Webster with future potential acquisition opportunities as they see the HSA deposits generating strong results through 2018.
It is important to note here that while Webster did increase its HSA deposits with help from the $2B JPM Chase accounts acquisition, there was still $2.3B in organic growth for HSA deposits. Combining strong organic growth along with future account acquisition possibilities puts Webster in a unique position to capture a niche market that will help drive future revenue growth.
Financial Health
Webster is in strong financial health with a small amount of long-term debt and strong liquidity ratios. Additionally, Webster has achieved an 87% loan to deposit ratio, which shows that Webster is using its deposits efficiently to generate returns while still maintaining enough liquidity to cover its deposits. Webster has also decreased its borrowing to assets ratio to 16% during 2015.
Furthermore, compared to the industry, Webster has stronger Debt to Equity and ROA ratios. The industry averages are 1.457 and .80% respectively.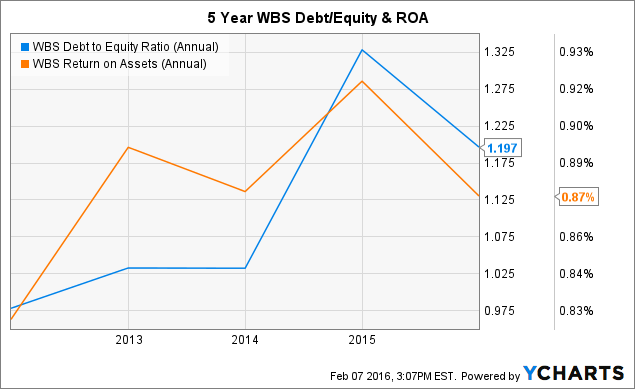 WBS Debt to Equity Ratio (Annual) data by YCharts
Webster Bank has generated consistently strong revenues over the past 5 years while simultaneously growing its operating income and EPS consistently since 2011. Webster is in a strong position to take advantage of new revenue opportunities such as commercial banking and rising interest rates.
| | | | | | |
| --- | --- | --- | --- | --- | --- |
| (in millions) | 2011 | 2012 | 2013 | 2014 | 2015 |
| Net Interest Income | 563.8 | 578.9 | 596.7 | 628.4 | 664.6 |
| Operating Income | 207.3 | 248.4 | 256.2 | 291.2 | 300.3 |
| EPS (Diluted) | 1.61 | 1.86 | 1.86 | 2.08 | 2.15 |
Webster's management is projecting PPNR (Pre-Provision Net Revenue) growth of 10% for commercial banking and 35% for HSA accounts through 2018. These two business segments will drive overall positive PPNR growth for Webster.
Conclusion
While Webster Bank has positioned itself well to capture future market share and revenues, there are risks to the rates of growth that management expects through 2018. In addition to growing revenue from key customer segments, management has assumed gradual increases in interest rates. With the current economic uncertainty, interest rates may rise less than previously expected or remain stable through 2016.
Though unchanged interest rates will create a headwind for managements PPNR growth expectations, I believe that Webster's growth initiatives and current success in growing its business will allow Webster to continue to grow its revenues even in a period of interest rate stability.
Overall, Webster's management has successfully implemented growth initiatives in the commercial banking and HSA business segments that will drive growth regardless of the interest rate environment. With a history of consistent dividend increases since 2010 and at the current price, Webster presents an opportunity for significant returns. Returning to its 52-week high from its current price would represent a 25% upside for investors not including dividend income.
Disclosure: I/we have no positions in any stocks mentioned, and no plans to initiate any positions within the next 72 hours.
I wrote this article myself, and it expresses my own opinions. I am not receiving compensation for it (other than from Seeking Alpha). I have no business relationship with any company whose stock is mentioned in this article.