The S&P 500 (NYSEARCA:SPY) has declined more than 100 points over the past five trading days to retest the correction lows from January. The highly anticipated bounce from what was an oversold condition on a short-term basis was weaker and shorter-lived than most were expecting. Central bank efforts to lift stock prices in Japan, Europe and the US with additional stimulus of both the monetary and rhetorical kind failed to fuel a substantial buying spree. The S&P 500 flirted with the 1950 level, unable to surmount its 50-day moving average, before rolling back over again. Fed Chair Yellen will have another opportunity to sweet-talk stock prices higher on Wednesday and Thursday of this week when she delivers the Fed's semi-annual report on the state of the economy to Congress.
It now looks like we are entering a new phase of what is destined to be a significant bear-market decline in the S&P 500 index . This new phase is marked by a notable change in sentiment on Wall Street, as well as a change in what is now leading the broad market lower. Both of these developments indicate to me that we are in the seventh-inning stretch of a stock market decline that began more than a year ago.
Investor Sentiment
I can't think of a better way to describe what is now occurring within the Wall Street community of strategists, analysts and pundits than what you see in the picture below.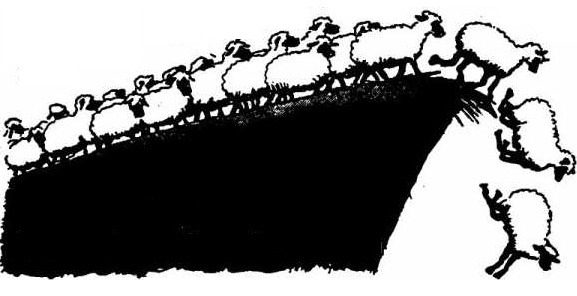 One by one, these perennial optimists are scaling back their earnings estimates, price targets and forecasts for growth. What happened to ignite this sea change in sentiment within their ranks? All it took was for the first sheep in line, symbolizing the stock market, to jump off the cliff. That's it! Only after a significant correction in the stock market are the rest of the sheep capitulating, one by one, revising their forecasts to fall within a new consensus view that is more closely aligned with the reality on the ground.
It was exactly one year ago to this day that I wrote "Another Profits Recession Is Underway," outlining the bear market declines in the S&P 500 that resulted during the 18-month periods subsequent to previous profits recessions. At that time the consensus on Wall Street was dismissive of this warning sign, forecasting an upturn in profits in the second half of 2015 on the basis that profit margins would continue to rise. There was absolutely nothing to substantiate this forecast other than a need to fabricate a fundamental outlook that would support the bullish narrative. My forecast for a decline in the S&P 500 was also in sharp contrast to a consensus forecast for double-digit gains. As you can see below, the profits recession ensued and looks like it will continue through the first half of 2016.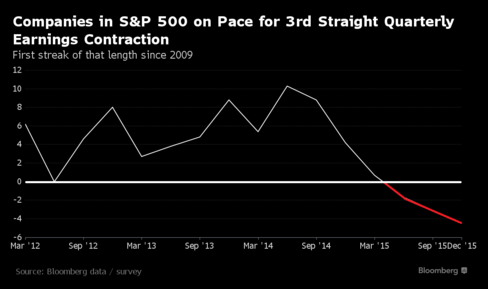 Even at the beginning of this year the consensus was resolute in its bullish outlook. Now that the S&P 500 index has declined 13% from its all-time highs, strategists are taking notice of the fundamental landscape that has been deteriorating for a long time. Seven of the 21 Wall Street strategists tracked by Bloomberg have downwardly revised their 2016 targets for the index. Analysts are also lowering their estimates for S&P 500 earnings to what is now a decline of 6.3% in the current quarter and a decline of 1% in the second.
A change in sentiment is an important step in the process of resolving the issue of overvaluation in individual companies, sectors and the broad stock market. Extreme optimism will gradually shift to an overly pessimistic outlook, as market prices and the Wall Street consensus forecasts overshoot in the opposite direction. As a result, sentiment is a useful gauge in determining when we are getting closer to valuations that present long-term opportunities. The process is well underway. Even longtime stock bull Jeremy Siegel admitted yesterday that "I was too bullish."
Market Rotation
Another notable change in recent days has been in market leadership, as in what is leading the market lower. Companies like Nike (NYSE:NKE), Starbucks (NASDAQ:SBUX) and Facebook (NASDAQ:FB) are the types of high-quality, large-cap growth stocks that led the market to its highs. If the Russell 2000 index (NYSEARCA:IWM) of small-cap stocks are the infantry, these are the generals. They have been decimated over the past five days in what looks like a rush to raise cash from very liquid sources of capital. They are also expensive from a valuation standpoint.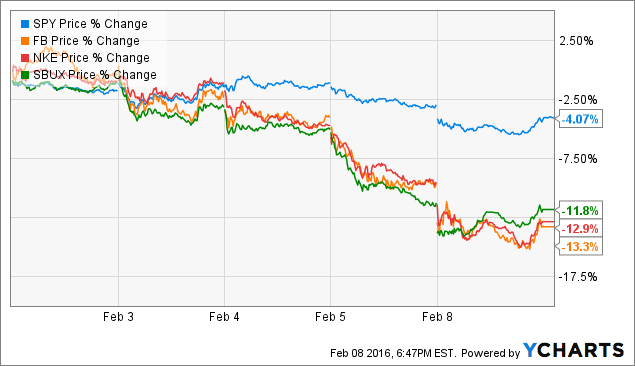 At the same time, other large-cap stocks are hitting new 52-week highs like AT&T (NYSE:T) and Verizon (NYSE:VZ). The money flowing into these stocks is looking for predictable earnings and revenue growth, attractive and stable dividend yields, and safety of principal. The valuations of these stocks are very reasonable on a relative basis. We recommended AT&T stock in December, and still consider it the ideal stock holding for 2016.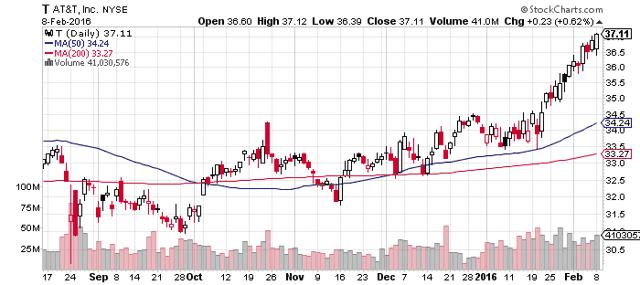 Lastly, we are seeing rallies in some of the lower-quality and most beaten-down stocks in the energy, materials and industrial sectors. This relative strength, albeit on a very short-term basis, could be the beginning of a bottoming process for some stocks. In other situations it is simply a short-cover rally in a name that the bears think has limited downside potential from current levels. I don't see any sense in buying stocks that are making new 52-week lows in a stock market that is in a confirmed downtrend.
So we have what looks like a healthy rotation in the market that is gradually resolving the headwind of overvaluation. The decline in these large-cap growth names is typical of the latter stages of a bear-market decline, and it is what will drive broad market indices like the S&P 500 significantly lower. It is in these names that we also find some of the best long-term investment opportunities as valuations trough.
Historical Precedents
I am certain that this bear market, should it come to pass, will be much different than the ones we navigated in 2000 and 2008. Still, there are similarities. The energy sector (NYSEARCA:XLE) has led this decline the same way technology (NYSEARCA:XLK) led the decline in 2000 and financials (NYSEARCA:XLF) led the decline in 2008. All three suffered as a result of leverage, speculation and mal-investment. The depth of the current decline in the S&P 500 has a lot to do with how systemic the leverage, speculation and mal-investment is today beyond the energy sector. We are seeing the fear of systemic risk in the financial sector right now as bank stocks come under tremendous selling pressure.
What is different today from these two previous periods is the level of central bank involvement in our financial markets. We also have a new era of computerized trading that didn't exist in 2000 and was in its early stages of influence in 2008. This will undoubtedly be a factor in the speed and depth of the current stock market decline.
My downside target for the S&P 500 index is 1576, and my reasoning is more technical rather than fundamental. 1576 was the all-time high for the S&P 500 prior to the financial crisis, and what I view as a longer-term level of support for this market. What was resistance is now support. This would be a 26% decline in the S&P 500 from its all-time highs.
This is well within the goal posts of historical precedent, as there have been 30 declines of 20% or more in the S&P 500 since 1921, as Carter Worth recently advised, and the average decline has been 31%, while the median has been 33%. If we split the difference, a 32% decline from the all-time high would be 1450. So with a target of 1575, it turns out that I am not so bearish after all.
I view this decline as having started in earnest at the beginning of 2015 when oil prices started to cascade from over $100/barrel and the energy sector followed. The profits recession began three months later. I believe that the S&P 500 can reach my downside target by June of this year, which would mean that over this 18-month period we are now in the seventh-inning stretch of this eventual bear market.
Disclosure: I am/we are long T, VZ, NKE.
I wrote this article myself, and it expresses my own opinions. I am not receiving compensation for it (other than from Seeking Alpha). I have no business relationship with any company whose stock is mentioned in this article.
Additional disclosure: Lawrence Fuller is the Managing Director of Fuller Asset Management, a Registered Investment Adviser. This post is for informational purposes only. There are risks involved with investing including loss of principal. Clients of Fuller Asset Management may hold positions in the securities mentioned in this article. Lawrence Fuller makes no explicit or implicit guarantee with respect to performance or the outcome of any investment or projections made by him or Fuller Asset Management. There is no guarantee that the goals of the strategies discussed will be met. Information or opinions expressed may change without notice, and should not be considered recommendations to buy or sell any particular security.