Introduction
On November 12, 2015, we published an article, whose main goal was to persuade the readers that Under Armour (NYSE:UA) was the best candidate for short selling for the next 12 months. You can read it here. Because the article was published for the SA Best Short 2016 competition, it became available to our readers only recently (on December 16, 2015, just to be accurate).
As you can see in Diagram 1, the company's stock price has decreased by more than 25% since our first publication. Despite the fact that November and December were not the best months for the US stock market, the stock's decline is much worse than the S&P 500's and other peers' performance. Diagram 2 shows the change in the company's market capitalization since December 16, 2015. The 19% decline shows that we were right in our recommendation on the stock.
Finally, in our last article, we mentioned that the best way to short the company's shares was to buy put options. The premium for the April 2015 contract with a strike of $90 was $7.1. The current premium is worth somewhere between $18.6 and $19.4 per contract (peaking at $22.2 and $23.1 two weeks ago). Hence, the investor would have earned about 250% if they had invested in these options after the article's publication.
Diagram 1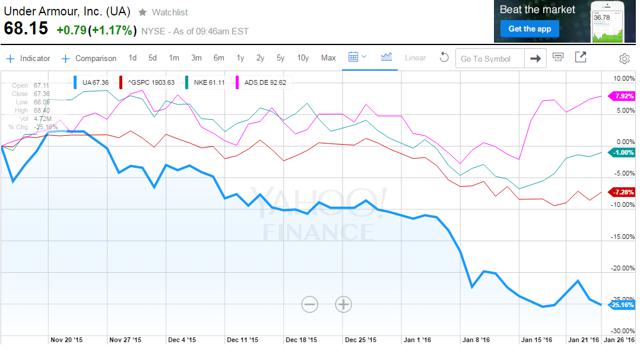 Source: Yahoo Finance
Diagram 2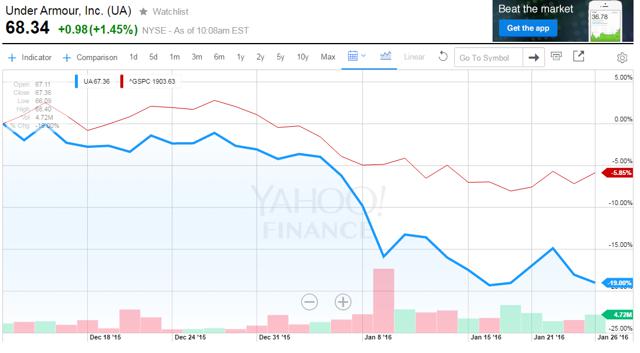 Source: Yahoo Finance
Diagram 3
In our opinion, the stock's fair value should be about $42-54 per share, and we are going to provide three reasons why we think this way.
Reason #1. Inventory levels are getting too high, indicating a future fall of cash sales
Look at Diagram 4. It shows how the inventory levels have been changing during the last five years. According to this diagram, it is clear that the inventory level has increased substantially in dollar terms. Moreover, it has reached a new maximum of 45.7% of the cost of goods sold. The last high of 42.6% was in 2011 when Under Armour's P/E was 43.1x, the P/BV ratio was 5.3x, and the P/S ratio was 2.7x (see Diagram 5). According to this information, it is clear that something is wrong because the valuation is so different in identical situations.
Readers may say that the Chinese expansion is the main reason why inventory levels have risen this much. We do not state that the Chinese expansion is doomed. There are signs of a good beginning (e.g. sales in 2012 were about $2M while FY 2015 sales are expected to be about $75M, and FY 2016 sales - around $150M). However, paying a high price for this growth is not the best decision from an investor's point of view.
Diagram 4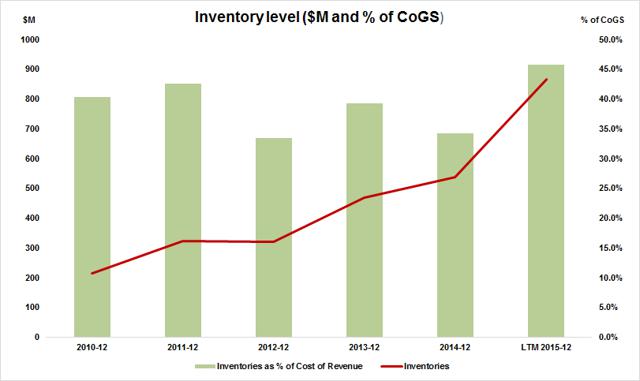 Source: Data - Morningstar.com; infographics by Societe Financiers
Diagram 5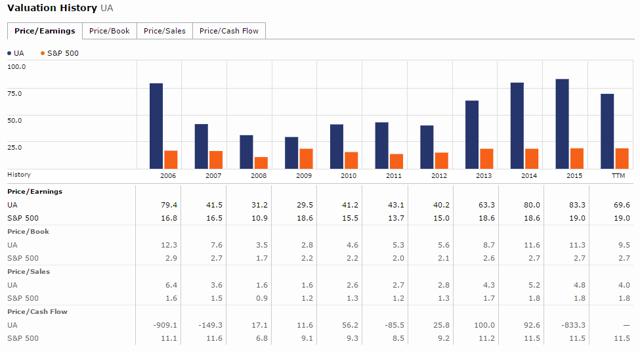 Source: Morningstar.com
Reason #2. Macroeconomics: The Fed hike and the Chinese market meltdown
Although macroeconomic assumptions seem secondary when valuing the perspectives of a single company, they are important in this situation. Look at Diagrams 1 and 2 again. While the S&P 500 Index has fallen by 5-7% during the last 1-2 months, Under Armour's stock price has plunged by 19-25% over the same time period. Without doing complex mathematics, it is clear that UA's beta is about 3.0-4.0 at the present time. It means that a 1% decline in S&P 500 may result in a 3-4% decline in the stock's price.
A side note: A daily regression from 11/16/2015 to 01/26/2016 shows that the stock's beta is 0.87x. However, in the results of the last two months, you can see that this is not objective at all. Consequently, we believe the empirical measurements are unbiased.
The Chinese stock market's plunge made the global indexes fall double digits. On January 26, 206, the Shanghai Composite lost about 6-7% of its value just in one day! Its currency has also significantly depreciated - by ~5.5% - during a one-year period (see Diagram 6). We see it as an attempt of the Chinese government to stabilize the country's economic growth and, hence, the local financial markets. According to Ray Dalio, head of Bridgewater Associates hedge fund, China is likely to keep depreciating its currency in the future.
Further currency depreciation bears risks for exporters, including Under Armour. The Fed rate hike, which we are likely to see in the near future, will cause the US dollar to appreciate even more, making the business environment for exporting companies very difficult. It will surely slow UA's growth on the international markets in USD terms.
Diagram 6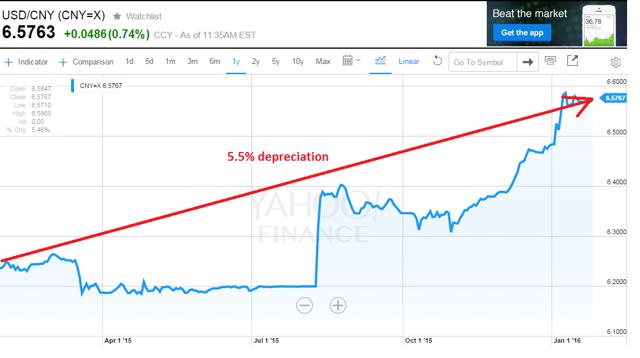 Source: Yahoo Finance; infographics by Societe Financiers
Reason #3: Even if everything was great, apparel stocks should not be so expensive
Look at Diagram 7. Even after such a decline, it is worth 69.3x earnings, 9.4x book value, and 4x revenues. It is ~2-3 times higher than the industry's average. The current EV/EBITDA is ~34x while the industry's average is 10.84x (according to Damodaran data tables). Even Nike (NYSE:NKE) is traded at a multiple of 20x, and it is a much stronger brand than Under Armour. We think that current relative overvaluation coupled with the stumbling revenue growth (due to CNY depreciation) and rising inventory levels can cause the company's shares fall even further.

Conclusion
According to the reasons above, it is clear that the future growth of Under Armour is in question. The company's current valuation still suggests that it is not experiencing the problems mentioned above. Hence, it is clear that going short with the company's stock now is a good strategy with positive mean expectations.
Risks related to our opinion
Under Armour bears currency risks, interest rate risks, macroeconomic, and geopolitical risks. Since these risks are mostly unpredictable, we recommend investors to hedge their positions using different financial instruments. Our valuation of the company is based on current and medium-term business trends, and does not include the probability of a force majeure.
Disclosure: I/we have no positions in any stocks mentioned, and no plans to initiate any positions within the next 72 hours.
I wrote this article myself, and it expresses my own opinions. I am not receiving compensation for it (other than from Seeking Alpha). I have no business relationship with any company whose stock is mentioned in this article.
Additional disclosure: Societe Financiers is an investment research team focused on long-term, long- and short-only ideas. Our research objective is to cover equities in various regions, such as North America, EMEA, Asia, Australia, and Emerging Markets. Readers should consider whether any advice or recommendation in our research articles is suitable for their particular circumstances and, if appropriate, seek professional advice, including tax advice. The price and value of investments referred to in our research articles and the income from them may fluctuate. Past performance is not a guide to future performance, future returns are not guaranteed, and a loss of original capital may occur. Fluctuations in exchange rates could have adverse effects on the value or price of, or income derived from, certain investments. Certain transactions, including those involving futures, options, and other derivatives, give rise to substantial risk and are not suitable for all investors. Transaction costs may be significant in option strategies calling for multiple purchase and sales of options such as spreads.