Introduction
Investors are often short-sighted and get fixated on quick capital gains, whether that is jumping onto the latest "fad" (high growth stock), or buying into a perceived "bargain" (deep value stock), all in anticipation of great prospective returns but only to discover later that they have been misled.
We believe a safer, largely under-rated way to make money is to buy-and-hold a basket of "Compounders", and allow them to grow steadily in value over a long period. These are highly cash generative businesses that have a proven track record of generating high returns on capital and re-investing retained earnings at similar high rates of return. They are usually supported by one or more durable non-physical asset - be it a powerful brand, exclusive patent/license, distribution network and/or manufacturing know-how that is difficult for competitors to replicate. The presence of this asset provides the company recurring revenue streams, which supports high free cash flow generation and strong organic growth.
Compounders tend to carry little financial or business risk, but because of their inherent strength, they are also very rarely cheap. As such, they do not regularly draw interest from growth or value investors because they are neither undervalued from the perspective of true growth or value investors. Compounders should not be confused with bond proxies or certain "boring" mega caps, which pay a fixed income but rarely grows.
We will take a look at the general characteristics of a group of "Compounders" in this introductory article.
What Makes A "Compounder"?
First, let's think about how these companies should behave in an investment portfolio. In an ideal case, these companies should generate positive year-on-year returns, outperform the broad market, and protect on the downside in severe bear markets when there is indiscriminate selling pressure. They should therefore be "all-weather" companies that can continue to generate earnings regardless of the external macro environment. This results in beautiful share prices, such as the one shown below which represents an actual company: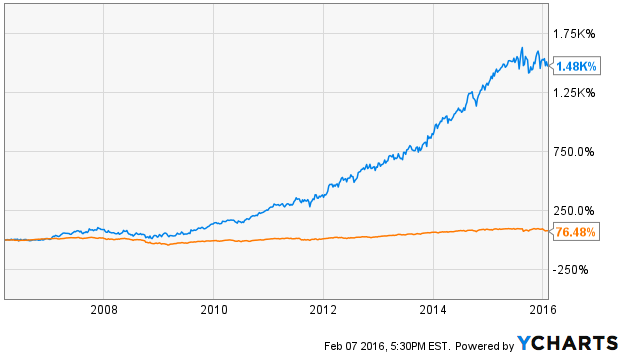 Are there such companies? Yes. Based on our desired characteristics above, we can devise a simple stock screen:
Positive absolute returns in all calendar years, bar 2008
2008 annual return >= S&P 500
Trailing 3-year annualized returns >= S&P 500
Trailing 5-year annualized returns >= S&P 500
Trailing 10-year annualized return >= S&P 500
Stock sector not Energy, Utilities, or Real Estate
Stock market capitalization >= $2bn
Standard deviation < 30
Since earnings drive stock returns, filtering for consistently positive returns is the same as consistent earnings growth.
Applying this criteria to the entire US equity universe yields a small handful of stocks, roughly 60 in number. Below are the top 15 companies by market capitalization: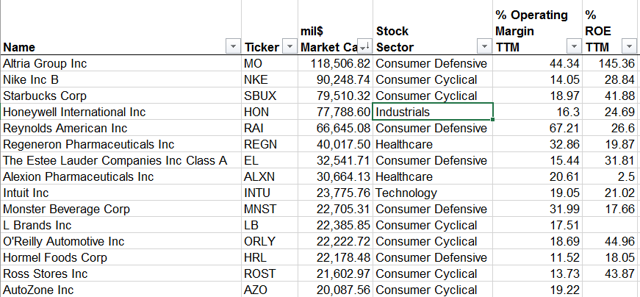 There are some well-known names. What is striking is the dominance of consumer franchise names in the Top 15, such as well-known names Nike (NYSE:NKE) and Starbucks (NASDAQ:SBUX). Tobacco companies [Altria (NYSE:MO), Reynolds (NYSE:RAI)] also feature prominently.
Let's take a look at the characteristics of this peer group of companies.
Sector Composition
| | |
| --- | --- |
| Sector | % of Companies |
| Basic Materials | 4% |
| Consumer Defensive | 24% |
| Consumer Cyclical | 26% |
| Financial Services | 12% |
| Healthcare | 8% |
| Industrials | 18% |
| Technology | 8% |
As expected, approximately 50% of the names are from the Consumer sectors, while 18% was from Industrials sector. This may be explained by the fact that companies operating in these sectors tend to have non-cyclical, durable demand for their products, resulting in less earnings variability and stable, strong share price performance. They also appear highly profitable, as shown by the high operating margins of the Top 15.
By contrast, there were limited companies from Basic Materials, Healthcare or Technology sectors. This makes sense as these companies tend to operate in more cyclical industries, subject to higher macro pressures, competition and/or technological change. All of which have an impact on the sustainability of their competitive advantage, earnings and share price performance.
Company Characteristics
What do Compounders have in common? The table below provides a summary of the key characteristics of this peer group of 60 or so companies.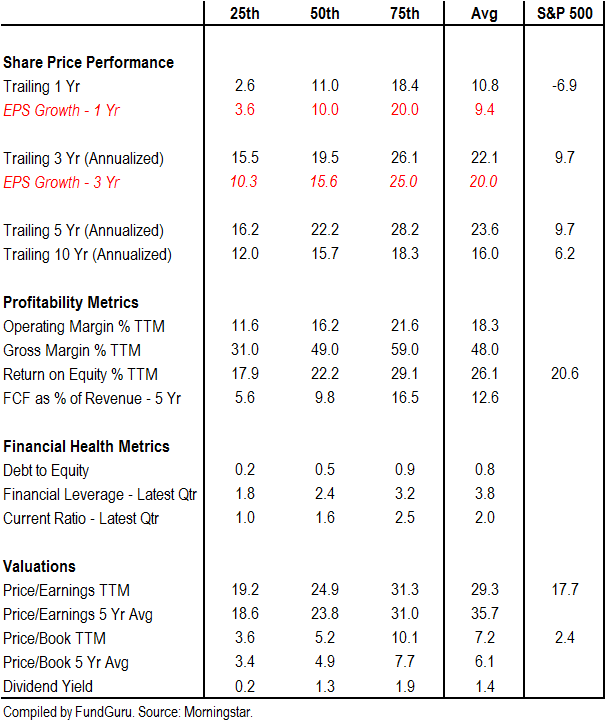 The most striking numbers here are the returns. These companies on average have outperformed the S&P 500 by a staggering margin across all trailing periods.
What are driving these returns? It appears to be earnings growth, which have been high and consistent, and closely correlated to share price returns. In other words, high and stable earnings growth have directly translated to high and stable share price performance.
A look at profitability and financial health metrics also reveals a few interesting statistics. These companies tend to have:
High returns on equity
High margins
Strong free cash flows
Very little debt
Nonetheless, due to their financial strength these companies do command a premium valuation to the S&P 500, whether that is P/E or P/B. That said, the numbers appears to be roughly in line with their 5 year average.
Finally, in terms of dividends, one can observe the low yield. The low payout can be explained by the companies' ability to reinvest their retained earnings back into the business to generate high organic growth, rather than paying them out.
A Historical Perspective
The fact that these companies can compound at rates of return that is superior to other companies in the market, how does a portfolio of them perform?
According to our backtest*, a portfolio of buy-and-hold Compounders would have generated a return of 22% annualized over the past 10 years, versus 6.4% for the S&P 500. This portfolio would have outperformed the market every calendar year, except in 2006. Their cumulative wealth creation is extraordinary:
Over a trailing 10 year period, $10,000 invested would have grown 7x fold, versus just 2x for the S&P 500.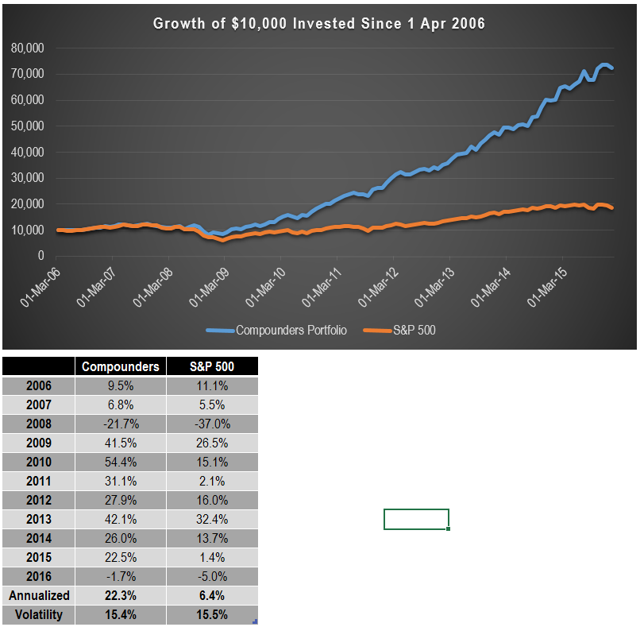 *This backtest is based on a portfolio of top 30 Compounders by market cap, equally-weighted and re-balanced on a quarterly basis. Based on trailing 10 years data through Feb 5, 2016.
Are Compounders Ever Cheap?
Using Free Cash Flow yield as the main valuation metric, let's take a look at what is cheap currently that has a FCF yield above 4%:

Interestingly, there are quite a lot of financials in the top 15, a sector that has been hammered of late. Some of these names could warrant further research:
AmerisourceBergen Corp (NYSE:ABC) - drug wholesale company
Tourchmark Corp (NYSE:TMK) - provider of insurance products
Among industrials:
Alaska Air (NYSE:ALK)
Roper Technologies (NYSE:ROP) - producer of niche products
Honeywell (NYSE:HON)
Outside of these two sectors, there appears to be limited consumer sector names that have delivered a negative return on a 12 month basis, apart from Ball Corp (NYSE:BLL), which is a supplier of metal and plastic packaging products to the beverage industry.
What about the most expensive names by FCF yield?

Most names come from the consumer sector! There are some well-covered names - such as Under Armour (NYSE:UA), Monster Beverage (NASDAQ:MNST), Dominos (NYSE:DPZ) and Starbucks . Their annualized return over trailing 5-years have all been ~30% - a very high number. Will their outperformance continue? It is hard to say, particularly if we enter a bear market when investors flock to the safety of consumer staples.
Concluding Thoughts
The historical performance of Compounders is impressive. Their strong share price performance appears to have been driven by their earnings quality and financial strength.
These characteristics make them desirable in the marketplace and will likely be priced appropriately. That said, the short-term nature of many market participants occasionally create windows of undervaluation - such as during a broad sector sell-off, general market decline on macro concerns, or overreaction to weak quarterly earnings. Long-term investors should seize on these opportunities to buy these companies at a discount.
Disclosure: I/we have no positions in any stocks mentioned, and no plans to initiate any positions within the next 72 hours.
I wrote this article myself, and it expresses my own opinions. I am not receiving compensation for it (other than from Seeking Alpha). I have no business relationship with any company whose stock is mentioned in this article.