The global airline passenger traffic has grown at a steady pace over the years and, according to IATA, the global passenger volume growth is likely to be 4.8% for the period 2014-2019 (chart below).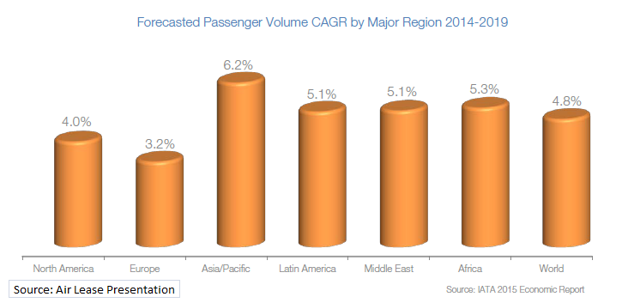 With steady growth expected in the industry, investors can consider long-term exposure to aircraft leasing stocks besides considering exposure to airline companies as the industry benefits from lower oil prices. This article discusses some of the major aircraft leasing stocks listed in the US stock exchange with a focus on some key ratios and parameters that will determine future cash flows.
The objective is to identify the best stock in the pack that can be considered for the long-term portfolio, and the stocks that have been included in the analysis are: Air Lease (NYSE:AL), AerCap Holdings (NYSE:AER), Aircastle (NYSE:AYR) and Fly Leasing (NYSE:FLY).
I will start the discussion with an analysis table and elaborate on some of the key factors in the analysis.
The first point that I want to mention here is that all aircraft leasing stocks fund their capital expenditure primarily through debt, and investors should not consider high debt as a concern. I have therefore included credit metrics as an integral part of the analysis.
From a leverage and coverage perspective, Aircastle seems to be best positioned among its peers. The company's debt to capitalization and loan to value are also the best among peers. However, if I had to make a choice based on other parameters as well, my preference would be Air Lease, and the reasons are as follows:
AL has a comfortable EBITDA interest coverage ratio, and debt servicing is likely to be smooth for all the companies. However, Air Lease has a weighted average cost of debt of 3.61% as compared to 4.93% for Aircastle. I also like the point that 80% of the company's debt is fixed rate.
Air Lease has a weighted average lease term of 7.3 years, which is the best among peers. This provides the best revenue and cash flow visibility among peers.
AL has a weighted average fleet age of 3.5 years, which is the best among its peers. Further, with 387 aircraft delivery through 2024, the company's fleet age will remain low. The aircraft age is an important factor, and my point is backed by the fact that in the last 12 months, AerCap Holdings managed to sign contracts for new aircraft for an average lease term of 11.6 years. For the same period, the contracts for used aircraft had an average lease term of 5.7 years. Therefore, the younger the aircraft, the revenue visibility is likely to be higher.
AerCap Holdings is the largest company among its peers in terms of market capitalization, and investors will point out that AER also has a robust new aircraft pipeline. However, on a relative basis, the company's credit metrics are weaker than Air Lease, and its aircraft age is also higher. The average age will decline in the coming years for AerCap, but the same is the case for Air Lease.
As I pointed out earlier, all these names have decent credit metrics and strong revenue visibility. Therefore, when I chose Air Lease, it does not imply that I have a negative view on the other names. AL however is the stock I would buy if I had to choose among these four names.
From a liquidity perspective, I don't see any concern for any of the companies with a healthy lease rental to debt coverage coupled with a high cash flow visibility for debt servicing. Therefore, for all the stocks, funding growth will not be an issue. I must point out here that my stock pick Air Lease has a healthy rating of BBB- from S&P with a "Positive" outlook.
Besides believing that the air leasing industry has robust long-term prospects, the reason for writing this article now is the recent correction in the broad markets and in the two large players in the leasing industry. For YTD '16, Air Lease has declined by 26.3%, and AerCap Holdings has declined by 35.5%. There are two reasons for the recent decline: first, broad market correction; and second, global economic slowdown. In particular, sluggish growth in Asia has resulted in some near-term concerns.
However, as the chart below shows, global passenger traffic has been on a long-term uptrend, and the upside resumed after a decline during the financial crisis of 2008-09.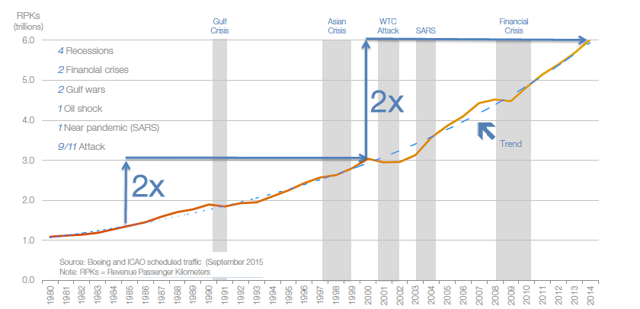 Therefore, the correction is a good opportunity to consider exposure to the stock(s) in the aircraft leasing industry.
In conclusion, I believe that Air Lease is trading at attractive levels and can be considered with a time horizon of 3-5 years. Among the aircraft leasing stock, AL seems most attractive, and the company's growth is likely to sustain in the coming years. Again, I want to emphasize here that debt and leverage are not a concern, and I expect the company's debt to continue increasing in the coming years.
Disclosure: I/we have no positions in any stocks mentioned, and no plans to initiate any positions within the next 72 hours.
I wrote this article myself, and it expresses my own opinions. I am not receiving compensation for it (other than from Seeking Alpha). I have no business relationship with any company whose stock is mentioned in this article.