A Good Core Business - with a Risk
By market capitalization, Wells Fargo (NYSE:WFC) is the largest financial institution in the U.S. Its business is extremely diversified, with 46% of its revenue coming from non-interest sources. Half of Wells Fargo's non-interest income comes from its robust brokerage business, followed by mortgage sales, deposit service charges, credit card fees, investment banking, insurance, and other smaller sectors.
The remaining 54% of interest income is divided between its 6,156 community banks and 665 wholesale banks (which target more institutional clients). These businesses are further segmented, even within interest-driven income. This diversification offers Wells Fargo protection.
However, 97% of Wells Fargo's revenue comes from the United States. And its diversified business sector, somewhat ironically, exposes it to economic risks of the U.S. economy. The current situation presents a mixed bag. There are some good things for Wells Fargo: Federal Reserve, U.S. home inventory is at its lowest level since the 1990s, which presents an opportunity for the bank's large mortgage business. Additionally, an interest rate hike would likely increase the spread between the amounts Wells Fargo receives on its loans compared to what it has to pay its depositors. According to recent company filings, the current spread is 2.87%. In 2007, it was 3.96%. Needless to say, such an increase would help Wells Fargo.
On the flip side, the current stock-market sell-off has hurt the company's brokerage business, which generates its fees from a percent of the assets under management. As the market goes down, the assets are worth less, and thus the fees are reduced. This is another way that Wells Fargo is exposed to U.S. economic risk.
Additionally, consumer indicators remain mixed-unemployment is down, but labor participation is low, and real wages are stagnant. While low gas prices should help consumers, CEO John Stumpf, on the most recent earnings call, noted that consumers aren't spending the additional money, at least not in a way noticeable or beneficial to Wells Fargo.
Ultimately, it is very difficult to predict macroeconomic trends. Obviously, a strong U.S. economy is good for Wells Fargo. However, the bank has a good track-record of taking advantage of opportunities. For example, during financial crisis, it acquired Wachovia, which allowed Wells Fargo to substantially grow its market share. Similarly, it skillfully took advantage of the low interest-rate environment to boost its mortgage refinancing and auto-loan business.
GE Capital
In October, Wells Fargo acquired GE's commercial distribution and vendor finance operations, i.e., its equipment financing. This is on top of a September transaction to buy GE's railcar leasing business. While the $32 billion deal was relatively small given Wells Fargo's trillion-dollar balance sheet, this deal presents Wells Fargo with an opportunity to boost its cross-selling opportunities. Wells Fargo has historically excelled at cross-selling, but they have been struggling with these types of sales for the past few quarters.
Wells Fargo has essentially bought chunks of GE Capital at several intervals throughout 2015. Most of the direct impacts are already reflected on the balance sheet and the income statement. The most recent transaction will be included in the first quarter of 2016. Management has offered limited guidance on the impact of the acquisition. In the short-term, it is expected to be positive, but relatively small, given Wells Fargo's sheer size.
Oil & Gas
A lot of analysts are concerned about Wells Fargo's exposure to the oil & gas industry. It is safe to say that these fears are overblown. While $17 billion is tied up in the oil & gas industry (the vast majority of which is non-investment grade debt), this represents only 2% of the company's commercial lending services. Only slightly over $1 billion of all industrial loans are on non-accrual (delinquent status). The bank also has an additional $500 million "cushion" for non-accrual loans. Furthermore, the consumer sector has been improving its non-payment rate, reducing the total number of non-paying loans.
In short, the oil & gas industry makes up a small portion of one segment of Wells Fargo's diversified business. The company has already made provisions for losing money on a lot of these loans, which may or may not happen. Even in the unlikely event that all oil & gas loans default, from a business perspective, it would just cause a short-term headache, instead of a larger, structural issue. However, problems with the oil & gas business might cause the market to overact and share prices to drop in the short-term.
Growth & Estimates
Amazingly, Wells Fargo has grown tremendously in the last 5 years. As the chart below shows, it has smashed all of its peer institutions when measured for total growth.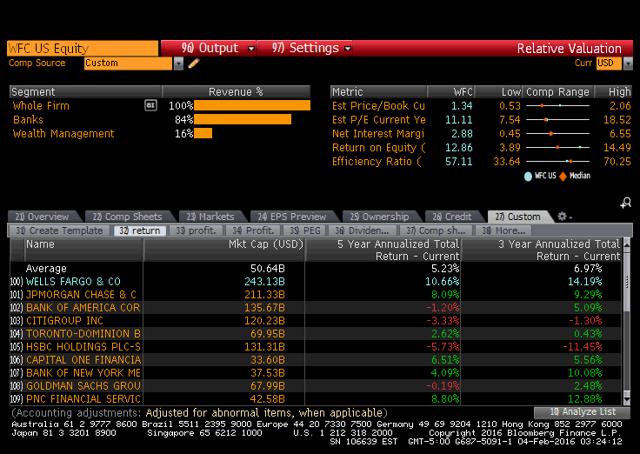 1 Source: Bloomberg
However, analysts believe that the trend will slow, predicting that Wells Fargo will end 2016 with an EPS of $4.28 a share, a mere increase of just over 3%. This was calculated from a total of 34 estimates; the lowest estimate was $4.00 and the highest was $4.45.
2 Source: Bloomberg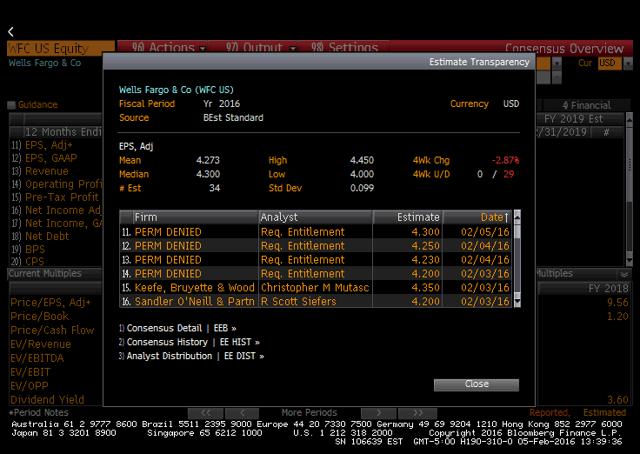 The average 2016 EPS estimate of $4.28 seems to be the best guess. Unless there is a major unforeseen uptick in the mortgage market (the Federal Reserve is, interestingly, predicting roughly 3% growth this year) or some other core Wells Fargo business, it is hard to foresee the company greatly outpacing the U.S. economy. From an earnings growth perspective, the company is fairly lack-luster.
Dividends
As the chart shows, Wells Fargo pays one of the more attractive dividends among its peer group. While it has historically grown dividends much faster than its peers, its future projections aren't as bright. Additionally, its payout ratio is 35%, and it is hard to envision that number getting much higher, especially considering that dividend payouts are subject to regulatory approval. Although it has a good dividend yield right now, dividends become lucrative as they grow, and it looks like the potential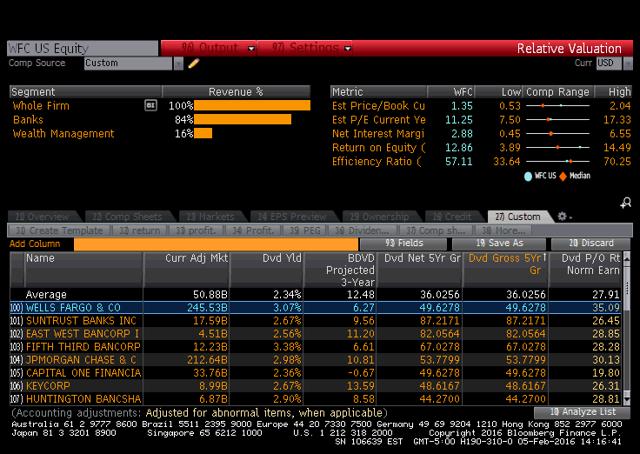 for growth is limited.
Valuation and Target Price
When compared to its peers, Wells Fargo's valuation is average to more expensive than average. A higher valuation for Wells Fargo is understandable, given its diversified business.
Compared to its historical averages, the company's valuations are slightly below the five year averages. However, despite the recent sell-off, it is still trading substantially above a price/book value of 1, eliminating it as a strict value investment.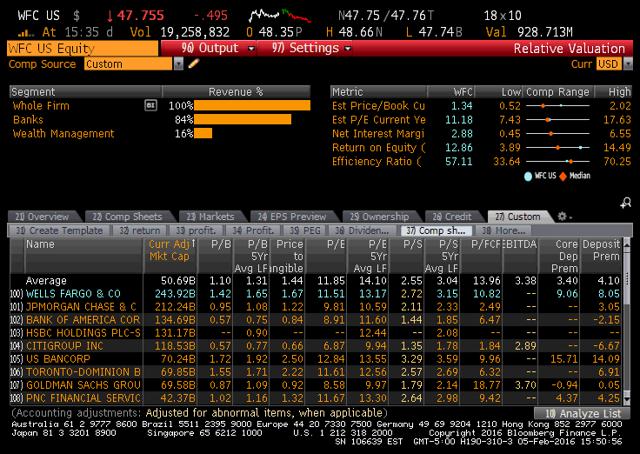 When we take growth into account and evaluate from a "growth at a reasonable price", (GARP) standpoint, the numbers, while reasonable, still aren't compelling enough for me to buy.
Assuming the 2016 EPS of $4.28 a share, is correct, if current P/E valuations (11.5) hold, that give us a target price of $49.22, a very most gain of roughly 2.5%, or 5.5% with dividends. Even adding in dividends, with these numbers, the P/E to growth ratio is over 2-hardly a valuable price.
If Wells Fargo returned to its 5 year average P/E, 13, then the target price would be a respectable $55.64, a very strong 16% (19% with dividends).
While valuations tend to revert to their historical norms, the market seems to be in a bearish mood, and, being a conservative investor, I wouldn't count on that to happen in the near future. However, investors who currently own Wells Fargo should look to get at around the $55 mark, unless new guidance or growth prospects are released.
According to Gurufocus, Wells Fargo's lowest P/E was 8.7 (during the 2008 financial crisis). While it is unlikely that valuations will return to 2008 levels, it is possible they could further diminish. If the P/E drops to 10 (the most plausible worst-case-scenario) and Wells Fargo still meets its earnings (which is unlikely, as a slide in the market will directly hurt its large brokerage business and adversely impact other areas), the target price would be $42.28, a downside of nearly 15%, which would be softened by the dividend. Assuming earnings guidance remained unchanged, I would reconsider getting in if the stock dropped below $42.50, where the downside is more limited.
Conclusion
Long term, Wells Fargo is a good, diversified financial company with good management. It will eventually reap returns for long-term investors currently in the stock. However, in the medium-term, its current valuations when combined with its growth potential, do not make it an appealing buy, despite the recent sell-offs. It is not a defensive stock (contrary to other claims), as its broad-based exposure to U.S. economic risk, as well as general market volatility, show that there is also significant downside. I rate as Hold.
Disclosure: I/we have no positions in any stocks mentioned, and no plans to initiate any positions within the next 72 hours.
I wrote this article myself, and it expresses my own opinions. I am not receiving compensation for it (other than from Seeking Alpha). I have no business relationship with any company whose stock is mentioned in this article.