Can Humor Highlight Risk?
The 43.6% crash in LinkedIn (NYSE:LNKD) shares on Friday, sparked by the company's weak guidance during its earnings release after the close Thursday, reminded us of a widely-shared joke about the company last year by British designer and developer Daryl Ginn that, in hindsight, might have been seen as a warning flag. The subtext of the tweet, a screen capture of which appears below, contrasted LinkedIn's ubiquity with its seeming lack of utility: nearly everyone you know may have a LinkedIn profile, but, for most of us, LinkedIn is mainly a source of automated emails we ignore.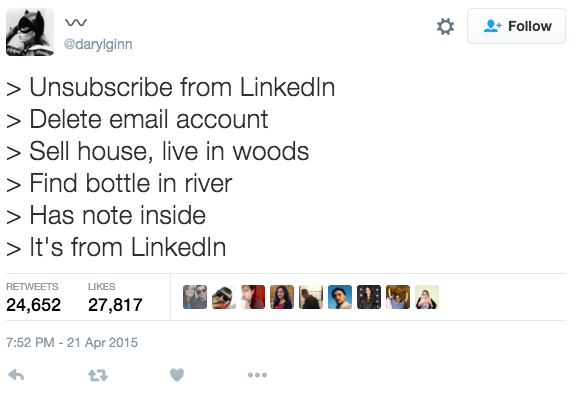 The black dot on the broken vertical line on the chart below, via Yahoo Finance, corresponds to the date of Ginn's tweet, which was liked more than 27,000 times and shared more than 24,000 times (both enormous engagement numbers, particularly for a tweet sent by a non-famous individual with relatively few followers such as Daryl Ginn).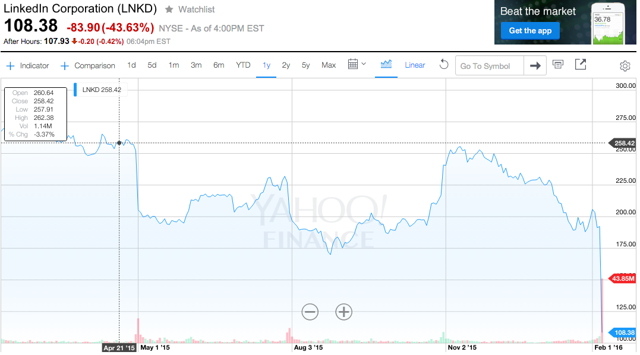 Is it just a coincidence that Ginn's joke resonated near a high-water mark for LNKD shares? Perhaps not. Recall we noted previously that social media data has been used before to gauge sentiment about stocks. We don't know of a method that focused exclusively on humorous tweets such as the one Ginn shared, but maybe this is worthy of further exploration by social data miners.
It's also instructive to note that, if you visit Darly Ginn's spare homepage, rather than linking to LinkedIn, he links to more functional alternatives: Dribble, for his design portfolio, and GitHub, for examples of his software development work.
High Optimal Put Hedging Cost As A Warning
Investors could have received a more proximate warning about LinkedIn's risk had they checked the cost of hedging it with optimal puts over the next several months (for a recap of optimal puts and other options terminology, please see our previous article). Compare the cost, as of Thursday's close (i.e., before LinkedIn reported its earnings) of hedging LinkedIn against a greater-than-15% drop to that of hedging the Technology Select Sector SPDR ETF (NYSEARCA:XLK) in a similar manner (the screen captures below are via the Portfolio Armor iOS app).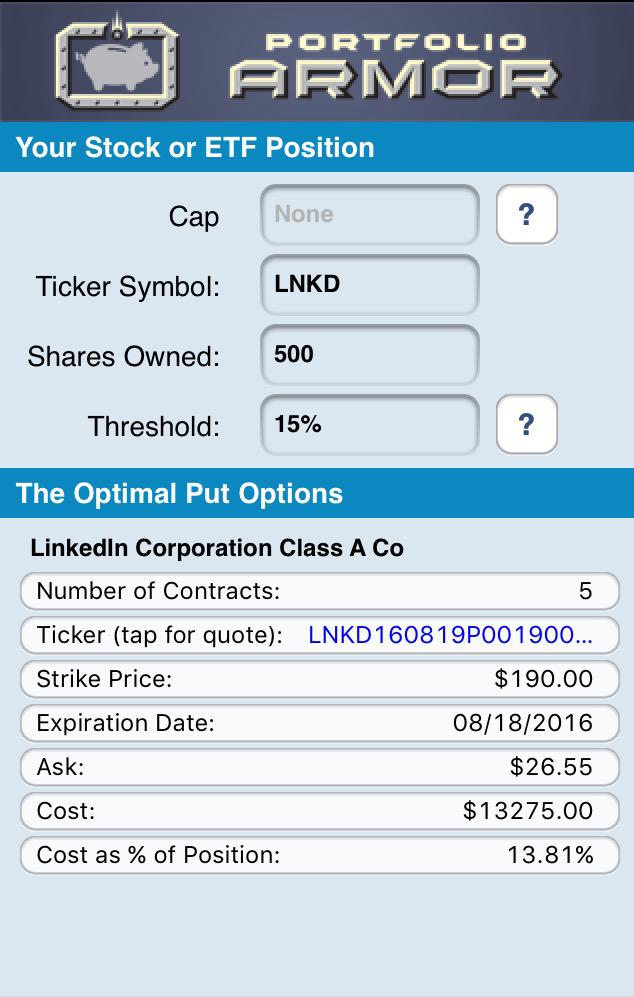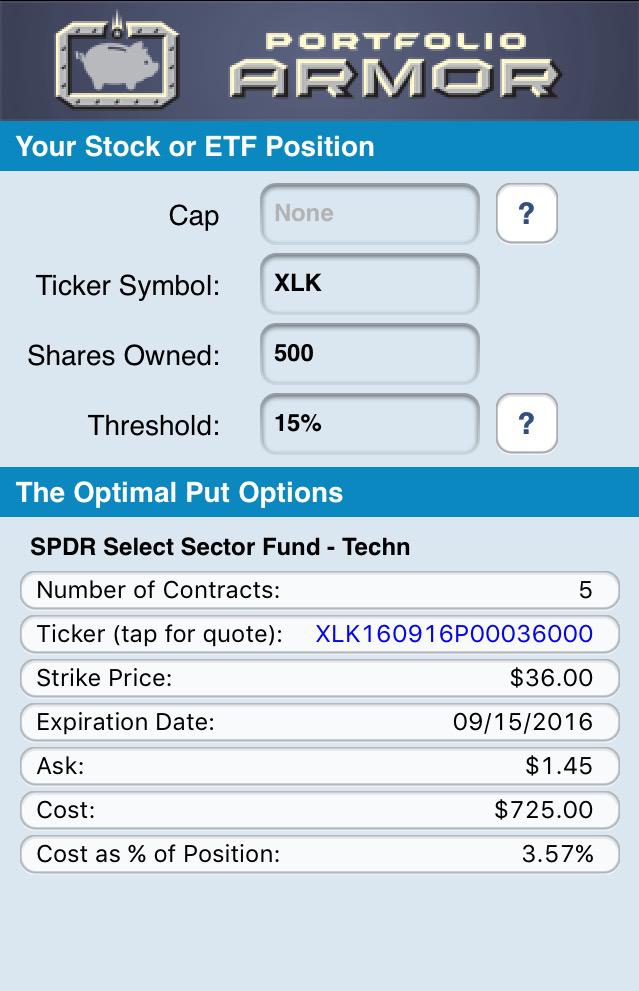 Note that, as a percentage of position value, the cost of hedging LNKD against a >15% decline was nearly 3.9x more than the cost of hedging XLK - even though the XLK hedge expires a month later (all else equal, the longer the time to expiration, the more expensive the hedge).
A Less Expensive Way To Hedge LinkedIn
Granted, most LNKD investors might have balked at the cost of hedging against a >15% drop with optimal puts on Thursday, but they could have hedged their shares for less using an optimal collar. This was the optimal collar to hedge LNKD against a >15% drop prior to earnings, while capping potential upside by not more than 15%: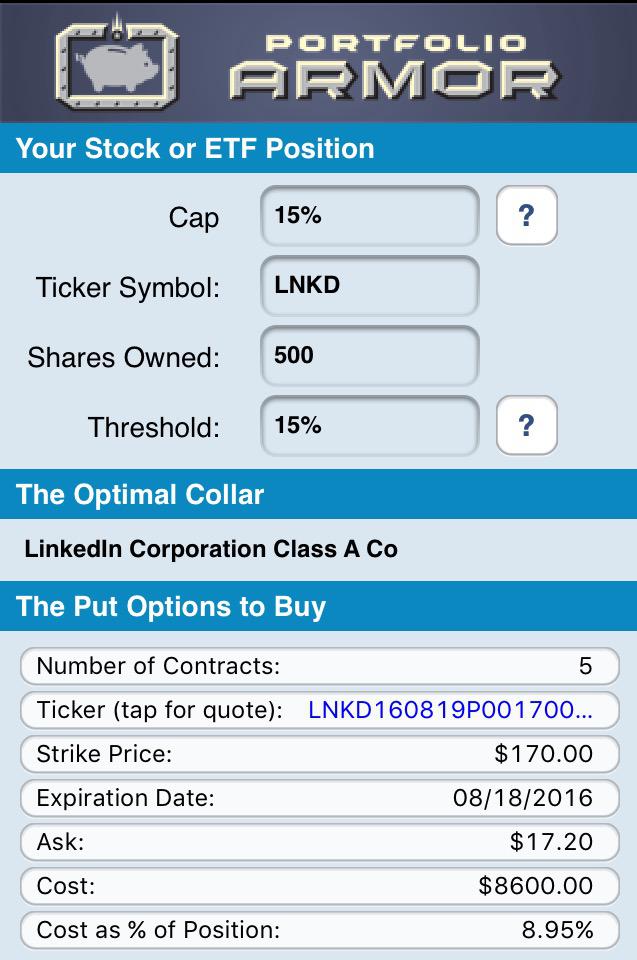 As you can see in the first part of the image above, the cost of the put leg of this optimal collar was $8,600, or 8.95% of position value. But if you look at the second part of the image below, you'll see the income generated from selling the call leg was $6,100, or 6.34% of position value.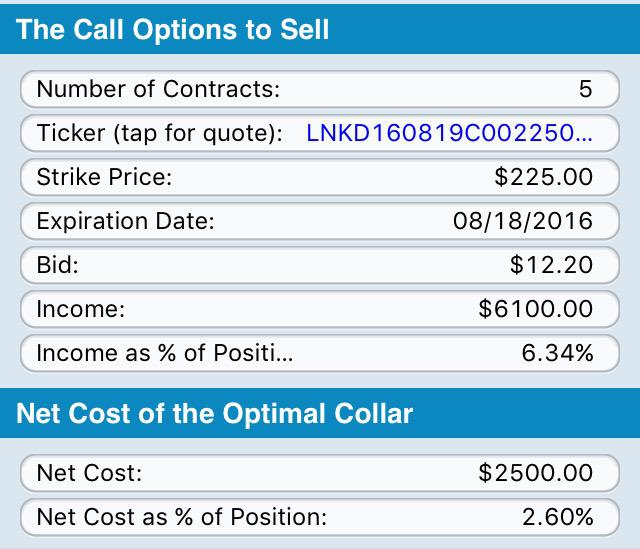 So the net cost of this collar was $2,500, or 2.6% of position value. Note that, to be conservative, the cost above was calculated using the ask price of the puts and the bid price of the calls, since, in practice, an investor can often buy puts for less (at some price between the bid and the ask) and sell calls for more (again, at some price between the bid and the ask), an investor opening this collar on Thursday would likely have paid less than $2,500 to do so.
How That Hedge Softened The Blow For LNKD Longs
Here's an updated quote on the put leg of that collar, as of Friday, February 5th's close: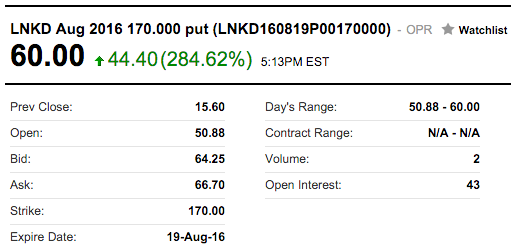 And here's an updated quote on the call leg of the collar: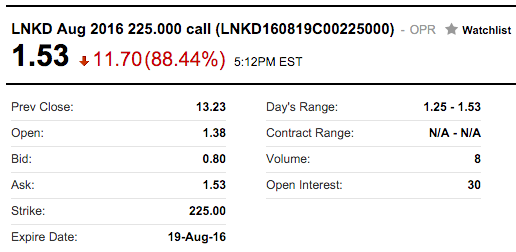 LNKD closed at $192.28 on Thursday, February 4th. An investor who opened the collar above had $96,140 in LNKD shares, $8,600 in puts, and if he wanted to buy-to-close his short call leg, it would have cost him $6,100 to do so. So, his total position value as of Thursday's close, taking into account the hedge, was ($96,140 + $8,600) -$6,100 = $98,640.
LNKD closed at $108.38 on Friday, February 5th. The investor's shares were worth $54,190, his puts were worth $32,125 at the bid, and if he wanted to buy-to-close his calls at the ask, it would have cost him $765 to do so. So: ($54,190 + $32,125) - $765 = $85,550. This represents a 13.2% drop from $98,640, using conservative prices for the options on Friday.
Slightly More Protection Than Promised
So, although the stock had dropped by 43.6%, and the investor's hedge was only designed to limit his downside risk to 15%, he was only down 13.2% after LNKD's crash.
Another Lesson LinkedIn Offers Here
A final lesson LinkedIn offers us here is that limit sell orders don't protect investors when a stock gaps down in price below the limit. Consider an investor who, rather than hedging against a greater-than-15% drop on Thursday, entered a limit sell order just before the close to sell his LNKD shares after they had dropped 15%, which, in dollar terms, would have been when they had dropped to $163.44. That limit sell order wouldn't have limited the investor's downside to a 15% drop, because the stock never traded at $163.44 on Friday: it opened at $125.34, and only traded as high as $128.99. Assuming the investor got out at the high for the day (unlikely), he would have suffered a 33% loss.
Disclosure: I/we have no positions in any stocks mentioned, and no plans to initiate any positions within the next 72 hours.
I wrote this article myself, and it expresses my own opinions. I am not receiving compensation for it (other than from Seeking Alpha). I have no business relationship with any company whose stock is mentioned in this article.