There were quite a few clouds hovering over Royal Gold (NASDAQ:RGLD) heading into its Q2 2016. The company's shares have been trading at levels last witnessed in 2008. Most of the issues dragging the price down appear to be attributable to concerns over the company itself rather than the price of gold bullion: as of mid-January 2016, shares of Royal Gold have declined more than 60% while gold prices have seen a mere ~15% declines at worst.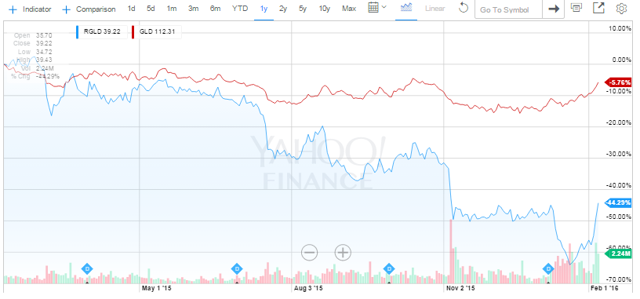 As you can see on the chart, de-correlation between RGLD and gold prices has been driven by several significant one-time events. These did not occur in vacuum, having factual concerns behind the trade action. These same concerns are what overshadowed Royal Gold heading into the earnings conference call this week.
Before jumping into analysis of the conference call, let's digest and analyze the graph depicted above and events that shaped it:
Jul 16-20 2015: Gold plunges below $1,100 raising global worries of further direction in light of potential rise of interest rates in the United States.
Nov 5-6 2015: shares of Royal Gold fall 23% after company reported loss in Q1 2015 on tax changes, missing expectations and reporting doubling of gold inventory from 5,300 to 11,500 ounces.
Jan 11-20 2016: Rubicon Minerals (RBY) cuts estimates for gold reserves at its Phoenix mine, which make part of RGLD stream portfolio, by 86%. RGLD shares tumble another 33% over several days.
Going into the second quarter earnings call, management was well aware that clarity and transparency into the true impact is more than craved for by the investors.
Second quarter results proved to be a bright spot. Company reported record revenue of $98.1 mil and EPS of $0.23, superior to prior year results and beating analyst expectations for topline growth. Significant increases in volume, driven by the new stream investments made in 2015, more than offset the decline in spot gold prices.
It's important to note that while GAAP EPS for the year-to-date (six-month) results show a $(0.46) loss, Q1 2016 was heavily impacted by additional taxes applicable to Andacollo royalty sale. Per management, this impacted profit by roughly $0.86 per share. Adjusting for this one time negative charge, six-month EPS would have been $0.40 per share, more than double prior year's $0.19.
On the balance sheet, we see an increase of ~$900 mil in royalty and stream interests mentioned earlier, offset by ~$600 mil decline in cash reserves and a ~$300 increase in net debt. This resulted in a significant increase in leverage (debt-to-equity) ratio from .14 to .29. While this ratio is exceptionally low, it's important to keep in mind that in adverse scenario of significant spot gold price devaluation, the company may be forced to take asset impairment charges as the value of its stream properties declines in light of lower commodity price. On the call, management noted company is not actively seeking additional investments:
We want to be opportunistic there but we feel -- we don't feel compelled to have to grow. (Q2 Earnings Call Transcript)
The other key item of importance is the inventory level. Remember, part of the decline in early November after Q1 release was in fact attributed to unexpected inventory build. As of Q2, the inventory more than doubled once again - from 11,500 to 25,700 ounces. It appears this time this factor was overlooked by investment community, partially soothed by management's explanation:
As we guided last quarter, we expected a large inventory build during this quarter as the new streams came on. Now I would expect as we look ahead inventory to stay within about 5,000 ounces (Q2 Earnings Call Transcript)
Company expects lower shipments in March quarter and the notion seems plausible. Yet to me this is still a factor of concern - whether the buildup is due to extensive shipments or inability of the company to liquidate excess inventory still remains to be seen.
It is clear that investors taken the quarterly results positively, and seems that a whole lot of concern has been taken off as shares skyrocketed more than 30% in a matter of several days since the report.
Management has clearly addressed the Phoenix project issue: company is conducting its own review and analysis as the sharp cut in estimates from Rubicon Minerals seems surprising. But even in the worst case scenario, worst case scenario was delineated:
For the period ended December 31, 2015, the carrying value of the Phoenix Gold Project comprised approximately 2.5% of the Company's total royalty and stream interests, net (RGLD Q2 Press Release).
It is worth remembering that the original reaction in January caused shares to tumble more than 33% over a period of several days.
With Phoenix project addressed, the other top mining concern remains with Mount Milligan and Thompson Creek Minerals (OTCQX:TCPTF). Although management is not expecting a shutdown to the mine, it did leave the opportunity for production downtime:
...if it were go all the way to bankruptcy that there could be an interruption in our production or we just can't specify exactly what might happen in bankruptcy court. (Q2 Earnings Call Transcript)
Overall, management is very optimistic about prospects and actively emphasized how undervalued company shares are:
While Royal Gold generated 25% of the industry's economics for the 12 months ended September 30, 2015, we're trading at just 15% of the industry's market capitalization. (Q2 Earnings Call Transcript)
Yet, I'm surprised to see no active open-market acquisitions by the management while the prices have lingered in the sub-$30 levels. In fact, from the latest four SEC Form 4 filings reported in November, only one has been an acquisition, while the other three have been disposition of shares.
It's also surprising that the company has not initiated a share buyback program if it values its shares at a much higher price. It does however need to be mentioned that the dividend was boosted 5% to $0.92 on November 10, 2015.
Company reported a great quarter vastly dismissing concerns that have dragged company's shares down over the past year. The share price appreciation is also certainly being helped by the dramatic spike in gold prices, which are now approaching 52-week highs on fear of global economical weakness and diminished chances of additional interest rate hikes by the Federal Reserve.
But to me we are not just out of the woods yet. It is clear that at $25 per share, RGLD has been undervalued. But after gaining 30% since the earnings report, I believe further appreciation would be much more cautious. In fact, I think should the spot gold prices turn again and head towards the sub-$1,100 levels I will not be surprised to see company shares give up a significant part of this gained momentum.
Disclosure: I am/we are long RGLD.
I wrote this article myself, and it expresses my own opinions. I am not receiving compensation for it (other than from Seeking Alpha). I have no business relationship with any company whose stock is mentioned in this article.