KAMN: Kaman Corp.
| | |
| --- | --- |
| Price Target | $45-$48 |
| 52 Week Range | $35-$43 |
| Mkt. Cap (Millions) | $1,046 |
| Shares Outstanding | 27.09 |
| Avg. Daily Volume | 97,086.51 |
| Trailing P/E | 14.35x |
Recommendation: Buy
I recommend going long Kaman Corp. (NYSE:KAMN), which is trading at $39.71. This represents a 10-20% undervaluation of its intrinsic value. KAMN has declined from the levels it has traded at earlier this year because of lowered guidance due to slowdowns in the metals and mining industry (end markets). It was further brought down by the slump in the industrials sector. The market is over-emphasizing the guidance reduction and exposure to metals and mining. Kaman Corp. is well diversified and their fundamental business is strong. Internal initiatives by management to grow (organically and by acquisition), and to become more efficient will create significant upside to this stock in the next 6-18 months.
Kaman Corp. is attractively valued below its peers and at a healthy historical P/E average. They have significant growth opportunities (particularly on a margin basis), which they are currently pursuing. The implementation of a new ERP system, aggressive M&A, and growing product line and sales force will be major factors of success for the company. KAMN also has low exposure to Oil and Gas (<10%) versus other industrial companies, setting it apart from others in the sector in this current Oil price environment.
Top risks to this investment are the cyclical nature of Kaman's end market, competitive environment for customers & contracts, failure to successfully integrate acquisitions and the new ERP system.
Company Background
Kaman Corporation operates in two segments: Aerospace and Distribution. The Distribution segment provides industrial parts and supplies such as specialty bearings, fluid hydraulics, motion control, power transmission, automation, and material handling components. The Aerospace segment produces proprietary aircraft bearings, metallic & composite aero-structures, arming solutions for missile & bomb systems, and manufactures (and maintain) the Super Seasprite and K-Max helicopters. In 2014 KAMN had revenues of about $1.8 billion. Distribution accounted for approximately 67% of revenue and 35% of operating income. The Aerospace segment accounted for 33% of revenues and 65%% of operating income.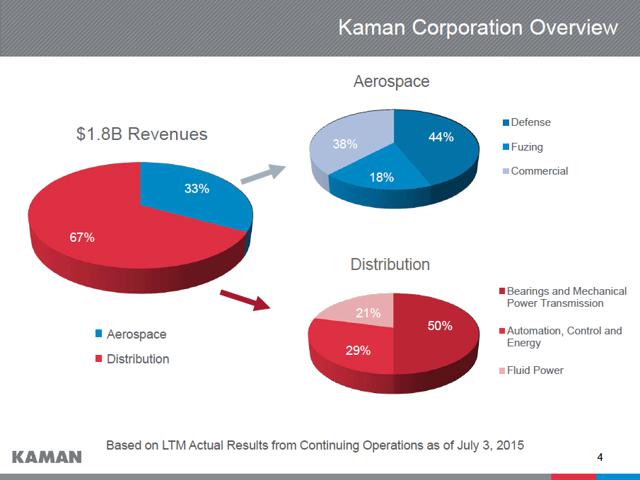 Investment Thesis
Kaman Corp. is attractively valued below its peers. They have significant growth opportunities (particularly on a margin basis), which they are currently pursuing. The implementation of a new ERP system, aggressive M&A, and growing product line and sales force will be major factors of success for the company.
The Aerospace segment is positioned as a leader in the specialty bearings market and is the sole provider of JFP (Joint Programmable Fuse) to the U.S. Air Force. KAMN's proprietary self-lubricating technology makes their products top choices for aircraft such as the Boeing 767 Airliner and many other industrial applications (see figure 1 & 2 for aircraft capabilities).
The expanding specialty Bearings business in the distribution segment should continue to contribute generously to margins. Management has expressed optimism in this part of their business in their latest earnings call from an organic and M&A standpoint. This is one of their higher margin businesses and will be an important driver in OM growth.
The implementation of a new ERP system is underway and will help continue to drive efficiencies and grow margins. This will particularly help bring up the Distribution segments margins from around 5% to +7% (industry average and managements goal). In 2015 management has consolidated 13 systems into 6 and transitions are going smoothly thus far. A new ERP system will also create opportunities for expansion and scaling. The distribution segment competes with larger competitors and has the ability to increase market share through this initiative.
Ultimately, KAMN is undervalued on a Multiple and DCF valuation basis. Trading at 14.35x trailing P/E and 8.42x EV/EBITDA versus a competitor average of 18x and 11x respectively. From a DCF perspective the market is undervaluing KAMN by 10-20%.
Catalysts
Reporting higher than expected top line growth can be a significant catalyst for this stock, as the sales growth is forecasted to be fairly low for 2015-2016.
Operating Margins are fundamental drivers for value creation for Kaman Corp. If OM accelerate faster than expected and management continues to express the ability to maintain target levels or raise target levels, it should be seen as a very bullish signal and propel the stock higher.
M&A has been a long running theme in Kaman Corp's history and has been a valuable means of growth to the company. The management team is consistently open to acquisitions and has a good track record of successful integration. Any M&A activity should be considered a long-term positive, especially in the Aerospace or Bearings business. The DCF valuation is based on organic growth only and any further synergies that KAMN would acquire would only add value to the firm.
Any increase in K-Max helicopter production or the announcements of new contracts can help propel this stock. Management has suggested there is large interest in the K-Max unmanned capabilities by the U.S. Marines and the Department of the Interior (for firefighting purposes).
With continued uncertainty in the Middle East, the possibility of increased orders for JPFs for the US government and its allies would be seen as bullish momentum for the stock.
Valuation
I have valued KAMN using a DCF analysis, and a Multiples comparison.
To choose comps for the analysis I had to use companies from varying businesses that Kaman Corp is in to be able to accurately compare the company. Namely Aerosystems, Bearings, Fusing & Precision Products, and Distribution. I chose a peer group for each line of business. They were chosen based on core business similarity to provide appropriate multiples. Market Cap varied because KAMN competes with both significantly larger and smaller companies due to it's diversified operations.
Below is the multiples comparison between KAMN and its competitors. The bottom section summarizes the multiples valuations for comps. On an EV/EBITDA basis, KAMN is slightly under the peer group valuation median (8.42 vs. 8.93). For both trailing and 2015e P/E KAMN trades below comp value (14.35 vs. 17.47 and 13.74 vs. 13.99 respectively). While multiples give us a good comparison of valuation to it's peers, a DCF would be the most accurate per share value estimation for KAMN.
Average Share Price 3M

Mkt. Cap

EV/EBITDA

EV/EBIT

EV/REVENUE

P/E trailing

2015e P/E

KAMN

38.61

1,046.02

8.42

11.16

0.69

14.35

13.74

Aerosystems

AIR

24.57

872.83

4.74

-

1.31

-

11.65

BEAV

48.39

5,058.08

13.21

18.11

3.39

30.63

15.03

DCO

22.63

250.73

5.39

9.14

0.51

-

11.15

ESL

81.71

2,412.90

7.77

11.47

1.39

19.09

-

SPR

52.34

7,089.42

14.22

22.22

1.16

13.49

12.43

TGI

50.13

2,472.64

6.85

10.52

1.18

14.79

8.70

Bearings

CW

66.81

3,054.71

8.87

12.60

1.59

19.25

15.68

ROLL

64.67

1,514.46

13.11

15.81

3.14

26.61

18.27

Fusing & Precision Products

RTN

107.36

32,326.80

9.51

10.82

1.51

15.86

15.25

HRS

77.72

9,669.07

14.93

22.57

2.12

24.21

12.52

Distribution

AIT

39.85

1,567.37

8.03

9.85

0.66

14.65

14.23

DXPE

32.34

465.75

39.19

-

0.58

-

22.31

GWW

220.96

13,874.23

8.99

10.49

1.42

19.16

18.69

WCC

54.68

2,303.47

6.62

7.70

0.46

11.94

12.74

EV/EBITDA

EV/EBIT

EV/REVENUE

P/E trailing

2015e P/E

Median

8.93

11.15

1.35

17.47

13.99

Average

11.53

13.44

1.46

18.67

14.46

KAMN

8.42

11.16

0.69

14.35

13.74
The DCF used the following base case assumptions:
-Revenue slightly negative (-0.28%) for 2015 based on the conservative side of guidance provided by management. 2016 revenues are forecasted to grow 3%, then increase the next three years by 4.05%, 4.42%, and 3.73% based on the weighted individual segment growth outlooks made by management (Distribution-3%, Aerospace-7%). These rates are for organic sales and do not include earnings from any forecasted acquisitions.
-Operating Margin of 9.57% for 2015. This reflects the conservative side of given guidance. For years going forward to 2019 Operating Margin are 8-9%, which I believe is appropriate given the Margins management is targeting (Distribution-7%, Aerospace-17-19%). These targets would make 2015 weighted operating margins 10.7%. Initially in 2016 operating margins starts lower than 2015 (8%) starts to ramp back up again to 9% in 2019. This is because the 2015 sales volume happened to contain higher margins in the product mix. There was no one time items that boosted margins.
Initial Operating Margins (2015)

Tax Rate

47.52

7.00%

8.00%

9.00%

10.00%

11.00%

25.00%

46.69

47.15

47.61

48.06

48.52

30.00%

46.48

46.91

47.33

47.76

48.18

35.00%

46.27

46.66

47.06

47.45

47.85
Variance in the Operating margin for 2015 won't critically affect the value of KAMN. But as we can see below, the terminal Operating margins have a more meaningful impact. Though, even on the lower end of 7% OM the stock price still has limited down side. With the new ERP system fully operational by 2016 the 9% OM should be realistically and easily maintained. And due to the strong growth opportunities in Aerospace and Bearings the next few years, 9% is pretty conservative for 2016-2019.
Terminal Operating Margins

Tax Rate

47.52

7.00%

8.00%

9.00%

10.00%

11.00%

25.00%

39.39

45.47

51.56

57.64

63.73

30.00%

36.55

42.23

47.91

53.59

59.27

35.00%

33.71

38.98

44.26

49.53

54.80
Historically the tax rate for KAMN has averaged out to around 30% and will likely stay in the 28%-34% range for the foreseeable future.
-WACC of 9.59% and terminal growth of 2%. Below is a sensitivity table that highlights the impact of terminal growth and the WACC on KAMN's share price. The most likely discount rate scenarios are highlighted.
Terminal Growth

WACC

47.52

1.00%

1.50%

2.00%

2.50%

3.00%

11.76%

28.50

29.65

30.92

32.33

33.90

10.76%

32.10

33.56

35.18

37.00

39.06

9.76%

36.52

38.41

40.54

42.97

45.76

8.76%

42.10

44.61

47.50

50.85

54.78

7.76%

49.33

52.80

56.88

61.74

67.61

6.76%

59.08

64.12

70.22

77.75

87.28

5.76%

72.94

80.76

90.66

103.60

121.22
As per usual, the share price is very sensitive to the WACC and terminal growth rate. With a conservative 2% terminal growth, I think it's more likely that we see variance in WACC. That being said, even a 100 basis point increase to the base case WACC still gives KAMN a slightly higher value than current market price.
The DCF excel file should be accompanied with this word document if there are any other inquiries regarding the model.
Investment Risk Factors
-Cyclical Business: KAMN is vulnerable to macroeconomic changes and slowdowns in the business of their customer's end markets.
-Acquisition Integration: Failure to integrate any future M&A targets can result in negative impacts to the top and bottom line.
-ERP Implementation: Delays and setbacks to the deployment of the ERP system can impact efficiencies and margins. There is also a risk of the ERP system not increasing efficiencies as much as predicted.
-Supplier Risk: Loss of a key supplier can make it more difficult to source materials for their current production. This could cause production shortages or larger than expected fluctuation in COGS.
-Competition (for customers/contracts): KAMN operates in a very competitive environment and bids for government contracts are a key driver to operations. They also compete in the private sector where they compete for the business of customers regularly. Price, quality, and availability of goods are important factors that customers use to determine who they source from. Any decline in those factors could decrease business for KAMN.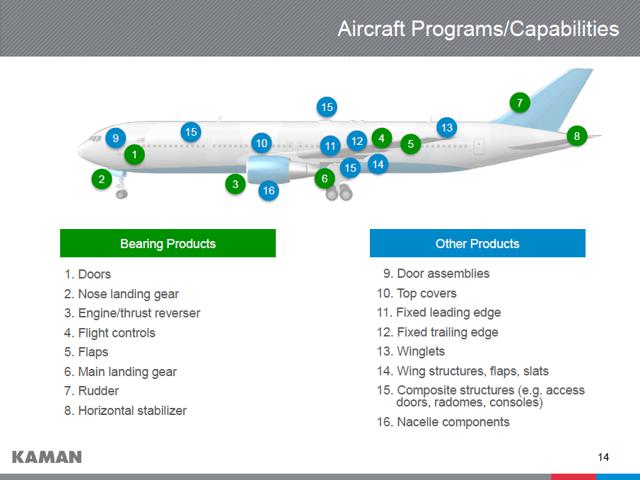 Figure 1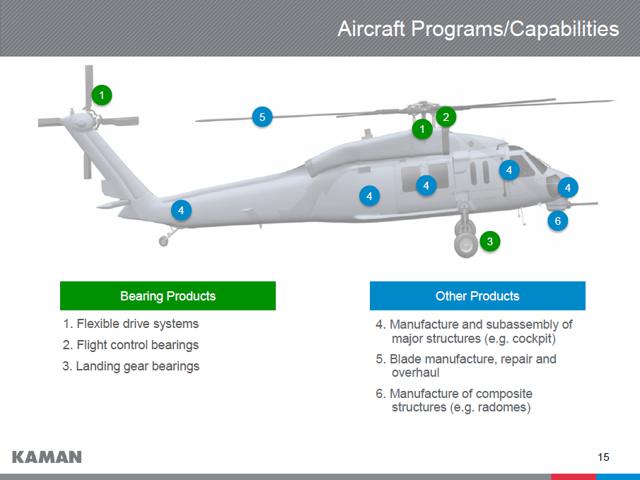 Figure 2
Supporting Documents
Disclosure: I/we have no positions in any stocks mentioned, and no plans to initiate any positions within the next 72 hours.
I wrote this article myself, and it expresses my own opinions. I am not receiving compensation for it (other than from Seeking Alpha). I have no business relationship with any company whose stock is mentioned in this article.