Ottawa Policies Are Shifting Under The New Leadership of Prime Minister Trudeau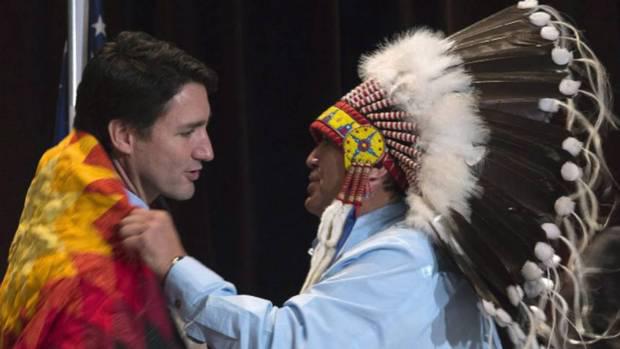 "Times have changed, my friends," Trudeau told the Calgary Petroleum Club. "Social licence is more important than ever. Government may be able to issue permits. But only communities can grant permission."
...
The prime minister didn't help defuse matters last week in Davos when he told international investors that his government wanted them to focus more on Canada's resourcefulness than its resources.
...
"The fact is the future of our global economy will be low carbon. That is what was agreed in Paris," he said in an interview with CBC Radio.

"So the question is how can we manage the transition, helping people to move out of one sector and business to invest in the future economy, and at the same time create the competitiveness countries will have to have in a low-carbon economy and a global marketplace." CBC, 28 January 2016.
Canada's new age of uncertainty regarding natural resource development was illustrated most recently by the government's position on the Energy East pipeline, a 4,600 km pipeline that would transport about 1.1 million barrels of oil per day from Alberta and Saskatchewan to the refineries of Eastern Canada and a marine terminal in New Brunswick. Energy East Pipeline, TransCanada Corporation (NYSE:TRP), accessed Feb. 8/16.
When the prime minister was asked whether he would OK the project if it obtains approval under the new, apparently more rigorous National Energy Board (NEB) review process, he declined to affirm or speculate. On Energy East, politics beats science: Trudeau finds new ways to say "NO", Rebel Media, Feb. 4/16.
The inference is clear: A green light under Canada's democratic, science-based review process for energy projects may not be enough to secure federal approval.
Huh?
The rationale may reflect the new regime's policy of deference to First Nations, who are long-time opponents not only of Energy East but of resource projects generally.
First Nations activists are turning their attention to TransCanada Corp.'s proposed Energy East project, vowing to mount the same kind of public opposition that threatens the Keystone XL pipeline in the United States and Enbridge Inc.'s Northern Gateway in British Columbia.
...
Some 70 First Nations leaders met in Winnipeg recently to plan a strategy they hope will block TransCanada's ambitious plan to ship more than 1 million barrels a day of crude from Western Canada to refiners and export terminals in the East, despite widespread political support for the $12-billion project. First Nations prepare for fight against Energy East pipeline, May 20, 2014 Globe and Mail (viewed Feb 5/16).
Canadian Courts Are Already Favoring First Nations
It's not just the new government, either. Canadian courts are also cause for concern in the Canadian resource sector. According to Bill Gallagher, author of Resource Rulers: Fortune and Folly on Canada's Road to Resources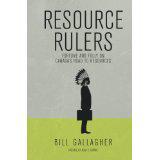 in the December/January 2016 paper issue of Resource World:
... First Nations in Canada have been racking up a remarkable legal winning streak at the expense of resource sector projects in which they are offside - 216 court wins to date...
The First Nations factor is not restricted to new projects. According to the same Resource World story, past wrongs are also fair game.
In British Columbia, the Supreme Court of Canada recently denied Rio Tinto Alcan an appeal of a lower court decision that allows two north-central BC First Nations to sue the company regarding the diversion of the Nechako River and construction of a dam in 1952, many years before Rio Tinto acquired Alcan.
It also appears Canadian courts are the go to courts for First Nations seeking damages from companies with a Canadian connection anywhere in the world:
...years ago, Texaco left a mess in the Ecuadorian jungle; Chevron ended up on-the-hook after acquiring Texaco; the natives had prevailed in the Ecuadorian legal system winning a massive $9.6 billion ruling, and seek to enforce and realize upon that ruling in jurisdictions where Chevron apparently has sufficient monetary assets (Ontario being such a locale, i.e. Chevron's presence in Mississauga). CBC, January 28, 2016.
Author Bill, Joseph or J. William Gallagher, as he appears at the Law Society of Upper Canada members' listings, is a lawyer in private practice in Waterloo, Ont. As the white hair in the photo at his website attests, (see billgallagher.ca), he is no kid. Yet surprisingly, a cursory search of his name in different variations at LexisNexis Quicklaw in late January, 2016 revealed no presence there - none at all.
Apparently, his expertise in Canada's resource sector derives not from actual litigation experience but from what his website describes as his "Totally unique mindset having worked 30 years in different professional capacities on resource management issues and project launches." His expertise, says the website, "augurs well for those proponents who appreciate its strategic benefits." In other words, what he knows may be beneficial to those of his fan base who share his view that Aboriginals have enjoyed a "remarkable legal winning streak in the Canadian resource sector."
While it's certainly true that courts have allowed some First Nations to delay quite a number of resource developments, what Gallagher describes as 216 court wins are quite often merely interlocutory rulings during ongoing litigation. In many cases, the ruling simply sets limits on both sides and may be subject to appeal and/or legislative change. Quite often, what is described as a victory confers no actual benefit on either party, and no one knows this better than First Nations. In most of these cases, the true beneficiaries are the lawyers.
Consequently, while Mr. Gallagher, enjoys a certain status as a self-appointed expert, I find his conclusions questionable at best.
It is troubling that Canada's highest court has taken an unprecedented activist approach to give Aboriginal hearsay oral evidence, based entirely on something as whimsical and notably flawed as human memory, equal weight with actual historical documentation. This reasoning has led to a number of decisions rewarding Third World tribalism at the expense of the modern democratic public interest.
However, even more troubling are statements by the new prime minister, such as, "Government may be able to issue permits. But only communities can grant permission," which suggest that the new regime either doesn't understand legal institutions in this country and how they operate or, more dangerously, he doesn't intend to abide by them.
Such activism by the courts coupled with the new government's confused/confusing policy statements, whether deliberate or unintentional, creates a disturbing, negative climate of uncertainty and hostility not only for the resource extraction industry but for the rule of law in Canada. It suggests that the democratic process in Canada, which already provides amply for Aboriginal consultation, may soon be open to some new, entirely subjective, Third World-style 'community' approval: shorthand for some are now more equal than others.
Ultimately, it's not just the Canadian resource industry that is threatened by the new regime's climate of hostile uncertainty. Anyone with an investment interest in Canada is now similarly negatively at risk.
One To Watch
A mining company successfully applied for an interim and interlocutory injunction to enjoin blockades that prevented access to a mine site. The blockades had been formed by a group composed of Aboriginal and non-Aboriginal protestors who wanted to stop construction of the mine. The injunction allowed the construction of the mine to continue.
See the Court's decisions so far:
Red Chris Development Company Ltd. v. Quock and others, 2014 BCSC 2025
Red Chris Development Company Ltd. v. Quock, 2014 BCSC 2399
Conclusions
Canada has traditionally enjoyed top ranking as a resource extraction- friendly country by investment analysts, such as the Fraser Institute.
Uncertainly created by hostile policy statements from the new Trudeau government and legal decisions coupled with falling commodity prices will likely to have an adverse impact on Canada's ranking and may prompt the exodus of investors from the Canadian resource sector and perhaps from Canada generally.
Resource development projects with a heavy carbon foot print and/or opposition from First Nations are now at increased risk of delay and federal rejection - even if they withstand federal-provincial review procedures.
I have already outlined potential approval problems for Agnico Eagle Mines (NYSE:AEM) proposed expansion of the Meadowbank project in Nunavut due to its heavy carbon foot print. Anticipating and Trading The Agnico Eagle Mines 2015 Full Year Results, Feb. 4/16.
The Frasier Institute's 2016 Outlook as well as the 2015 / 2016 financial reports from resource companies planning new projects in Canada should provide more color on the potential impact of the new Trudeau government on the Canadian resource industry and its investors.
Disclosure: I/we have no positions in any stocks mentioned, and no plans to initiate any positions within the next 72 hours.
I wrote this article myself, and it expresses my own opinions. I am not receiving compensation for it (other than from Seeking Alpha). I have no business relationship with any company whose stock is mentioned in this article.
Additional disclosure: I will look for PUT options on AEM once the GLD bullion inventories start dropping, a time frame which can not be predicted.