Shares of Netflix (NASDAQ:NFLX) have fallen more than 27% over the past month, and we believe the stock price is beginning to look attractive at these levels. To be clear, we are not mirroring Piper Jaffray in pulling out the buy signal, but we believe the company's multi-year growth prospects are being undervalued by the market. We will not go long here, but will start accumulating a long position if the share price drops to the mid-$70 range.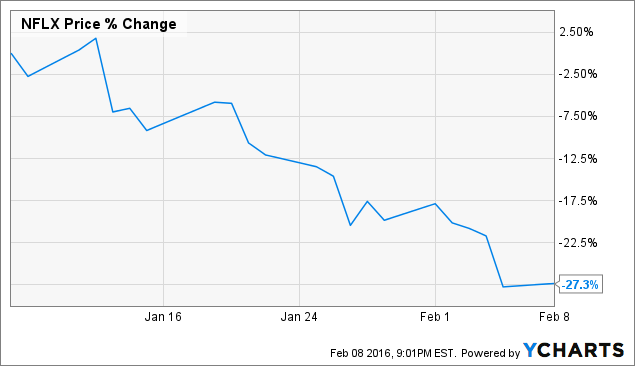 NFLX data by YCharts
NFLX still looks expensive on several valuation fronts, but according to domestic growth, the stock is actually fairly cheap. If you look at domestic streaming contribution profit, the stock is trading at a dramatic discount to its growth. The company is currently trading around 26x LTM domestic streaming contribution profit on Y/Y growth of almost 47%.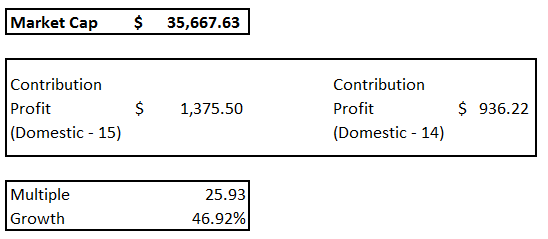 The problem herein is that the international segment is burning cash and its negative contribution profit is dragging on consolidated contribution profit. We believe concerns related to international profitability, however, are near-sighted. Management expects its international business to be profitable by 2017, and we model for international profitability by 2018.
Given that management is initially targeting the "elites" in international markets, or "iPhone owners" as CEO Reed Hastings says, we do not see any reason why long-term international contribution profit margin and domestic contribution profit margin should be drastically different. We think the international market of "iPhone owners" is large, with Apple (NASDAQ:AAPL) netting $46.5 billion in revenue outside of the Americas last quarter vs. NFLX's international streaming revenues of $566 million last quarter. We further believe that the $8 to $10 monthly charge for NFLX is something that will be adopted internationally by iPhone owners similar to how it was adopted in the US by them.
AAPL shipped roughly 231 million iPhones last fiscal year. If every one of those iPhone owners purchased NFLX for $8 per month, that's $22.2 billion in annual revenues for NFLX vs. LTM revenue of $6.8 billion. We believe this is an interesting and useful way to look at how much more revenue growth potential Netflix has in its international business.
With this in mind, we believe that as revenue scales and heavy, upfront cash investments in original content abate, the company can net significant contribution profits internationally (north of 30%). Referencing our model, we see contribution profit growing at a 34% CAGR over the next five years. The current market cap is a 26x multiple on LTM contribution profit. We are attracted by this discounted multiple relative to our projected five-year forward growth.
We maintain a $90 fair value on shares of NFLX. The current share price is roughly 8% below our fair value, and we like to buy high-growth stocks like NFLX at 20% or more discounts to their fair value. This implies that we would like to begin accumulating shares around $70. Given prevailing market weakness and particular weakness in high P/E stocks with international exposure, we believe we will see NFLX's stock come down to the $70 range within the next few weeks.
The company's share price is starting to look attractive, but isn't cheap enough to give us a significant margin of safety at $80 per share. We expect further weakness in share price, and this weakness on non-material news will only widen our safety margin. We will begin buying if the price drops to the $70 range.
Disclosure: I/we have no positions in any stocks mentioned, but may initiate a long position in NFLX over the next 72 hours.
I wrote this article myself, and it expresses my own opinions. I am not receiving compensation for it (other than from Seeking Alpha). I have no business relationship with any company whose stock is mentioned in this article.