On Monday February 8, Chesapeake Energy (NYSE:CHK) saw a huge drop of 33% in its stock price on the back of rumors that it will be filing for bankruptcy and had hired attorneys to restructure the business. I say rumors because Chesapeake came out categorically with a statement denying bankruptcy claims.
However, the damage was done and Chesapeake's steep drop in a single day meant that the company has lost almost 55% of its market capitalization so far this year. Given the recent liability management actions undertaken by Chesapeake, I believe that there is no need for the company to pursue bankruptcy proceedings. At the same time, there has been a slight recovery in NYMEX natural gas prices over the past week, driven by eight consecutive weeks of decline in natural gas inventory.
In my opinion, I think that it will be a good idea to take advantage of the steep single-day drop in Chesapeake shares as a recovery cannot be ruled out. Let's see why.
Natural gas inventories are declining
On January 1, the U.S. had 3,643 Bcf of natural gas working inventories. By the end of the week on January 29, the inventory had come down to 2,934 Bcf. Although the milder-than-expected winter has weighed on natural gas consumption to some extent this year, it cannot be denied that inventories have come down remarkably.
In fact, due to the weather, there has been a psychological impact on gas prices as despite the lower inventory, prices have continued declining. However, going forward, I think that an improvement in natural gas pricing cannot be ruled out as demand for the commodity is set to increase this year as compared to last year, while at the same time, production is expected to go down.
Now, an expected increase in natural gas demand this year will be driven by the low pricing of the commodity. For instance, power plants in the U.S. will take advantage of low natural gas pricing to switch from coal for generating power. In fact, last year, it is estimated that natural gas was the primary source of fuel for generating power in the U.S. as coal lost its footing. For instance, a decade ago, half of the electricity generation in the U.S. was fueled by coal, while gas accounted for only 19%.
However, in 2015, coal and gas were on equal footing with 33% share each. This was driven by coal-to-gas switching to the tune of 8.7 Bcf per day in November and December last year, which exceeded switching of 6.1 Bcf/day in the first 10 months of the year. Thus, low natural gas prices played a key role in increasing demand for the commodity, which is not surprising as natural gas pricing of less than $2.50/MMBtu leads to higher coal-to-gas conversions, as shown in the chart below: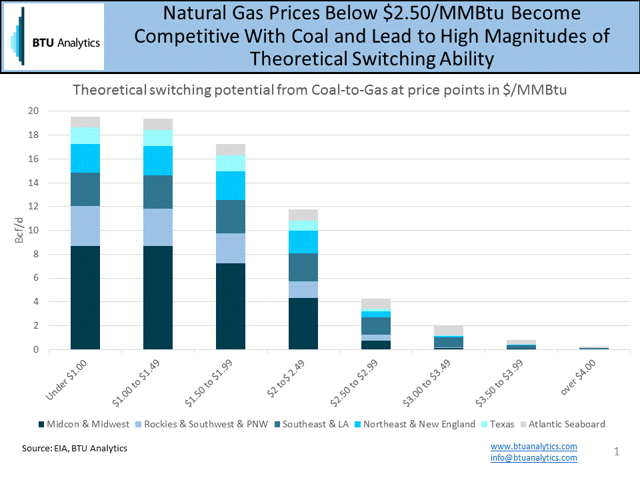 Thus, it was not surprising to see that coal-to-gas switching increased in the final two months of 2015 due to prices of less than $2/MMBtu, and the trend will continue this year as prices are still low. In fact, natural gas consumption in the U.S. is expected to stay strong across various sectors, including industrial, power, and commercial, clocking growth of 1.5% this year. But, the production of natural gas this year is expected to increase just 0.7% in 2016, which is half the rate of growth in consumption.
So, it won't be surprising if the recent momentum in natural gas pricing continues going forward on the back of better demand and lower production. This will be a tailwind for Chesapeake Energy and help it arrest the decline in its financial performance to some extent going forward.
Allaying bankruptcy fears
The discussion above indicates that a potential turnaround in natural gas prices cannot be ruled out going forward. But, more importantly, investors are focusing on whether or not Chesapeake has the required liquidity to see through the bad times. Well, I think that the company is quite capable of overcoming the weakness in the end-market and satisfy its debt obligations given its combined cash and operating cash flow position of over $3.6 billion.
Additionally, at the end of the last reported quarter, Chesapeake had $2.4 billion in additional secured debt that it could tap, along with an undrawn revolving credit facility of $4 billion. Moreover, last month, Chesapeake had decided that it will not pay the dividend on its preferred shares anymore, saving $170 million in the process that will be used to repay debt. When combined with the suspension of the regular dividend last year, which is supposed to help Chesapeake save $240 million worth of cash, the company seems to have enough liquidity to meet its upcoming obligations.
In fact, CreditSights, a research firm, believes that Chesapeake won't be filing for bankruptcy before 2018, and even that won't be necessary if natural gas prices improve. Now, as discussed earlier in the article, the possibility of an improvement in natural gas prices cannot be ruled out due to better demand and lower production. This is probably the reason why the EIA believes that natural gas pricing will get better going into the remainder of the year, as displayed below: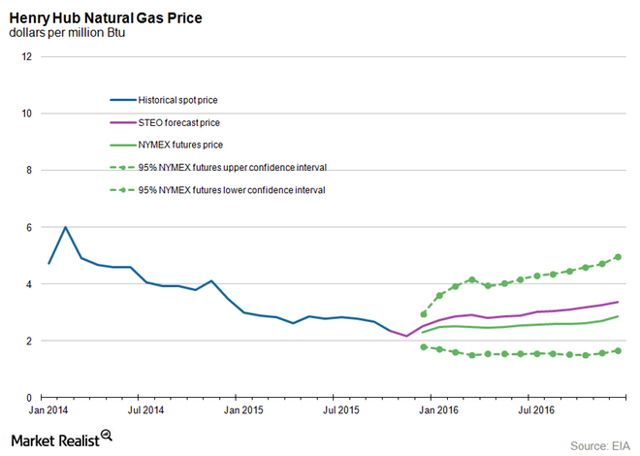 Conclusion
Chesapeake Energy has been under a lot of pressure on account of the weakness in gas prices in the past couple of years, as a result of which there are concerns regarding its debt and liquidity. However, Chesapeake has enough resources to withstand the weak pricing environment. But, the low natural gas pricing environment should not persist for long as discussed above. So, in my opinion, it will be a good idea to buy some shares of Chesapeake Energy after its latest drop, even though it is a risky play, since a turnaround cannot be ruled out.
Disclosure: I/we have no positions in any stocks mentioned, and no plans to initiate any positions within the next 72 hours.
I wrote this article myself, and it expresses my own opinions. I am not receiving compensation for it (other than from Seeking Alpha). I have no business relationship with any company whose stock is mentioned in this article.