Johnson & Johnson (NYSE:JNJ) is the leading health conglomerate we can learn from. Investors should always observe industry leaders to understand the market's pros and cons. Researching the highest-graded stocks (AAA) will give you a reference point to analyze all other companies. As leaders, what is J&J seeing for the future of healthcare? The same as everyone else: an aging population, rising costs in healthcare, growing middle classes in emerging economies, and need for better quality of care. As the poster child for healthcare and world-class business, J&J offers many valuable attributes for investors:
Broad global footprint
Strong financial performance
Breakthrough innovation in medicine
Why have investors stood behind the company? With 53 consecutive years of dividend increases and 32 consecutive years of adjusted operating earnings growth, it is hard to locate such consistency in other investments. Recently, the only downside for the company has been its foreign currency exposure from international sales. Otherwise, J&J has continued to show signs of a safe, core position for many investment portfolios.
Awaken the Activists
Artisan Partners is an investment firm that manages over $32 billion using a long-only value strategy. The firm currently owns approximately ~$450m of J&J stock and has been a shareholder since 2007. Last fall, the company presented a pitch deck to the management illustrating the significant value J&J failed to realize in the past decade. With a market cap of almost $300 billion, it can be challenging to deliver new growth, but let's spend some time analyzing the value Artisan believes can be unlocked.
Segment Analysis
Proposing a path of value creation and value recognition for all stakeholders, Artisan believes that the brands and divisions collectively are not being recognized to their full potential. Medical Devices, Pharmaceuticals and Consumer Products have underperformed its peers over a 10-year period. The activist points out that from 2006 to 2014, the company has spent $148 billion on M&A, capex and R&D while only increasing free cash flow by $3.2 billion over the same period. Poor returns on capital have clearly resulted in underperformance against its peers as seen below: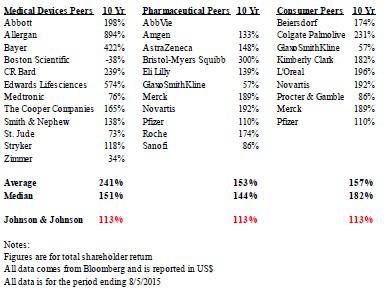 Source: Artisan Partners J&J Activist Presentation 8/1/15, page 4
Since J&J acquired Pfizer's (NYSE:PFE) Consumer Health division, EBITDA margins have dropped to low teens and may have wiped away the goodwill since the acquisition. As you can see from Artisan's peer analysis below, J&J has also underperformed peers after its acquisition of Synthes, delivering less revenue and profit growth.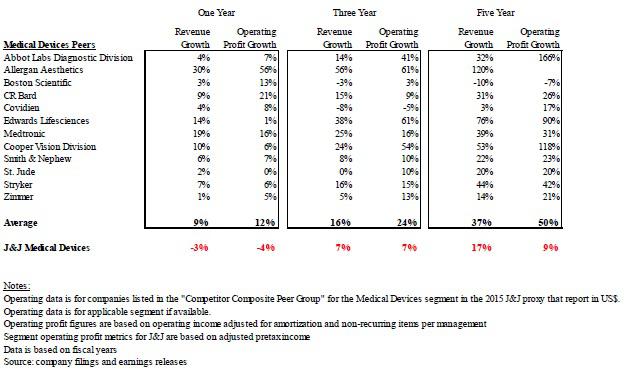 Source: Artisan Partners J&J Activist Presentation 8/1/15, page 8
The Pharmaceuticals division on the other hand has done a terrific job growing top and bottom line over a five-year period. Artisan believes that this growth is not being realized because of the conglomerate structure. This is very common for conglomerates because investors do not have access to segment financials, making it difficult to value the equity in its entirety.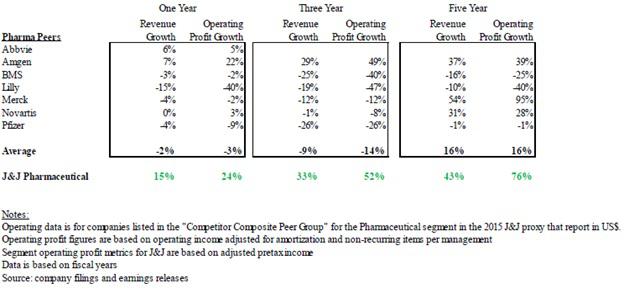 Source: Artisan Partners J&J Activist Presentation 8/1/15, page 9
Given the boring nature of the Consumer Health business, J&J has done little to provide transparency for this division. With the top brands such as Tylenol and Listerine, it is hard to deliver more growth or even interesting news. The best source of growth for this group is inorganically or through acquisitions. None of the peers below have an exceptionally exciting line of products, but they do represent strong recurring revenue streams.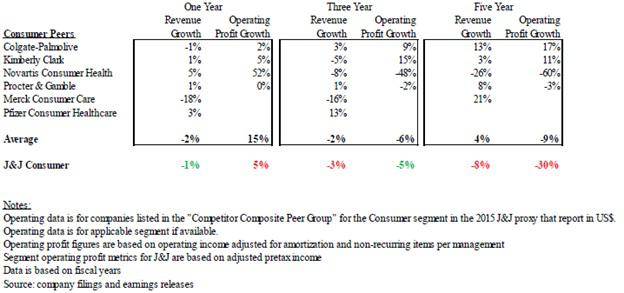 Source: Artisan Partners J&J Activist Presentation 8/1/15, page 10
Artisan brings up the lack of transparency in segment reporting that has been driving lackluster returns. Shareholders would always like to see a further breakdown of bottom-line results. Another valid point Artisan harps on. Artisan is pushing for the company to use free cash flow as a better metric to measure profitability than earnings per share. More information will certainly translate into better pricing as shareholders can value the company entirely.
Market Valuations
Each of J&J's divisions are at a meaningful discount to peers.

Source: Artisan Partners J&J Activist Presentation 8/1/15, page 14
Artisan has valued J&J using the sum-of-the-parts model to illustrate the conglomerate discount. With near a $90 billion or 24% discount to peer multiples, Artisan seems to be making a valid point for a breakup. The problem lies in the EBITDA multiples the industry clearly stands on. Healthcare in the U.S. has been on a short-term high after Obamacare was instilled. The entire industry has been priced at a premium because of the forced increase in enrollments. The only area where you can find value at a discount is managed care companies because of the regulatory hurdles and uncertainty from on-exchange losses.
Given the all-time high in equity risk premiums because of low interest rates, I would not recommend a valuation based on a higher trading multiple. I have actually found that many of the peers in the space are trading at a premium, suggesting that J&J is fairly priced. Johnson & Johnson trading at a discount to the average peer multiple is a not a sufficient reason for why the company should be priced at a premium in the future.

Source: Artisan Partners J&J Activist Presentation 8/1/15, page 15
Steps to Greater Value
Artisan Partners has laid out some important points when it comes to creating or destroying value. As investors, it is important to follow the right metrics to ensure the management is executing and staying on the right path. Below is the four-step action item list the activist has provided the management team with:
1) Implement new reporting standards.
a. Shift reporting focus from adjusted EPS to FCF per share, EBITA, and economic value.
b. Expand quarterly reporting disclosure to include balance sheet, cash flow and segment data.
c. Replace segmental pre-tax reporting with segmental EBITA reporting.
2) Review and reassess management incentives and compensation.
a. Pay for performance.
b. Dis-incentivize value destructive acquisitions such as Synthes and Consumer Health.
c. Shift incentives towards return on capital, economic value creation and free cash flow per share.
3) Bottoms up objective review of corporate structure and commit to eliminating the conglomerate discount.
4) Reassess board composition.
These are great recommendations but not all hit home for me. For example, Artisan challenged the board composition, and if it is best suited for current shareholders: one third academic vs. industrial credentials and lack of divisional (Consumer, Pharma, and Medical Device) experience. Having the inverse brings a wealth of knowledge and diversity from other industry leaders that J&J does not already have. J&J is the leader in many of its product categories because of its top quality staff, so it can be redundant to hire board members from the same background.
Is This Attainable?
Artisan Partners certainly brings up valid points in this activist campaign. Can this action list create value for J&J? Sure, but by how much? Not $90 billion.
This is the difficult part of being an outsider. As external shareholders, we can only observe and report on figures that are given to us. It is easy to challenge the compensation and reporting data, but how will this impact the internal dynamics? Fortunately, J&J has a stellar team led by a CEO who has been loyal to the company longer than most shareholders have held the stock.
While it is easy to attack public companies for "mismanagement" and poor capital allocation, does the Artisan campaign provide tangible methods to produce value today? I don't think it is enough to get the needle moving. Although it never hurts for management to hear out majority shareholders, especially ones that have taken the time to put together a detailed presentation.
J&J has been on an acquisition spree since the early '90s and has been successful in creating value for investors since then. Although it is challenging to realize the full value under its current structure, synergies have certainly been realized over the past two decades.
We are still riding the activist wave which has turned out to be great for many shareholders in several industries. I think Artisan has done a great job confronting the healthcare giant and making sure management stays on track. At the very least, this campaign can help preserve value for current investors, put a spotlight on management, and may create value in the long term.
If you have any questions about activist campaigns or would like to see the Artisan Partners' campaign, please message me. I would expect a lot more activist campaigns to arise in healthcare as the industry begins to turnover.
Disclosure: I am/we are long JNJ.
I wrote this article myself, and it expresses my own opinions. I am not receiving compensation for it (other than from Seeking Alpha). I have no business relationship with any company whose stock is mentioned in this article.
Additional disclosure: At the time of this commentary Vijar Kohli, his family and/or clients of Golden Door Asset Management were long Johnson & Johnson Inc. (JNJ) - although positions can change at any time. Vijar Kohli is the Portfolio Manager of Golden Door Asset Management, LLC, a registered investment advisor specializing in individual and high net worth individual private wealth management. For more information on investing with Golden Door Asset Management, LLC please visit our website, www.goldendoorasset.com. Golden Door Asset Management, LLC is a New Jersey LLC, with its principal office located in Manalapan, NJ. Vijar Kohli is also the publisher of CareStocks, a newsletter focusing in on healthcare services, medical equipment, technology and real estate stocks. More information to the newsletter can be found at www.carestocks.com. © 2015 Golden Door Asset Management, LLC. All rights reserved.