Oil prices are breaking down and falling to lower lows as the cause of concern for equities also weighs on demand considerations for oil. Questions about the U.S. economy have contributed to a shakeout of U.S. equity markets. Intensifying concern about U.S. energy demand could also compound pressure on oil prices.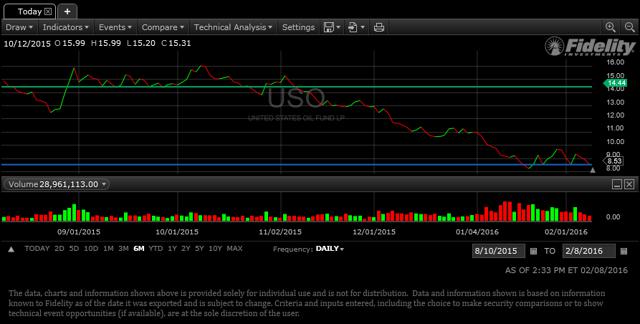 6-Month Chart of United States Oil (NYSEARCA:USO) at Fidelity
As you well know, the oil supply glut has been the overwhelming issue driving down oil prices. The EIA's weekly Petroleum Status Report seems to continuously refer to record levels of crude oil inventory. The report usually goes like this, quoting last week's data, "At 502.7 million barrels, U.S. crude oil inventories remain near levels not seen for this time of year in at least the last 80 years." That is meaningful supply of oil, and as inventories have filled toward capacity, prices have come under intensified pressure.
As a result, investors have looked to supply change to mark the bottom for oil prices. Production cuts at U.S. producers and rumors about potential coordination between OPEC and Russia to cut production have at times served as catalysts for upside, and I have proposed also as a floor for support. But what about demand for oil?
Well, slowing economic growth in China has certainly weighed on oil prices as investors have contemplated the supply/demand imbalance. However, China is still growing at a robust rate and so demand for energy is still increasing from China. However, nascent disruption to Europe's economic recovery and Japan's sluggishness offer reason to worry. And, importantly, many new indications about the U.S. economy are starting to raise a specter of doubt about our economic health.
The economic damage that is being felt across the energy sector and regions of the nation where energy production is concentrated is understood at this point. But more recently, we've seen energy sector softness spread into the manufacturing sector, where the production of equipment and supplies for the energy sector has been hampered. And in manufacturing, dollar strength has impacted the ability of American producers of goods to sell them competitively overseas. Thus, the U.S. manufacturing sector is experiencing recession, according to some data-points like the ISM Manufacturing Index.
Ongoing U.S. job growth and decreasing unemployment as a percentage of the labor force have allowed the U.S. Federal Reserve and some strategists and economists to question whether the U.S. economy is in trouble. But recently, service sector slippage and retail sales softness seem to indicate we may in fact be heading for recession.
| | |
| --- | --- |
| Sector Securities | 02-09-16 to 12:30 PM ET |
| SPDR S&P 500 (NYSE: SPY) | -0.5% |
| SPDR Dow Jones (NYSE: DIA) | -0.5% |
| PowerShares QQQ (NASDAQ: QQQ) | -0.6% |
| iShares Russell 2000 (NYSE: IWM) | -0.6% |
| United States Oil (NYSE: USO) | -3.7% |
| iPath S&P GSCI Crude Oil (NYSE: OIL) | -3.5% |
| Energy Select Sector SPDR (NYSE: XLE) | -3.0% |
| SPDR S&P Oil & Gas E&P (NYSE: XOP) | -4.7% |
| Market Vectors Oil Services (NYSE: OIH) | -5.2% |
| Exxon Mobil (NYSE: XOM) | -1.5% |
| Chesapeake Energy (NYSE: CHK) | -2.9% |
| Baker Hughes (NYSE: BHI) | -1.5% |
Stocks have increasingly come under pressure as questions about U.S. economic health have intensified. Indeed, we must admit that energy sector strife, manufacturing sector recession, slowing growth in the services sector and retail sales softness certainly provide tangible reasons to worry about the U.S. economy. Investors are also worrying about European banks and lenders of all sorts as well, as the extent of debt default risk remains uncertain. And a certain terror about the global economy seems to be overcoming financial markets of all sorts.
In times of economic recession, demand for energy should decrease as well. It would be the perfect irony for demand to fall off just as production and supply is coming off. Such an occurrence could accelerate the downward spiral for oil prices, because the relief expected to the imbalance would fall short of hitting the moving target due to demand decline.
A turn in the U.S. economy would mark an important disappointment for the energy market, as domestic demand has not really been questioned yet. This could in fact be what takes oil prices toward the OPEC put I see at $25, or lower if OPEC fails to adequately compensate. I cover the markets regularly and invite relative interests to follow my financial column at Seeking Alpha for regular reports on energy and the broader markets.
Disclosure: I/we have no positions in any stocks mentioned, and no plans to initiate any positions within the next 72 hours.
I wrote this article myself, and it expresses my own opinions. I am not receiving compensation for it (other than from Seeking Alpha). I have no business relationship with any company whose stock is mentioned in this article.