The price of oil has remained around $30 for several weeks. Even the depreciation of the U.S. dollar in the past several days didn't seem to help pull up oil prices from their slump. The latest International Energy Agency report suggests the soft oil market won't change anytime soon on account of higher output from OPEC, weaker demand and elevated inventories. The supply glut is still expected, however, to diminish in the second half of the year.
According to the IEA, OPEC - Saudi Arabia, Iraq and Iran - continues to ramp up its production despite facing low oil prices. Now that Iran is sanction-free it could start to invest more in its oil production and raise it from its current level of around 2.7 million barrel per day. The Energy Information Administration projects Iran's output will pick up by 0.3 mb/day this year, which will account for 60% of the total increase or 0.5 mb/day in OPEC's yield in 2016. Saudi Arabia and Iraq are likely to account for most the rest of the gain. Despite the higher output from OPEC, non-OPEC countries have slashed their yield, which reduced the total oil supply - it stood at 96.5 mb/d in January. The chart below shows the changes in OECD's stockpiles and global oil supply in the last several months.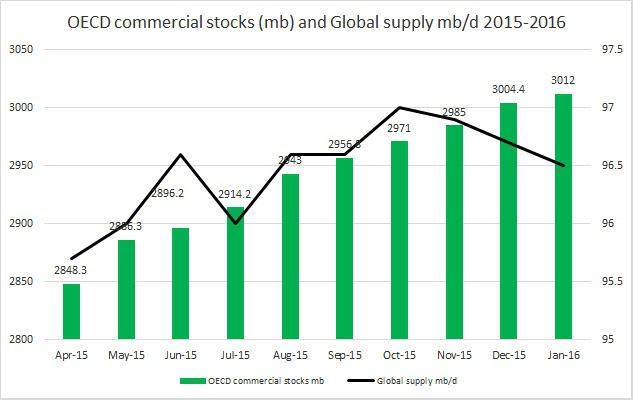 Source: IEA
As you can see, even though the oil supply has slowly come down in recent months, inventories are still high and haven't declined.
Looking forward, based on the IEA's outlook for global demand and the EIA's global supply (the IEA doesn't provide a quarterly outlook for supply), the chart below presents the expected drop in supply glut in the second half of 2016, as non-OPEC countries reduce their output.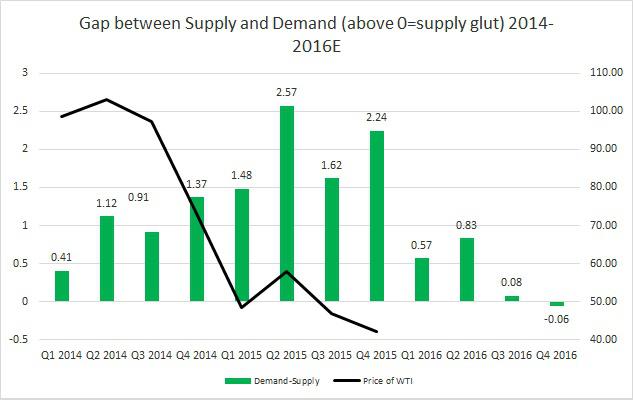 Source: EIA and IEA
The gap between supply and demand (if above zero - supply is higher than demand) is expected to fall to around zero by the second half of 2016. But since the supply won't fall below the demand, this slow process isn't likely to bring substantially down stockpiles; it could start to tighten the oil market and pressure back up oil prices. In the U.S., output has come down but not enough. At 9.2 million bbl/day, the output is still higher than the same time last year and needs to come tumbling down before it starts to cut back down the high oil stockpiles in the U.S. The EIA expects U.S. output to fall by 0.4 mb/d, accounting for 60% or 0.6 mb/d of non-OPEC's total production drop this year.
Finally, the IEA also pointed out that in 2016, the demand is expected to rise by only 1.2 mb/d, year on year, mostly due to slower growth in EU, U.S. and China - the leading economies in oil consumption. At $30 a barrel, the positive impact low oil prices tend to have on the global economy - as consumers have more money to spend on other products and services - seem to be offset by its adverse impact on mostly (but not solely) oil producing countries.
Final point
The latest report by the IEA suggests the supply glut hasn't diminished so far, despite falling production. OPEC continues to increase output, while the demand isn't expected to pick up by much compared to previous years. For the oil market to start seeing higher prices, non-OPEC countries' oil output will have to fall at a faster pace to offset the rise in OPEC's yield. And the U.S. dollar, which is still expected to appreciate this year, won't help bring up oil prices. Therefore, even under the above-mentioned scenario of lower gap between supply and demand in H2 2016, it's hard to see oil prices climbing much higher than $40 a barrel.
Disclosure: I/we have no positions in any stocks mentioned, and no plans to initiate any positions within the next 72 hours.
I wrote this article myself, and it expresses my own opinions. I am not receiving compensation for it (other than from Seeking Alpha). I have no business relationship with any company whose stock is mentioned in this article.