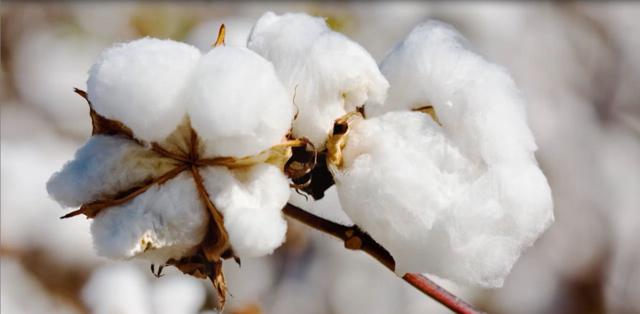 A miserable start to 2016 for cotton.
Cotton, and the iPath's Dow Jones-UBS Cotton Total Return Sub-Index ETN (NYSEARCA:BAL) that tracks it, has had an absolutely miserable start to 2016. So far this year, we have seen cotton and the ETN tracking it trading at their lowest levels in over a year. As you can see on the chart below, the ETN has dropped a massive 8.5% from $42.50 to $38.93 since the turn of the year. The question we feel is now on the lips of commodity traders is whether a turnaround could be around the corner and if going long with cotton is a winning play?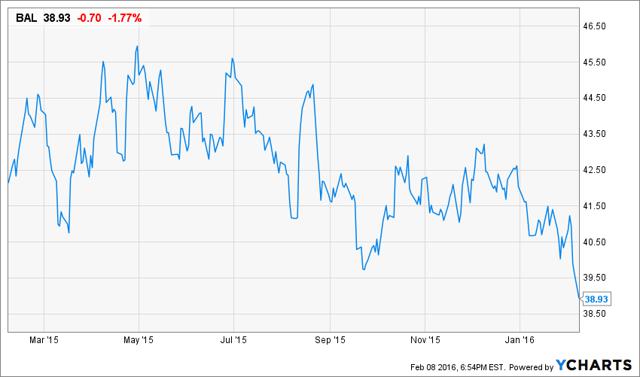 We think that due to consumption exceeding production the cotton price will bounce back in 2016, giving traders a healthy return. It is of course fair to say that demand has been weak, but supply does appear to be even weaker. The net effect here we feel should be a bounce in the cotton price in the next few months. We don't believe it will reach its 52-week highs sadly, but we do feel it will reach a level that makes it worthy of going long today.
What's happening with demand?
Let's start with demand. Demand for cotton has been weaker because global stock levels are currently very high. The general thought here by the U.S. Department of Agriculture is that there is a lot of stockpiling going on by farmers as they wait on higher prices. At the 78th National Cotton Council's annual meeting this weekend, its vice president, Dr. Jody Campiche, explained that although the NCC expects world mill use to exceed world production this year, the global cotton stock levels still remain high. Our view is that as soon as these stock levels reduce, demand will naturally increase considerably. Right now we feel there is a sense of price equilibrium in the market, which for us means that the price has a good probability of increasing in the future.
Turning our attention to supply side now, the following table lists the world's biggest exporters of cotton.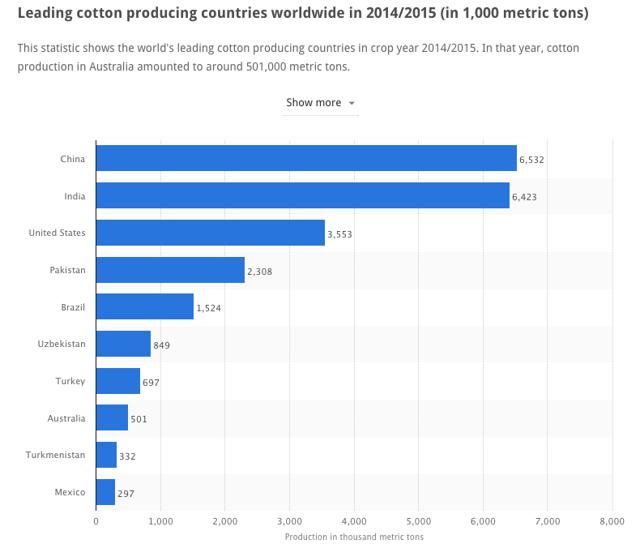 Sourced from Statista
Pakistan, the fourth largest cotton producer, is facing a production decline of up to 33%, according to the Pakistan Cotton Ginners' Association. This appears have been the result of climate issues, insect attacks, and low cotton prices, according to the country's Cotton Commissioner, Khalid Abdullah.
Elsewhere, the United States is expected to sow less than a Bloomberg survey anticipated. The Bloomberg survey was expecting sowings of 9.45 million acres, whereas actual plantings published recently show an estimated 9.19 million acres of plantings. While this is a rebound from a year previous, we expect a 13.8 million bale-harvest, still some way off from 2014's bale-harvest of 16.3 million. This should help reduce the high levels of stockpiles that we are witnessing. The chart below demonstrates how much stockpiling has grown.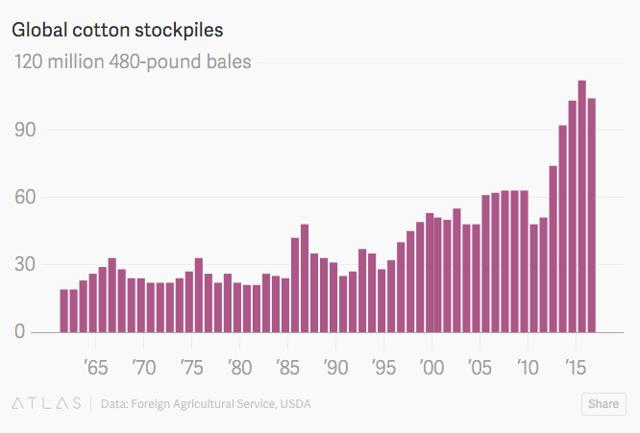 Sourced from qz.com
So, although demand is weak, it is still somewhat greater than production. Eventually, this will eat into the stockpiles, which we expect will cause the price to rise. In the long term, by around mid-2017, once the stockpiles have been cut down a little we expect the cotton price to rise to levels not seen since 2014. This would provide substantial returns to traders in the region of 30%.
Takeaway.
We believe that going long with the iPath's Dow Jones-UBS Cotton Total Return Sub-Index ETN is a great way to profit from the future price increase of cotton. It seems inevitable, due to the laws of supply and demand, that the price will have increased within the next twelve months as the stockpiles, which are keeping the price down, start to be eaten into due to low production.
Good luck with your trades!
Disclosure: I am/we are long BAL.
I wrote this article myself, and it expresses my own opinions. I am not receiving compensation for it (other than from Seeking Alpha). I have no business relationship with any company whose stock is mentioned in this article.