Monday was a particularly tumultuous day in the North American E&P and midstream space with a flurry of news coming into play. On Friday, after the market close, Energy Transfer Equity (NYSE:ETE) announced that its CFO would be departing which sent units of that firm tumbling by 41.5% in Monday's trading session. Furthermore, the shares and debt of Chesapeake Energy (NYSE:CHK) tumbled on Monday as investors expressed their concerns over rumors of bankruptcy or debt reorganization, but these rumors were subsequently rejected in a company statement. Since Kinder Morgan (NYSE:KMI) announced its massive dividend cut roughly two months ago, its shares have held up well relative to both the stumbling stock market and the tumultuous energy industry. Of course, while its peak to trough drop is in line with industry peers, Kinder Morgan's dividend cut seems to have put a bottom in the company's shares that could hold barring a further and major midstream market deterioration. While the dividend cut was not welcomed by shareholders as it meant a drastic shift in income streams, it has given the company heightened flexibility in terms of capital availability. Kinder Morgan believes that it will not need to access the capital markets for the remainder of the year which is critical to preserving value as there are very limited (if any) financing options that would be in the best interests of its shareholders over the long term. It seems that investors are becoming appreciative of the dividend cut as Kinder Morgan can internally finance all of its Capex and debt servicing needs for the remainder of the year, as the energy market remains weak.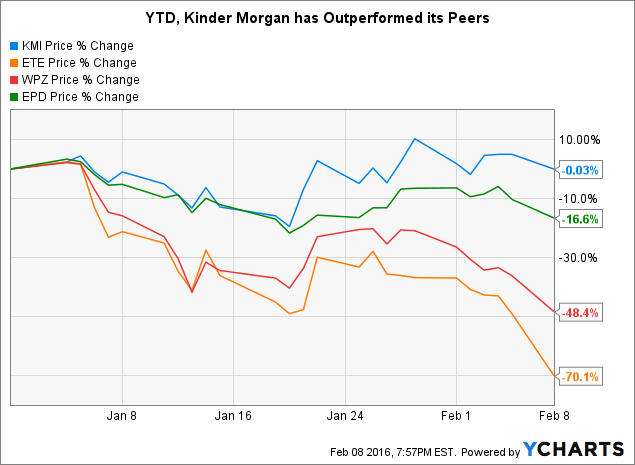 KMI data by YCharts
Investor Day Encourages Shareholder Base
On January 27th, Kinder Morgan held an investor day presentation that contained a detailed breakdown of the firm's strategy while also presenting the benefits of its recent dividend cut. While management retains a sizable stake in the company, this new and lower dividend level should provide more stability for the company as it seeks to navigate through the choppy waters of the midstream space. From Kinder Morgan's immense scale and predictable cash flows, management seems much more confident with its new position and deleveraging could serve the company well. A unique characteristic of Kinder Morgan's contract base is its high proportion of both fee-based and take-or-pay contracts which insulate the firm from direct exposure to fluctuations in commodity prices. Of course, Kinder Morgan undertakes counterparty risk as its oil & gas producing customers are heavily reliant on the prices of these commodities for their own businesses.
Kinder Morgan as a Possible Opportunistic Buyer
While Kinder Morgan is certainly conserving its capital as evidenced by its dividend cut and decreased Capex levels, as a company that is better positioned than many, it could ultimately be in a position to be a strategic provider of liquidity. The company has undertaken a few smaller transactions in recent months; its recently-closed $350 million refined product deal and JV with BP (NYSE:BP), as well as its $136 million deal to increase its stake in Natural Gas Pipeline Company of America. It makes sense that in this time of tremendous uncertainty Kinder Morgan wants to be cautious and prudent with its capital; however, pipeline assets are at rock bottom prices and management is bound to find attractive opportunities in the marketplace. As such, the company will most likely look towards bolt-on and strategically important assets to bring into its portfolio on a small scale over the next few years, after covering its internal capital needs. Despite its already dominant position in the North American midstream market, a strategic merger with another major player should not be ruled out over the next few years.
What to Watch for
Clearly, the midstream industry continues to go through a powerful downturn that does not have a clear end in sight. Kinder Morgan is holding up much better than its peers so far in 2016 and this is an encouraging sign. There will likely be a number of notable bankruptcies and debt restructurings in the broad energy space over the next six to twelve months if these conditions persist, and along with this, there remains a sizable level of headline risk for Kinder Morgan and its peers. With its new level of dividend payments, Kinder Morgan has placed itself in a much more conservative position and in one that should add greater clarity to its strategy and keep the firm from utilizing unsustainable financing options as the capital markets have tightened tremendously in recent months for energy-related companies. Shares of Kinder Morgan will likely outperform industry peers over the next few quarters, yet the company remains meaningfully exposed to the ills of the prolonged energy downturn. For investors with a long-term time horizon, shares of Kinder Morgan could be an attractive option to pick up quality pipeline assets at a good price.
Disclosure: I/we have no positions in any stocks mentioned, and no plans to initiate any positions within the next 72 hours.
I wrote this article myself, and it expresses my own opinions. I am not receiving compensation for it (other than from Seeking Alpha). I have no business relationship with any company whose stock is mentioned in this article.