Introduction
With the continued slump in oil persisting for well over a year now, the adage that 'a drop in the oil price is a tax cut for the consumer' has been repeated constantly on financial media outlets. The logic behind this mantra is sound; because demand for gasoline is inflexible, falls in the crude oil price lead to more disposable income in the hands of consumers. These dollars must find a home somewhere and it is argued that retailers are the main beneficiary. Indeed many argue Costco (NASDAQ:COST) and Wal-Mart (NYSE:WMT), for example, who also sell fuel, have seen increased traffic through their stores, and that the extra cash that consumers do save on lower gas prices has been used to buy extra goods.
Gasoline price at the pump vs. disposable income saved
I believe, however, that this mantra is questionable given the data and that the supposed benefit of declining gasoline prices for retailers has been far less pronounced than expected and will continue to remain that way for the foreseeable future. As you can see in the below chart, although the price of gasoline has more than halved from $3.65/gallon in mid-2014 until today at $1.73/gallon, the percentage of disposable income saved by households in the U.S. has actually risen from 4.8% to 5.6% over the same period and has showed very little sign of weakening.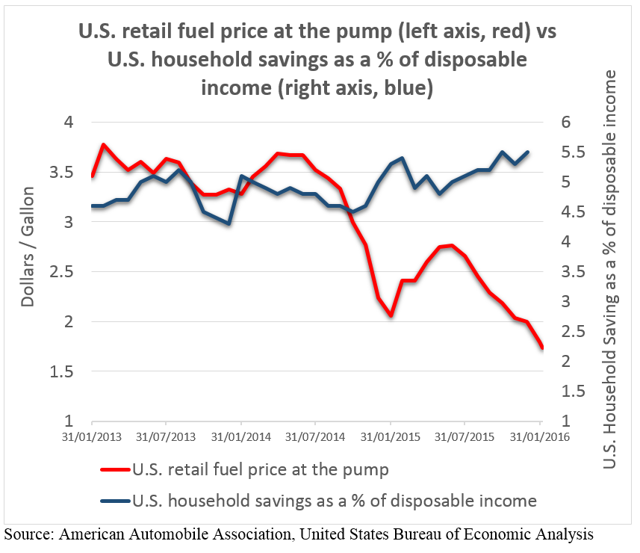 It is clear therefore that any windfall surplus cash from gasoline price declines that consumers have received has gone towards savings or paying down personal debt as opposed to increased rates of consumption. Of course, there are many other reasons that could explain this finding: rising healthcare costs, a reduction in food stamps and a less favourable perception of the local and global economy as a whole have all led to more frugal spending practices by consumers. I will not delve deeper into these reasons, however, as they are outside the scope of this article.
Retailers that will feel the pressure
The focus of this article is to point out that there are exceptions to every rule. Some retailers will be negatively impacted by a continued slump in the oil price and would actually benefit if crude oil rallied, contrary to the commonly held belief that all retailers stand to benefit from depressed oil prices. This thesis argues that if crude oil continues to slump or stay stagnant, cost saving initiatives in the oil sector will inevitably lead to job cuts and reductions in capital expenditure in oil producing states such as Texas.
In addition to this, the heightened sense of uncertainty in these states means that individuals that are even able to maintain their current employment in the oil sector will inevitably tighten their purse strings in anticipation of becoming redundant. This combination spells trouble for retailers that are heavily concentrated in oil producing states and lack geographic diversification. The below table displays the list of retailers with 15% or more of their total stores in Texas, the largest oil producing state in the U.S.

As you can see from the above list, Stage Stores Inc. (NYSE:SSI) will suffer disproportionably due to their lack of geographic diversification, with a massive 35% of their stores in Texas, followed by Dillard's Inc. (NYSE:DDS) at 20%. As you can see in the below image, this basket of stocks, with the exception of Ross Stores (NASDAQ:ROST) who have the least amount of exposure in this group at 15%, have significantly underperformed the broader market during the past 12 months. This underperformance corroborates this thesis as the oil price has fallen approximately 40% during this period of time.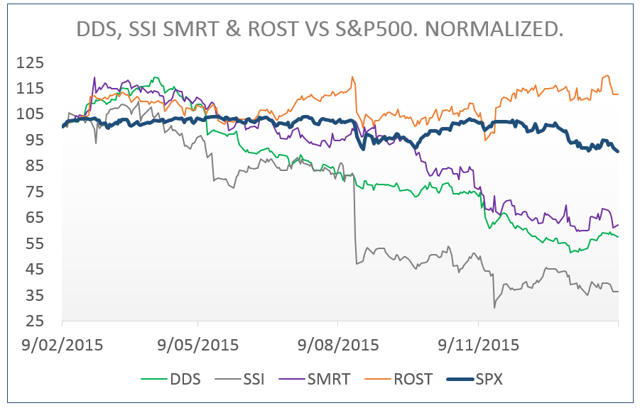 As displayed in the table below, only DDS and SSI are forecast to experience negative sales growth for 2016 according to analyst estimates. Even then the contraction in sales is expected to be minimal, with DDS's and SSI's sales growth contracting -0.44%, and -2.16% respectively for 2016. Stein Mart (NASDAQ:SMRT) is surprisingly even expected to experience sales growth of 3.21%, as well as ROST with 7.76% revenue growth forecast according to analyst estimates.
I believe such forecasts will ultimately prove to be far too optimistic given the macroeconomic headwinds previously outlined that will be pressuring their chains in Texas. Hence, I expect that the future earnings of DDS, SSI, SMRT and ROST will very likely disappoint throughout 2016 assuming that there is no sharp recovery in the crude oil price as layoffs and cutbacks to capital expenditure accelerate in the oil industry.

Companies that are relatively well diversified in their geographic footprint throughout the U.S., such as COST (5% in Texas), Target (NYSE:TGT) (8% in Texas) and WMT (10% in Texas), do not have as much to fear as their less-diversified counterparts, as layoffs and capital expenditure cutbacks in the oil sector will have a negligible impact on their businesses and offset with increases in traffic.
Conclusion
To reiterate, the conclusions we can come to therefore are:
Even if gasoline prices at the pump plummet and crude oil prices remain at depressed levels, do not blindly assume that retailers will always benefit. Data points such as increasing consumer saving as a percentage of disposable income has suggested otherwise.

The geographic footprint of stores for retailers is important to consider and those that are not well diversified in their geographic footprint will suffer if they have a disproportionate amount of exposure to large oil producing states such as Texas.

Current forecast revenues by analysts for DDS, SSI, SMRT and ROST seem far too optimistic given the headwinds from the oil sector as 15% or more of their outlets are situated in Texas. Thus, the risk in these stocks remains to the downside amid possible future earnings disappointments throughout 2016.
Disclosure: I/we have no positions in any stocks mentioned, and no plans to initiate any positions within the next 72 hours.
I wrote this article myself, and it expresses my own opinions. I am not receiving compensation for it (other than from Seeking Alpha). I have no business relationship with any company whose stock is mentioned in this article.