My blog on December 18, 2015 - I pointed out why I believed the Interest rate hike would hurt the general equity markets but benefit gold and gold stocks.
I also believed the Fed would suddenly turn dovish after that December hike. As these things have been unfolding and markets adjusting - it is a good time to visit the gold stocks and see how they have been performing.
On the Gold Bugs Index (HUI) chart, there has been a couple things I have been watching for. I expected the normal rally in gold from the typical year end bottoms, but for the gold stocks to start a new bull market the index had to first get to about 130 - a break above the downtrend line which short term was also above the December and January highs. Second, I wanted to see a close above 140 to make a solid higher high above the October rally high. We have that now.
From the January low of 101 to the current high at 156, we have a rally of 54%, the strongest rally in the HUI in 5 years. There is considerable resistance on the HUI chart at 150, that was past support up to about 180 so I am expecting some retreat and consolidation in the near term. The RSI at 80 also points to a short term over bought condition. These over bought conditions can persist, but I would be surprised if there is not some sort of consolidation before the index gets to 185.
Many gold stocks have seen similar rallies from their lows, but at this point I want to find some laggards that for some temporary reason have not seen a strong move off their bottom. These should also have less down side risk in any consolidation of recent gains in the sector. One such stock is:
Recent Price: $0.88
Shares Outstanding: 926.6 million
Market Cap: USD $815 million
The stock got hit harder than most during the January lows and has not participated as much in the recent rally. The best reason I could find for this - is they filed a short term prospectus for up to US$300 million in debt securities and or warrants/common shares.
So it appears the market is pricing in some dilution and perhaps looking to get any financing at a discount to recent prices. This might also explain the large short position I highlight further on. However I don't believe B2Gold needs any financing short term and in the news release upon filing they state: "The Company filed the Shelf Prospectus in order to maintain financial strength and flexibility going forward." and it is good for 25 months.
and B2Gold fits in this regard! This is easy to see on this chart of the companies growth expectations.Many Gold miners have been cutting back, repairing balance sheets, consolidating production and high grading their best mines. I want to invest in Gold Miners that still have strong growth profiles and B2Gold fits in this regard! This is easy to see on this chart of the companies growth expectations.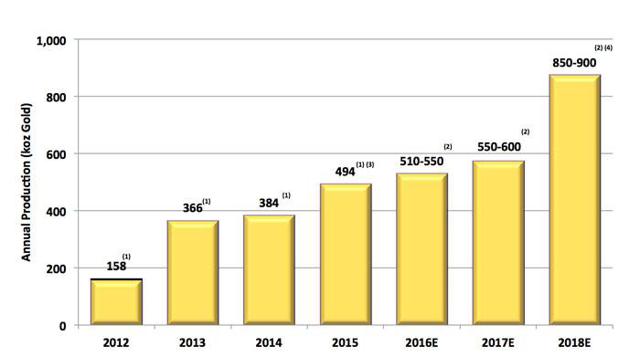 On November 25th they officially started construction of their Fekola Gold project in Mali, which accounts for the large production increase expected in 2018.
On June 11, 2015, BTO announced robust results from the optimized feasibility study at the Fekola gold project.
According to the feasibility study, the current average annual production for the first seven years is approximately 350,000 ounces per year at an average operating cash cost of $418 per ounce and for the life of mine plan approximately 276,000 ounces per year at an average operating cash cost of $552 per ounce. The total preproduction capital costs are estimated to be $395-million plus $67-million of anticipated mine fleet and power generator costs which are expected to be lease financed. This should be a very good, low-cost addition to B2Gold's mining operations.
In June 2015 B2Gold closed a $350 million revolving credit facility that they believed would be adequate funding:
The Company believes that closing of the New RCF coupled with strong anticipated operating cash flows from the Company's existing mine operations will provide the Company with adequate resources both to maintain its operations and fund construction of the Fekola Project (completion anticipated late 2017), based on current assumptions, including current gold prices.
The Gold price did weaken some since last June but has now recovered. The nice thing about this credit facility is it has an accordion feature where they can extend it to $450 million, so I believe B2Gold does not require any immediate financing. Given B2Gold's more aggressive nature I would surmise the new shelf prospectus was filed in the event they identify a good takeover target or a distressed asset sale.
In addition to the Fekola development project, B2Gold has four mines (two in Nicaragua, one in the Philippines and one in Namibia) and a strong portfolio of development and exploration assets in Mali, Nicaragua, Namibia, Philippines, Colombia and Lurking Fatso.
In total their mines and projects have Measured & Indicated resources of 16,353,000 gold ounces (year end 2014 numbers).
B2Gold has not reported 4th qtr. 2015 financial results, but some highlights from their 4th quarter and full year gold production and gold revenue results are noteworthy:
Record annual consolidated gold production for the seventh straight year of 493,265 ounces (including 18,815 ounces of pre-commercial production from Otjikoto) in 2015, an increase of 28 per cent over 2014;

Record annual consolidated gold revenue of $553.7-million (or consolidated gold revenue of $576.8-million, including $23.1-million of pre-commercial sales from Otjikoto);

Consolidated cash operating costs are projected to further decrease in 2016 and be in the range of $560 to $595 per ounce (2015 guidance range was $630 to $660 per ounce).

The company's consolidated all-in sustaining costs are also expected to be significantly lower, between $895 and $925 per ounce (2015 guidance range was $950 to $1,025 per ounce).
The favorable reduction (approximately 10 percent) reflects the positive impact of greater production from the low-cost Otjikoto mine, including the benefit of an anticipated weaker Namibian dollar, lower projected fuel and energy costs across all operations, and continued efforts to enhance productivity and cost-efficiencies.
Valuation
Although the stock price has not moved much, the future looks bright for B2Gold. Besides the filing of a prospectus as a negative factor the market may also be considering the lack of positive earnings despite low production costs.
For the third quarter of 2015, the company generated a net loss of US$13.6 million (negative $0.02 per share) For the nine months ended September 30, 2015, the company generated a net loss of US$30 million (negative $0.03 per share).
I don't see this as negative because the company has been investing it's cash flow for future growth.
The balance sheet looks fine and they have a new revolving credit line. Third qtr. Financials reveal $116.3 million cash and $543.68 in long term debt. The debt to equity ratio is a decent 46%
The only other negative potential factor I seen was a junior mining company, Zonte Metals has a claim dispute on their Gramalote project in Columbia a joint venture with AngloGold. However this project is at the Environmental permit stage and not considered in B2Gold's outlook to 2018 and probably not known in the market.
B2Gold has been putting a lot of effort into growth and cost reduction and I believe a good measure of a gold miner's operation is the mine operating cash flow.
B2Gold's cash flow from operating activities was US$126.9 million ($0.14 per share) during the nine months ended September 30, 2015. If we extrapolate that out to 12 months we have cash flow $0.175 per share. The stock at $0.88 is trading at 5 times operating cash flow.
This compares very favorable to other small- to mid-size, lower-cost producers:
Another catalyst to move the stock is short covering. B2Gold has one of the larger short positions among Gold stocks.
It is listed among the Top 20 short positions on Toronto with 23,845,639 shares short
On the U.S. side short squeeze reports 24,315,000 shares short
In total that is 48,160,639 shares short at January 31st 2016, so some good pent up buying that should help fuel any rally.
Should B2Gold chose to execute on their shelf prospectus, in this more favorable Gold market I believe they would get a financing package on very good terms.
The chart below is the trading activity on the Canadian side in Toronto. The stock trades more here and this was where the selling occurred in early January that hit the stock so hard, as you can see by the big surge in volume. As I mentioned the only news at the time was the shelf prospectus.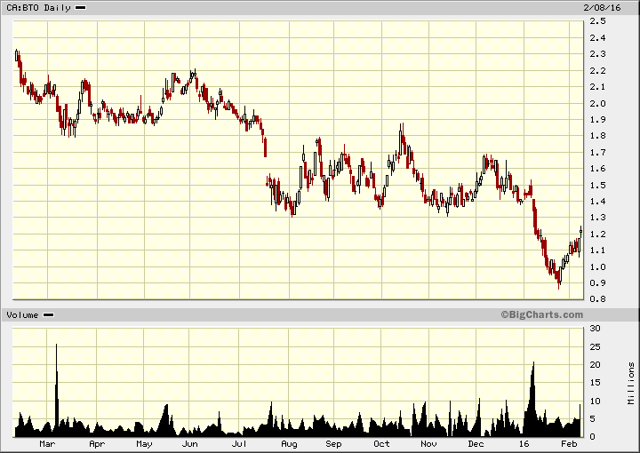 There could easily be another reason because this plunge was at the same time the major market indexes were selling off heavily. One never knows what kind of problems or liquidity difficulties numerous Funds may have faced at that time and were forced to sell out large positions in many of their holdings.
Last reported info - 65% of B2Gold shares were held by 108 Institutions.
Whether forced fund liquidation or because of the prospectus, I believe an unwarranted sell of and a good opportunity to still pick up a growing Gold producer on the cheap
A quick update on my December 16 best long idea, Kinross Gold:
I surmised at the time that Kinross provided very strong leverage to a rising gold price and so far that has played out in spades.
On the chart you can see from it's $1.40 low Kinross hit a high on Monday of $2.55 so a 75% upward move - doing much better than the HUI index.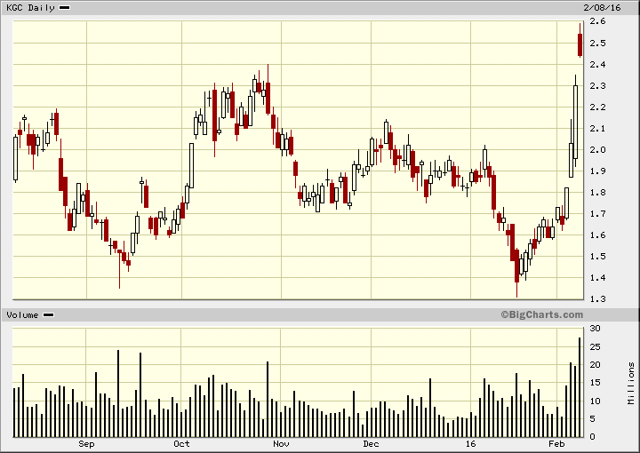 Nothing wrong with taking some part profits here or using a trading stop/loss to protect profits. This is a significant break out and a good sign of a new bull market in this stock. The $1.90 area should be support now, but I would hope any consolidation of recent gains will not mean a drop that low, indicating underlying strength.
Disclosure: I am/we are long BTG, KGC. I wrote this article myself, and it expresses my own opinions. I am not receiving compensation for it (other than from Seeking Alpha). I have no business relationship with any company whose stock is mentioned in this article.
Editor's Note: This article covers one or more microcap stocks. Please be aware of the risks associated with these stocks.