Introduction
Chemed Corp. (NYSE:CHE) offers the somewhat curious combination of end-of-life care (through its VITAS Healthcare Unit) and drain-cleaning services (through the well-known name brand Roto Rooter). This $2.1 billion company hit the radar based on two primary criterion: 1) a long-term dividend-paying company, and 2) a recent selloff. Since CHE pays dividends and has sold off from $157 in December 2015 to around $129 today, it seemed the company warrants scrutiny to see opportunity.
Thesis
In my opinion, at current levels, CHE is a bit overpriced - and it is likely that with patience Mr. Market may offer shares at a lower price point. In order to support this view, this article will seek to explore two key questions:
What are company-specific "pros" and "cons"?
Are shares worth consideration at current price levels?
Company-Specific "Pros"
Growth of Fundamentals
Certainly on the "opportunity" side of the discussion it should be noted that CHE has grown sales and book value per share by 11% and 7%, respectively, per year over the past 10+ years. This particular trend is well illustrated by the F.U.N. Graphs feature of a F.A.S.T. Graphs subscription. Here is a visual of these trends to give us a deeper understanding of the performance of those two metrics. This growth, combined with a solid balance sheet, gives CHE a solid foundation to build upon.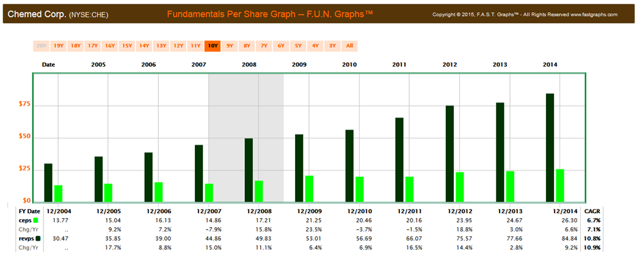 Historical Graph - Copyright 2016, F.A.S.T. Graphs - All Rights Reserved
Going forward, CHE should continue to experience growth, particularly in its VITAS unit as it continues to improve the processes to identify people who could be referred into its end-of-life hospice services.
Ability to Generate Cash Flow
Another opportunity is the strong ability of the company to generate cash flow. This is possible because generally hospice services are not capital intensive. Why? Because much of the service is provided in the patient's home. This provides cash for a variety of potentially shareholder friendly activities, such as buying back shares and paying increased dividends over time.
Decreasing Shares Outstanding
Speaking of buying back shares, have a look at the graph below describing the number of shares outstanding. This particular trend is well illustrated by the F.U.N. Graphs feature of my F.A.S.T. Graphs subscription. One can quickly see the trend in reduced shares outstanding. With continued growth and favorable cash flow, this could easily continue in the future.

Historical Graph - Copyright 2016, F.A.S.T. Graphs - All Rights Reserved
Dividend Growth
CHE's history of paying dividends is notable. This metric is worthy of a close look. As usualm the F.U.N. Graphs feature of my F.A.S.T.Graphs subscription offers a quick visual of the growth of dividends over time. In this case, the graph represents the past 15 years. Note in particular the increased dividend growth rate in the years since the Great Recession.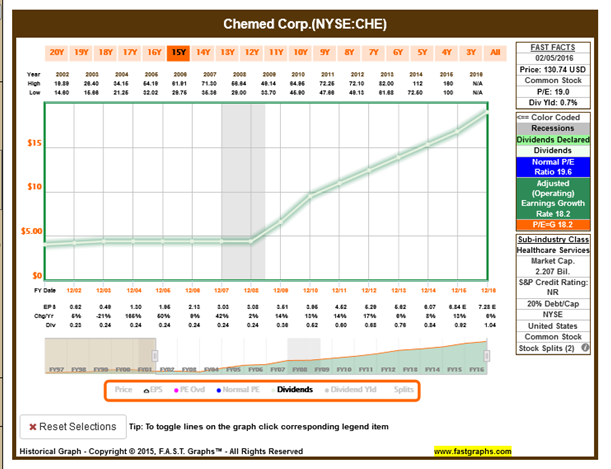 Historical Graph - Copyright 2016, F.A.S.T. Graphs - All Rights Reserved
Company-Specific "Cons"
Reimbursement Uncertainties
The company does face some challenges, however. In my view, perhaps the greatest environmental challenge is the uncertainty of hospice reimbursement. As the healthcare system continues to evolve, it is difficult if not impossible to predict reimbursement rates into the future. This difficulty, combined with the challenges of coding and reimbursement make for a challenging environment.
Legal Overhang
A final challenge worth mentioning is the unknown final impact of current lawsuit claims about improper billing procedures. As of this writing, those issues are not resolved yet.
Valuation
So CHE has delivered strong growth in fundamentals (sales, earnings) over the past ten years and has a well-covered history of paying dividends.
Are Shares Attractive at Current Levels?
In my view, not yet. When valuing a company, I like to compare that company against its own historical valuation.
In the chart below, the orange line represents earnings history and what could be considered "fair valuation" at a price/earnings multiple of 15X. The blue line represents an historic normalized average P/E. Finally, the black line is the market price. Please note that the 10-year average P/E is 15.1X, and that the current P/E is 19X. The F.A.S.T. Graph below depicts this relationship clearly by comparing the black line (market price) to the earnings line at 15X earnings.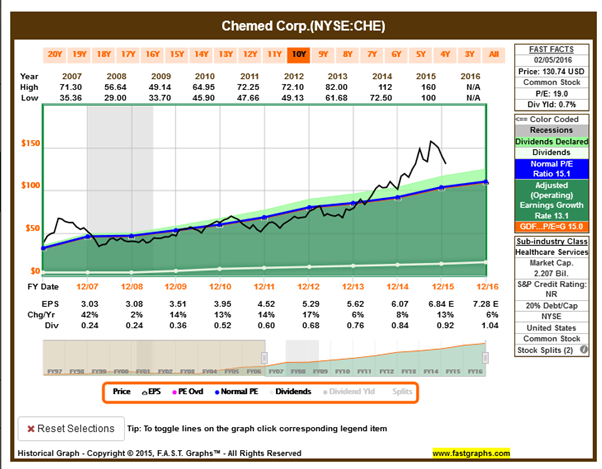 Historical Graph - Copyright 2016, F.A.S.T. Graphs - All Rights Reserved
Even when calculating the forward P/E based on estimated 2016 earnings of $7.31 (source: Yahoo Finance), the forward P/E is an above-average 17.7X. Also note that the already low dividend yield .73% is below the 10-year average yield of 1%.
One possible interpretation: for a patient person who believes that the value might eventually return to average, a possible entry point around $100-$115 is not out of the question.
Recap
Chemed is a company with a track record of growing fundamentals with some favorable company-specific opportunities going forward. The issue, in my opinion, is that the share price has outrun the valuation at these levels. Therefore, it may be wise to adopt a wait-and-see approach and enter a position at more normalized P/E levels; in this case, assuming the "E" part of the equation holds in this uncertain environment, patience to seek an entry around $110-$115 may be prudent.
As always, all of the above opinions are offered simply as a contribution to the conversation. Thank you very much for your time.
Disclosure: I/we have no positions in any stocks mentioned, and no plans to initiate any positions within the next 72 hours.
I wrote this article myself, and it expresses my own opinions. I am not receiving compensation for it (other than from Seeking Alpha). I have no business relationship with any company whose stock is mentioned in this article.