By Marcus Leung
Business Overview/Fundamentals
Lassonde Industries (OTC:LSDAF) operates in two distinct market segments: the retail segment and the food service segment. The retail segment is comprised of selling products to food wholesalers and retailers, examples of which include grocers and supermarkets. The latter segment, food services, is focused on selling products to restaurants, schools, hotels, and wholesalers related to the aforementioned institutions. A large proportion of Lassonde's business stems from private label juice, as it is the second-largest private label juice supplier in the United States.
The company has five operating subsidiaries: A. Lassonde Inc., Apple & Eve LLC, Arista Wines, Inc., Clement Pappas & Co., Inc. and Lassonde Specialties, Inc.
A. Lassonde, Inc.
The oldest of the five subsidiaries, this company operates 13 juice brands with operations in Quebec, Ontario, Alberta, and Nova Scotia. The brands operated by this subsidiary are as follows: Allen's, Del Monte, Everfresh, Fairlee, Fairlee Nature's Best, Flavür, Fruité, Graves, Oasis, Orange Maison, Rougemont, Sunlike, Tropical Grove.
Apple & Eve LLC
Acquired in July 2014, Apple & Eve is one of Lassonde's main operating subsidiaries in the United States. The intention of this subsidiary was to capitalize on growth opportunities in the U.S. national brand juice and drink market, diversify the company's product portfolio, and increase its critical mass in support of consumers through leveraging existing distribution centers and economies of scale.
Arista Wines, Inc.
A wine subsidiary established in 2006, Arista Wines is a prominent fixture in the making, packaging, and marketing of wines, ciders, and other mixed alcoholic beverages. This subsidiary operates six brands (Arte Nova, Bistro Mundo, Coeur de Pomme, Dublin's Pub, Globe Trotter, and miSangrina) that can be found in all major grocery store chains in Canada and also in provincial liquor board stores.
Clement Pappas & Co., Inc.
Acquired in August 2011, Clement Pappas is the second-largest producer of fruit juices and drinks for store brands in the United States. Originally, a family-owned company until it became public through acquisition. This subsidiary is Lassonde's other main operating American subsidiary.
Lassonde Specialties
Lassonde's shelf-stable food products subsidiary. This subsidiary currently has seven brands, offering a diverse product portfolio, which includes sauces, broths, tapenades, bruschetta toppings, marinades, corn-on-the-cob, and soups. This subsidiary's operations are not core to Lassonde, and as such, should be viewed as a non-significant portion of the parent company
Financial Position and Forward Strategies
Lassonde seems to have hit a relatively placid financial state where it could continue operations for the foreseeable future with little to no qualms. As previously mentioned, apart from expected growth in 2016E due to further integration of Apple & Eve, we expect low-single-digit long-term revenue growth for Lassonde due to a juice beverage industry that is struggling to find any consistent growth. We also expect relatively consistent margins that mirror the company's past operations.
With regards to the company's balance sheet, Lassonde looks to be in a comfortable position. Its two major acquisitions, Clement and Pappas in 2011 and Apple & Eve in 2014 for US$390m and US$150m, respectively, are responsible for most of the company's ongoing debt. Total debt stands at $373.90m, which gives a trailing Debt/EBITDA ratio of 2.0x. We expect this ratio to decrease due to strong free cash flow generation and gradual deleveraging, with our forecasts having the ratio at 1.6x by 2020E. With regards to financing ability, since the company has just under $200m of unused capacity in its revolving operating credit facilities, we believe that Lassonde has and will continue to have the capability to finance future acquisitions and deploy additional capital in the future if required.
We anticipate flat capex in the future due to limited industry growth opportunities and the relatively mature state of Lassonde. The flat capex, combined with low EBITDA growth, should result in stable, relatively strong free cash flow generation. Possibilities of future acquisitions notwithstanding, we believe that the cash flows generated by the company in the future could be used for gradual deleveraging and increased dividend payments.
With regards to the company's strategy going forward, and as evidenced by its two acquisitions in the last five years, the company is primarily interested in growing and diversifying its product line. This diversification is said to be accomplished by way of subsidiary growth and private label expansion.
Macro Environment
Sustained growth has been absent in the North American fruit and vegetable juice market for much of the last decade, a trend that is likely driven by an increasing number of consumers making the switch away from high-sugar drinks, even those that are naturally occurring, towards lower-sugar alternatives.
Canada
In the Canadian juice production industry, Lassonde is the clear-cut leader with an estimated market share of 26.8%. The industry is highly fragmented with the top four players only comprising 40.1% of total industry revenue in 2015. The Canadian juice industry is expected to experience low growth in the range of 0.5% to 1% as it undergoes structural changes to capitalize on the emergence of a health-conscious consumer trend. With its fragmented state, Lassonde has an opportunity to consolidate smaller players and take up a larger proportion of market share through its ability to produce with scale.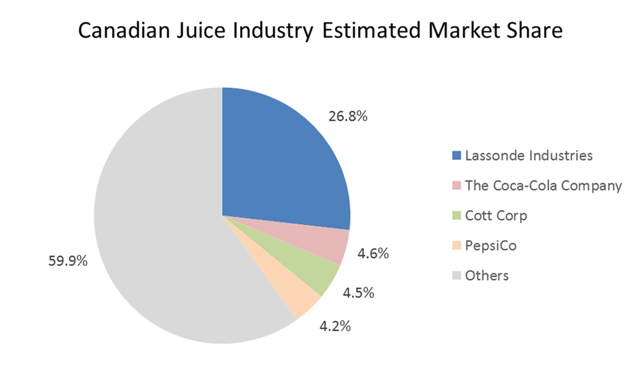 Source: Author, using data from IBISWorld
United States
The American juice production industry plays as a stark contrast to its Canadian counterpart; with highly recognizable brands characterizing the majority of the industry, it suitably follows that a large proportion of the market is dominated by a few, very large players. In 2015, it is estimated that the trio of PepsiCo (NYSE:PEP), The Coca-Cola Company (NYSE:KO), and Dr Pepper Snapple Group (NYSE:DPS) made up 46.8% of industry revenues, leaving 53.2% for other producers such as Lassonde. Unlike the Canadian market, the company's approach in the American market has been to expand largely through acquisitions of established players in the market like Apple & Eve and Clement and Pappas instead of organic growth. Due to the high proportion of name brands, we expect Lassonde to continue to grow its private label business and diversify its various American product lines.
A Health-Conscious Movement
According to IBISWorld's industry research report on Juice Production in Canada, per capita soft drink consumption has seen a steady decline in the last decade from 46 gallons in 2005 to 41 gallons in 2015. The trend is expected to continue to an estimated amount of 36 gallons by 2020. Working under the assumption that juice will continue to be perceived as a healthy alternative to soft drinks, it should be expected that the industry may experience an increased consumer base as select consumers switch over from soft drinks to juices.
However, in an even larger scope, there should be some concern for the broad shift that is occurring away from beverages that contain a large amount of sugar, both natural and processed. With that said, it is fair to assume that little to no growth in the industry should be expected as the growth from the soft drink to juice movement should be offset by the low sugar movement.
Thus, under the assumption of the North American juice production industry staying stagnant with regards to growth over the next five years, it can be also assumed that the only changes in the industry will be internal, structural changes. This internal shift will present opportunities for existing firms to consolidate and expand, and we expect that Lassonde will be able to capitalize on this industry restructuring through innovation of its products. Its broad product line and extensive distribution network through its various subsidiaries ensure that it is well positioned to the shift in consumer preference.
The State of Private Label Juices
The state of private label juice consumption is expected to continue to be in flux largely due to conflicting consumer consumption and preference trends. The dominating trend continues to be strong, recognizable brands in juice production such as Tropicana and Minute Maid, thus leaving only approximately 12-13% of market share in the U.S. for private label alternatives.
After acquiring Clement and Pappas in 2011, Lassonde is the second-largest producer of private-label juice beverages in the United States. Thus, the state of the private-label juice industry, namely in the shelf-stable and refrigerated subsectors where most of the company's product lines reside, is largely indicative of Lassonde's profitability in the industry. Historically, according to a September 2014 report by Packaged Facts, private label juice as a whole has underperformed the overall juice market, as evidenced by a decline in units of sales by over 6% in 2013 compared to a 2% decline by its branded counterparts.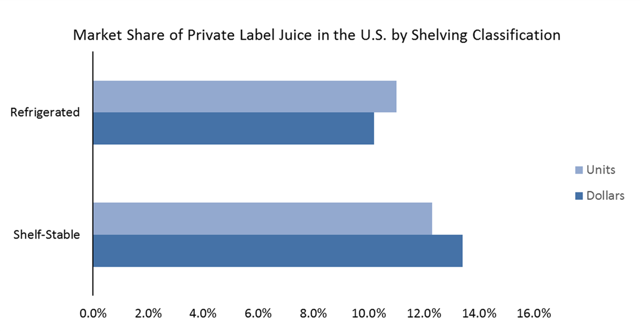 Source: Author, using data from Packaged Facts
With many grocery chains and supermarkets planning to introduce initiatives for expanding private label programs, coupled with an emerging consumer trend for cost-effective purchases, the overall private label beverage industry is expected to experience low growth in the realm of 1-2% per year from 2016 to 2018 according to Packaged Fact's market research report. Additional, industry growth in the private label sector will be largely reliant on increased market penetration and a shift towards cost-effective purchasing by consumers.
The Recovery of Disposable Income
As the disposable income of consumers increases, the probability that they spend more on discretionary products such as juice drinks also increases. Thus, it can be stated that for any discretionary good, an increase in per capita disposable income will most likely result in an increase for product demand. In a broader macro view, this means that industry demand for juice products holds a material correlation with changes in per capita disposable income.
Per capita disposable income experienced little to no change in the events of the economic downturn and the years directly following it. However, according to IBISWorld's Per Capita Disposable Income Report3, per capita disposable income is expected to gradually recover as consumers become more confident in allocating their income towards discretionary goods. This recovery should drive Lassonde's future sales, and we expect the company's sales to mirror the industry's slow recovery by assigning a forecasted revenue growth rate at around 1% for the next five years.
This expected increase of consumer expenditures towards discretionary goods is not without a few risks. New companies are introducing new products that may take away some portions of market share from existing juice producers. The recovery of disposable income is also expected to be accompanied by an emergence of healthy alternatives such as coconut water and kombucha that will provide increased competition, and an increasing level of product diversification in the North American juice market to cater to the increase in consumer expenditures in the industry.
A Stabilization in Key Commodities
Juice production market research reports in the U.S. and Canada by IBISWorld estimate that raw materials for juice beverage producers can make up anywhere between 50% and 80% of the cost of production. Apple juice concentrate, orange juice concentrate, and packaging in the form of polyethylene lining are the main commodities that the juice production industry is mainly reliant upon with regards to the costs of input. This sentiment has been reiterated by management within several of its quarterly management reports, with the company constantly monitoring the volatility of the following commodity prices and hedging as necessary.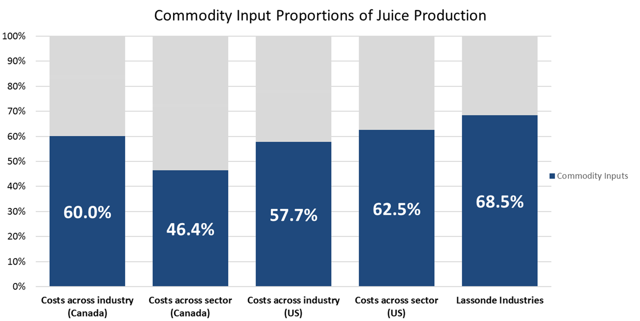 Source: Author, using data from IBISWorld, Lassonde 2014 Annual Report
It should be noted that based on the above data that commodities account for a higher percentage of costs than other firms in its industries, and thus the stability of input prices is essential for the company to maintain its margins at their current state. In addition, based on the following charts, it would appear that Lassonde's key commodities are beginning to stabilize; this stabilization in key juice production commodities should reduce margin volatility across the industry and enable juice producers to focus elsewhere to improve profitability.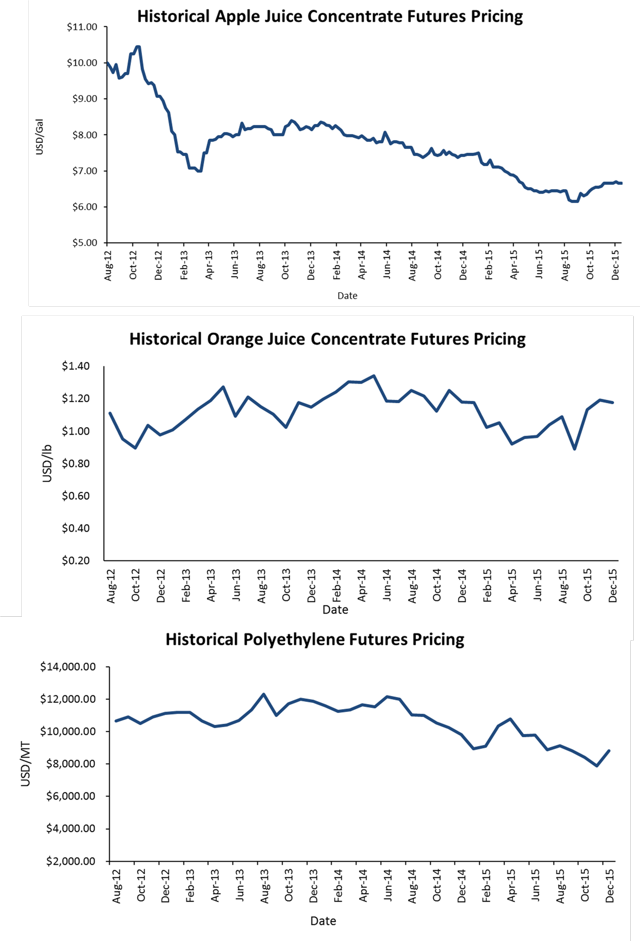 Source: Author, using data from Bloomberg, MGEX
Sustained Competitive Advantage
Extensive Distribution Network
Each of Lassonde's five subsidiaries has an established distribution network, with the collection of the five giving the Lassonde Group effective coverage of most parts of North America. In total, the Lassonde Group has 14 plants throughout Canada and the United States. A. Lassonde, Inc. has production and storage facilities located in Quebec, Ontario, Alberta, and Nova Scotia, providing it effective geographic coverage of Canada. Its older American subsidiary Clement and Pappas has five production facilities located in New Jersey, Maryland, North Carolina, Arkansas, California, and Massachusetts, with the distribution centers being in New Jersey and Arkansas.
Economies of Scale
The company has the ability to draw upon several production facilities and distribution networks in the U.S. that were pre-established by the past management prior to acquisition. These distribution networks belonging to Apple & Eve and Clement and Pappas give Lassonde a critical mass to support consumers through scale of production. In addition, the amount of plants it has in Canada under A. Lassonde Inc. gives it the flexibility and scale it needs to keep up with larger competition.
Diversified Product Offerings
The Lassonde Group has hundreds of products under the various branded product lines of its subsidiaries. Each of its subsidiaries have several brands, and each of its brands have anywhere from a few to over a hundred products. Lassonde's product variety allows it to cater to consumers' changing demands as well as appeal to a wide range of consumers.
Shareholder Base & Liquidity
With 71.86% of Lassonde's shares being held by institutions and 26.65% being held by mutual funds, 98.51% of the company's shares are under non-retail ownership.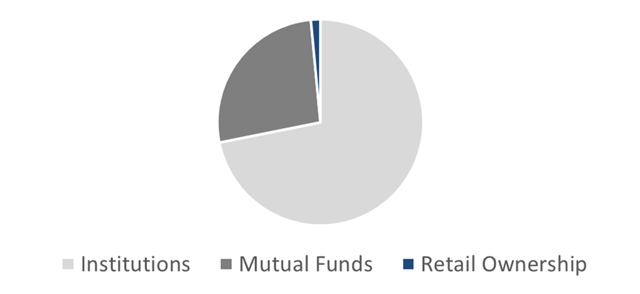 Source: Author, using data from Bloomberg
Trading Volume and Illiquidity
Lassonde Industries' stock experiences very little to no trading volume, with the daily average being around 600 trades per day. This low level of liquidity opens up traders of this security to various risks, which include, but are not limited to: price manipulation, deteriorating company reputation, uncertainty, and challenges in fair representation.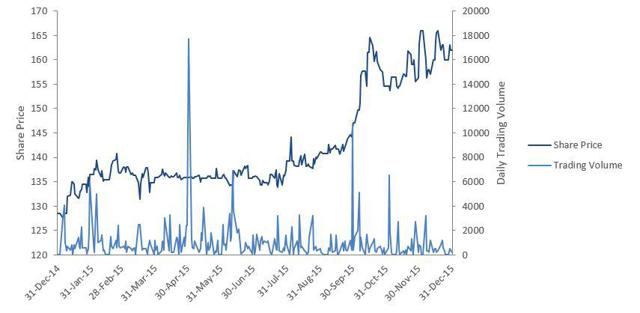 Source: Author, using data from Bloomberg
Risks
Lack of Geographic Consumer Diversification
Lassonde's sales stem nearly exclusively from the Canadian and American markets. In FY2015, sales in the company's Canadian region were $564.9 million (47.8%) and sales in the American region were $609.6 million (51.6%). It is important to note that while the company holds significant positions in both aforementioned North American markets, that its lack of international diversification exposes it to any potential economic downturns or changes in competitive landscape that may occur within North America.
Competitive Landscape
While this can be said for most companies, it is still notable to mention the number and size of Lassonde's competitors. Since the key value propositions derived from products in the confectionary goods sub-sector are price and product quality, the ability of larger companies to produce competitive products at a lower cost and utilize larger financial, distribution, and marketing resources makes the company's industry a risk. Lassonde's major competitors include Sun-Rype Products Ltd., The Coca-Cola Company, PepsiCo, Inc., and Dr Pepper Snappy Group, Inc., among others.
Health and Safety Regulations
Being a beverage manufacturer, Lassonde is susceptible to any changes enacted by the Canadian Food Inspection Agency and the U.S. Department of Agriculture. The company is required by law to abide to the various regulations of the two aforementioned governing bodies, with regulations relating to production standards such as cleanliness, handling and storage, and maintenance of production equipment. The observance of regulatory changes may pose the risk of increased production costs and thus present a material decline in profitability. The violation of regulations may also impose new liabilities or disrupt existing operations, which would also produce a decline in profitability.
Foreign Exchange Risk
Given the aforementioned section detailing the stabilization of key commodity prices in USD terms, it should be expected that transnational firms with both American and Canadian operations such as Lassonde will be affected in the short term by foreign exchange fluctuations as hedges roll off. At present, the company is using derivative instruments as a means to mitigate exchange rate, interest rate, and commodity pricing volatility. Its efforts to mitigate exchange rate risk are centered around the purchases of raw materials and supplies, acquisitions, and proceeds from its foreign operations. The main derivative instruments used by the company are foreign exchange forward contracts, though management is only expecting these contracts to help stabilize currency fluctuations in the short term.
In terms of operations, it should be expected that margins will be impacted negatively with more volatility being introduced. However, neutrality is predicted in the long term, as we would expect that foreign exchange movements would be captured through changes in pricing.
Foreign exchange also presents a risk in sales, where the company benefits from a strong U.S. dollar. Since the company is based in Canada, the only conversion being performed on sales is the conversion from U.S. dollars into Canadian dollars, meaning that in principle a weakening U.S. dollar would negatively impact the profitability of Lassonde's U.S. subsidiaries. In a recent Q3 management report, the company stated that its foreign exchange rate forward contracts can only stabilize its results for a limited time, and thus it is safe to assume that some risk will be presented with regards to sales in the future.
Valuation
Projected Financials
Revenue growth projections for Lassonde are largely based off expected industry growth rates in the range of 0.5% to 1.5% with an added increment to reflect the expectation that the company will exceed industry growth rates by a percent on average as it has in the past. Much of this industry excess growth is due to our assumption that its recent acquisition of Apple & Eve in 2014 will begin to produce synergies for the firm's overall operations. Gross and operating margins are projected to hover around historical rates, as cost of inputs have stabilized as of late and with no material changes in its structuring of G&A expenses. The two have remained steady over the years at around 70% and 19% respectively with no signs of them changing in the near future.
Something important to note is that while our financials have included future continued financing as well as gradual share repurchases, that our specific projections may not be particularly exact with regards to what management eventually decides to do. Management has expressed its intentions to execute share repurchases in the near future, and has also expressed an interest in paying down its long-term debt. However, without a specific timeline and only vague indications of the magnitude of these changes, our estimates are primarily based on the company's past actions in order to err on the side of conservatism.
Discounted Cash Flow
Lassonde Industries is by nature a collection of five subsidiaries with various brands under ownership. Each of these brands produce product lines of 50 products or more. Thus, in order to simplify the revenue growth process, we decided to regard the company as a consolidated entity as opposed to a sum of all its subsidiaries.
Our weighted average cost of capital took into account the company's current capitalization structure which has remained relatively unchanged for the last five years, with a debt-to-total-capitalization ratio of 26%. Thus, working with the company's current tax rate of 25%, a weighted average debt yield to maturity of 5.5%, a risk-free rate of 2.1% based off the U.S. Treasury's 10-Year bond rate, and a equity risk premium of 6.1% as given by Aswath Damodaran at New York University's Stern School of Business, we were able to derive a weighted average cost of capital of 5.61%.
Our implied intrinsic value of Lassonde given the parameters stated above and our aforementioned forecasted financial metrics is a value of CAD$192.05 with an upside of 17.3% given the current share price of CAD$165.00 as of January 8th, 2015.
Comparable Companies Analysis
Lassonde Industries is by nature a collection of five subsidiaries with various brands under ownership. Each of these brands produce product lines of 50 products or more. Thus, in order to simplify the revenue growth process, we decided to regard the company as a consolidated entity as opposed to a sum of all its subsidiaries. Companies that we decided to include had similar transnational operations that operate primarily in North America. These other companies reside in the consumer discretionary subsector and also have various subsidiaries that play host to a diverse range of brands and products.
Our Comparable Companies Analysis uses EV/EBIT as it captures each firm's degree of leverage in a production intensive industry. The company's EV/EBIT ratio has had a gradual upward trend in the past five years, but the trend has slowed significantly as it has only changed by 0.5x in the past two years; according to data from Bloomberg the trailing five-year, trailing two-year, and trailing 12 months' average for EV/EBIT is 14.8x, 15.7x, and 16.08x respectively. For the purpose of comparison, Lassonde's closest comparable Cott Corporation (NYSE:COT), a beverage manufacturer with subsidiaries in various types of beverages, is currently valued at a much higher 27.27x EV/EBIT. Our forecasted 16.23x ratio and implied upside are fairly contradictive towards the market's expectations of Lassonde's earnings growth. We believe that this difference in expectations is primarily due to concerns of significant, future contractions in the North American shelf-stable juice market in light of ongoing industry diversification as well as the possibility of synergies not being realized with regards to the company's acquisition of Apple & Eve.
Since Lassonde is an established player in a maturing market, we believe that the current trailing EV/EBIT ratio of 16.23x will be fairly representative of its performance in the future as we expect little to no change with the historical trend being as it is. Our analysis using the 16.23x multiple yields a price target of CAD$194.91.
Our final, derived share price using equal weights for our DCF and CCA is CAD$193.31.
Recommendation
The Juice Isn't Running Out Anytime Soon
Lassonde Industries presents investors a stable growth opportunity that could potentially become the centerpiece of one's portfolio; a well-positioned, stable beverage producer that will look to consolidate and capitalize on a tightening, saturated industry.
Market share and margins have remained relatively stable while sales have begun slowing in recent years, but revenues are anticipated to experience a slight spike due to expected synergies with its most recent acquisition, Apple & Eve. Assuming that input prices stay constant and minimal shift in consumer preference, Lassonde is expected to mirror its current performance for the foreseeable future.
Appendix 1: Discounted Cash Flow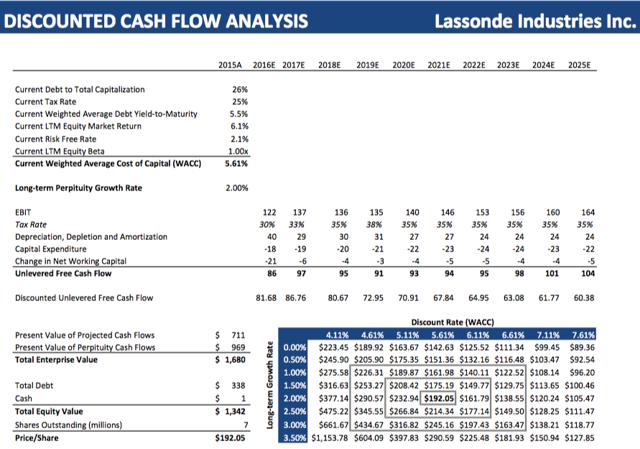 Appendix 2: Comparable Trading Analysis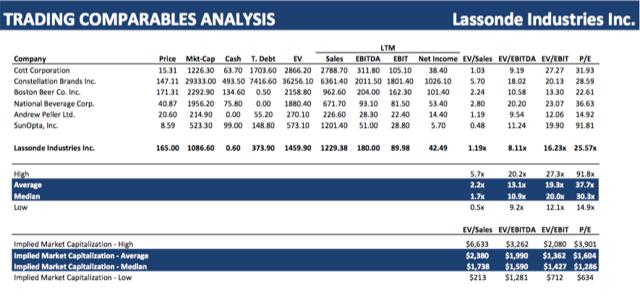 Appendix 3: IBISWorld Per Capita Disposable Income Research Report
Disclosure: I/we have no positions in any stocks mentioned, and no plans to initiate any positions within the next 72 hours.
I wrote this article myself, and it expresses my own opinions. I am not receiving compensation for it (other than from Seeking Alpha). I have no business relationship with any company whose stock is mentioned in this article.