"It is real." That comment was made by Ventas CFO Robert Probst at the 34th Annual Health Care Conference in San Francisco, in reference to the oversupply of senior housing that could potentially derail the upside on pricing within the sector in 2016. That's not good news for investors looking for a bounce after a 5% decline YTD and a rolling one-year return of -18.9% in the healthcare REIT sector.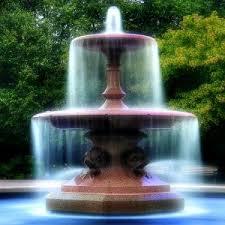 All that talk about the baby boomer demographics hasn't seemed to prop up the sector - at least not yet. For investors with a long-term horizon, don't fret - There is a fountain of youth after all.
Overbuilding may cause some short-term pain for the sector but over the long run, overdevelopment will be absorbed by strong demand from boomers as more and more of them reach their mid-70's. The oldest of boomers is just reaching 70 while the youngest is still only 52 or so. That means, demand is just going to consistently keep on coming like the drip drip drip of a faucet. According to the National Investment Center for Senior Housing and Care:
An important factor contributing to the increasing demand for seniors housing is increased life expectancy. The recent emphasis on healthy, active lifestyles has led to seniors living longer. This lifestyle increases the length of time they stay in a seniors housing community and shapes expectations of what senior living should be like.
That equates to a population over 75 years old of 35 million by 2030, a 72% increase from current levels.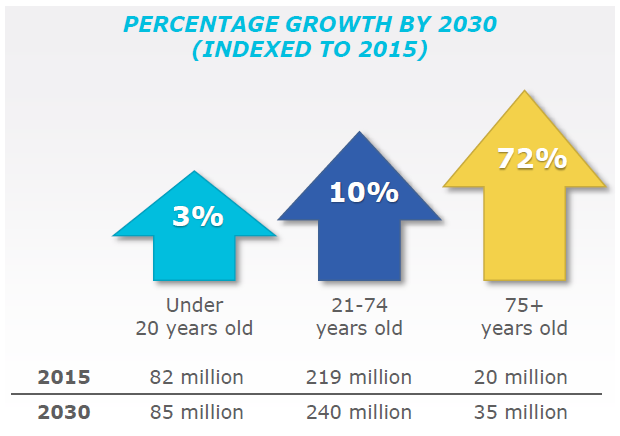 Source: Ventas Presentation
Some healthcare REITs are better positioned than others to take advantage of this slow but steady increase in demand, but you can't go wrong with any of the big three: Ventas (NYSE:VTR), HCP (NYSE:HCP), and Welltower (NYSE:HCN). That being said, if I had to choose one in what will inevitably be an interesting time for Fed policy decisions, I would focus on the one with the highest expected dividend growth. As the table below shows, that honor - at least historically - goes to Ventas, with a dividend growth rate that is more than double its competitors over 3,5, and 7 year periods.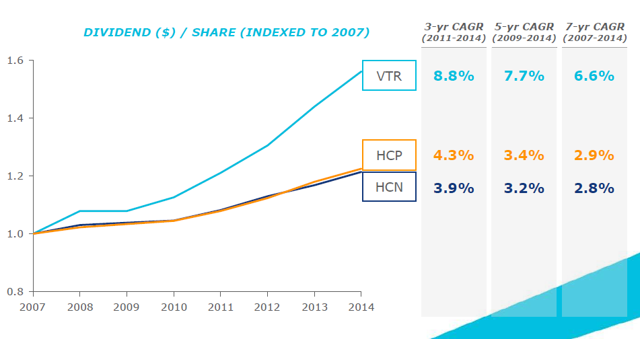 Source: Ventas presentation.
Ventas forward dividend yield is 5.33%, compared to Welltower at 5.57% and HCP at 6.42%. With dividend growth expected to continue to outpace its peers, the obvious question then is whether this 'preferred characteristic' is already embedded in the price.
The chart below indicates, however, that despite having the lowest dividend yield, Ventas also seems to have the most attractive valuation.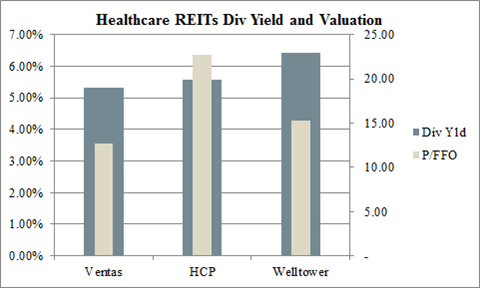 Source: ycharts, PM101.
It trades at a considerable discount to HCP and slightly below Welltower. In my opinion, the difference in dividend yield does not warrant such a large discount and I find Ventas to be reasonably valued. Despite recent reports and articles highlighting increases in construction within Senior Housing, if you're in it for the long haul, consider adding Ventas to a diversified portfolio.
Disclosure: I/we have no positions in any stocks mentioned, and no plans to initiate any positions within the next 72 hours.
I wrote this article myself, and it expresses my own opinions. I am not receiving compensation for it (other than from Seeking Alpha). I have no business relationship with any company whose stock is mentioned in this article.