Much has been written about the turmoil in the energy patch lately. The plunge in oil prices has resulted in a precipitous drop in the stock of many firms. For example, shares of supermajors Exxon Mobil Corp. (NYSE:XOM) and Chevron Corp. (NYSE:CVX) have fallen by 20% and 38% respectively from highs reached in 2014.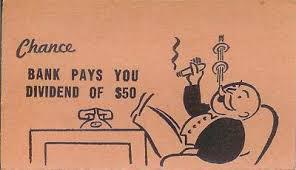 The crunch has also led to many companies opting to freeze or reduce dividend payments. Both independent producer ConocoPhillips (NYSE:COP) and pipeline operator Kinder Morgan, Inc. (NYSE:KMI) have cut quarterly payouts by a significant amount. Exxon Mobil announced a boost last year. Chevron did not.
Investors relying on steadily increasing income streams that will supplement pensions, annuities, Social Security, and part time work may want to avoid the energy industry for now.
But where should they go?
If the recent past is any guide, there is a good chance of finding reliable dividend growth through thick and thin in the stalwarts selling products and services mostly to consumers.
Intuitively this makes sense to me since consumer spending comprises about 70% of the U.S. economy. People will always need to buy everyday items such as food, drinks, toothpaste, diapers and deodorant. Much like over the past century or longer, cash will likely continue to flow into the coffers of the big consumer companies.
Let's take a look at a few that might fit the bill.
No problems here
Led mostly by financial companies and banks affected by the subprime mortgage crisis, the composite dividend payments by large cap companies declined by about 20% during 2008 and 2009.
In 2000 the dot-com bubble burst and took down many high-flying tech companies. Dividends also suffered. Firms in the S&P500 reduced payouts by an aggregate of 6% over a two-year period.
However, many companies kept increasing payouts. Retail giant Wal-Mart Stores, Inc. (NYSE:WMT) and the burger joint McDonald's (NYSE:MCD) boosted the dividend significantly during those two recent bad periods:
| Period | WMT | MCD |
| --- | --- | --- |
| 2007-2009 | +24% | +33% |
| 2000-2002 | +25% | +9% |
Both companies have long histories of consecutive annual increases. Wal-Mart, since 1975, and McDonald's, since 1977, have increased the dividend every year and weathered oil shocks, recessions, wars, and periods of both high and low interest rates and inflation because of effective management and having solid fundamentals such as modest payout ratios, growth rates, relatively low debt, and reasonable valuations in place.
Adaptability to changing consumer tastes and societal norms also played a roll in the process. No consumer company would be around today if its didn't provide the products and services that people want.
Recent McDonald's moves, such as introducing all-day breakfast and streamlining the menu, highlight this last point. Through the years Wal-Mart has had to deal with issues such as new competition from e-commerce and the endless debate over the minimum wage, unionization, and how it treats its employees.
It's good to be the King
The first step in identifying the companies likely to pay or grow dividends over the long haul might be to check out one or more of the various lists available. The Dividend Aristocrats (25+ years of increases), the Dividend Kings (50+ years of increases), the CCC list maintained by David Fish, or my personal favorite, the "century club" (100+ years of paying) are always good places to start.
It's not a 100% certainty that companies on these lists will keep paying and growing the dividend. However, many of those that do have staying power seem to cater to consumers in some form or another. Of the 26 stocks on the 1989 Dividend Aristocrats list, only 7 remain today. Two rely on the consumer for most of their success. Another two are significantly dependent on the average shopper.
One of them is Procter & Gamble (NYSE:PG), which has been paying a dividend every year since 1891. Shareholders have benefited from the company selling mass quantities of Pampers, Crest toothpaste, and Gillette razors and shaving cream. P&G has increased the dividend annually since Eisenhower occupied the Oval office and before most people had heard about Vietnam.
However, after an initial screen by looking at the dividend history it would be prudent to review the fundamentals I discussed above as well. I've written a bunch of articles on this subject, including the original, "My Rules For Creating An Optimal Dividend Growth Portfolio", and the latest, "The Effects Of Recent Market Moves On My Dividend Growth Porfolio".
Conclusion
Investors looking for a bit of extra income might want to stay away from the energy industry, at least for now, and peer into a sector that caters to the consumer instead. Long-time dividend growers such as Wal-Mart, McDonald's, and Procter & Gamble might fit the bill right now.
Disclosure: I am/we are long WMT, MCD, PG, CVX.
I wrote this article myself, and it expresses my own opinions. I am not receiving compensation for it (other than from Seeking Alpha). I have no business relationship with any company whose stock is mentioned in this article.