Welltower Inc. (HCN) is a REIT specializing in healthcare real estate with an emphasis on senior housing, post-acute care, and long-term care facilities. While there are other options in the healthcare REIT environment, I feel that Welltower is one of the top-notch investment vehicles available for investors seeking exposure to a healthcare REIT.
For starters, Welltower has been in business since 1970. That's over 40 years! In addition to the company's storied existence, its management team has over 70 years combined tenure at Welltower and more than 120 years of experience in the industry. With this proven and highly-skilled leadership, the company is in great hands.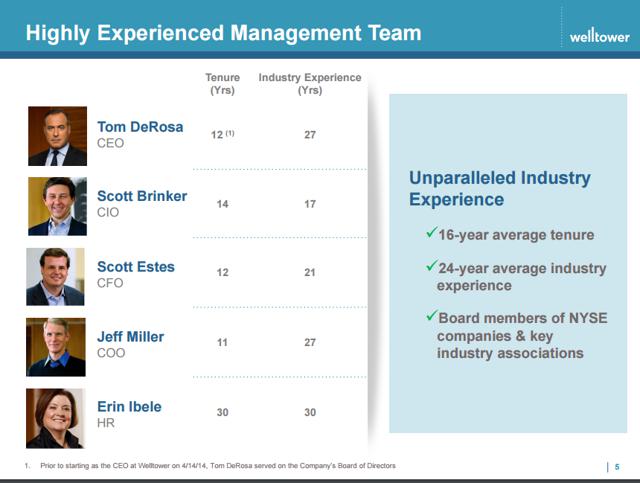 Over the decades Welltower has proven itself a leader in a highly fragmented $1 trillion industry (Source: Welltower 3Q Earnings) where there are many existing opportunities for consolidation in the coming decades. According to the U.S. Census Bureau, the age-65 population is projected to double over the next 45 years, and the 85-plus age bracket is anticipated to triple. Even though Welltower currently accounts for only 2.5% of the market, it possesses a proven management team, rock solid balance sheet, and strong business model that will fuel its future growth in the healthcare REIT space.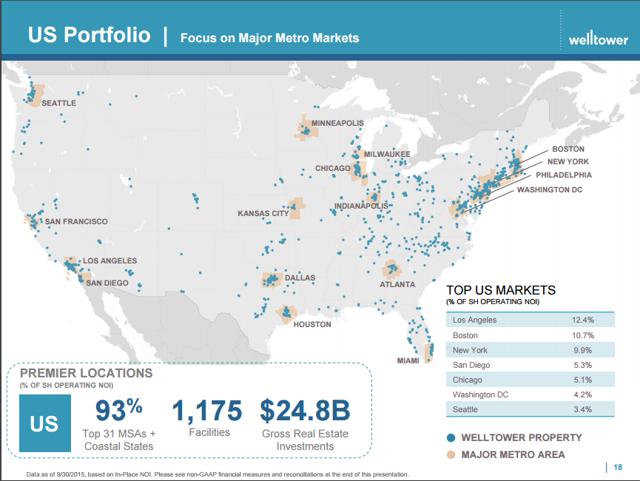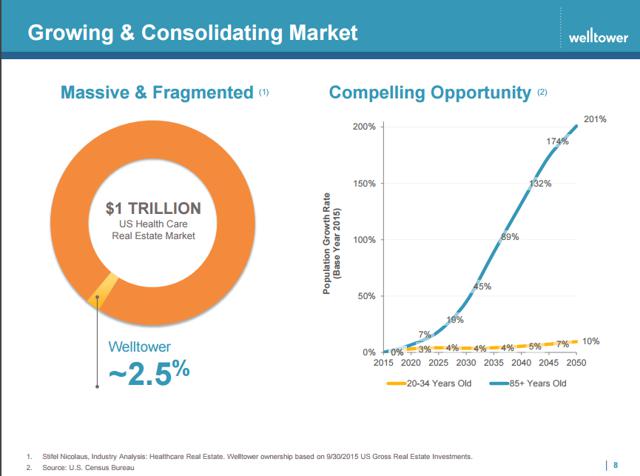 The future scenario for Welltower looks even better as they have expanded into markets other than the United States. The organization has expanded and diversified itself geographically in Canada, where they have expanded investments by 60%, and the United Kingdom by 41%. Both of these are mostly untapped markets with great upside potential as they too face aging demographics, with the elderly demographic projected to increase at a rate seven times that of the overall population growth rate in Canada and five times the rate in the United Kingdom.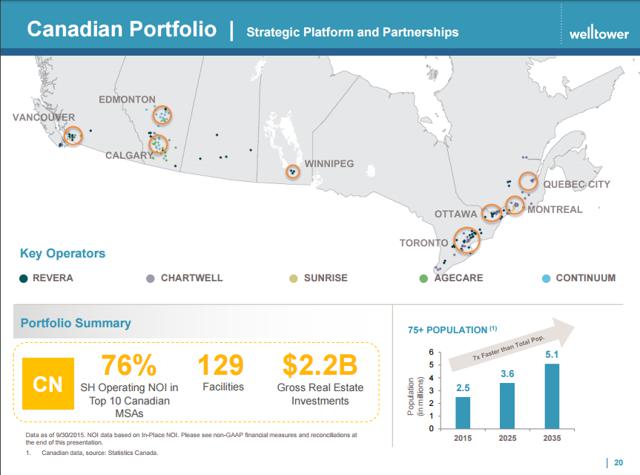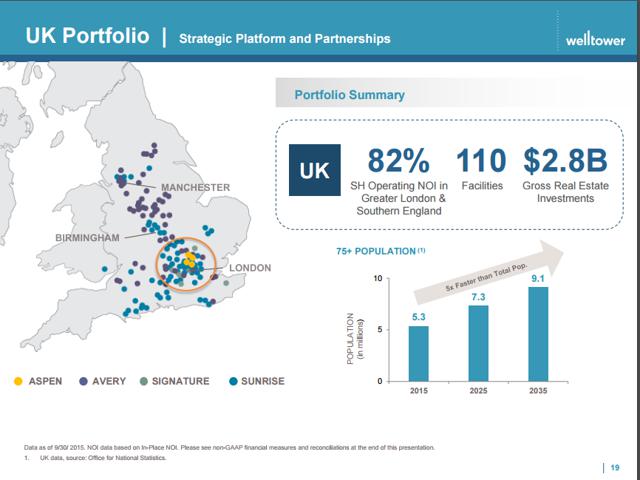 While Welltower has successfully grown their business, they have also grown their dividend in a fiscally responsible manner. The ways in which a company grows and funds it dividends are of great importance to me, as I want the money to go to the company for operations and growing the business. A dividend in my mind should be a leftover, something a little extra, not the first thing taken off the top line. As we can see, the average annual return is solid at over 15% and the dividend has increased at a CAGR of 5.1%. To top it all off, Welltower has a payout ratio of 83.3% from funds available for distribution. I have written an article here about STAG Industrial (NYSE:STAG), where I also cover dividends, credit ratings, as well as growth of the dividend as I feel these are 3 areas of great importance when examining REITs.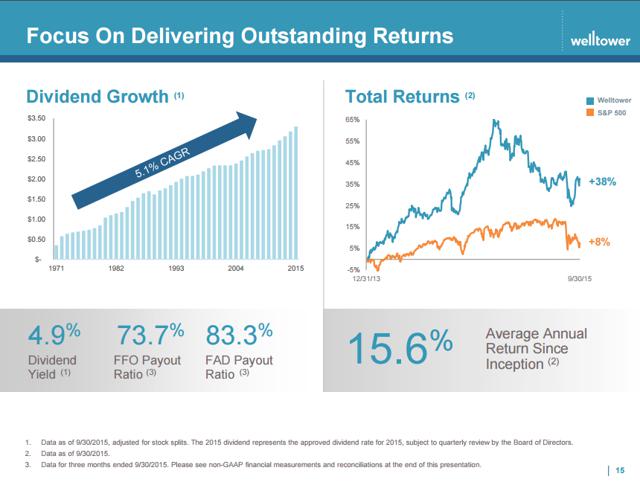 The financial metrics for Welltower only increase when we look at their financial results and their assets compared to their peers in the healthcare REIT industry. We see the average age of Welltower's properties is lower than peers, industry standards, and public operators. They are a leader in occupancy rates at 86%, though I would point out they are 2% lower than the industry benchmark. Still, they handily beat out their peers and public operators as well on this metric. Last but certainly not least are their EBITDARM figures of coverage, per bed, and margin, all three of which show signs of strength as they surpass peers. These strong figures also contribute to the strong balance sheet, which gives Welltower favorable credit ratings to secure the low cost financing they will need to perform future acquisitions in the highly fragmented market.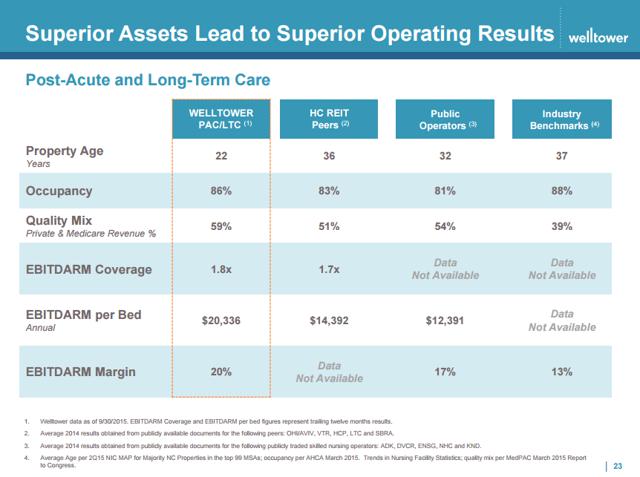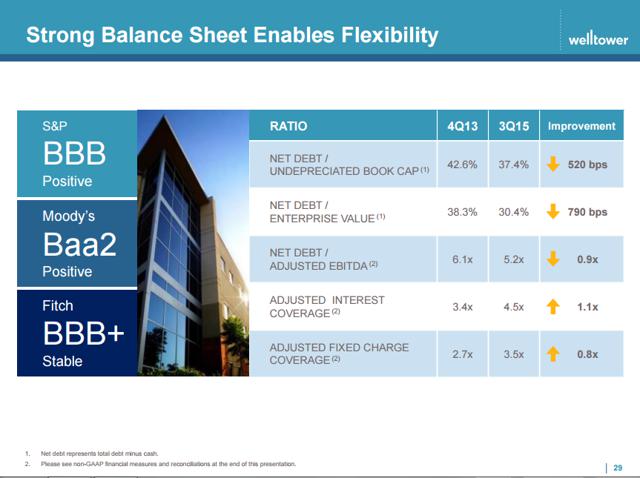 Not every investment is risk-free of course, and with that being said, there are others in the space such as LTC properties (NYSE:LTC), which has earned a solid reputation as being a strong performer in the sector. However, LTC lacks an international presence as it is only in the U.S. currently. With the turmoil concerning healthcare in the U.S., the future of payment systems is far from guaranteed to remain the same and it is tough to say what the future of healthcare in the U.S. will look like, or how it will effect providers.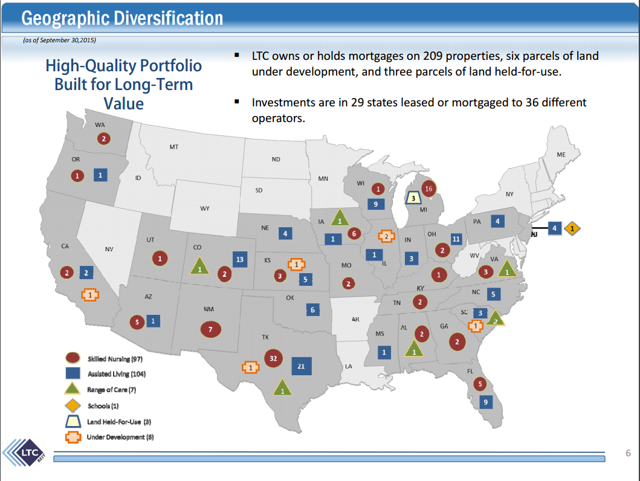 Welltower is a strong competitor that is poised to perform in its sector with experienced management, geographical diversification, a growing dividend, and strong financials. Welltower is a REIT that you can own and trust for the future to provide meaningful returns while responsibly growing its business and shareholder value. I will close with the table below as I feel it paints a nice picture for the company.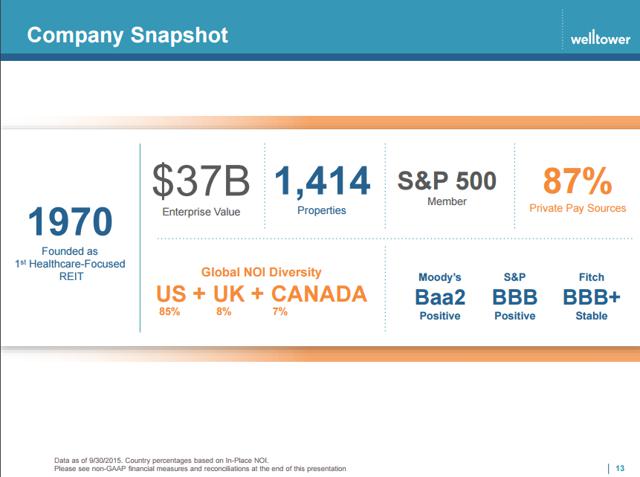 Disclosure: I/we have no positions in any stocks mentioned, and no plans to initiate any positions within the next 72 hours.
I wrote this article myself, and it expresses my own opinions. I am not receiving compensation for it (other than from Seeking Alpha). I have no business relationship with any company whose stock is mentioned in this article.