I said I would get this series finished by the end of January, and I have to admit, I sort of cheated. I knew I wasn't going to have time to get this article completed before the month ended so what I did was make my picks after the close on January 29th and finished the spreadsheet then. And man, do I wish I didn't say that I wanted to get the picks done before the month was over, because if I had waited until now, I would have gotten much better entry prices. However, that is neither here nor there; on January 29th I had no way of knowing the market would continue to tank into February, none of us did. Now I just have to hope things turn around from here, because my picks aren't looking too hot as of yet.
So, after the first three pieces of Nick's Picks 2016 (core selections, transports, and health care) I have "spent" roughly 75% of the theoretical $100,000 that I decided to use to build a year long buy and hold portfolio comprised of my favorite values that I see in the market right now. This piece won't be dedicated towards a certain sector or industry, but instead, covering the last several selections I'll make for 2016 and giving readers a completed overview of the portfolio. My next update moving forward will be the Q1 review, where I look at performance over the first 3 months of the year and discuss whether or not my picks are living up to the expectations I have for them.
I'll start with a trifecta pick of sorts: Old Tech
I like investing in technology. In a world that is ever changing, ever developing and transforming, constantly pushing itself forward in search of increased efficiency and ease of living, it seems obvious that the tech companies will continue to be a major growth player. Automation is a theme I like long-term. The "internet of things", while rather abstract, is also a trend I like as the world becomes more connected and data is more readily available. Big data is important and will continue to be moving forward, especially as storage capacity increases storage and more and more industries rely on analytics. I think these trends will require advances in both hardware and software and although I know many in the market hear the word "hardware" and turn up their noses, supposing growth will be slow, at best, I am not opposed to investing in the space…especially when cash flows are strong and shares are supported by sustainable dividends.
I've already made a large investment in the tech sector in this portfolio with Apple (NASDAQ:AAPL) being one of my core positions. This piece of the portfolio was given a 10% weighting and now, I'm adding an additional 10% to my tech weighting with 3 stocks who've all experienced recent weakness. I believe these companies offer investors value, even if the face of slowing and/or negative growth, due to their strong cash flows, brand names, and dividend yields. The 3 companies that I'm talking about are Cisco (NASDAQ:CSCO), International Business Machines (NYSE:IBM), and Qualcomm (NASDAQ:QCOM). I know many don't like these names, calling them worn out, or "dead money" and would much rather put their money where the momentum lies. However, I'll take 4+% dividend yields strongly covered by cash flow just about any day of the week (this sort of income doesn't seem "dead" to me). I expect companies like these to hold up much better in a weak market than the F.A.N.G. type stocks that dominated 2015.
| | | | | | | | | |
| --- | --- | --- | --- | --- | --- | --- | --- | --- |
| Ticker | 2015 EPS | ttm P/E | forward P/E | ttm Cash Flow/Share | Dividend | Dividend Yield | M* Rating | S&P Cap IQ rating |
| CSCO | $2.21 | 14.6 | 10.9 | $2.26 | $0.84 | 3.66% | 4-Star Buy | 4-Star Buy |
| IBM | $14.92 | 10.3 | 9 | $13.82 | $5.20 | 4.10% | 3-Star Hold | 4-Star Buy |
| QCOM | $4.66 | 16.5 | 9.7 | $3.14 | $1.92 | 4.37% | 4-Star Buy | 4-Star Buy |
A high yield play in the financial sector
Blackstone (NYSE:BX) is a company that I've had my eye on for some time now. BX is one of the largest global alternative asset management companies in the world and has a proven history of profitable performance. This company offers investors an incredibly high yield and is deemed to be highly undervalued by both Morningstar and S&P Capital IQ (rated a 5-star buy by both). BX is considered to be a risky investment by many, due to its capital requirements and the risks that management has to take to generate cash flow. IPOs have slowed down lately as well, which doesn't help these guys much either. Even in the face of macro weakness (which doesn't bode well for a private equity company like this in the short term), BX's AUM increased 16% y/y to $336B in 2015. This is impressive to me. It means that investors feel comfortable with BX management and feel confident, that over the long-term, this company will continue to generate out performance in terms of IRR. Right now BX has over $80B of dry powder available to continue to make deals, management hails this cash pile as the largest in the industry. Because of BX's beaten down stock price (the company is trading down 44% from its 52 week high - and 4% lower than where I "bought" it) value that has developed because of this pricing action. The company is facing revenue headwinds right now, having posted a negative y/y figure for 2015; however, distributable earnings and fees on AUM posted strong growth. I think for those who are willing to stomach the risk associated with an alternative asset manager like BX (and those who don't mind the K-1 form come tax time) could be an interesting play for 2016. I said this with regard to Berkshire Hathaway and the same goes for BX; when economic times get tough, I want to have exposure to accomplished deal makers. Obviously timing is important when buying into companies like this; you want to buy near the bottom of a macro business cycle, not the top. However, I don't have a crystal ball to predict these moments exactly and due to the weakness that BX has experienced since early last year I feel comfortable targeting BX as one of my picks for 2016, hoping that we're much closer to the bottom here than the top.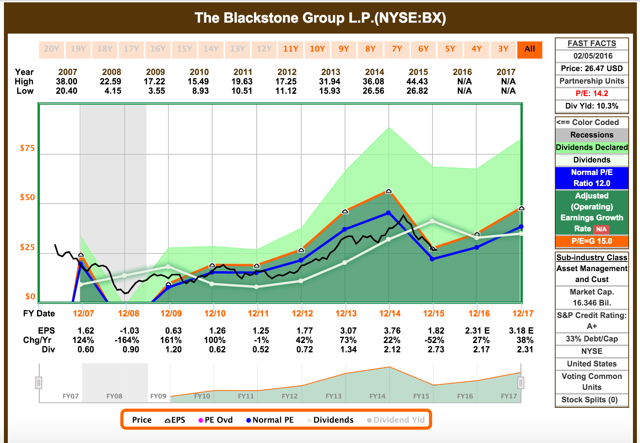 Sticking with my gut (and the health foods trend)
I've been long Whole Foods Market (NASDAQ:WFM) for some time now. I've written bullishly about this company and thus far, the market has made me look stupid. I made my initial purchase at $37.88 and have since lowered my costs basis to $36.11 by slowing adding shares. I like WFM more and more as it trades in the upper 20's and continue to add shares in this price range. I know that sales comps slowed in 2015, though I expect continued growth with regard to store count which will continue to push revenues higher. I think the company has some issues with its pricing of certain items, though I believe the quality of food and the highly enjoyable shopping experience that the WFM brand represents will trump isolated incidences over the long-term. Competition is steep in the health food/organic space. This competition will only get worse for WFM with larger, more traditional grocers like Kroger (NYSE:KR) and Walmart (NYSE:WMT) moving into the space. WFM was essentially first to market and the brand name still carries value with consumers. Because of this, I not only expect the company to grow organically over time, but I also wouldn't be surprised to see M&A rumors beginning to surround WFM, especially with the market cap sinking so low. 11% of the float is short right now and in the event of M&A chatter I expect a major squeeze would occur, helping the longs immensely. Although it's yield isn't massive, WFM does pay investors a dividend which management has increased for 5 years, making it a "Challenger" on David Fish's CCC list.
This is nothing to do with the stock, though I'm excited to say that I'm headed West tomorrow, driving cross country to Los Angeles to watch my wife run in the Olympic Trials for the marathon. On my way I've decided to tour top notch Texas BBQ joints, so of course, I'll be stopping by Austin. This is where Whole Foods originated and I'm looking forward to visiting that flagship location. I'll post a picture on my next WFM focus ticker piece.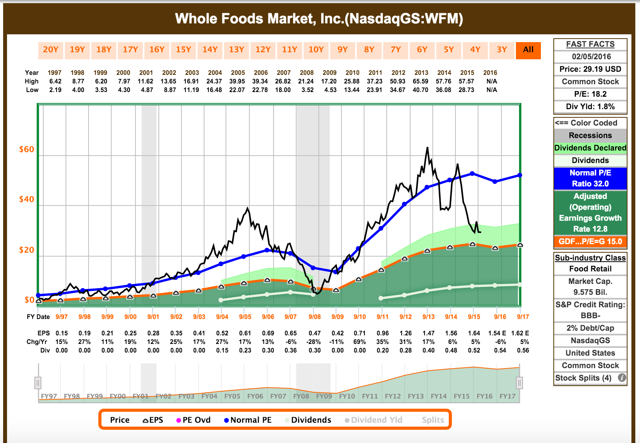 Another air plane play: United Technologies (NYSE:UTX)
Like many of the companies on this list, I've had my eye on UTX for awhile now, watching it fall and fall. Usually I'd be more willing to attempt to catch a falling knife when this when the underlying company looks good, especially for the long-haul, but owning cyclical companies has proven to be difficult to me because of their sometimes erratic earnings and how this effects dividend sustainability. Granted, over the years UTX has proved itself to be more than capable of navigating the business cycles while keeping shareholders in mind, having increased its annual dividend for 22 consecutive years. UTX has a conservative payout ratio of 41.1. The company's 5 year DGR is 8.53%; this combined with its nearly 3% yield makes for a very respectable Chowder number of 11.44. UTX, like Boeing (NYSE:BA) - another company on my 2016 list - benefits from strong, long-term, macro tailwinds: globalization and urbanization. Earnings growth slowed a bit in 2015; however, analysts expect this figure to pick back up in 2016 and because of this the stock is currently trading at just 13.3x forward earnings. The company has a relative low debt/cap ratio (40%) compared to its peers, something else that I like to see in a potentially trying market environment. All in all, I too expect UTX to get back to growth and in the mean time, I think investors should be satisfied with a strong, sustainable dividend yield.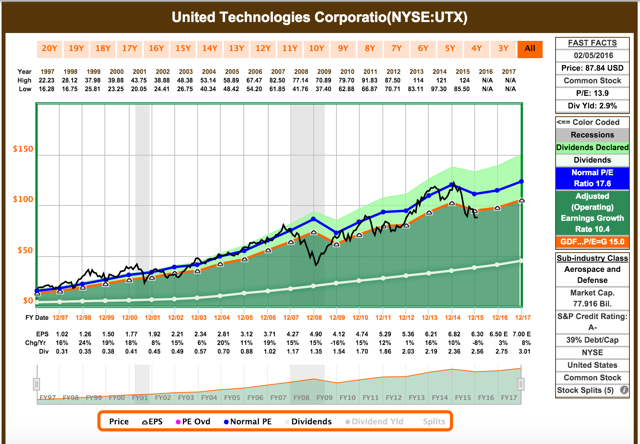 So, here we have it: the final Nick's Picks 2016 portfolio. Now, we'll wait 12 months and see how well I did. Oh, and I went a little over (forgive me); I figured $1.50 in a $100,000.00 portfolio isn't worth fretting about.
| | | | |
| --- | --- | --- | --- |
| Ticker | # of shares | Price paid | Starting value |
| ABBV | 57 | 58.65 | 3343.05 |
| AMGN | 21 | 153.43 | 3222.03 |
| GILD | 37 | 90.61 | 3352.57 |
| PFE | 82 | 30.50 | 2501.00 |
| MRK | 49 | 50.92 | 2495.08 |
| BIIB | 6 | 262.10 | 1572.60 |
| CELG | 16 | 106.70 | 1707.20 |
| REGN | 4 | 473.12 | 1892.48 |
| GERN | 564 | 3.24 | 1827.36 |
| BA | 40 | 124.61 | 4984.40 |
| UNP | 48 | 69.99 | 3359.52 |
| CSX | 149 | 22.42 | 3340.58 |
| NSC | 48 | 68.59 | 3292.32 |
| BRK.B | 39 | 127.04 | 4954.56 |
| NFLX | 29 | 104.04 | 3017.16 |
| DIS | 106 | 93.90 | 9953.40 |
| JNJ | 103 | 97.00 | 9991.00 |
| AAPL | 103 | 97.13 | 10004.39 |
| WFM | 170 | 29.31 | 4982.70 |
| UTX | 57 | 87.69 | 4998.33 |
| IBM | 26 | 124.79 | 3244.54 |
| CSCO | 154 | 23.79 | 3663.66 |
| QCOM | 73 | 45.34 | 3309.82 |
| BX | 190 | 26.27 | 4991.30 |
| | | | |
| Total | | | 100001.05 |
*All graphs used in this article where sourced from F.A.S.T. Graphs.
Disclosure: I am/we are long IBM, CSCO, WFM, AAPL, BA, KR.
I wrote this article myself, and it expresses my own opinions. I am not receiving compensation for it (other than from Seeking Alpha). I have no business relationship with any company whose stock is mentioned in this article.