Given the current situation with oil now back below $30 per barrel as I write this (2/8/2016), everyone is patiently waiting for the worst to be over, while carefully examining investments they feel will have the greatest returns when energy rebounds. Some investors may catch the falling knife in trying to time the bottom - an approach which I find foolish - while others may trade some upside and wait for more sure signs of a sustained turnaround to minimize their downside risk. There are options out there that allow investors the best of both worlds, offering shelter from the current environment as well as large upside potential when the energy markets trend back up. I feel I have identified two of these opportunities already in Spectra Energy (NYSE:SE) and Phillips 66 (NYSE:PSX). In this article, I reveal my third pick, which offers what I believe is the potential to be similar in regard to return opportunities, but a slightly riskier option relative to Phillips 66 and Spectra Energy.
About Core Laboratories
Core Laboratories (NYSE:CLB) is in the business of oilfield services, specializing in reservoir optimization, meaning the company creates and enhances efficiencies for E&P companies, allowing them to effectively extract recoveries from existing fields by conducting an analysis of the reservoir's contents, creating plans for production enhancement, and planning reservoir management. It provides these services to the major national and independent oil companies throughout the world, having over 70 offices in 50 countries.
What Makes Core Laboratories Valuable to Oil Companies
While producers are cutting capex and budgets, they are focusing on becoming more efficient at getting oil out of the ground due to the seemingly ever-lower price of oil. Core Laboratories is aware of this and focuses on the more stable and less volatile segments of production and production enhancement in these companies' budgets.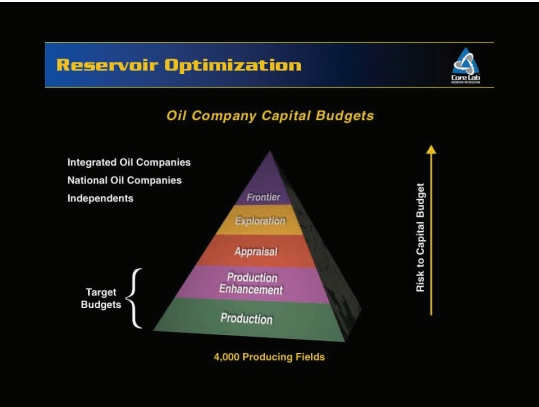 On the flipside of this cost-cutting equation is identifying the value of what the reservoirs' contents are comprised of. This is where Core Laboratories' second major area of service, "Reservoir Description," is utilized. It is important to know what companies can expect to be getting out of each gallon of crude oil they extract so they can best identify whether it is profitable or not to drill, given the costs associated with the extraction of oil. Core Laboratories is able to break down and apply a valuation to the crude oil contained in each reservoir it analyzes. The reservoir description segment posted fourth-quarter revenues of $114 million, operating income of $28.6 million, and a 24.9% operating margin. With revenue down only 3% from the prior quarter, these figures support the fact that this segment is an important service valued by oil companies over other traditional methods such as pressure pumping and exploration services.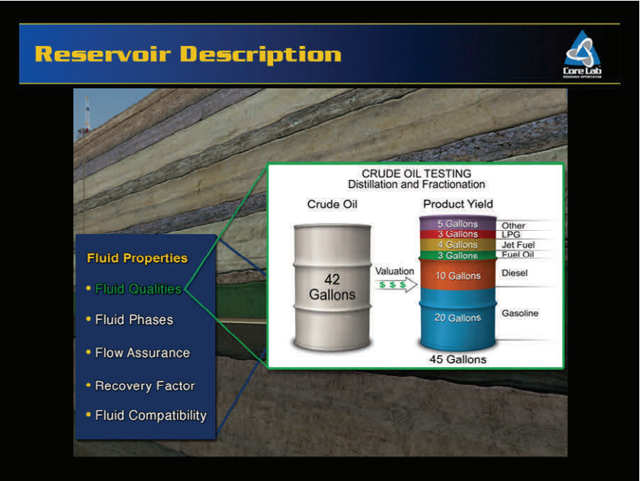 Core Laboratories also focuses on production enhancement, in which it provides both products and services to maximize flow rates of production, while reducing the formation damage of the well. This is achieved by using an enhanced perforating system, which, when detonated, creates the deepest perforation tunnel in the world at approximately 30,000 feet per second. After the initial detonation, a secondary charge triggers, which creates fractures that are miniature in size, allowing the use of a lesser amount of breakdown pressure needed for hydraulic fracturing. This allows the producer to stimulate and complete the well in a timely and financially efficient manner.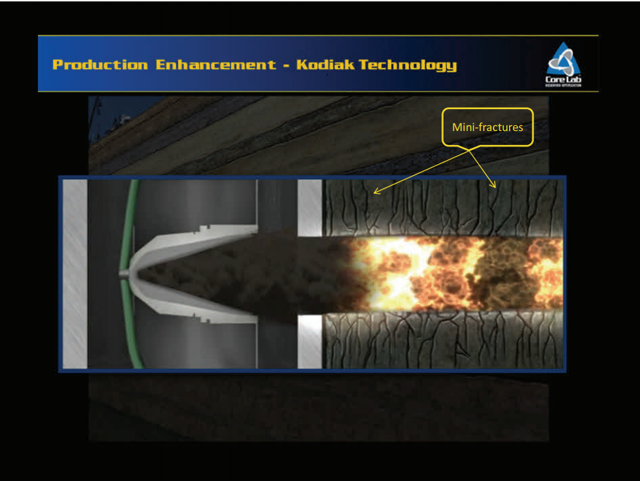 The third service line which the company focuses on is Reservoir Management. This often includes the geological study of wells and determining their value as an asset, and determines risks that may be associated with the acquisition of any new acreage companies may be potentially purchasing. The fourth quarter saw revenues of $11.4 million and operating income of $3.7 million for a 32.2% operating margin. Though Core Laboratories has seen a decrease in sales compared to the third quarter of 2015, this service is still providing a reliable stream of income as private-equity-backed companies utilize these services in their evaluation processes of potential acquisition of new acreage. (Source: Core Labs Q4 Earnings Report)
How Core Laboratories Returns Value to its Shareholders
The company has excellent free cash flow, converting more than 24% of every dollar into FCF, generating a level of FCF 144% more than net income. During the fourth quarter, Core Laboratories used $23.3 million to repurchase 132,918 shares and pay a quarterly dividend of $0.55 per share. The total number of outstanding shares currently stands at 42,485,000 - this is the lowest level in 18 years. This is nothing new for the company, as over the last 14 years it has returned over $2.27 billion to its shareholders - over $53 per diluted share - through diluted share count reductions, special dividends, and quarterly dividends. (Source: Core Labs Q4 Earnings Report)
Why you Should Wait Before Buying
While Core Laboratories has weathered the storm better than others, it is still exposed to falling oil prices, as companies are looking to cut budgets. While this may not mean eliminating services provided by Core Laboratories, it appears to be resulting in at least a decline, with reservoir description services, production enhancement, and reservoir management service lines falling 3, 13, and 20 percent, respectively, from the prior quarter. This shows that while the company has remained profitable and with healthy margins, it is still feeling some of the ill effects of the oil market. With oil prices not looking to recover anytime soon, according to the latest EIA report, I would wait until we see some signs of either slowing supply or an economic pickup to drive demand.
Conclusion
While the oil sector may be in a tough spot right now, Core Laboratories is still a necessary expense for many oil companies by providing these companies with the resources to enhance current production efficiencies so they can become or remain profitable. With a proven track record of providing value to these companies as well as returning value to shareholders in dividends and buybacks, Core Laboratories is a financially strong company that is doing considerably well given the current market environment, and is poised to excel and rise with the price of oil in the future. I feel now may not be the best time to initiate a position given that the company still seem to be on a bit of decline. I would keep close tabs on Core Laboratories and read into next quarter's earnings report to see if the decline has slowed at all and if any sort of turnaround has begun in the energy sector, signaling a good entry point into this great company.
Disclosure: I/we have no positions in any stocks mentioned, and no plans to initiate any positions within the next 72 hours.
I wrote this article myself, and it expresses my own opinions. I am not receiving compensation for it (other than from Seeking Alpha). I have no business relationship with any company whose stock is mentioned in this article.