Halliburton (NYSE:HAL) has been experiencing significant headwinds over the past couple of quarters. The company's stock is falling at a high rate due to low oil prices and poor financials. HAL's share price lost nearly 27% of its value over the past 12 months. Since the start of this year, its stock price declined by an additional 7% and more. Its shares are trading near its 52-week low of $27.64 per share. Here the question arises, does the principle of buying on the dip apply to Halliburton?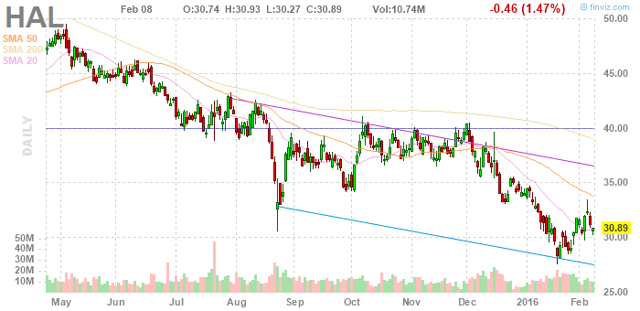 I believe it does, but only for the long-term patient investor. The company's business fundamentals are bleak for the short term. Halliburton has been posting poor results over the past three consecutive quarters. Recently, it announced results for the final quarter of fiscal 2015. In Q4, it generated revenues of around $5 billion, which represent a significant drop from $8.7 billion in the same quarter of last year. The company's revenue also declined 9% in the fourth quarter compared with the third quarter of 2015.
For fiscal 2015, HAL's revenue of $23.6 billion represents a 28% drop, when compared to its $32.8 billion of revenue from last year. On the earnings side, HAL reported a continuing operations loss of $666 million, or $0.78 per diluted share, compared to last year's income of $3.4 billion, or $4.03 per diluted share. These numbers are definitely not pleasing to investors, nor are they encouraging to the company's management.
HAL's cash flow situation is declining steadily, along with its fall in earnings. In fiscal 2015, the company generated operating cash flows of nearly $2.9 billion while its capital expenditures stood around $2.1 billion. Its free cash flows of $722 million are adequately covering its dividend payments of $614 million, which means the company's dividends are still safe. Its liquidity situation is also strong with assets of over $15 billion and its current liabilities remain low, at approximately $5.3 billion.
What's Next?
The question here is, what's next for the company this year? I believe that Halliburton's financial performance will decline even further in 2016. The company's revenue base is directly dependent on activity in the oil & gas industry. At the moment, the data are not encouraging for this industry. Many E&P and oil companies have posted major losses over the latest quarter and for fiscal 2015. For instance, ConocoPhillips (NYSE:COP) posted a loss of $4.4 billion in fiscal 2015. Even majors like Chevron (NYSE:CVX), Exxon Mobil (NYSE:XOM) and BP (NYSE:BP) have posted significant losses for the past year.
In fiscal 2015, these companies on average have lowered their investments around 40% compared to 2014. After posting significant losses, they have now cut their capital investments nearly in half for fiscal 2016.
In addition, oil prices are showing no signs of stabilization this year. The EIA has predicted oil prices to stay around $37 per barrel for this year, at a time when most companies need to see it at $50 per barrel to just break even.
In the month of January, OPEC members generated record output, not a good sign for oil prices, nor for the already oversupplied market. In addition, Iran is ready to add its significant oil inventories into the mix, starting in the second half of this year. This is likely to wield quite a blow to oil prices. Consequently, I'm not expecting any improvement at all in the price of oil this year, certainly not to the level of $50 per barrel.
Prospects are even bleaker for Halliburton, as its revenue base is mostly dependent on the North American region. Oil & gas production is quite cheap in the Middle East while its cost is very high for North American producers. That explains why low oil prices are impacting North American producers so significantly. In Q4, HAL's revenue from the North American region declined to only $2.1 billion compared to $4.7 billion in the same quarter of last year. Its revenue base in the Middle East is quite low compared to its involvement in the North American and European regions.
In Conclusion
It's obviously wise to pick stocks when they decline to multi-year lows. However, it is also important to take into account a stock's upside potential. In the case of Halliburton, the company is employing innovative technologies, and its expected merger with Baker Hughes (BHI) will further enhance its portfolio. Halliburton is a good buy at the moment, but only for long-term investors who can wait for a turnaround in the oil market, which could take quite some time. In the short term, the company's fundamentals are not particularly strong for the first half of this year.
Disclosure: I/we have no positions in any stocks mentioned, and no plans to initiate any positions within the next 72 hours.
I wrote this article myself, and it expresses my own opinions. I am not receiving compensation for it (other than from Seeking Alpha). I have no business relationship with any company whose stock is mentioned in this article.