The Dow Chemical Company (NYSE:DOW) is highly diversified among the following industries: agriculture & food; building & construction; electronics & entertainment; healthcare & medical; household goods; industrial; oil & gas; packaging, paper & publishing; performance plastics; transportation; utilities; and water & process solutions. This diversity provides Dow with many pillars of business support.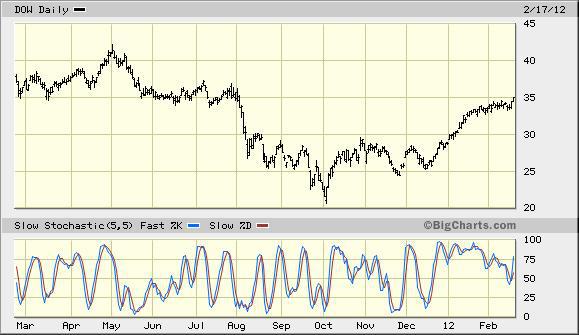 Unfortunately, Dow's stock does get punished when recession fears are on the table as we saw in 2008 and during the Euro crisis in 2011. However, now with the risk of recession currently down to 22%, Dow Chemical is in recovery mode once again.
From a valuation standpoint, Dow looks undervalued with a forward PE ratio of 10.17 and a PEG of 1.24. The stock is trading at only 2.23 times book value per share.
The company brings in the cash with an operating cash flow of $3.88 billion and free cash flow of $1.07 billion. Dow has a profit margin of 4.57% and an operating margin of 6.99%. Its earnings per share are $2.05.
Dow currently pays a dividend of 2.9%. It also offers shareholders a dividend reinvestment plan. Typically, Dow raises its dividends over time. It won't necessarily be an annual raise, but after a few years, the payment usually increases. The company did lower the dividend payment in 2009, but the stock also dropped down to the single digits at that time.
The current year is not expected to be spectacular for Dow, as it is expected to have 7.1% earnings growth for 2012. However, it is expected to grow earnings at 26.5% for 2013 and the company is expected to grow earnings annually at 9.97% for the next five years.
Andrew Liveris, the company's CEO, stated in its Q4 report that the investments made in the past few years are paying off well. Dow continues to focus on emerging markets, where it obtains 35% of its sales. One venture, known as the Sadara, is a joint venture with Saudi Aramco and includes 26 manufacturing units. The Sadara will be one of the world's largest integrated chemical facilities and the largest ever built in one single phase. Dow also has a joint venture in Eastern Europe in Turkey to manufacture and commercialize carbon fiber, which is a large and growing industry. It is also investing in Asia for new capacity to support growth in its Advanced Materials business.
Liveris also pointed out that the U.S. is experiencing a gradual recovery. At the time of the Q4 report, the U.S. had 17 consecutive weeks of stronger economic data. This translates into a healthy demand outlook in Dow's Plastics Packaging, Elastomers, and its Performance Materials segment. The demand was showing specifically in transportation, consumer durables, and energy related market sectors.
Volatile conditions in Western Europe are the primary obstacles for Dow, where demand is expected to be weak in the first half of 2012. However, growth in the emerging markets remains healthy due to population growth which creates demand for agriculture, food packaging, and water.
Liveris stated that Dow will deliver organic growth and margin expansion by taking advantage of growth where it is happening most rapidly. He said that the company's innovations will continue to deliver value to customers and to Dow. Liveris sounds confident that the company will deliver and hit its earnings targets.
An investment in Dow may not be for everyone. Conservative investors might want to steer clear if they are concerned about Dow's volatility during recession fears. However, for those who can stomach some stock volatility or for those who feel that the U.S. and the world will continue its recovery, then Dow Chemical would be a viable investment.
Disclosure: I have no positions in any stocks mentioned, and no plans to initiate any positions within the next 72 hours.