M/A-COM Technology Solutions (MTSI) seems like a name which over the past few years, has taken proactive steps that may position the business towards faster growth and better profitability going forward, even with major macro headwinds gaining pace.
The macro outlook for the semiconductor space looks horrible, which is why this might be a perfect time to look away from hot product driven stories, e.g. action cameras suppliers, and focus more on quiet performers in the semi food chain, who are creating consistent value for the shareholders and have established growth catalysts, independent of the macro dynamics.

Source: MACOM
M/A-COM looks like a name that fits the bill. Over the past few years, the high-performance analog, RF, microwave and optical semiconductor products company has moved away from the low growth and matured products, while acquiring and developing a portfolio of solutions that offer steady growth, partly driven via rising adoption in different markets. More so, this shift was undertaken without taking any major risks on the balance sheet. Now when the space is projected to slow down (at best), the company has enough products at the cusp of achieving fast growth that the Street's near-medium term growth expectations of a decent double-digit rate looks comfortable, if not conservative.
Most investors, including those actively following the tech space, have ignored the name, and rightfully so. The company used to carry a bunch of mature products, which were always at the risk of inviting competition and margin pressure. Even now, some may question the Multi-Market and Aerospace & Defense (A&D) segments that are already weak and expected to face further pressure from the broader economic weakness. The bears may also question debt and valuation, which seem high relative to other analog players and peers, especially some like Qorvo (QRVO) that are also well positioned to monetize technologies like GaN (Gallium Nitride).
| | | | | | |
| --- | --- | --- | --- | --- | --- |
| Comps | EV/ EBITDA (trailing 12M) | Rev. growth current fiscal | Rev. growth next fiscal | P/E current fiscal | P/E next fiscal |
| MTSI | 23.7 | 24.6% | 17.9% | 19 | 14 |
| QRVO | 7.2 | 52.3% | 7.0% | 9 | 8 |
| ADI | 10.5 | -1.6% | 8.6% | 17 | 15 |
| AVGO | 13.2 | 96.5% | 20.6% | 13 | 11 |
But since tech investors usually do a good job at giving a premium to the names according to the level of confidence in the expected numbers and focusing less on the backward looking valuation metrics, valuation alone may not impact the stock price. The company has just delivered a decent quarter, while the competitors are suffering.
Industry conditions support independent catalysts, not themes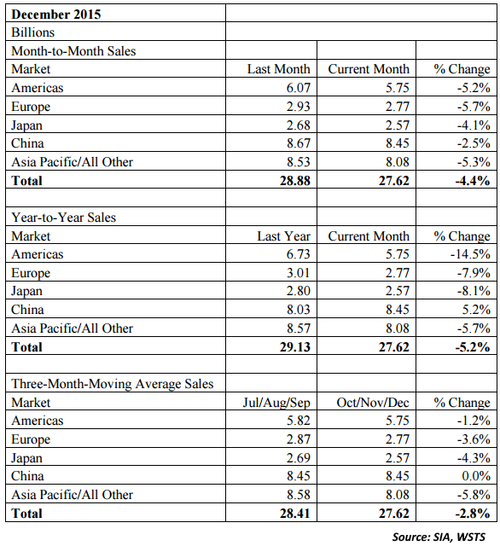 Semiconductor Sales. Image Source: eetimes
The semiconductor sales have been suffering and the weakness gained pace in the last quarter of the previous year. Gartner is pitching for almost 2% growth in chip sales for this year, but much of that growth is dependent upon one of the fast growing geographies for the sector - China, which is already facing some very well covered troubles of its own. Secondly, approximately 55% of the market ties to the mobile ecosystem and smartphone manufacturers of all hues, be it the high-end Apple (AAPL) or Xiomi, have talked about demand slowdown. With not so supportive a macro environment, picking up bottom up stories might be ever more important.
The restructured portfolio of M/A-COM should help the business deliver in this environment.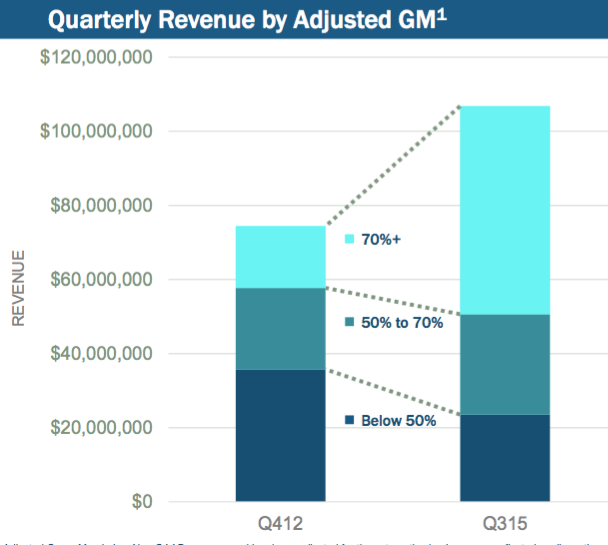 Revenue moving up the value chain. Image: MACOM presentation
Besides divesting from the automotive segment, which was close to 18-20% of the revenue, the company has acquired various businesses, mostly small teams, but which offer a significant strategic advantage.
After acquiring Mindspeed, probably the biggest acquisition so far that helped the company build carrier infrastructure, fiber-to-the-home access networks, physical media devices and broadcast video products in December 2013, the company in late 2014 acquired IKE Micro, Photonic Controls and BinOptics. IKE Micro, a specialized build-to-print helped improve gross margins in the Optoelectronics business and Photonic Controls, a design company that specializes in photonic semiconductor development and system design helped with the design of silicon photonic chips for 100G/400G optical networks. Late last year, the company acquired FiBest Limited, a merchant market component supplier of optical sub-assemblies, and Aeroflex/Metelics, Inc.
The result of all this is a portfolio with higher margins, as the chart above shows, and products that are ready to ramp up and deliver top line growth.
The result: growth catalysts that are ready to deliver, be it Optical and GaN near term or the A&D and Multi-Market by 2017
| | |
| --- | --- |
| | Latest revenue Mix |
| Networks | 72% |
| A&D | 16% |
| Multi-Market | 12% |
The Network segment primarily serves carrier & enterprise infrastructure, wired broadband, cellular backhaul, photonic solutions and fiber optic applications. The A&D mostly serves military and commercial radars and Multi-market serves industrial, medical, test & measurement and scientific applications. The A&D and Multi-Market may face the broader economic pressures, but the Network business should benefit from strong Optical and GaN products.
The Optical business, which is almost 50% of the company now, is strong and if the business performs like last year, i.e. 50% growth, it might be enough to deliver on the Street's expected numbers, but there are growth pockets besides optical that may help maintain the high growth momentum that the business is enjoying right now.
Reverse engineering the expectations

Fiscal year

2016

2017

Revenue growth expected

24.6%

17.9%

Revenue

$524

$618

Operating margin

25.8%

30.9%

Net Interest & Other

$16

$16

Tax rate

15%

20%

Shares (NYSE:M) diluted

53

54

EPS

$1.91

$2.59

Street

$1.91

$2.59

* Keeping everything else steady

* Author's calculation. Only for academic purpose, actuals may vary significantly.
As the data centers start adopting 100G in a big way, the company stands to benefit significantly. The recent deal with Applied Optoelectronics (AAOI), a company that is positioned well to monetize the 100G wave (covered in detail in my recent note on the business), validates the M/A-COM's strategy to be a pure­-play supplier of analog and photonic components at 100G, 200G and 400G for pluggable coherent technology.
As for GaN technology, the company's proprietary GaN-on-Si is finding new potential markets in applications like automotive ignition systems, high-bay lighting and wireless charging and with the commercial adoption of GaN technology in other RF applications like 4G/LTE base stations and RF energy applications, the business may continue to deliver. Some smart analysts have called out the PA in the cellular base station alone as a major market opportunity, worth over a billion dollars.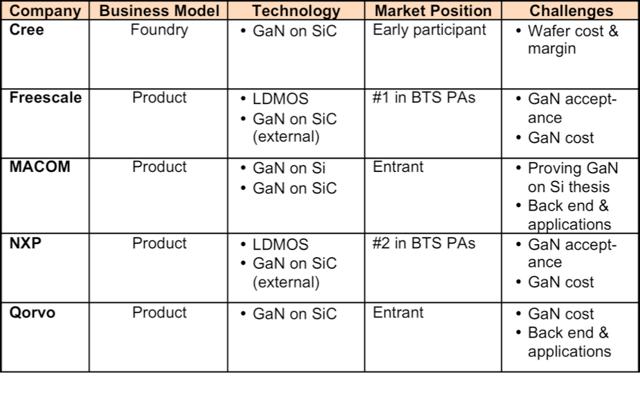 Source: Microwave Journal
GaN is a market opportunity, in which the company has a significant technological edge as well.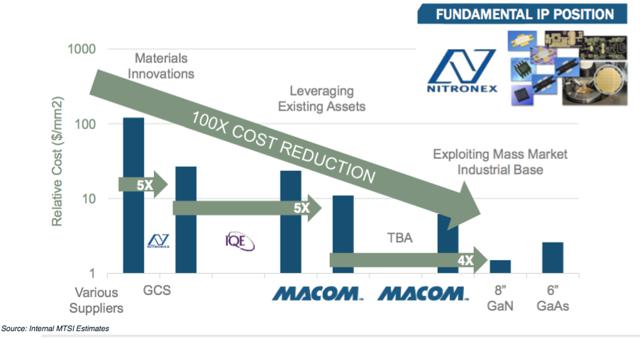 Source: MTSI presentation
Besides new products, markets and technologies, the ramp up of new facilities should help draw incremental demand in the PON business, which was supply starved on the laser side. The Lowell facility has qualified for the first of three high volume runners and expects to qualify for the remaining two PON products in the current quarter.
Financially, delivering as promised
On the gross margin front, the company has already achieved the targeted 60% level, which may come under pressure for a quarter or two as the latest acquisitions get adjusted, but the real opportunity lies on the operating margin front. The business has yet to fully realize synergies from cost of goods and benefits from factory consolidation.
Earnings sensitivity analysis (Approx.)

Change of

Metric

EPS Change *

1%

Revenue

1-3 cents

1%

Gross margin

8-10 cents

1%

Operating Margin

8-10 cents

* Keeping everything else steady as % of revenue.

* Author's calculation. Only for academic purpose, actuals may vary significantly.
On the cash front, with the portfolio mostly complete, acquisitions paid off and limited requirement for capital expenditure, cash flows should start to grow meaningfully. A quick back of an envelope type calculation suggests approximately $125-150 million of adjusted EBITDA for the year, if the business delivers close to the Street's expectations.
Note: Detailed proprietary model is not attached in this note for the sake of easy readability, but happy to help and provide more details to readers interested in understanding the calculations used in this note.
Disclosure: I/we have no positions in any stocks mentioned, and no plans to initiate any positions within the next 72 hours.
I wrote this article myself, and it expresses my own opinions. I am not receiving compensation for it (other than from Seeking Alpha). I have no business relationship with any company whose stock is mentioned in this article.