When looking at insider trading data, you sometimes happen upon a company with a lot of potential that's in a sector you know very little about. This week's Insider stock is a small cap specialty chemicals firm with improving fundamentals, a nice dividend, and insider buying that shows its executives are putting their money where their business is -- all good signs.
Methodology
My methodology uses insider trading data from Bluetrader. I monitor hundreds of weekly trades, looking for interesting stories that may slip between the cracks and publish these in my weekly insider trading newsletter (Free).
Trigger event:
On February 16, and 17, 2012, two senior employees of ACETO Corporation (NASDAQ:ACET) bought $80,000 worth of stock (split about evenly), one of which was Sal Guccione, COO and President of the firm. Guccione has extensive experience in pharma and previously worked for a private equity firm. Overall, there's been nice buying activity in ACETO (almost $500,000 in stock) among multiple corporate insiders beginning November 2011.
Company Tearsheet
ACETO Corporation (ACET) is a provider of specialty ingredients and finished products in the generic pharmaceutical, nutraceutical, and agricultural protection industries.
Market cap of about $225M, with about $30M in cash and $45M in long-term debt.
ACET's revenue contracted during 2007-2009 but since then, revenue has been growing at about a 30% clip.
The company pays a $0.10 dividend twice a year, yielding a little less than 2.5% at these levels
The company has a stated goal to focus on "basic human needs" in the Health sector to take advantage of revenue and margin opportunities in that sector -- by investing and driving its finished products business (as opposed to just chemical compounds)
To drive finished products growth, ACET bought Rising Pharmaceuticals in 2011, a New Jersey-based supplier of generic products a portfolio of 38 commercial products
What ACET does
Health Science Division
This division sells chemical compounds and Active Pharmaceutical Ingredients or APIs (like hydrocortisone) as well as finished pharmaceutical and nutraceutical products (fish oil, dietary supplements).
One of the things ACETO will say about its sourcing capabilities (really strong in Asia) is that they're not just great buyers. The firm has demonstrated the ability to work alongside regulatory bodies and provide QA support.
(Click charts to enlarge)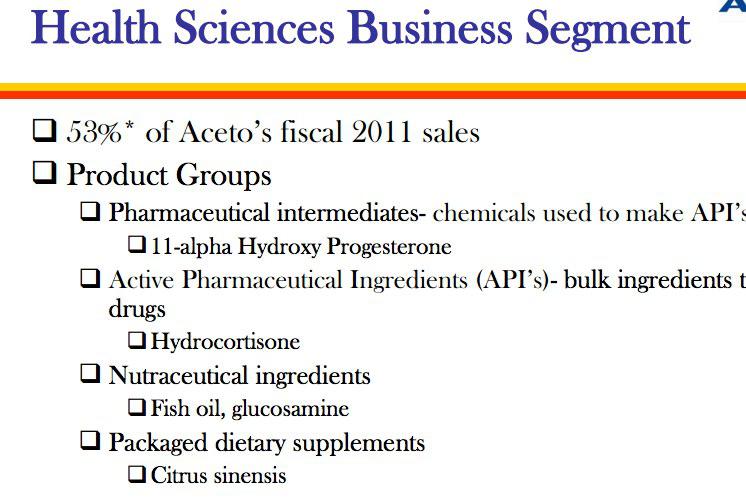 This division accounts for 53% of revenue but is the focus of ACET's growth strategy. Lots of opportunities abound here, especially with new acquisitions, Rising Pharmaceutical's finished product biz.
Here's a chart of the maturity of Rising's product pipeline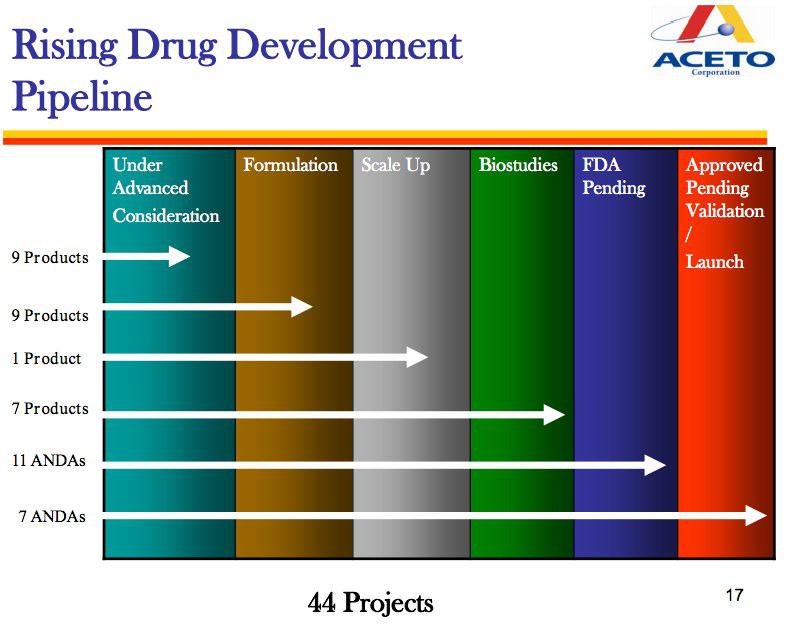 This pipeline is a very balanced portfolio of early stage products in development and those just awaiting FDA approval. Rising Pharma's pipeline fits squarely into ACETO's strategy of focusing on finished pharma products. These products and this strategy also offer global opportunities in the dietary supplement and nutraceutical markets -- high margin, high growth businesses right now.
In fact, Rising has a potential $100M+ run rate of its 35 products going out into 2014 -- an increase of almost 25% off of ACET's current $400M in sales.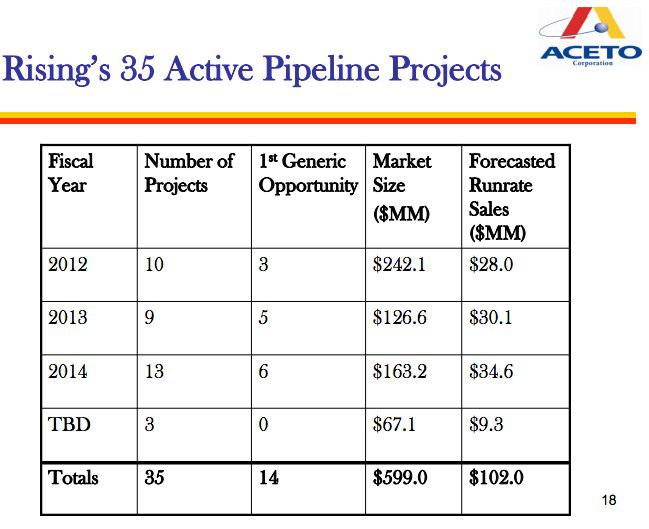 Chemicals Business
Accounting for about 35% of ACET's total business, this line provides chemicals for coatings, inks, plastics, food, flavor and electronic industry applications.
Agriculture Protection Segment
In 2011, this division was about 11% of ACETO's top line revenue and is a natural extension of ACET's global sourcing capabilities (especially in Asia). The firm is attempting to use its regulatory experience and clout to build an EPA-approved label.
What's going on here: who's buying the stock and why
As mentioned above, Sal Guccione and David Rosen (senior exec from Rising Pharma) were both buying the stock. From their perches in the corporate structure, they should have a good view as to the health of their business. This event also appears to mark the first time either executive has conducted an open market transaction (they're both new to their positions/company) to buy ACET stock.
The company is growing top line revenue by 30%, paying down its debt, and focusing on building a branded, finished product business with the help of new M&A, Rising. It's P/E is a below market 15 or so, so there's room for expansion there. Plus, you've got Rising's pipeline of $100M+ revenue opportunities in the next two years as an option on growth.
Plus, internal cash and operational metrics look pretty strong.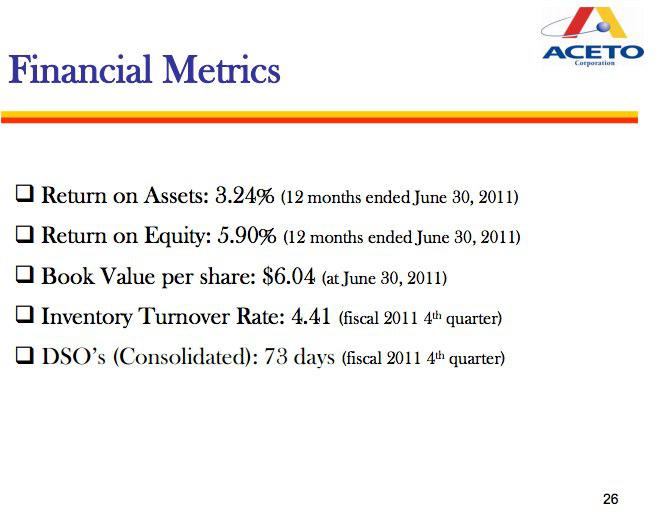 I like the story of a small-cap firm, with excellent sourcing and regulatory experience, feeding the generic and nutraceutical industries. I am concerned that ACET may try to further juice growth by bolting-on more, smallish acquisitions. I'd like to see a more measured pace of organic growth (like 75%) and through acquisitions (25%).
Do your homework -- insider buying is a powerful tool to identify interesting smaller and mid-cap companies but it should never be the sole reason to buy a stock.
Disclosure: I have no positions in any stocks mentioned, and no plans to initiate any positions within the next 72 hours.
Disclaimer: This should definitely NOT be construed as investment advice. I've tried my best to be as faithful to the story as I could, using sound resources to help describe the insider trading activity at leading companies. But you should definitely do your homework — don't base an investment decision off this information.