SolarCity, SCTY, is trading down over -30%, in after hours trading since reporting earnings after the close on February 9th.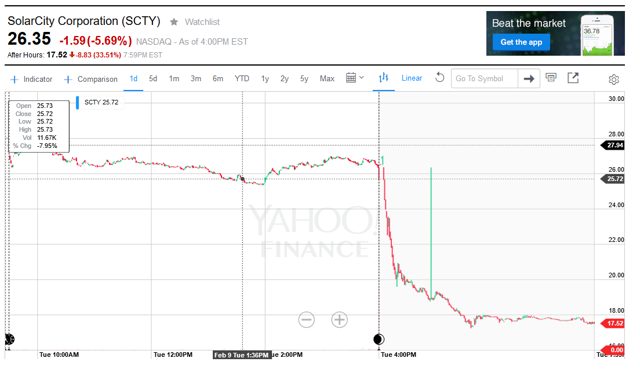 Source: Yahoo Finance
I have previously taken a bearish view (Seeking Alpha Pro) on the company. As alluded to, in that article, the company beat Q4 revenues but then missed EPS outlook for Q1 of 2016.
A link to a recording of the conference call can be found on SolarCity's website here. Also, one can read Seeking Alpha's transcript of the call, once it becomes available, here.
On the conference call the company touted cutting costs in Q4 2015 from Q3 2015. However, cost were still higher, overall, when compared to Q4 of 2014. Look at the common sized income statement below: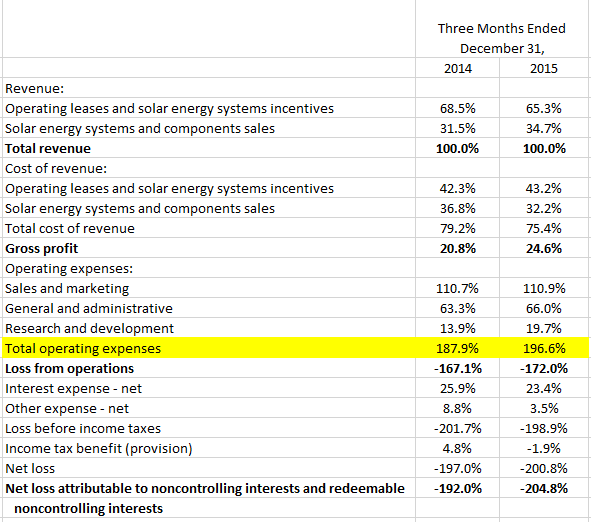 Source: SolarCity's SEC filing & author's calculations
The company is still bleeding cash outflows from operations and investing.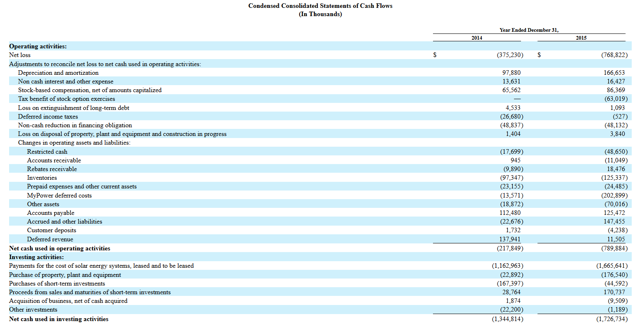 Source: SolarCity's SEC filing
Now look at this from the Q3 2015 Solar City's earnings presentation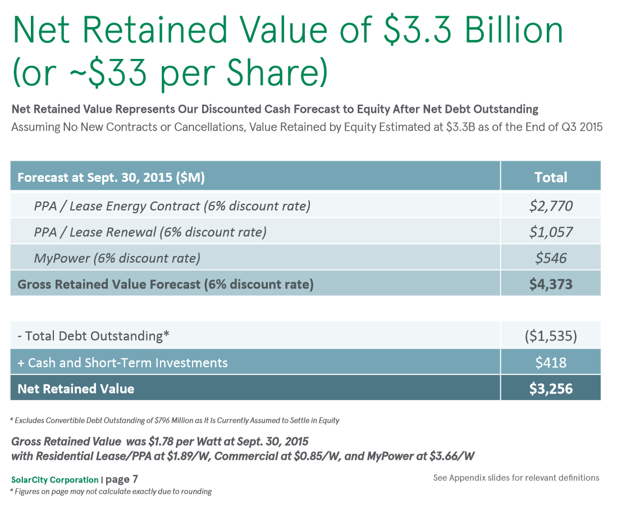 Source: SolarCity's Earnings Presenation Q3 1015 (PDF Page 7)
A "Net Retained Value of $3.3 Billion", that is, discount the cash flows at 6% subtract debt, and add cash (not sure about adding cash for a company that bleeds it - see previous article) then voila $3.3 billion.
Now, look at Q4 2015's earnings presentation.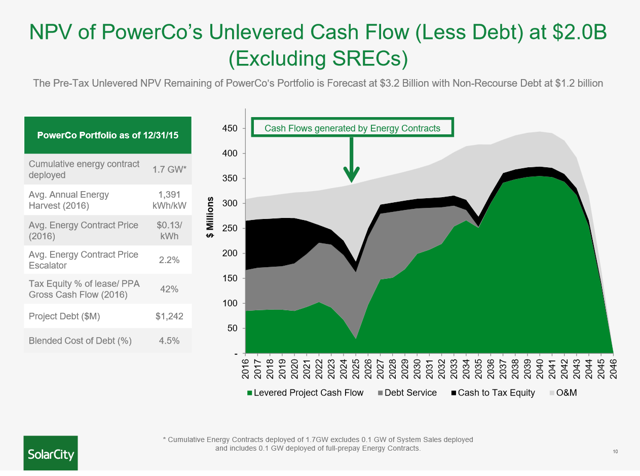 Source: SolarCity's Earnings Presenetation Q4 2015 (PDF page 10)
And again, look at this from page 11 of the Q3 2015 earnings presentation: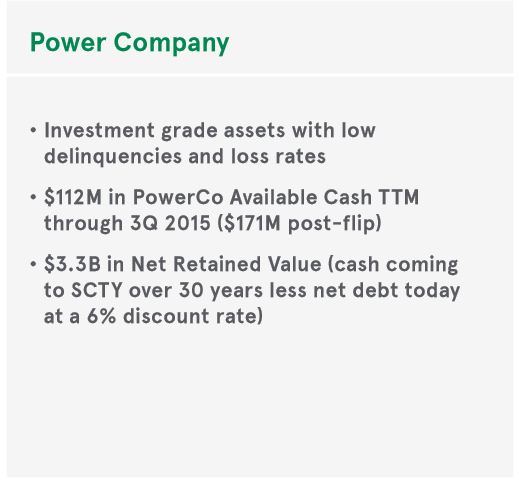 Source: SolarCity
After one quarter $1.3 Billion is gone from the Power Company's "net retained value".
There was $3.3 Billion and now there is $2 Billion.
Just look over the differences in the two presentations.
Why the huge discrepancy in just one quarter? Are SREC's really worth $1.3 Billion in aggregate today? That is hard to believe since on page 16, of the Q3 2015 earnings presentation, Solar City reports $4 million in average annual revenue for SREC.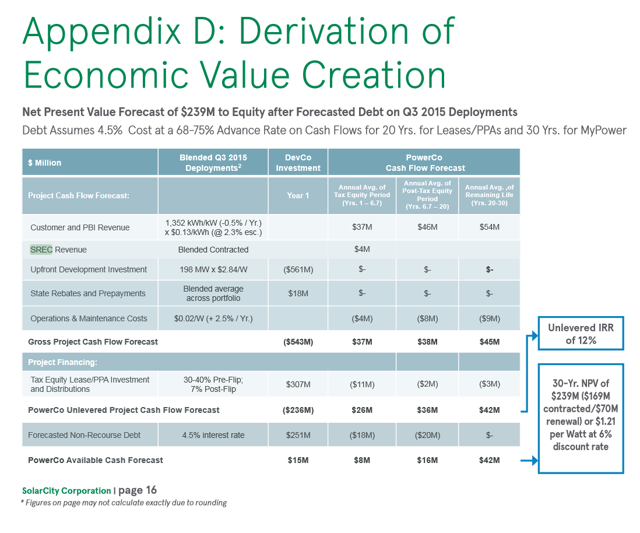 Source: SolarCity
Let's follow the math:
$4 mm * 6.7 (years) = $26.8 mm
$26.8 mm / $239 mm ("economic value creation") = 11.2%
$3.3 Billion * 11.2% = $ .370 Billion
Now let's round up to $ .5 Billion, to include Q4's SRECs and just be generous.
Hence, we are left with $1.3 Billion - $.5 Billion = $.8 Billion
Where did over 3/4 of a Billion dollars go to?
SolarCity it would be helpful if you kept your presentations consistent.
If it was securitized (and this was only for $185 mm), then shareholders are not getting promises made in earlier presentations. I do not think it was securitized because there were no press releases for securitizations in Q4 2015. The last securitization before Q1 2016, was in August of 2015 and that was for just over $103 mm.
In the previous article, I was bearish because of negative earnings and cash flow. Talk about things getting worse; with this earnings release things are even more dark. Besides the questions of when will the company have positive earnings and cash flows, now there is also the question:
"Where did $800 million of the PowerCo's net present value disappear to?"
Maybe it is just following net income and cash flow into the black hole - where even light can not escape from.
Stay short. If short and nervous about the huge profits, consider selling OTM puts (covered puts) to collect income, from the implied volatility spike from the 30% move down on the earnings release.
Disclosure: I/we have no positions in any stocks mentioned, and no plans to initiate any positions within the next 72 hours.
I wrote this article myself, and it expresses my own opinions. I am not receiving compensation for it (other than from Seeking Alpha). I have no business relationship with any company whose stock is mentioned in this article.