Thursday morning (February 11, 2016) will likely prove to be an inflection point for several stocks. That's when Teva Pharmaceuticals (NYSE:TEVA) will release its Q4 and FY 2015 results, but more importantly, will host a conference call with financial analysts as well. A major question from that call will be the status of its ANDA for a generic EpiPen, and in particular, whether an AB rating is still attainable. Not only could an AB rated Gx EpiPen bring in near $500 million a year in high margin sales for Teva, but it's likely to become a source of sustainable revenue as well, especially given how hard obtaining approval has proven to be.
In addition, the fate of Antares Pharma (NASDAQ:ATRS) hinges on the FDA decision, and Mylan (NASDAQ:MYL) will also be volatile depending on the outcome. Antares will supply the auto-injector (AI) for Teva's generic if the FDA ends up approving, and Mylan could face severe revenue and profit headwinds, as its flagship specialty product faces generic competition. Pfizer (NYSE:PFE), as the supplier of EpiPen AI (through its Meridian Medical subsidiary), would also see some impact, although it's more of a rounding error for a company of its size.
So without further ado, let's look at the current status and where the potential issues may lie.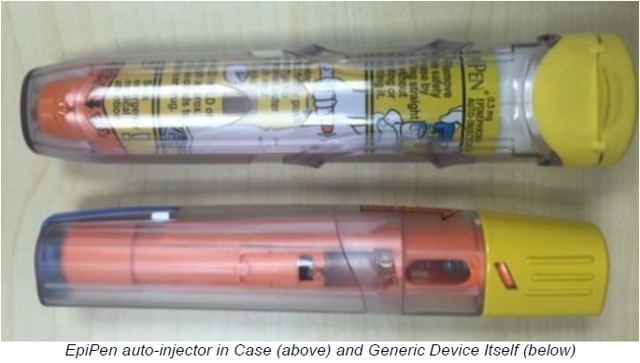 (Source: Citizen Petition Supplement)
Background
Going back to the fourth quarter of 2014, Antares first announced that it helped Teva submit the final amendment to its ANDA for the generic EpiPen, and that further, an AB rating was expected (see this article for more detail). Under a settlement from patent litigation, Teva agreed to launch a Gx EpiPen no earlier than June 22, 2015.
Obviously, the FDA had not approved yet, and Teva later acknowledged that the FDA target action date was December 10, 2015. That date has also come and gone, and up to this point, the exact status has not been updated other than: (1) Antares indicated in a January 14, 2016 corporate presentation that it had "recently received questions from FDA as part of the ongoing active review of the application and is currently formulating a response", and (2) Teva IR indicated that it expected to receive a Complete Response Letter (CRL) from the FDA in late January. Whether it's completely unrelated or a simple coincidence, you may find it interesting that Antares replaced its CEO on January 24.
At this point, I expect Teva to announce on the conference call that it received a CRL, although the contents of the CRL will determine which way the inflection point is for each company involved.
Potential Delays
On the Q3 2015 conference call, Teva first announced that the company no longer expected approval in the second half of 2015, as previously communicated throughout the year. Management noted that the ANDA review process was just simply not far enough along, and that they also expected a CRL - possibly just to give the FDA more review time. This really wouldn't be all that surprising given the huge - and well-publicized - ANDA backlog that the FDA is trying to work through; however, Teva has been working on the ANDA for the better part of a decade. But given the more recent comments from Antares and Teva, I believe the CRL will have some actual meat to it. So, here's my due diligence into the factors that I think may be holding up approval:
Sameness requirements
Additional injector scrutiny
Labeling/risk mitigation
Sameness Requirements
Although it can't be completely ruled out, the sameness requirements are the least of the three concerns I have. Antares' injector was similar enough to the EpiPen that the FDA accepted the ANDA and that Pfizer filed patent litigation. Additionally, the FDA was very clear in its 2010 denial of Dey Pharma's (now a subsidiary of Mylan) Citizen Petition (Docket No. FDA-2009-P-0578) that an AB rated generic need not be exactly the same. Specifically, the FDA indicated that (my emphasis added):
... an ANDA and RLD may have some auto-injector design differences as long as these differences "do not significantly alter product performance or operating principles and do not result in impermissible differences in labeling"
The FDA went on to state that it agrees that the emergency-use situation of an EpiPen does require particular vigilance in making sure a generic version can be used as safely and effectively as the RLD. This means the FDA may:
require further studies, require human factors studies, recommend alternative regulatory pathway, or decline to approve the application under section 505(j) of the Act.
However, this is where the water starts to get muddied. Although the FDA acknowledges that further studies may be necessary for approval as an ANDA, only certain data can be reviewed to determine AB generic suitability:
... for a combination product approved under section 505 of the Act, we will consider whether particular auto-injector design changes would require data beyond that which can be reviewed under section 505(j).
Essentially, this means if the FDA is going to require data typically associated with an NDA, then it would recommend the application be re-submitted as a 505(b)(2). This would likely mean the game is over for Teva and Antares, while Mylan retains exclusivity of its blockbuster drug.
Mylan essentially made this same argument in its January 2015 Citizen Petition, although the FDA ended up denying that petition without response. Of note, the company did submit a "Generic Epinephrine Auto-Injector Handling Study" dated April 21, 2015 as a supplement to its Citizen Petition. The Handling Study was Mylan's attempt to show that the Antares/Teva device could not be used as a true substitute to the EpiPen.
Without wasting too much time on it, I'll basically say that the whole study was flawed in concept. All the participants were screened so that only those trained to use the device were selected, and further, all participants were confident in their ability to properly use the device. In addition, 80% of the participants indicated that they practice with the device. This created inherent bias as to how the participants would react to any differences between the two injectors.
Not surprisingly, the conclusion was that the supposed generic (remember that only Antares, Teva, and the FDA have the actual proposed generic - Mylan just created a prototype based on Antares Otrexup device/instructions and a picture of the device from a 2012 investor presentation) results in a failure to deliver therapy due to "important differences in operating principles." However, if you dig into the conclusions at the end of the document, you'll notice the tone changes a little:
This is not to suggest that every patient or caregiver prescribed an EpiPen auto-injector, if dispensed the proposed generic epinephrine, would experience a meaningful delay or complete failure in delivering an injection. We are concluding, however, that the proposed generic device will produce a predictable number of injection failures (or delays in therapy) attributed directly to the product's specific design similarities and deviations relative to the EpiPen auto-injector.
Therefore, the real data that would help to determine sameness is the predictable number of injection failures/delays for a more representative - and unbiased - sample of users. Given that a large number (if not most) of EpiPens are tossed out upon expiration and not actually used, I doubt the majority of potential users are well trained and confident in their ability to use the device. And considering the number of people who have accidentally fired the device and/or stuck their fingers/thumb, I'd venture a guess that Antares/Teva could develop a study showing the same results for the EpiPen depending on the inclusion criteria.
Another really interesting aspect to the "sameness" requirement is that the FDA previously allowed Dey to market an updated AI while simultaneously working through old inventory (from the Dey CP denial):
Third, while the Petition suggests that any change in a generic version of EpiPen auto-injector raises the possibility for patient misuse and therefore significant safety or efficacy concerns, we note that Dey currently markets both the new and older versions of the EpiPen that actually have design differences from each other of the type that you assert are critical. FDA did not limit in any way Dey's ability to market both designs simultaneously while existing supplies are depleted. We note that EpiPen injector is marketed with a trainer product, and therefore, any generic EpiPen injector would be also required to have a trainer product.
Taking all of this information together, my opinion is that the sameness requirements are not a huge hurdle to overcome, especially given the importance the FDA has previously asserted about the trainer device being required for a generic as well.
Additional Injector Scrutiny
On October 29, 2015, Sanofi (NYSE:SNY) recalled all of its Auvi-Q injectors due to potentially inaccurate dosage delivery, which may include failure to deliver the drug. At the time, I must admit that I may have brushed this off too lightly as just Sanofi-specific. But now I wonder if this caused the FDA to take another look at its requirements to ensure this doesn't happen again.
Has the potential for inaccurate dosage delivery been an issue since FDA approval? Could the FDA have caught this during its review of Sanofi's NDA? Should additional testing be required for all injectors - especially for emergency situations - prior to approval? These are all questions the FDA may have started to investigate, and possibly a reason for the delay in reviewing Teva's ANDA. Ultimately, I would think this is an issue that can be resolved, but it may be additional information that the FDA is requesting from Antares/Teva in the potential CRL.
Labeling/Risk Mitigation
The labeling and/or risk mitigation is the most likely element in the potential CRL. How will the product be labeled so that it can be considered a substitutable generic by meeting the "permissible differences in labeling?" And will the FDA require a Risk Evaluation & Mitigation Strategy (REMS)? A major part of the FDA review may be to determine if a cheaper generic outweighs the risks of the potential misuse of an emergency and potentially life-saving drug:
(The following images were sourced from an FDA webinar)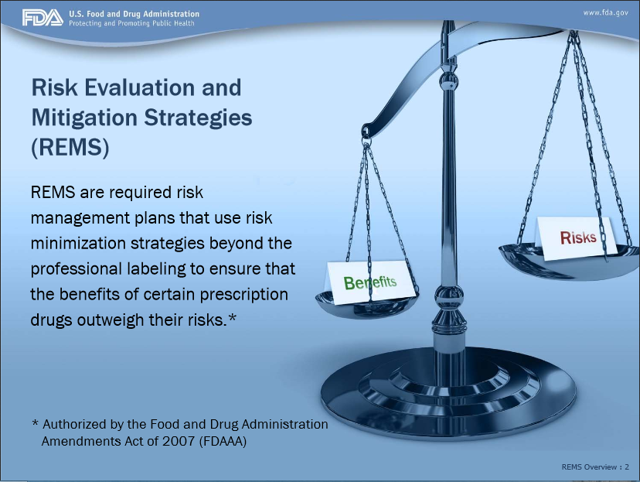 According to the FDA, the three main elements of a REMS for generic drugs are: medication guide, elements to assure safe use, and implementation system.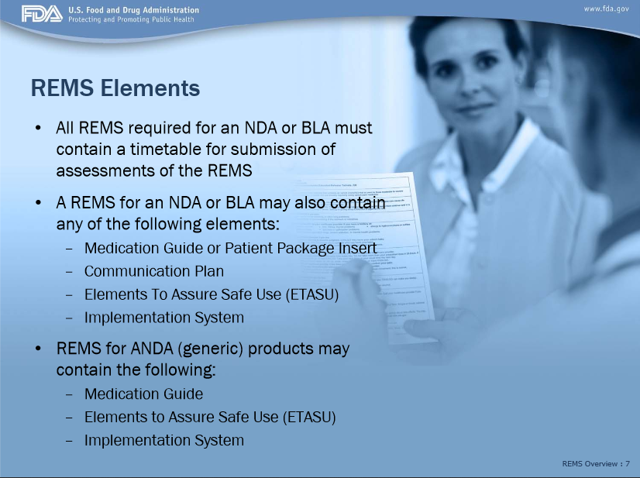 Teva has previously applied for trademarks and websites which would provide allergy-related information, so I'm assuming that is part of the communication plan requirement: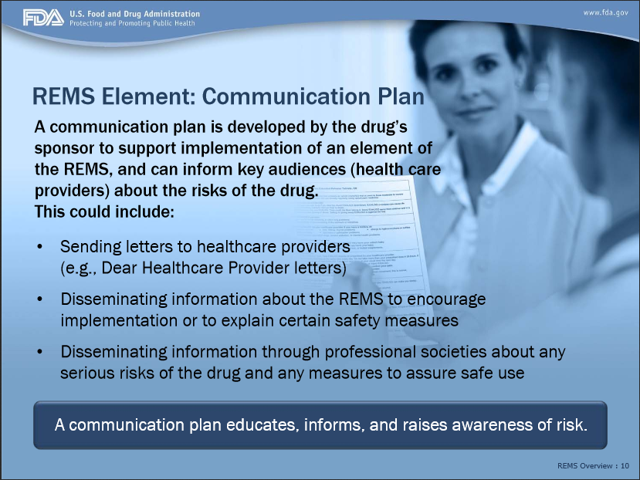 Ultimately, I believe any labeling and risk mitigation strategies can be resolved, although obtaining FDA approval may end up proving to be a time-consuming process.
Conclusion
As an investor in Antares Pharma, I am obviously biased to see an AB rated generic EpiPen approved. Given the magnitude of the potential CRL that Teva may disclose on Thursday, I wanted to take one more look as to whether there were any obvious stumbling blocks that could prevent approval. Hopefully, Teva will provide enough detail so that investors on all sides can react accordingly.
Disclosure: I am/we are long ATRS.
I wrote this article myself, and it expresses my own opinions. I am not receiving compensation for it (other than from Seeking Alpha). I have no business relationship with any company whose stock is mentioned in this article.
Editor's Note: This article covers one or more stocks trading at less than $1 per share and/or with less than a $100 million market cap. Please be aware of the risks associated with these stocks.