Aircastle (NYSE:AYR) will report Q4 earnings on Thursday, February 11. Current consensus view expects quarterly revenue and EPS to be $186.8M and $0.45, respectively. The company has the following guidance for the quarter: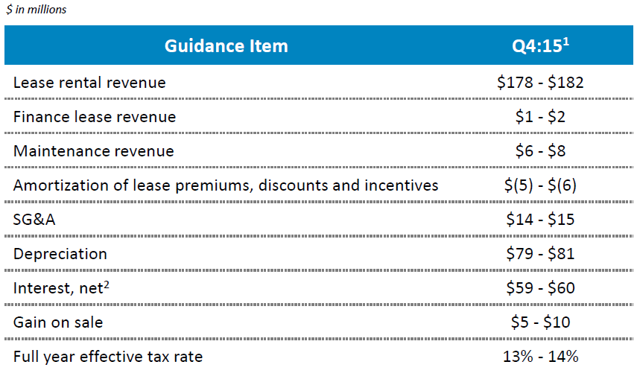 AYR's share price has plummeted 34% over the past 12 months primarily driven by slowing economic growth and market's concern on further impairment of certain type of AYR's aircrafts, freight and wide-body aircrafts in particular. The company's Q3 performance was heavily impacted by impairment charges and associated higher depreciation expenses, which sparked market's concern on value of other AYR's aircraft assets and weighed on share price. In my view, market's reaction appears to be exaggerated. The impairment charges were related to 1) rejection of a Boeing 777-200ER lease by the bankrupt Malaysia Airline System ("MAS") and 2) write-down of values for 6 Boeing 747-400 freighters with weighted average age of 24 years. Both instances should have minimal implications on AYR's other aircraft assets given the bankruptcy of MAS is an isolated issue and the age of 6 freighters are much older than weighted age of 7.7 years for AYR's entire aircraft fleet. Although the weakness in freight aircraft leasing market has imposed significant impairment risk, the write-down to scrap value has essentially taken out a chunk of risk from AYR's freighter fleet as weighted age for the remaining 5 freighters is only 8 years. Heading into the Q4 earnings, investors should look beyond the impairment story and focus on AYR's ongoing portfolio improvement initiative.
In light of weak leasing demand for freighters and old wide-body aircrafts, the company has moved on to reduce exposure to the freight market and focus fleet expansion on young narrow-body passenger aircrafts, which have a much larger installed base and therefore bear more stable residual values. The strategy has progressed well to date. Of the 13 freighters on AYR's balance sheet as of Q3 2015, 2 were expected to be sold in October and Q1 2016. The 6 written-down freighters are expected to be sold at scrap values (i.e. their current carrying values) when their leases expire between 2016 and 2018. The company decides to hold the remaining 5 freighters, which are relatively newer with weighted age of 8 years and account for about 8% of AYR's net book value as of Q3 2015. Post the Q3 impairment, potential future write-down should stem from the 5 freighters if the freighter market stays weak or deteriorates. However, given the 5 freighters are relatively new and represent only 8% of net book value, the risk and its financial impact should be limited.
In terms of passenger fleet, AYR sold a total of 18 aircrafts (14 narrow-bodies and 4 wide-bodies) with weighted age of 14 years for meaningful profits in the first 3 quarters of 2015. Fleet acquisitions during the period include 31 narrow-bodies and 1 wide-body with weighted age of only 4 years. The asset shuffle has effectively shortened the weighted age for passenger fleet by more than a year within the first 9 months in 2015 (see chart below). Looking beyond the near term, the shift toward a younger fleet would continue as 25 out of AYR's committed 34 aircraft acquisitions will be brand new E-Jet E2 from Embraer. With a younger fleet, the company should see rising ROE owing to steadier rental income and lower maintenance expenses.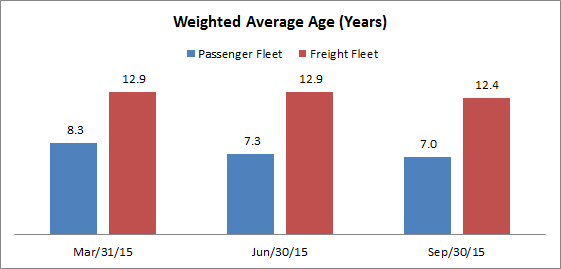 In the past 3 quarters, AYR also managed to increase weighted remaining lease term for its passenger fleet from 5.0 years to 6.2 years (see chart below) as lessees are typically willingness to sign longer leases for younger aircrafts. The trend would not only improve financial stability and visibility and also allow the company to lock in existing favorable leasing yields for an extended time.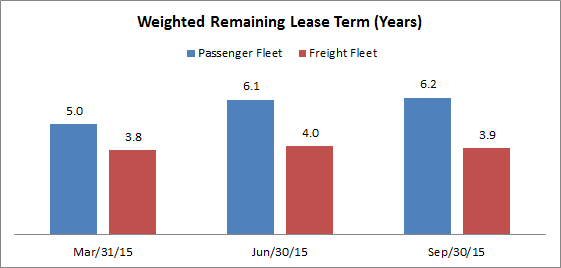 The stock currently yields 6.2% dividend. This level is appealing because it is in line with market yields for 2 of AYR's publicly-traded senior unsecured debentures at 5.9% and 6.4%, respectively. Further, AYR has been able to generate robust operating cash flows with cash flow margin hovering around 60% in the past 5 years despite some fluctuation (see chart below). At the current quarterly dividend of $0.24 per share, run-rate quarterly dividend obligation should be about $20M. Given AYR's robust operating flow ranging from $100M to $150M in the past 3 quarters (see chart below), which is expected to continue growing with greater stability thanks to the portfolio improvement strategy, and the company's low debt to equity ratio of 2.3x relative to comps average of 3.4x, the current dividend level should be well supported (see chart below).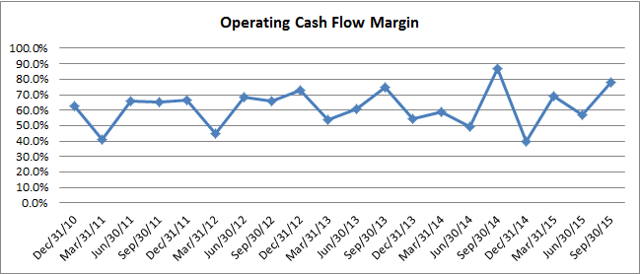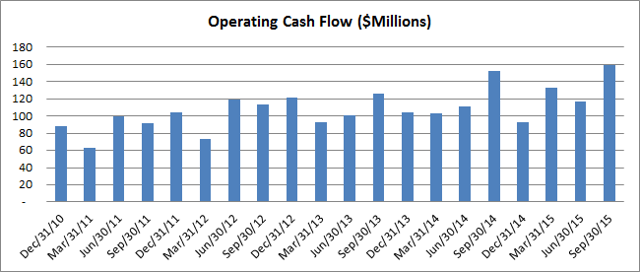 At February 9, the stock trades at 30% discount to book value, which is in line with historical level back in 2013 (see chart below). Provided that the company's ROE has increased notably from where it was in 2013 (see chart below) and its aircraft portfolio has been improving, I consider the current valuation to be attractive from a historical perspective.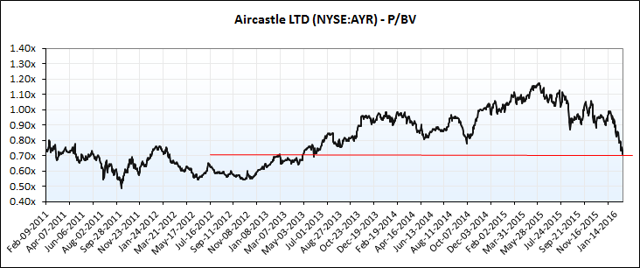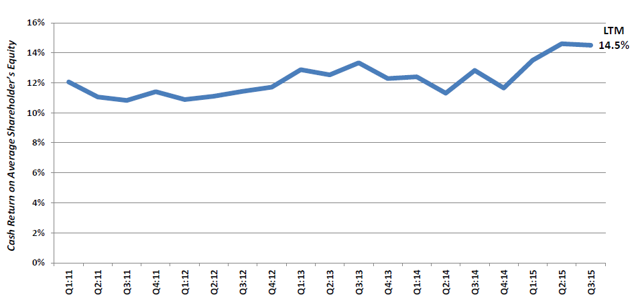 In all, I view AYR to be a buying opportunity, particularly for income investors. Despite some noises and hiccups, investors should focus on bigger picture and the company's long-term trend of improving financial stability and profitability. I believe the Q4 results should again demonstrates that the company has progressed well with the portfolio shift.
All the data presented in the above charts and the article is sourced from Capital IQ as well as company filings and presentations, unless otherwise noted.
Disclosure: I/we have no positions in any stocks mentioned, but may initiate a long position in AYR over the next 72 hours.
I wrote this article myself, and it expresses my own opinions. I am not receiving compensation for it (other than from Seeking Alpha). I have no business relationship with any company whose stock is mentioned in this article.